New Qualcomm Snapdragon 850 chip is exclusively for Windows 10 devices
By Daniel Rubino last updated
The new Snapdragon 850 will power new Windows experiences later this year.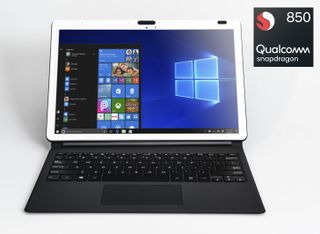 Qualcomm today is announcing the Snapdragon 850 Mobile Compute Platform skipping the current Snapdragon 845 built for smartphones. The new Snapdragon 850 brings a host of new features designed around the Windows 10 operating system and made for smaller computing devices – and not just PCs.
While the Snapdragon 835 found currently in the HP Envy x2, Lenovo Miix 630, and Asus NovaGo is seen as a first attempt at Windows 10 on ARM, the Snapdragon 850 is the first chip built specifically for Windows 10 devices making it a significant advancement.
Snapdragon 850 – What's new
The Snapdragon 850 brings an advancement over the current Snapdragon 835 smartphone processor with higher clock speeds and more finely tuned core balancing for devices running Windows 10.
Compared to the current Snapdragon 835 in Always Connected PCs the new Snapdragon 850 brings:
30 percent increase in performance.
20 percent increase in battery life and efficiency.
20 percent increase in Gigabit LTE speeds.
That boost in performance and longevity is due to the new Hexagon 685 digital signal processor (DSP), Kyro 385 CPU, and new X20 LTE modem.
The refreshed X20 modem can deliver theoretical speeds of up to 1.2Gbps versus the X16 modem in the current Snapdragon 835's 1.0Gbps max.
While many of the components in the new Snapdragon 850 are found in the Snapdragon 845, the 850's tends to be clocked higher and tuned for Windows 10 due to better thermal space, larger batteries, different drivers, and unique hardware. As such, we will never see a Snapdragon 850 in any smartphone.
For instance, the Kyro 385 CPU is the same as found in the current Snapdragon 845, but instead of a 2.8GHz clock speed, it now goes up to 2.95GHz (the Snapdragon 835 was even lower at 2.6GHz).
Additionally, the Snapdragon 850 brings support for Microsoft's Machine Learning SDK and artificial intelligence (A.I.) initiatives. As developers being to leverage A.I. in their apps, the Snapdragon will support them through direct hardware acceleration.
Snapdragon 850 - Audio and visual boost too
The new Snapdragon 850 chipset also leans more heavily on entertainment. The new chip has support for the following advanced audio features with Qualcomm Aqstic and Qualcomm aptX audio, which features:
Virtual surround sound.
Up to native Direct Stream Digital (DSD) format.
High-dynamic-range and ultra-low Total Harmonic Distortion plus Noise (THD+N).
aptX HD support.
Qualcomm's Aqstic system works through a standard 3.5mm jack or more current USB Type-C ports.
Another shift is in media creation. The Snapdragon 835 supported 4K playback, but now the Snapdragon 850 also allows for 4K UHD video capture.
Finally, Qualcomm did confirm that the Snapdragon 850 will support secondary display output as well, which opens the door for multi-monitor scenarios.
Welcome to the Mobile Compute Platform
Qualcomm is also making a subtle shift away from the previous 'Mobile PC Platform' with the Snapdragon 835 to the newer and more ambiguous 'Mobile Compute Platform' with the Snapdragon 850.
While Qualcomm did not announce on behalf of any of its partners' new hardware the reasoning for the name shift is due to hardware manufacturers moving beyond traditional laptops and 2-in-1s, which we have seen thus far.
Mobile Compute Platform is a flexible phrase that allows for more "innovative form factors" as Qualcomm calls it. While so far, we have seen 12-inch 2-in-1s there is no reason why Dell, HP, or Lenovo could not make smaller 8-inch devices, small devices with dual displays, or any other radical shift from what we know as a PC today.
Snapdragon 850 hardware specifications
There is a lot of nitty-gritty to the Snapdragon 850. Luckily, we have all of those specificaitons here too.
Cellular Modem – Snapdragon X20
Peak Download Speed: 1.2 Gbps
Peak Upload Speed: 150 Mbps
CPU – Kryo 385
CPU Clock Speed: Up to 2.96 GHz
CPU Cores: 8 x Kryo 385 CPU
Adreno Subsystem – Adreno 630
Open GL ES 3.2, Open CL 2.0, Vulkan, DirectX 12
Ultra HD Premium video playback and encoding @ 4K (3840x2160) 30fps
Slow motion HEVC video encoding of FHD (1080p) up to 120fps
H.264 (AVC), H.265 (HEVC), VP9, DisplayPort over USB Type-C support
Camera – Spectra 280
New architecture for 14-bit image signal processing, with support for up to:
Single HFR 16 MPix camera at 60fps ZSL
Dual 16 MPix cameras at 30fps ZSL
Single 32 MPix camera at 30fps ZSL
Multi-frame Noise Reduction (MFNR) with accelerated image stabilization
Hybrid Autofocus with support for dual phase detection (2PD) sensors
Ultra HD Premium video capture @ 4K (3840x2160) 30fps
Wi-Fi – 802.11ad Multi-gigabit
Wi-Fi integrated 802.11ac 2x2 with MU-MIMO
2.4 GHz, 5 GHz and 60 GHz
Bluetooth – Bluetooth 5
Charging – Qualcomm Quick Charge 4+
Availability
Look for new devices running the Qualcomm Snapdragon 850 platform with Windows 10 in the second half of 2018.
Analysis - Why this is a big deal
Ever since Microsoft and Qualcomm announced Windows 10 on ARM back in late 2016 questions remained about how it would work, and long-term commitment.
Make no mistake the Snapdragon 850 is a modified Snapdragon 845 – it uses many of the same hardware bits. Internally, we heard the 850 was referred to as "Snapdragon 845s".
But this is the first ARM chip designed and tuned specially for running Windows 10, versus being shoehorned in like the Snapdragon 835. The CPU is clocked higher, the cores are optimized for Windows 10's workload and OS structure, and the drivers now support all the features of the chipset (and vice versa).
One example is hardware-accelerated A.I. support, which makes Microsoft's Machine Learning SDK much more interesting for developers. Advanced A.I.-assisted photo-editing, grammar checking, and smart assistants will be able to leverage this chipset directly opening many more opportunities.
Whereas Qualcomm was touting "beyond all-day battery life," which proved very accurate in my HP Envy x2 review, the Snapdragon 850 now boasts "multi-day battery life."
That new X20 modem not only increases theoretical LTE speeds to 1.2Gbps but it also extends its reach more markets due to lower Licensed-Assisted Access (LAA) requirements with 90 percent of operators supporting the 10MHz range.
We should also begin to see some real hardware innovation too. While Surface-clones are fun we should begin to see new form factors and experimental designs from manufacturers starting this year with the Snapdragon 850.
While there was no announcement around Microsoft's rumored "Andromeda" dual-screened tablet that PC being powered by the Snapdragon 850 seems very likely. Andromeda is not expected to be announced until the fall, which lines up nicely with the expected availability of the Snapdragon 850.
Finally, as Qualcomm remarks themselves, this is only the beginning of a "multi-year effort." Rumors of a "Snapdragon 1000" powered by the new Cortex-A76 processor in 2019 promises performance rivaling an Intel Core i5 CPU. That paves the path for "real" PC laptops with the expected performance of Intel, but all the benefits of ARM.
Even Dell is rumored to have a dual-screen mobile device.
Buckle up. The rest of 2018 and 2019 is going to get even more exciting for "compute devices" with Windows 10. It's no longer just about traditional PCs.
Daniel Rubino is the Executive Editor of Windows Central, head reviewer, podcast co-host, and analyst. He has been covering Microsoft here since 2007, back when this site was called WMExperts (and later Windows Phone Central). His interests include Windows, Microsoft Surface, laptops, next-gen computing, and arguing with people on the internet.
What is the performance increase of the 850 over the 845?

It's in the text. SD850 is clocked at 2.95GHz vs 2.8GHz of the SD845.

Thanks, I wonder what the performance difference will be between this and the Asus ROG phone, as they are clocked similarly and, apart from the fact that the 850 won't be used for phones due to a few Windows 10 specific features, you mention that the internals of the chips are quite similar.

Is it more efficient in emulating x86 istructions?

There should be some improvement but the priority for Microsoft & Qualcomm should be in getting as much as possible existing Win32 desktop software compiled into Arm versions. Especially bench-marking software as that is what these machines will get tested on in reviews.

One more question: apps in the store such as Spotify, iTunes, Telegram, Whatsapp... apps which were converted with project centennial run natively arm code on snapdragon pcs or they get emulated just the same as downloading them form the web?

Not 100% sure for each and every one, but I'd say most if not all are still classic desktop apps. Other than VLC I didn't hear for any other app that was recompiled for ARM64 yet. So generally you should assume that they aren't native, unless stated otherwise. It's also still a new-ish thing, so it's not as popular now, but I do expect it to go way faster in a bit.

I would expect any app that was once available for Windows Mobile/Phone (Spotify, Telegram, Whatsapp, but not iTunes) would have an ARM64 version available about the time the Snapdragon PCs become widely available.

Hello Osborne effect lol. Just as the first generation of always-connected PCs is being released, this gets announced. Looking forward to it. Even though I don't really NEED one, I am curious to try it out with my current productivity apps and maybe have it as a backup PC.

And so begins the road to Andromeda. It's gonna have one of these processors.

Andromeda😎😎😎😎
.......
These capture features give me hope that Andromeda might actually have a really good camera, which is something people who buy this device will exspect. Let's be real. Andromeda needs a terrific camera

What makes you think that? Why would a pen input device need to have an amazing camera? I mean, it obviously can't hurt, but how does that enhance 'journaling' or 'inking'?

A great camera is integral to any serious device in the modern business/consumer/educational/entertainment world (IMO). It is an essential (even mandatory) tool that should be included in any device's toolbox (alongside pen, mobility and battery life).

I might not be like most people, but cameras on my tablets and PCs don't get any use while the one on my phone is mostly a magnifying glass to see small things. When it comes to taking pictures I still use a classic camera that is built to be help with one hand. So for me quality of camera on portable devices is the least of my concern.

You're right. You might not be like most people. So, how is your comment relevant, and what's your point?
........
That's like me going to a dedicated camera post and telling people how I prefer to use a Smartphone camera.. 🤔🤔

Actually a camera is integral, it doesn't have to be great. And honestly I highly doubt "Andromeda" will have anything above and beyond what we see now on devices.

"How does having a great camera enhance journaling, or inking"....
That's gotta be the most stupid question any pathetic troll has asked in 2018.
...............
Here's a better question for unnecessary pessimist like you. "How would a very nice camera on Andromeda take away from Journaling, or inking".... 🙄🙄🙄🙄🙄 Please, man. Get the fuq outta here.

Well, it would depend on whether that really nice camera forced compromises with the form factor or forced the device to too high of a price point. Engineering is all about trade offs, and the camera is definitely the least important part of a journaling device. Not unimportant mind, just not worth sacrificing other things for.

Of course.. But, Daniel, and others have mentioned how this device may use the camera for productivity reasons. Insurance adjusters, real-estate agents, and roofers, are just a fraction of those who depend on cameras to relay important information, and the better those pictures are the better the graphical information gets relayed. Not to mention possible 3D scanning capabilities.
I think we've all gotten past the fact that this device if solely intended for journalists... I guarantee you if MS markets this device that way it will not do as well as if they did otherwise. That would be like marketing the Surface Pro 3 as the most portable word processor... Not a good idea. This device needs to appeal to all professionals period. End of story.
.........
Don't think half baked, and 50%, like typical MS.... Think more like the Xbox, OneNote, and Surface teams. Realistically⛽🎈⛽🎈⛽🎈⛽🎈💜💜💜💜

Asking why this device would need a top of line camera is trolling....? Ok...
I think if they release something like a folding tablet the difficulties in engineering will force some compromises. I wondered what your thoughts were on why an excellent camera was so necessary. I suppose I shouldn't have expected an articulate response. I don't use the cameras on any of my tablets, but then, they don't fold so maybe there's a new utility that might bring. Anyway, continue screaming about nothing or whatever it is you do.

Tablet is 1 on 1, who care about camera. Andromeda is 3 in 1, good camera is critical

Even the biggest idiot can see this.

You have a reputation of being a troll. You ask a stupid question you're gonna be treated like a troll. You ask a sound question you're still gonna get treated like a troll... Forever. Who's fault is that? Is that my fault? No, it's your damn fault. Here's a tip. If you don't like it then don't ask me any questions. If that doesn't work for you then IDK, or care, to help you with your mental health issues. Move on, and get a life🤷🏽🤷🏽🤷🏽🤷🏽

Damn, if you spat the dummy any further I'd call it a Super Power.

I expect it will be used for more than inking, but even just for inking being able to take excellent pics of docs or locations to annotate would be a key feature such a device would be expected to cover.

Also, I wonder if Qualcomm will provide longer-term driver support for these always-connected PCs or if it will just be 2 years as is the case with Android devices. I know my old laptop released in 2011 (AMD A6-4400m) at least got graphics card driver updates until 2015.

Suppose Microsoft will have that covered with an above average performing generic driver... No way to compare this with Android IMHO.

But platform-specific drivers > generic drivers...at least for things like the Snapdragon's "video" and "sound cards"...would be interested to open up device manager on one of the existing Snapdragon 835 devices and see what's going on.

I just made the Android comparison because normally Android devices receive support for up to 2 years (apparently due to Qualcomm only providing driver updates for a particular chipset for that time period).

Good point! The company only care about hardware, we developers need to push them to take care not only drivers but support for SDKs like CNTK etc.

Maybe Microsoft and OEMs should have waited a few more months and started with the 850.

Nothing wrong having test runners. This definitely for me may have put the brakes on buying the NovaGo. The speed of tech is such a blur.

There is always something better on the horizon. If they waited for this, then you could say they should have waited for the 1000. That's just how technology works. You can't wait for it to stop for you.

There is such a thing as waiting for the tech to be able to provide a satisfactory level of performance for the end user. If they had of waited for this processor to release devices it would have given reviewers and customers far more confidence in the potential of ARM based PCs. Now they have to try to revise the existing (negative to lukewarm) narrative with these new devices, while having made no real impact on the market with the first gen products. It's a lose lose.

Would not make a difference at all. Just look at the numbers. Snapdragon 835 delivers excellent performance under native ARM64 code. However emulated code is about factor 3 slower - which is the concern of the reviews. A snapdragon 850 would not change this fact at all, emulated code is still 3 times slower than native. Why do you think that reviewers would suddenly stop to use x86 benchmarks to evaluate performance of these devices?

The current crop is getting fairly good reviews from those who are actually using the device everyday. Not reviewers that spend time running benchmark software for a few days.

Except this isn't like upgrading from a 7th gen i7 to a 8th gen. This is upgrading from a chip that wasn't optimized for the OS to a new chip that is. That's a pretty solid kick in the teeth to spend $1,000+ for a device only for the chip maker to turn around and say that 2nd gen devices are actually designed for Windows 10.

You do understand that the "designed for Windows 10" is a pure marketing gimmick?

Do a degree, yes. But I wouldn't expect Qualcomm to waste money designing a mobile chip and then limit it to just laptops.

The key difference is that the first-generation PCs (as is the case with first-generation ANYTHING) are subpar...I mean compare the "first" smartphones to what we have now. By waiting a few years until the tech is "refined and mature", we can get something worthwhile (that's how I see it at least).

Tech is always evolving. Three years from now we could be sitting around wondering how we were able to live with the current crop of mobile processors. Should we have waited to get a smartphone until then?

With the constant updating of Windows 10 now with the Spring Update some things in Win10 most likely have change and the 850 is the modification. Now, this all leads to the point that each new modified chip will be able process the new modifications in Win10 which so far happens twice a year. The interesting thing to watch is how this Qualcomm/Microsoft teaming will work as for as longevity...

No. I am more than happy with my HP Envy x2 with Snapdragon 835.

Is there a best (single) benchmark (tool or test) to compare the relative performance of these smartphone processors in comparison to AMD and Intel chips? Something like a CPUBenchmark that includes these as well and doesn't require manual comparison of numeric, sorting, compression, and encryption against the mobile and non-mobile data sets?

If you are interested in total CPU performance ARM vs Intel/AMD, the 7-zip benchmark turned out to be an excellent tool - in particular because it loads up all cores and makes devices throttle if they hitting the thermal limits.
From my current experiments, the HP Envy X2 (Snapdragon 835) beats anything from Intel/AMD up to a TDP of 15W.

Microsoft could've had a Cortana powered smartwatch, with chips like this running it, but they're tripping.

Yes, in term of W10M replacing category. But for marketing purpose, it is not a phone, but full W10 mobile compute platform (MCP) with telephony that comes with RS5

I'll wait for the 3rd generation of Windows of ARM devices. If Microsoft makes it all the way to the SDM1000 I will be pleasantly surprised. My experience has been to buy into the first two generations of a product, and then see it canceled. This happened with the original Surface and the Band.

Asus is working on Snap1000, just Bing it or someone shall ask them at Computex

The original Surface was not cancelled, it followed the normal product lifecycle, evolving from ARM to M-series, and potentially back to ARM. The band on the other hand, along with all other non-windows10 core aligned devices were cancelled. Strategically that was the correct move, as the divergent product portfolio would never have been universally supported, thus not fully interoperable.
It was tough for fans of those devices, but the appropriate commercial and strategic decision none the less. Daniel and Zac have written clearly and often about this shift, which is not news, or directly associated with the launch of the new Qualcomm chipset. This is an interesting next step up in Qualcomm AER processor's, and it will be interesting to see how a tactically will placed and strategically positioned Microsoft will leverage/lead the next range of products from this announcement. Interesting times.

I think the next round of Windows devices powered by the SDM850 will sell poorly, just like the first generation. They will make a call not to support Windows on ARM any further, and then this whole experiment will die.

That's highly unlikely, since ARM support is also very important for MS's IoT initiatives. They're going to need to support this regardless, so the extra work to support laptops and other device form factors is relatively low. Qualcomm only benefits here too, both from the expansion into new hardware categories with only minor extra work, but also the IoT wins, so there's no reason why they'd drop it either.

"I think the next round of Windows devices powered by the SDM850 will sell poorly, just like the first generation. "

I really wish you would stick to the facts and not just makeup FUD in comments. Unless you work at HP you don't know jack about sales numbers, goals, etc. Two, Windows 10 on ARM has had what is called a "soft launch" - word of mouth, online-only sales thus far. No ads, no in-store purchases, no PR push. The reason is to get these devices into peoples hands early, get feedback, etc. Three, it was just YESTERDAY that the Microsoft Stores (online and physical) and Amazon began selling/pushing these, so, again, unclear how you know they "will sell poorly". (Putting aside the fact that the NovaGo didn't launch until yesterday and Lenovo's is due at the end of the month making your comment even more egregious). Four, the hard work of getting Windows 10 on ARM

is already done

, dude. It's here, it works. Microsoft did all the OS and driver work, it's finished. Building out the chips is just what Qualcomm already does. They already had an SD845, they tweaked it for Windows 10. That's like saying Intel may give up on the i7 because HP is not selling well. Makes no sense. Five, Qualcomm cited their market research which shows accelerated growth in consumers wanting (1) Windows devices with LTE (2) devices with 20 hours of battery life. It's the WHOLE REASON they're putting SD850 out there now because they're seeing demand for it. Six, Qualcomm needs a new avenue of growth. Smartphones, while selling well, have plateaued this year. They need this as much as Microsoft wants it. Qualcomm isn't doing Microsoft "a solid", they're doing this because they want that Intel business and they think they can get it. I suggest to sticking with what we know and not just randomly putting out uninformed comments like the above. The idea that you don't see ARM - whether it's for Apple or PC manufacturers - becoming increasingly important in general computing technology reveals just how out of the loop you really are on this topic. The only one to be concerned here is Intel. They have no immediate answer to ARM.

Didn't the Microsoft Band have a soft launch initially?

"die"? Haven't u follow the news?

Huh? Surface (non-pro) made it 3 generations, and it's looking like we're actually going to get a refresh to that line this year? Band was sad, but smartwatches aren't exactly taking over the world either, and demand for the Band 2 was very low. :(

The world deserves a (new category) Surface Watch from Microsoft...especially after we have seen what wonder Microsoft can do with Surface hardware

I'm curious how many had a similar experience concerning the Microsoft band that i did. For me, I wanted a band, and as soon as i was ready to buy one the rumor mill of the band 3 fired up. There was that leak of Panos wearing a white one. So I held off buying the band 2 figuring that the 3 would solve the last few glitches and be a solid device. It never came, and given the state of Microsoft phone, i didn't trust there would be any kind of long term support. So i bought a Fitbit instead. I'm happy with my choice especially now that I'm on Android.

Very nice. Looking forward to it.

This is interesting. Keeping an eye on it.

"Rumors of a "Snapdragon 1000" powered by the new Cortex-A76 processor in 2019 promises performance rivaling an Intel Core i5 CPU. " Don't believe it. They're using Geekbench to arrive at that ridiculous claim. It's already been proven time and time again that Geekbench is completely worthless except for comparing ARM to ARM. It's worthless at comparing ARM to Intel. If you believe Geekbench, Apple's chips are almost as fast as an overlocked, water-cooled, 88-watt desktop i7. Geekbench hugely favors ARM chips because it over represents SHA encryption as CPU performance, which it most certainly isn't.

Cortex A76 is not a myth, it was announced by ARM 4 days ago. It's linked in this article.

"The new Cortex-A76 also delivers 4x compute performance improvements for AI/ML at the edge, enabling responsive, secure experiences on PCs and smartphones. This level of performance, power efficiency, and flexibility changes how consumers engage with their new PCs," "Building on that momentum, the new Cortex-A76 CPU brings choice and flexibility to consumers from a trusted architecture, delivering the 35 percent y-o-y performance gain along with 40 percent improved efficiency."

Pretty sure he meant that the performance wouldn't rival an i5, not that the chip wasn't going to be manufacturered. Quoting a press release should go a long way toward resolving that though.

At least for running Windows 10 and UWP the current SD835 is already near an i3 level. SD850 will be beyond i3 so Cortex-A76 hitting Core i5 (6 or 7th gen) seems very plausible to me (and others e.g. Ars Technica). Of course, we'll have to wait and see, but ARM is rapidly innovating here, so none of this comes across as looney. I think people are confusing SD835 performance with Win32 emulation vs. running the native OS and compiled UWP apps. If just running Windows 10 and Store appss the SD835 is very zippy, certainly more so than any Intel Atom Cherrytrail.

I think he is talking about the Win32 emulation which would be a very valid point since most software is still Win32.

Win32 emulation will always be slower. Maybe there should be a test for Win32 emulation on both ARM and i5 for a fair comparison.

Win32 emulation won't be needed if devs simply recompile their apps for ARM64. "Most software" is also speculative. For light computing devices, these run those apps.

*Sigh* There is no Win32 emulation at all, Win32 is an API which is available natively for ARM. An API is never emulated...the only thing emulated is the x86 instruction set for all applications build for x86 CPUs - has nothing to do with Win32 at all. An x86 UWP application is emulated as well - still you wouldn't call it UWP emulation would you?
I sometimes whish, that at least the editors here get the terms right.

Pls check out YouTube how Win10 pro OnARM comes with Win32 emulated Java JDK to allow Eclipse IDE to run Even on Raspberry Pi3 - - - Microsoft has done an excellent Job on the Win32 emulation!!!!!!

Every review on Earth disagrees with you. On every review the Pros have been great native ARM performance. The Con on literally on every review has been horrible Win32 performance.

"Win32 emulation won't be needed if devs simply recompile their apps for ARM64." I understand that. The problem with that is actually getting the devs to do that.

Geekbench should have a native ARM version for comparison with Intel, but they should also give a option to test emulation performance.

I'm so very interested in these devices for my wife and I. We would only be using Office and browsing the internet, all tasks this does well according to reviews. It wasn't until people started talking about coding and HD video editing it had performance issues, none of which I do.

Slap on S Mode with these and it'll be secure as well.

Really good news Dan! Especially like the "new form factors" bit. It's looking like Windows on Qualcomm is one of the smartest moves MS could have made. And now MULTI-day battery life!! Even the AI bit sounds awesome, and I've always been a bit skeptical of that. If it all pans out this could add true vibrancy back to the entire ecosystem... from the Surface line to OEM devices to the MS Store to Azure. Innovative premium devices + great performance + an adaptable Windows core OS + fantastic battery life can win back the hearts of developers and fans alike. Thanks for the good news!!!

Well said, OnTheSurface. My thoughts too.

Just think of the leap when qc launches a processor with the newly announced a-76. & if that is also launched exclusively for windows 10 devices.

Check this! Win10 Pro (Win On ARM) performance on Raspberry Pi [boot from SD card] [after 2 min] https://www.youtube.com/watch?v=n2VPkasSy0w and other videos running Office, etc. Raspberry Pi 3 [GB4 single core 440, multi core 1121 ). However, from the user point of view, beside slowness due to SD card, after loaded, Arm native software like Office, feel "normal". Geekbench comparison is meaningless for Win On ARM -> NOW!! Win On ARM is highly optimized. If the user feedback for office on the raspberry Pi 3 feels normal, even for softwares under emulation mode, imagine what would happen if Win10Arm running on Snapdragon 850, 1000 etc. Lenovo WinOnARM running 845 is 1353 single core, 4288 multi core. 850 is running at higher frequency. ===> Hence, why the next generation Win on ARM is called Mobile COMPUTE Platform!!!

[quote]Lenovo WinOnARM running 845 is 1353 single core, 4288 multi core. 850 is running at higher frequency.[/quote] Thats emulated Geekbench. Snpadragon 845 has native Geekbench single core score of 2500

Since Core i3 is mentioned here and there as the CPU with "comparable performance" it might be worth mentioning its Geekbench 4 score: Intel Core i3-7100U (2.39 GHz) shows 2862/5897. Of course it is just Geekbench and is not all that meaningful...

Geekbench is very meaningful from my experience. Its for many use-cases a very accurate representation of integer and floating point performance. That having said, that Core i3-7100U would be comparable to Snapdragon 835. In fact the Snapdragon 835 will handily outperform a 7100U when all 8 cores are used.

Win On ARM comes with emulated JDK to run Eclipse running on Raspberry Pi 3: see 4 min https://www.youtube.com/watch?v=dd5ma78QWZ4 see 5min30sec Word of Office 2016 running on RPI3 => What!!!!!

Really want this Andromeda device to wow me like when the Nokia N95 came along! Also been a while for MS to have a hit with consumer range... Like why did they try so hard and many iterations with Surface Pro and seemingly announce then not do anything for anything else. Wonder what their metric is for deciding to continue or not with something

Exciting. Not least of which is because this will give the UWP platform a much needed kick. But I personally would love some hybrids like this. And of course I'm looking forward to andromeda (and I am glad they are taking their time, and doing it right). The questioning remaining, is what are they secretly doing with windows core? That seems to be the secret sauce right now, and the key to these new form factors.

I would love to see this in a "compute stick" form factor.
The intel M3 ran too hot, and was a bit to noisy for my setup with an HP LD4200TM touchscreen.

Need many grains of salt with this... The proof will be in the pudding...
The benchmark community needs to adapt to this as there's too much currently not covered by existing benchmarks. Geekbench in particular is horrible. It will be interesting to see what the TDP level for this is going to be and if vendors will respond with native ARM versions of their programs/Apps. At the end of the day App/Program performance is what matters the rest is just details of subcomponents which may or may not be used effectively. Analogy, you drop the same engine into different automobiles but it performs completely differently because it was tuned differently, the transmission is different, has different gear ratios, etc. etc. We need to see the finished product with complete OS, drivers, & Apps. Reserving judgement until then.

ACPC running 850 at Computex https://youtu.be/e5SN7lWT8wU

Thanks for posting. Good video.

Hey Dan, you noted that hardware-accelerated AI could open up interesting possibilities for developers. I agree, but I remain only cautiously optimistic. Do you have a sense for where this kind of development will come from? If I can be allowed a little hyperbole, it seems like Windows developers are now mostly old dudes maintaining line of business software. Windows seems to lack a critical mass of forward-looking developers with the skills and inclination to bring exciting new experiences to the masses of Windows users. Think back to last year's WWDC when Apple announced AR Kit; within a few weeks there were dozens of apps that capitalized on it. Sure, they were mostly rubbish novelty things, but there were enough developers with enough excitement that we actually saw something happen. I can't really think of anything comparable happening after any Build event over the last few years. Funnily enough, we did see it a little bit with Windows Phone back in the day. But in the Windows 10 era, it's been mostly crickets. Do you see that changing, and if so, how?

Good point! We need perhaps someone from Microsoft to oversee the developer ecosystem and SDK development in similar future looking vigor as Surface hardware. We now have two approaches towards Webassembly SDK, the fragmented managed 3 D graphics libraries, Xamarin AR based on Urho is still not available for WinOnARM. The fragmented list goes on and on... We need Microsoft to allocate time to consolidate this fragmentation to truly democratize 3D AR/MR programming to mass. Snap850 Hardware with incredible AI support is coming end of this year, we have nothing from Redmond overseeing if all SDKs needed to take advantage of this new category hardware is ready Is Microsoft AI SDK (CNTK) ready for 850? No!!!!
Is Xamarin 3D Urho for AR ready for 850? No!!! MICROSOFT, pls address this not one sided, but as a whole ecosystem, both hardware and software!!!!!

We need 850 device to support eGPU

There have been so many disappointments with all Microsoft stuff for the last few years that I no longer get excited until I can buy it. They don't stick to their guns and Nutella has lied too many times. Once I see whatever new vaporware that WC keeps teasing us with (foldable phone, MR on Xbox, decent Snapdragon Windows portables, Andromeda) I'm just gonna go ahead and guess that you guys and gals who write here get paid by the word. It's the only explanation.

The user, Bleached is nowhere in the comments. Anyway, on his behalf, allow me to say, this new chipset is going to be a failure. Microsoft and Qualcomm are wasting their time. Why would I want any of this when Intel core i9 already exists, boots fast and has ok battery life. Just wait and see, it also be capable of shooting 4k footage and Intel will announce support for machine learning as well. This is DOA.

If i9 was instant on, and always connected, had telephony, multiday battery life, low heat, and had a potentially tiny form factor, that would be a valid argument. Fortunately for the ARM chipset, their are many features intel does not, and has no desire to replicate. I do understand however that intel has not entirely given up on mobile and are planning a return. That would be a more serious competitive threat for this niche. But by your logic, no one would ever have purchased an ipad, or a chromebook because PC intel can do it better. Some people are more interested in features other than raw processing power.

Here goes the boring predictable mixed information... Get a life somewhere
Windows Central Newsletter
Get the best of Windows Central in in your inbox, every day!
Thank you for signing up to Windows Central. You will receive a verification email shortly.
There was a problem. Please refresh the page and try again.