How to install Disney Plus as a Windows 10 app
By Daniel Rubino published
There is an app for Disney+ on Windows 10. Here is how to get it.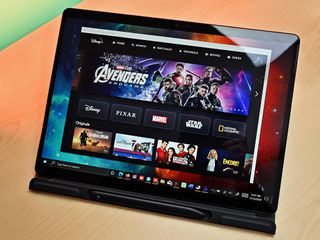 (Image credit: Daniel Rubino / Windows Central)
A lot of people are stuck at home right now, and many are doing their best to work effectively remotely. However, we all need to unwind, too. Thankfully, there is Disney+ for that, and the service is packed with great content, including classics like The Lion King and new hits, such as The Mandalorian and the brand new Pixar film Onward.
While there are plenty of apps to watch the service on, there is unfortunately no dedicated app for Windows 10. But that's OK because thanks to the power of modern web browser standards and Progressive Web Apps (PWAs) you can easily get one-click access and start streaming.
All you need is your favorite browser, like the new Microsoft Edge based on Chromium or Google Chrome.
A magical streaming service
Disney+
The new home for anything Disney's light touches

Disney, Star Wars, National Geographic, Marvel, Disney Channel, and Fox programs, are all finally here for you to savor on all your devices.
What is a PWA?
A Progressive Web App (PWA) is when a site has been effectively designed to be "installed" as an app to a device. With a minimal border, a dedicated icon for the Windows 10 Start menu that can be pinned to the Task Bar, and one-click run ability, the website itself becomes the app.
All you need to know about Progressive Web Apps and Microsoft
With Disney+ installed as a PWA on your Windows 10 desktop PC or laptop, you can access the service without having to launch your web browser.
How to install Disney+ as a PWA
Open the new Edge browser (beta, developer, or canary branch) or Google Chrome to get started. (Opera, Firefox, and the older version of Edge do not currently support the installable PWA function.)
Navigate to www.disneyplus.com.
Log into your Disney+ account.
Select the browser menu '…' in the upper right corner in Edge.
Navigate to Apps and select Install this site as an app.
Name the app Disney+ and hit Install.
The Disney+ "app" will now show in the Windows 10 Start menu like any other app. From there, you can right-click on it to pin to the Start menu or send it to the Task Bar for quick access. Right-clicking on the icon also lets you uninstall the "app" if you no longer need it.
You now have a Disney+ Windows app!
PWAs represent the future for a lot of website experiences on Windows 10 and even mobile phones. The ability to have one-click access to Disney+ as an app ready to stream your favorite shows and movies is much better than using the web browser.
The one downside right now with this method is there is no way to save videos for offline usage, which is something the apps for iOS and Android can do already. Technically, a true PWA can save videos for such a situation, but Disney has not yet gone that route.
Why Disney needs to release its Disney+ Xbox app for Windows 10 PCs
Make sure you install the Disney+ PWA on all your laptops and PCs where you will want to watch iy. And don't forget, you can follow the same steps above for Netflix, Hulu, and others too.
A magical streaming service
Disney+
The new home for anything Disney's light touches

Disney, Star Wars, National Geographic, Marvel, Disney Channel, and Fox programs, are all finally here for you to savor on all your devices.
Daniel Rubino is the Executive Editor of Windows Central, head reviewer, podcast co-host, and analyst. He has been covering Microsoft here since 2007, back when this site was called WMExperts (and later Windows Phone Central). His interests include Windows, Microsoft Surface, laptops, next-gen computing, and arguing with people on the internet.
This is helpful to a lot of people. Of course, if Disney HAD any content I care about anymore, I'd take advantage of it. Alas, they don't.

Thanks for the heads-up about installing PWAs using the new Edge.
For some reason, I didn't know about that 😅

I've been doing this for a while with other apps. Have TV Time, Messenger, Vudu, and Movies Anywhere installed. Love it. Only wish they supported icon notification badges. Other than that, it's great.

Same! Twitter, Slack, Google Calendar, Mixer, Hulu, and now Disney+ all work great this way.

Does it support downloads? That's my biggest issue with not having a prime videos app.

Dosent seem like it. It would have a download icon next to the "+" icon for adding to watchlist. My iphone has the download option but no option on Windows 10. I sent them an email to develop an app for Windows 10 for this reason alone.

I didn't think so at first but installing websites as apps is pretty useful in most cases. Garmin Connect, GrubHub, Google Maps, Amazon... they all just work. It'd be nice if they were in the Store though.

I am surprised to see Disneyplus.com working with Continuum on Windows 10 Mobile Lumia 950. Pinned to start and I am good to go. I wouldn't be surprised to see Disney stops supporting the Continuum browser soon.

Considering Microsoft is pretty close to ending support as well like... ;-)

Wow, I'll have to grab my 950xl out and try some PWAs out.

They actually work pretty well. Almost made up for the lack of and loss of apps as the platform was put out to pasture.

For those of us waiting for the full release of the new Edge, there's a suedo-app experience. Navigate to and sign into Disney+. Click the 3 dot thinger. Chose More Tools, then Pin This Page To Start. Still a web page but gives you that trailer park PWA experience.

There is no "apps" option in my edge settings.

Then you're not on the new Edge browser, but are using the older one built into Windows.

And if you like going the extra mile, you can install EdgeTiles Creator and create a full tile for your PWA's instead of just an icon on a color bg. I quite like the look of it.

This option is better than nothing. But Disney already wrote a true app for the Xbox One so there's no reason why Windows 10 doesn't have an app. And before you say, this workaround is the same, it's not. The Xbox One version has more features and has more audio options and better video performance. People need to voice to Disney about Windows 10 support. It's sad because usually Disney has the best platform support of any vendor.

I wrote a whole article on that topic over a month ago ;)

The Xbox app no longer works for Windows 10, as an update is needed which I can't get from the Store. Any chance of getting the newer version?

SO, I had been doing this for some time and loved it. However, it suddenly stopped and throws an Error 83. Anyone else seeing this? Still working on Chrome, but not Edge or Edge Dev. Disney Support is less than knowledgable...

"App" model doesn't work for me on my desktop because a lot of their cinemascope (2.35/2.40:1) content is encoded with black bars for some @$#%$#@ reason which is a pain for ultrawide (and my super ultrawide) montor. I have to use the "Disney Plus Ultrawide Fullscreen Support" extension to do a crop/zoom and you have to use the full browser UI to be able to enable extensions.

Disney plus in the UK has been a disappointment. The content is lacking, the latest TV and movie isn't available, only old stuff, navigation isn't the best, and the android app is broken.
I was looking forward to it but I'm glad I saw via the free trial that it's not worth it yet.
Young kids will like it for sure, so they will still make money.

Only The Mandalorian is worth it (to be fair, that one is amazing), but when you think of it something like Netflix just has way more content and has series that are equally as amazing (The Witcher, Altered Carbon etc).
Still it is worth it a month for the Mandalorian.

Another downside to webapps is that you can't get dolby surround sound. I don't see an issue opening something in a browser vs just having a link somewhere in the start menu. What I want is full surround sound like that provided by the netflix app.

".... and the service is packed with great content, including classics like The Lion King and new hits, such as.... The Lion King." Fixed it for ya. But yeah, besides my son watching The Simpson's, there's nothing on there I'm interested in.

Why not use Google Chrome instead of Edge for this? They both have the feature.

lol Why use Chrome if new Edge works great for this?

Because new Edge takes less memory than Google Chrome, it's already pre-installed for some and can replace the old version of Edge for others, works with your Microsoft account, and other reasons. Many people just don't like Google. We also don't allow Chrome in IT for security reasons. To each their own. It is not your business why people use other browsers. Just use what you like and let everyone else use what they like.
Windows Central Newsletter
Get the best of Windows Central in in your inbox, every day!
Thank you for signing up to Windows Central. You will receive a verification email shortly.
There was a problem. Please refresh the page and try again.