The new Microsoft Edge is now available for Windows 10 on ARM devices
Microsoft Edge version 80 is now available in the stable channel, bringing with it support for Windows 10 on ARM.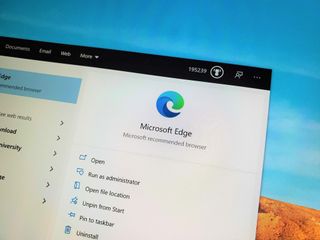 (Image credit: Windows Central)
What you need to know
The new Microsoft Edge is now available on ARM devices.
Version 80 is rolling out to the stable channel.
Microsoft is updating the stable version of Microsoft Edge to version 80 today, meaning official support for Windows 10 on ARM devices is now generally available. Version 80 of Microsoft Edge has been in testing for a little while now, and brings support for Dolby Vision playback, improved web app support, and general stability and performance improvements.
Microsoft Edge will automatically update to the latest version when you next run the browser, or you can manually check for updates by opening Edge and heading to Settings > About Microsoft Edge. Users already using the stable version of Microsoft Edge on an ARM PC will automatically be switched over to the native ARM browser, which will significantly improve performance and memory usage inside the browser.
Microsoft launched the new Microsoft Edge on Windows 7, Windows 8, Windows 10, and macOS last month. It's a massive improvement over the old Microsoft Edge, which often had trouble rendering webpages and keeping up with the rest of the competition with new features. The new Microsoft Edge will begin rolling out automatically on Windows 10 in the coming weeks, but you can download the browser today manually if you don't want to wait.
Windows Central Newsletter
Get the best of Windows Central in in your inbox, every day!
Zac Bowden is a Senior Editor at Windows Central. Bringing you exclusive coverage into the world of Windows on PCs, tablets, phones, and more. Also an avid collector of rare Microsoft prototype devices! Keep in touch on Twitter: @zacbowden.
I know this is probably the wrong place but that version of chromium has a bug that brakes printing on windows (port 9100) for shared printers using PostScript drivers.
https://answers.microsoft.com/en-us/microsoftedge/forum/msedge_other-mse... I have multiple machines that edge updated today and chrome also and now they can't print. Version 79 of edge and chrome work fine.

There is a feedback button directly on the browser that you can let the MS team working on Edge know things like this.

Are collections still not available in the stable channel?

No, Collections are only available for the non stable channels. I know it's in Dev, not sure about Beta.

in beta, it's also not available

just turn it on using about://flags

@RohanRonQM, I don't believe that's possible on the release version. There is no field for Collections. Only way to do it still appears to be a parameter at launch, meaning creating a special shortcut to launch it.

It appears not. Collections was the feature I was most hoping for with the version 80 release too. I had assumed that since it was based on version 80, it would get the features we had in version 80 in the Dev channel, including Collections, but apparently not. I hope we don't have to wait longer than version 81 making it to the release channel. Now that I've gotten used to them during the pre-release phase, I really need them in general release.

Will it ever be available to Windows RT? That would be interesting. Yeah, I still pull out my Surface RT sometimes.

What would be more interesting is putting WOA on a Surface RT

Surface Go Arm. Yes please

Wow. I just tried out the 'new' Edge and I've got to say I'm impressed. Every single substantive complaint I had about Edge has been addressed. It's as if Microsoft paid close attention to all my posts here on Windows Central a few years ago (yeah, right but a guy can dream)! That said, will the changes be enough to bring people (including me) back to Edge? Will Edge still only ever be that application people are forced to use to download Chrome? 1. Microsoft made the HIGHLY OBNOXIOUS news feed 100% optional and made it possible to hide it without having the possibility of having it accidentally re-appear if you click on the wrong link. Sadly this isn't the default situation but at least it's possible now. This was a MAJOR turn off in Edge. I never used Edge because I found it was little more than a low quality click-bait "news" app. The moment you opened up the old Edge (and even the new Edge if you don't disable it) you were presented with click-bait advertising masquerading as news. Guess what? 30 minutes later after realized that I wasted half an hour of my life on the latest click-bait "news" I would become frustrated and launch Chrome. 2. It's possible to COMPLETELY obliterate Bing as a search engine. Out of habit I don't use Bing. In solidarity with my habit I never used Edge. It was a catch 22. Microsoft used Edge and Cortana to shove Bing down our throats. Thus, I showed Microsoft the middle finger and never used Edge or Cortana. 3. New Edge is actually responsive. I dreaded opening Edge. It was a slow, painful browser with a mediocre interface. The 'new' Edge seems snappier and has all the commands in the right place (at least in my five minutes of browsing). Is it enough? No. I'm too invested in the Google ecosystem. Chrome is too well integrated with the Google ecosystem. Why would I use Edge which is nothing more than a clone of Chrome? Ultimately Edge is too little, too late. They may be able to regain some market share but the train has left the station. Microsoft's incompetence in 2015 allowed Google too much freedom to become the dominant browser. Now that Microsoft has simply given up and become a Google clone it will no longer be able to become "better than" Google. Microsoft paid a price. Cortana was promising. But, Cortana was used to shove Bing down our throats. The irony is that if Microsoft had allowed Google as an OPTION for Cortana users Microsoft may very well have prevented the rise of Google Assistant. Instead, now we have the decidedly mediocre (compared to Cortana and Siri) Google Assistant on Android. Apple hoards the excellent Siri on iPhones and Cortana is no more as a personal assistant. Ultimately the new Edge won't make a difference. It's the same as Chrome so why wouldn't I use the real deal? Windows 10 S is only for cheap computers and people who can't afford a computer that can run a real version of Windows. As such, there's almost no reason that I won't ever be able to install Chrome (in fact, today I was pleasantly surprised to find that a laptop I bought for my mother that supposedly came with Windows 10 S already had real Windows 10 activated. It wasn't even necessary to go to the extra step of allowing non Windows Store apps to install... of course, there are no apps in the Windows Store to download anyway so I'm not sure what Microsoft hopes to achieve with Windows 10 S).
Windows Central Newsletter
Thank you for signing up to Windows Central. You will receive a verification email shortly.
There was a problem. Please refresh the page and try again.