Intel RealSense SR300 dev kit price going up to $129 on April 1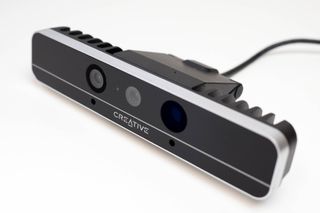 Intel has announced that developer kits for its upcoming improved RealSense camera, the SR300, will be moving up to $129 starting April 1. Currently, those interested in developing applications for the RealSense platform can get their hands on the dev kits for just $99. Intel says that all sales made before April 1 will be honored at the current sub-$100 price point.
In case you aren't familiar with Intel's updates to the RealSense platform, the SR300 camera introduces a number of improvements and new features over the previous F200, including:
Support for the new Hand Tracking Cursor Mode
Support for the new Person Tracking Mode
Increased Range and Lateral Speed
Improved Color Quality under Low-light Capture and Improved RGB Texture for 3D Scan
Improved Color and Depth Stream Synchronization
Decreased Power Consumption
Not only will Hand Tracking and Person Tracking open up some interesting new ways to interact with apps and devices, but the general updates to things like range should have a noticeable effect on Windows Hello in Windows 10.
Intel says it expects to get its first SR300 developer kit inventory in late March or early April, at which point they should start shipping out. As for consumers, we can expect to start seeing the SR300 popping up in PCs, notebooks and more later in 2016.
Thanks, Tanzim, for the tip!
Dan Thorp-Lancaster is the Editor in Chief for Windows Central. He began working with Windows Central as a news writer in 2014 and is obsessed with tech of all sorts. You can follow Dan on Twitter @DthorpL and Instagram @heyitsdtl. Got a hot tip? Send it to daniel.thorp-lancaster@futurenet.com.
Seriously, how is this thing any different than Kinect? The brief reading I've did on this seems remarkably similar, so similar it should just be licensed by MS and called Kinect 3.

Totally different. Kinect works between 1.5m to 5m distance, realsense 0m to 1m.

Given that it's a new and improved model and the price is due to rise soon, decided to grab myself one too. An extra US$27 to get it shipped to Australia but what the hell. I am a developer but I'm not working on anything that requires Hello at the moment. That may change now of course, but I mainly want it to use Hello on my desktop.

Idk, I have this real sense crap in my Android Dell Venue Pro 7840 and it sucks ass. Posted via the Windows Central App for Android

For Windows 10 users it's a way to have Windows Hello work on a PC. It's pretty awesome. Also, technically this is a dev camera for, well, developers ;)

Wouldn't Kinect also serve the same purpose?

Sure, but connecting Kinect up to a PC is not practical, it's HUGE. Search for our hands-on on doing it. It's also more expensive.

Thanks, man, I didn't realize the RealSense was a smaller device.

Yeah, that's what I don't understand. That Microsoft hasn't yet talked about a nextgen Kinect along the lines and size of the RealSense. They built on some of the technology for the HoloLens, which is not very big in size, I am thinking they could take it further and make a smaller Kinect too. It would make sense for them to have such a product in the market, given that they are going to bet so much on AR. They could use it to scan a room from a different angle than what you were seeing with your Hololens glasses and allow others to be in that room with you. It would be great if they could manage to build a small Kinect into the next Surface. Suddenly it makes sense with those tablets that had the 3D cameras on the back. I think it is for doing AR on your tablet and taking part in a Windows Holograhic scene without having AR glasses. Perhaps they made a deal with Intel to let Intel have a chance to build a market of their own first...

At $99 this camera is still about half the price of going with a Kinect. A kinect costs ~$150 and the adapter to connect it to your computer is another $50 (if you can find it). The size is part of why I am going to pick this up, but cost was what really got me.

I don't understand why they can have a Windows hello camera in laptops and surface but still not have a descent desktop model for your average joe.

Thats what I'm awaiting for. Make a combination webcam for Skype + Hello facial recognition. I'd spend $100 for that in a heartbeat.

Exactly, what the heck is taking so long???

I agree with that, I had just purposed the lenovo all-in-one with real sense. The reason I did is so I could somewhat future proof my machine. Well it bluescreened the next day and I returned it . I am more of build a pc yourself type of guy but I couldn't find a realsense camera anywhwere. I read the windows dev infor about using a kinect but I want to have a real sense camera. I think my kids would like to have this as well.

The SR300 does exactly that. I just connected mine. Everythings works, Hello, Cortana, Skype. Fits on top of the monitor. It's about as long as a Lumia 950, and about an inch high. Even works with AMD systems. ;-)

Everything sucks ass in android. Especially the tablets. Mah gawd the tablets.

Well I have a 950. So, don't judge me. However, I have always had an android tablet. I prefer android on a tablet, idk why. But, this tablet, I note above is Oh my god purty. 2k amoled, thin bezels and an intel processor...so, there's that. Posted from down vote central.

What is the resolution? My main question would be this: Is the camera good enough for it to be worth it based on that alone?

Interesting! But my crappy Dell Inspiron 15 does not deserve it! Posted via the Windows Central App for Android

Does this thing have built in mics? Posted with the Nexus 6, Nexus 5, or Surface Pro 3

Hay guys or girls PLEASE do some research before you post comments here. read the Creative info here http://click.intel.com/intelrrealsensetm-developer-kit-featuring-sr300.html

@chino aceveda, asking about it in random articles isn't going to change anything. Besides it's long gone and it's not coming back.

It is not clear if this dev kit can function as a regular webcam or not. If it could, then why not at this price? Anyone have any more info on that?

I have the older version, the F200. The older one does function as a regular webcam, but the video does not work properly with the "Skype Video" app. The video functions fine in the Skype desktop app as well as the built in Windows Camera app, although the image quality is less than what other webcams offer at a lower price. The microphone functions fine, including with Cortana, though it claims to be not officially supported. With the improvements made on the new SR300 and the fact it is designed specifically for Windows 10, I'm hoping these issues will be resolved. However, keep in mind that there is no offical support from the manufacturer and no real warranty although Intel will replace it within 90 days if defective. It is not intended for mainstream use.

Thanks for that info. I was curious, I have an older Logitech webcam, I wasn't sure if this was worth grabbing to add Hello features to my desktop, Sounds like its really not a great idea. Thanks!

I wonder if Razer's new Stargazer RealSense cam will be based on the S300 chipset? Posted from Windows Central for Windows 10

I have one of the older SR200 models and it's nice strictly as a Windows Hello accessory. I serves decent enough as a webcam.

Developers developers developers... Pop champagne!

Intel owns a percentage of eye tracking company Tobii, and Intel Capital led an investment in eye tracking company Eyefluence. SR300 Targeted Usages
- Facial recognition and hand gesture recognition
>The range for face recognition increases from 80 cm for the F200 up to 150 cm for the SR300 model.
software.intel/com/en-us/realsense/devkit I wonder if SR300 has the potential to do some very basic eye tracking. Kinect eye-tracking patent: >Eye Gaze Tracking Using an RGBD Camera: A Comparison with an RGB Solution research.microsoft/com/apps/pubs/default.aspx?id=230046 >>(WO2014209816) EYE TRACKING VIA DEPTH CAMERA patentscope.wipo.int/search/en/detail.jsf?docId=WO2014209816 >Most commercial eye gaze tracking systems are based on the use of infrared lights.
>However, such systems may not work outdoor or may have a very limited head box for them to work.
>This paper proposes a non-infrared based approach to track one's eye gaze with an RGBD camera (in our case, Kinect). research.microsoft/com/pubs/230046/KinectBasedEyeTracking.pdf Depth sensor eye tracking may not be as accurate is infrared eye tracking, but you wouldn't need it to be accurate if you're just augmenting the mouse You can warp the cursor near your target, and then use the mouse. >Tobii EyeX - mouse warp on move youtube/SYwd9Lt1ve4?t=2m56s >Rozado, David (2013). "Mouse and Keyboard Cursor Warping to Accelerate and Reduce the Effort of Routine HCI Input Tasks". doi:10.1109/THMS.2013.2281852 youtube/7BhqRsIlROA?t=2m41s
Windows Central Newsletter
Get the best of Windows Central in in your inbox, every day!
Thank you for signing up to Windows Central. You will receive a verification email shortly.
There was a problem. Please refresh the page and try again.