Intel uses Overwatch demo to tease upcoming Kaby Lake processors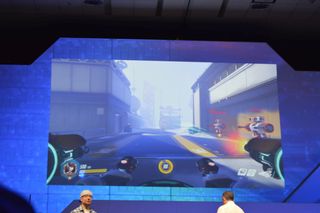 Intel used a prototype 2-in-1 PC at this week's IDF keynote to demonstrate the power of its upcoming seventh-generation Kaby Lake processors.
Anandtech reports that Blizzard's multiplayer shooter Overwatch was demoed on stage with a Dell XPS prototype 2-in-1 with a Kaby Lake processor. Intel didn't offer much in the way of hardware info on the upcoming chip, but it did say it would support HEVC Main10 Profile, which should allow it to support 4K video decoding.
This isn't the first time we're getting a look at what's on offer with Kaby Lake, as ASUS revealed that the Transformer 3 Pro and Transformer 3 tablets will be the first to run the seventh-generation cores at Computex earlier this year.
The first PCs with those chips should go on sale to consumers later this fall.
Is it trying to show new Intel graphics?

A game demo is more intention-grabbing compared to a slideshow with benchmark numbers.

don't you mean 'attention-grabbing'??

HEVC is not really useful for anything other than 4K Blu-ray. The patent pool for HEVC was poisoned by it's split into 3 camps combined with making unrealistic demands on internet media companies. All the main players are waiting to dump HEVC which is why it's stalled. All Internet streaming media is going to be Alliance for Open Media VPX based in the next few years but the platform is still in development so you will need new Intel CPU's to hardware decode such video though it would not be necessary as the CPU should be able to soft decode internet 4k media streams (at the expanse of battery life on laptops though).

So Intel did demo this and then what? This article gave no info about if it was god or bad. How did it look compared to Xbox version? How was the framerate? Was all graphic options on? What did the journalist had to say about the demo? All questions I would have valued if they were mentioned.

I wonder if Intel has any plans to have a Kaby Lake embedded or Atom version of it for say... Smartphones... wink wink hint hint.

Intel has announced a few months ago it is discontinuing Atom for smartphones. Recent news is that Intel is going to make ARM processors for the mobile segments.
Windows Central Newsletter
Get the best of Windows Central in in your inbox, every day!
Thank you for signing up to Windows Central. You will receive a verification email shortly.
There was a problem. Please refresh the page and try again.