Intel's Skylake processor generation detailed with improved performance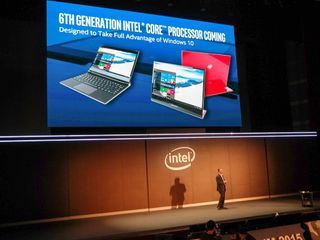 Intel has shared details of the company's next-generation processor line, codenamed Skylake. Numerous new features have been covered, including improved performance and graphics, advanced power savings, support for more than a single 4K monitor, and more.
Skylake will introduce a new feature called Speed Shift, which is a new technique designed to allow the CPU to change its power state. While Intel states its own power clock savings are rigid as of today, Speed Shift will further improve responsiveness when laptops and other devices come out of a low power mode.
Compared against Haswell and Broadwell processors, the new chips will be able to handle more instructions simultaneously, alongside Intel's new eDRAM+. This new memory subsystem is a cache of sorts that will store recently used data for both the CPU and GPU, increasing performance for tasks outside of gaming.
As for security, Intel is introducing two new extensions, the first being Software Guard eXtensions (SGX) and the second is Memory Protection eXtensions (MPX). Both will work together to build isolated sections of memory and better protect against malware in the system.
Finally, graphics were touched on. Specifically 4K screens. Skylake is able to drive three 4K panels at full resolution and 60Hz. We're also looking at a sizeable improvement when it comes to peak shader GFLOPS performance, which has been increased from 130 in Sandy Bridge chips to 1,100 in Skylake. This should be welcomed by future laptop owners who require the portable PC for multimedia.
This new tech is also what could well be powering Microsoft's next Surface Pro. We'll hopefully learn more when the chips are eventually announced officially, and we look forward to getting our hands on hardware packing the new processors.
Source: PC World
Rich Edmonds is Senior Editor of PC hardware at Windows Central, covering everything related to PC components and NAS. He's been involved in technology for more than a decade and knows a thing or two about the magic inside a PC chassis. You can follow him over on Twitter at @RichEdmonds.
I really miss the time when Intel, Cyrix and AMD compete each other to make better chips. But business is business, no hard feeling.

Microsoft should get AMD, PlayStation will struggle to some extent.

Like how they "got" Nokia?

Why always think negative. When the flagships will be out, no one will care.

Exactly their video(ati)/ARM assets are worth more to MS then the x86-64 division. Especially when they still haven't figured out proper heat efficiency

His suggestion was to buy a company who is a major supplier to a competitor. The nokia acquisition was to get a company that was the main licensee of their OS and was thinking of switching to another OS. So no, the theoretical acquisition would be nothing alike. Obviously it won't happen because Microsoft has no interest to compete with Intel, who is a major partner.

I don't even know what Cyrix is.

An old chip manufacturer. I remember one of my first builds was a Cyrix 686. This was in the early 90's, I have no idea when they went out of business.

They merged with National Semiconductors around 1997or8 I believe.

You are correct. My curiosity got the best of me so I looked it up. November of 97 is when they merged. Thinking about my old builds makes me wanna do a new one. Maybe when the skylakes come out I'll check prices of everything and possibly do a new CPU and GPU.

Yep, that was my first build as well when I bought the Cyrix CPU and motherboard combo from Tiger.

Yeah, heh, I know of only one acquaintance (real-life, IRL you know) who had one of their CPU configurations. This was back when Windows 95 (and eventually Windows 98) were the dominating operating systems on the market. Computers cost a fortune back then, so I am assuming that Cyrix competed on lower prices. According to Wikipedia: "The chips did see use in very low-cost PC clones and in laptops" Sort of like the Walmart of CPUs.

Wow, I had forgotten all about Cyrix.

I miss those days because they did drive innovation. In those days, I was constantly reminded why I prefer iIntel. Cyrix and AMD were awful back in the 90s. I use to work as a computer technician in high-school and have literally built hundreds of computers for my school district. Later, I worked for a major computer (MMO) gaming publisher as nework operations tech and database administrator and saw their server class processors in action in both pizza, big-pizza, and blade form factors. These competitors were great for prices, but they weren't great for reliability or maintenance particularly for cutting-edge demanding workloads (i.e. world, logging, rendering, and map servers). Now, their prices often make it worth it to buy cheap stuff and just chuck everything into a cluster these days and not worry about it. I am so tempted to try out an AMD machine these days but I can't think of a reason other than $ to bother. I know, it's terrible. :(

Can't wait to see these chips on a Windows phone/surface phone :-)

Intel sure, but not this chip lol

These on a Surface phone? I hope that surface phone you talking about comes bundled with fireproof gloves

LOL. Or a free tube of Neosporin. Works wonders on burns!

Neosporin, I put that shiit on everything!

you can't be serious, but seriously speaking I would love to see a Cherry Trail Surface Phone with 4GB of RAM memory in 2016, it has been published that CherryTrail has similar performance than Qualcomm Snapdragon 810 which comes today on flagship Android devices. The advantage I see for Cherry Trail vs Snapdragon 810 is that it doesn't overheat, and since it's based on Intel architecture, this Surface phone could get better support for running legacy Windows software (which could make sense in a environment where all you have is your phone, a monitor, a keyboard an a mouse with no PC near you).

Why on earth would you want to run Legacy Win32 apps on a phone? The only way it will ever work is if they are repackaged and only installable from the store - not other sources otherwise you will open up a landfill of maggots. By allowing Win32 code to run on phones, you are also enabling malware to also be able run on phones. You can not have one or the other if you allow installs from other sources suchas torrented software. Games from steam for example would never make sense on a phone, they will simple will not be able to handle them without melting your phone in the process. Maybe it would be viable several years in to the future but now? Keep dreaming lol. You are better of getting on the many tablets out there, it will provide you bigger battery life and a much more comfortable experience. (some of these tablets have hdmi ports as well and possibly mini display ports)

You wouldn't run them on the phone. You would run them when your phone is docked to a monitor, keyboard, and mouse. The idea is that you would be able to take your computer anywhere and setup shop in any office. Obviously, if the phone is capable of running x86 apps, it will have no problem running any mobile apps.

Think in low income markets, emerging markets, where PC's are not available, but government can obtain used monitors/keyboards/mice for schools and hospitals and government offices, this is obviously not a great solution not for developed countries, since PC's are much better suited for the job.

I don't really have an opinion on this article. I'm just happy that the Windows Central support team fixed the Android app so that I can now post insightful comments like this in the forums.

Salt on the wound. WC App hasn't been updated for WP since long....!!

Mark as read/unread. Paste pics, support for all emoticons.

I think they should be working on a universal windows app.

I frequently get errors that the server can't be reached in the WP app, across multiple phones. Once I went three days without being able to read any news due to it. Anyone else have this issue? I contacted the developer about it and sent error logs (hi Jay if you're out there!), but didn't get any kind of response.

The only time I've had any issues is in poor cell coverage areas. Check your signal to be sure it's adequate.

I have had issues like that, but it hardly ever happens. Very rare. Close to zero times, but not zero.

Clickable links when there are references to earlier articles

Close to a year now. No WinRT, no landscape mode. Nada.

This one will power the SP4 :)

Skylake-U and 520 and 530 will power the Surface Pro 4.

Sounds like Intel is back playing hardball and progressing the chips other than the die size. I have a desktop and laptop both 9-11 years old running Windows 7 and 8.1 thanks to both Intel and the work Microsoft have done with the coding of the OS. I am hoping for a Window10 smartphone with an Intel chip of which a variant of this might be possible. If so, bye bye ARMs...see you in another universe.

I think it will still be quite some time before Intel can match high end ARMs on phones especially with regard to battery life and greater on-die video/audio processing.

Need this in My new Dell Inspirion 5000 series i5 6th Gen

SP4 could be very interesting!

I could be closing the deal on my sp3 to a college student who needs a laptop for the new school year today. I'd rather sell mine while it's still worth something and the back to school market has them in demand. :). I can hold out a few months with a work hand me down.

Everyday I search for Lenovo Yoga 4 Pro, can't wait

Advanced power saving? So I would expect a 24hours battery life for next gen Macbook Air 13? Posted via the Windows Central App by OnePlus One

Apple already refreshed their lineup. And no, lol. The Air may get 13 hour with Haswell, but don't expect 2x increase in just 2 generations.

I think these are premium desktop Skylake processors, the laptop high end CPU's and ultra low voltage (U) haven't been announced yet, but I believe the common of all Skylake line of CPU's will be HDMI 2.0 mainstream support on all devices.

I have Broadwell CPU (Intel Core i7 5500) its 1 generation before Skylake and already supports 4K at 60 hz, but the difference here is that your device needs DisplayPort which is only available on premium devices with Broadwell CPU (XPS 13, HP Spectre X360, etc), on HDMI this graphics can just max out at Quad HD at 60hz (2560x1440). There aren't many monitors or laptops that support QuadHD, this has been a problem with OEMs which only do mainstream 1080p desktop/laptop monitors. But it looks like Skylake will finally make 4K mainstream for desktops and laptops of all prices (budget, middle range and premium) since HDMI 2.0 will be supported, and you can get a laptop with HDMI for less than $400 today, this probably makes me think that OEMs never made Quad HD resolution mainstream on monitors, since they will make the jump from 1080p to 2160p (4K) with Skylake.

3 4k monitors at full resolution? WOW! do I still need an offboard graphic card for games?

Depends what games your going to be running and on the settings :P.

To fire up 3 4k monitors I'll probably need something more advanced than an i5 ultrabook processor?

They need to release the processors already. I'm tired of the bits of info and the delay. Hopefully the'll be out next month.

yeah they're teasing badly lol so far we've only got info on the desktop CPUs and high performance. Still waiting on the U and Y series from Skylake. If its out by September ill be surprised. Most likely October, I think Microsoft is more anxious that we are lol they want the U series on the Surface Pro 4 very badly

Wow Folks these CPU system chips will make the "Surface Pro 4" a truly awesome device to use. The 64000 dollar question is will Microsoft introduce a new "Surface Product" the 14 inch screen Surface Pro. A lot of Laptop fans want a 14 inch screen because they consider the present Surface Pro 3's screen to be too small. Most Ultraboks have a larger screen than the Surface Pro 3 has.

I'd rather they keep the same size or scale it down to the Surface 3 size as I think that would be perfect for tablet use. I also have a Lenovo Yoga 13 that never sees tablet usage because it's too cumbersome.
Windows Central Newsletter
Thank you for signing up to Windows Central. You will receive a verification email shortly.
There was a problem. Please refresh the page and try again.