Intel's stopping development of its Vaunt smart glasses
The entire New Devices Group behind Vaunt is also being shut down.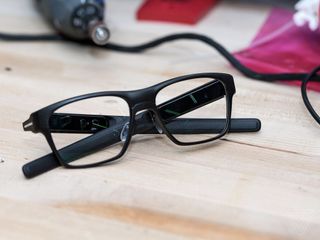 This past February, you probably saw The Verge's hands-on look at Intel's Vaunt smart glasses. Vaunt was the latest project being developed by Intel's New Devices Group, but on Wednesday, April 18, Intel announced that it was shutting down the entire group.
In an email sent to CNBC, Intel gave the following statement –
Vaunt was shaping up to be a spiritual successor of sorts to Google Glass, allowing you to see notifications, turn-by-turn directions, and more out of the corner of your eye. Vaunt stood out by packing a lot of useful features into a body that looked remarkably normal even in its early prototype stage, so here's to hoping Intel can further its development in another department later on down the road.
The New Devices Group was created in 2013 by Intel CEO Brian Krzanich, and it was expanded in 2014 and 2015 when Intel purchased fitness wearable-makers Basis Science and Recon Instruments, respectively. There were around 200 employees working in the New Devices Group, and they could be facing layoffs as a result of this decision.
Windows Central Newsletter
Get the best of Windows Central in your inbox, every day!
No comments? Does anyone even care? We should!

Sad to say, is that I saw this coming. Not because I didn't trust Intel to do this, just because it was a potentially awesome idea... Thus doomed to failure.

Well, Rodneyej I can't speak for everyone but I do care and no comment from me until now is simply because I'm not glued to my phone 24/7 lol.

I'm curious to see why this division was shut down, is intel tightening their belts now that they can no longer charge despicable amounts of cash for their cpus?