Interactive Touch Books for Windows 8 (Hidden Gems)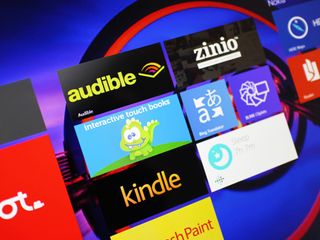 Learning to read is one of the best parts about growing up. The books start off simple and get progressively harder the more you learn and the older you get. Reading these days for most adults takes place on digital e-readers like the Amazon Kindle. Young kids are reading more and more on tablets. Interactive Touch Books is an award-winning app on iOS, that recently made its way to the Windows Store.
As part of our Hidden Gems series, we'll be taking a look at this app aimed at helping young children learn to read. It's sure to be a hit among kids and their parents.
Don't forget, that by leaving a constructive comment below you're entered into winning a new phone or tablet in our daily Hidden Gems contest.
Interactive Touch Books – the app
The app itself is super simple at its current stage. Interactive Touch Books for Windows 8 has only been in the Windows Store a few weeks, but the developers have a nice update due out in the near future.
Interactive Touch Books brings interactive books for young children to your Surface (or any Windows 8 device). The app currently has three children's books inside, with an upcoming update bringing a store where parents can buy more via in-app purchases. The books are aimed at children in various age groups from ages 1 through 12.
The books are narrated and contain fun animations accompanied by sounds that will positively delight your kids. We 'read' all three and found them perfectly suitable for youngers.
Self-publish to make your own children's book
Right now, Interactive Touch Books has three children's books available for free. The marketplace feature coming soon will bring over a 100 highly interactive books. What's really neat about Interactive Touch Books is just how the books get into the marketplace. They come from independent authors and publishers who are able to self-publish through Interactive Touch Books.
Prospective authors are encouraged to go to the Interactive Touch Books website to learn more about the self-publishing program. Though we do want to point out a few highlights.
Authors are able to create interactive books using an online interface. Narrative tracks, sound effects, frame animations, peek-a-boo effects and more can be added using this online interface. From there authors can preview their book, set a price, set a target age and finally publish to the Interactive Touch Books marketplace.
Interactive Touch Books for Windows 8 is a welcomed addition, especially for parents with young children. The selection of books will be immense once the app gains the marketplace feature to get more books. Right now you can download a free, seven day trial of the app from the Windows Store. After that it'll cost you just $0.99.
In the meantime, take this app for a spin and let us know what you think of the three books included for free. Would any of you be interested in self-publishing a children's book? Let us know below. And remember, constructive comments are entered to win a new phone or tablet. Learn more about the contest on the Hidden Gems announcement post.
Remember: Leave a helpful comment about this app, you're entered into our daily contest! Helpful comments include what you like, what you don't like and how it could be made better. **For clarification, entries are not judged on content, so you're free to say whatever you want. We'll be choosing winners for each article randomly, so long as they meet the criteria of being thoughtful i.e. more than a 'first!'. Winners will be announced at the end of the month, so you can enter in at any time. Multiple comments allowed, but only one will be picked. Contest is open worldwide and the prize will be a Windows Phone of your choice! Need more info about our Hidden Gems series? Read our announcement post here.

I just gave up, going to sleep and then *ring* hidden gems ! downloading..
EDIT: Well it's for W8 so there isn't any slowness or any bugs -maybe didn't face any-
it's really nice app to help kids to learn how to read with 3 stories -maybe 3 for trail only ?-
anyway cool stories, hope there will be more soon ! :)

Will check it out. I like when good apps check come out for kids than games, but publishers should keep ad placement in mind as a 2-3 year old won't know how to get out of an badly placed x on the ad.

Hidden gems, hidden gems!
Where are you hiding, I'm losing chance, chance to win this contest tense, clock is ticking, time past tense, till month ends, I'm intense, rhymin' non sense, there's no full stop, means no ends, drum beats playin' from 8s, wanna dance but I'm in France, walk alone, night is long, going home... on its way, I saw Dan. Hi Dan! I'm your fan, you're good men our friend, but no respond, it's not Dan, am I drunk? It was Sam! Sam is awesome, wants to dance, from his pocket shining gems, is that Rubin' , Rubin Dans? No it's not, just broken lens.
There's no gems, you are dreamin' Sabri said. I woke up screamin' in my bed, Oh no, what nightmare! Speechless became, out of words, writing comments, down below. Entering game, for the prize, for the name.... please don't blame, I'm just kid, searchin' fame it's my reign... Story over.. and cut! Don't mind, I was bored xD

Amazing!This would be mega-hit if Eminem rapped it.Mind you,though,he'll probably finish in 5 seconds flat xD

Thanks, I believe he would :D

Its nice and sleek, which is pretty good for a w8 app. I just showed the app to my friend and he just loved the UI, He said that he was gonna get the app for his kid on the iPad, but now has changed his mind and will be getting it on his HP windows tablet. I'd Suggest to Make the Books taller as devices like Surface could benefit with a decent portrait mode.

Tell them and they will Forget...
Show them and they will Remember...
Teach them and they will Learn...
But involve them and they will Understand... This app does the same for the Children... Well crafted and graphicized app.. can be made better by making app interactable for the children during playing of the story... Like if in a story a rabbit picks up an egg... Children should have to click on the egg to proceed further in the story...this Will involve the children in storyline... Other suggestion is to include Rhymes books...

Really neat idea! The ability to self-publish through the app is a fantastic idea.

Yes! Self publishing for any budding author would surely present a great opportunity to reach a wider audience for their work.

THAT is the killer feature. i will try and see if i can make some book for my kid :)

Yeah that self publishing aspect is great. Perhaps some aspiring young authors can create the next great children's story. Hoping to see some great stories for my little ones. Posted via the WPC App for Android!

I have come up with this book called a hungry caterpillar. Its great he goes around eating stuff then turns into a butterfly.

How rigourously does the company look at self-published titles? Because I can't imagine that "Go The F*** To Sleep" would be a hit with little children. ;p

Downloading now,Will review as a reply to this comment after I'm done.

This sounds like a great app. Unfortunately I can't upgrade to windows 8.1, and it's not available for windows phone 8.1.

It's okay. I only understand Esperanto, the language of the future. Then how am i typing clearly? My fingers are getting lucky in striking the characters which compose a coherent thought in English.

**I know writing a long review won't increase my chances or anything but I'm doing this review for the developers,not for the prizes so please bear with me.** First Impression ​Download size is ok considering it's a Windows 8/8.1 app with media content. It works offline which is the basic requirement for an app which is for kids and just contains interactive stories. The splash screen is not cluttered and is quite neat. The app is quite fast and sleek.Faced no lag in transitions on my Windows 8.1 laptop There are only 3 books in the app so the UI is simple and neat with book covers shown in the main menu. Things I like about this app ​It's very fast and smooth.No lags at all. The splash screen is good along with the waiting time.Enough time to see the splash screen and then the app starts,no waiting. The UI is very simple with book covers shown on the menu. A "Library" button on the top to see the books' description.Nicely done. I tap on a book cover and it quickly opens,but I would love a transition effect. The books are really good,colorful and small which is good considering that toddlers are targeted. No ads.Yup,you don't want ads when you are showing this app to a toddler ;) Self publishing is a great thing to have! The books are very interactive! :D The narration was good and slow in a sing-song voice.Just what the kids want! Right-click when you have opened the book to skip to any page! :D Things I don't like about this app.​ ​**There's almost nothing in this app to "not like".I'll just point out some minor things.** There was no background music in the main menu which I was expecting. No page turning transitions in the books,just a little turned corner at the bottom of the page. No auto-turning of page when you do all the interactive things that need to be done.I was expecting that. My suggestions for improvement of the app. ​Add some good background music in the main screen of the app,would definitely make it a lot cooler. Add "curl page" effect or something when reading a book.That would be very realistic and the kid might enjoy it even more. Give "Auto-turning of pages" as an option after the kid has interacted with all the things on the page. If you plan to add more books as in-app-purchases in future updates,better make this app free ASAP because it makes no sense to buy an app for $0.99 and then pay more for IAPs. Make this a universal app ASAP.This needs to be on Windows Phone as well. A minor ignorable suggestion is to add page numbers or bookmarks.I'm calling it minor because the books are short and it might become complicated for little kids.But maybe beta test it for your own kids and then decide it's usefullness ;) Rating:-9.5/10 Conclusion:-This app has huge potential and is a must have app if you have toddlers in your house.It has beautiful and vividly colored stories the kid will enjoy immensely.Strongly recommended for ages 6 and below.Good job developers! (y)

Well I honestly don't read extra-long reviews... They bring me headaches... And my friend i honestly think you write good but should keep your reviews as short as even a well constructed sentence can get you through to the participation stage of the contest... Just giving you a bit advice that "No one reads Terms And Conditions cuz they are too long and gets boring till you get to the end..." The same may apply to yours...

If you are not Gautam Kabiraj,ignore this comment.We reserve spots for each other so our reviews are easily visible.He'll write his review when he comes online.

Thanks for the spot dude! Alright, I think I've used the app completely although this app was definitely not meant for a college student but yeah, I enjoyed going back to my childhood days for sure LOL :D So without much talks, here's my view on this funny little app: FIRST IMPRESSION (10/10) Above all, I love the "Wide" tile that I got in my Start screen, it's cute and innocent (Reminds me of "Om nom" from "Cut The Rope" game to be exact!). It perfectly symbolizes that it's meant for small kids. The size of the app is not much big either, considering the fact that currently it contains three interactive touch books, so you don't need to worry about your data plans to download the app. I loved the Splash screen too, neat and simple. But I guess the "Interactive Touch Books" menu a lil bit left aligned. I mean, those three story "book covers" could take more advantage of the available space (I know more may be added there soon but till then, a middle alignment would do). I loved the laugh when you click on the bunny's face! (Reminds me of "Crackle" ringtone!) ANIMATION + UI (9/10) The In-App-Performance was nifty. I didn't notice any lag or crash when using the app. But yeah I'd love to see some better effects / animation during the process when I tap / click to do something. The books could be made more "real" if the pages could be moved by swiping over the screen from left to right, instead of clicking / tapping at the button right corner of the screen. I loved the colors that the app used to represent elements, including the blurred background at the main menu. FUNCTIONING (8/10) The app works flawlessly in my PC, not sure about tablets since I don't have one. But again, just like most other Metro apps, it has some issues with multitasking (it's not an important issue though because no one would actually multitask when their kids are playing). I minimized the app for some time, started writing this review and when I maximized after a while, I just saw the Splash screen which took longer than it usually does to start the app again. I guess, developers are not to be blamed for this, I've started realizing Metro apps and Desktop apps don't play nice when used together. BUGS + SUGGESTIONS (8/10) I'm not sure if it's okay to say it a "bug" or not but the Bunny didn't smile / animate when I clicked on his face in the third picture of "Bunnyfur's Easter Eggs". It did so in other pictures though. (Screenshot) The app didn't run in full screen in my Windows 8.1 (1366 x 768 px) laptop. I could see the height of the pages of the books were fitting fine, but not the length. (Screenshot) In the game where you need to put all the Easter eggs in the bucket, when you complete the game, nothing happens. I mean it could say "Well done! Go ahead!" or something like that, you get it. If you finish the game where you need to colour the text "HAPPY EASTER" it yells "Yay!!!!!", that would also do ;) I loved the overall UI and the children-friendly environment that the app offered but I'll suggest you to make the "The End" message a lil bit cartoony too (considering its for children, not a serious issue though!). (Screenshot) And finally, I'd love to have it in my phone too. Please make it a universal app, if possible. This will also increase the total amount of app downloads because people love to buy once and get across all the three platforms (who've all the two/three platforms). ____________CONCLUSION____________ AVERAGE RATING: 8.75 ____________________________________ And It's definitely a must-have app if you've children under or of around five years old. I believe this app should be reached to more parents with children, for the developer's hard work and the app's potential. Kudos to the developer! P.S: I believe, Self-Publish online program is a great approach made by Interactive Touchbooks that'll surely help more authors join in.

You're too generous. No app should get a 10/10 first impression. That worked mean it was flawless.

LOL! That's why I said "...here's my view on this funny little app:" I don't even say that everyone would agree it getting exactly 8.75 rating. The app did impress me at the first glance and so I did, nothing serious ;) But yeah, I've mentioned the cons in between somewhere as well.

That it's nice to see more educational apps for kids. Windows 8 is so much powerful than other tablet OSs. Everyone at my work had iPads until I got a surface... Now 25% have a surface because you really can do more than play games. I wish I had one in school.

This is exactly what I am always searching for for my daughter. With her only 4, I don't want her getting into games, I would rather her learn technology through education and this nails it.

Great reading app i suppose.
Right now it's limited but i would like the developer to extend more i.e the available books and the best I liked about it is that you can self publish which is a good addition. So far no bugs or crashes. Also the UI is also simple to use too.
A great reader for kids...!

Great app it's fast and well designed. The touch and voice is great. It's not really for me so I let my little cousin use it. He says it needs more Dora lol. So I guess the only down side is no Dora.

Aahw man, this is cheating, I still have a windows 7 laptop ...

That is realy neat and educational. Love the graphics, the kids will be all over it.

I have the Kindle app, but barely use it. Something about reading on the screen for a prolonged amount of time messes with me.

Love the idea. But again, international version would be great...

This app is great for reading to children and having them touch on the screen to see what happens next. Because the story is audible, it is easy for children to both read and hear what's going on. The combination of this and it's interactivity makes it a winner!

My daughter loves it when I let her play on my Surface, but most of the ones out there have too many ads to just let her go to town on. This sounds like a really good alternative to those.

My little girl loves this app! It's one of the first ones she goes to.

This is a great way to engage kids in technology that also stimulates the mind. Would love to see something like this on the mobile side.

This kind of app will bring shine to windows 8.1 kids would love this app and plus with interactive live tile, easy for them to look and open this app.

Now would just like a wp8 version please even if its slightly cut down version

I love the self publish idea. It would be cool if you could export / share it to get more attention for the app and its funcationality.

Really great app to pass time when it comes to babysitting. I did notice a glitch on it (Mr. Magic's Magic) - on the first page after the title, when you repeatedly tap on the caterpillar-y thing, it does a crazy spasm-type dance. It also appears on other different pages where the animations are non-stop, such as the billboard and Mr. Magic's wand. After I hit next, it went to the last page for a second, and crashed. But overall, great app.

Comment and you may win a wp or tablet

These are great. I had similar apps on my android tablet. My son and daughter loved them. It's great to see something like this on the Windows platform.

I really like this app, seems very unique. I think if this app comes to WP, it will be even better, and to rake advantage of Kids Corner. :D

Nice fluidity but the collection needs more books!

I think children's books are on the leading edge of the creative process. I will definately be checking this out.

More like "hidden gems for kids" lately. I'll pass on this one too :/

Fuck ,I just want the kindle get updated.

Sounds like a great idea. My son would love it.

Very cool. Great Price, Ability to self publish. It'll be a great way of adding children's material to Win 8!!

Im wating for Blackboard to support Windows 8 and WP. We need blackboard mobile.

Have had this since it came out and my son lives it. Can't wait to be able to buy more books.

Great design and really fast. Love it! My little cousin will love it. This is one of those unique apps which will get Windows OS further!

Really cool concept! I especially like the ability to self-publish, although the way the published books are filtered is important.

I believe it is about time children books, activities, and games find their way to Windows 8. Now we can hope to see an universal app version that will work on Windows Phone 8 in the future. Ideally for phones, such as 1520 Nokia.

As a part-time tutor for kids, this can be a valid ice-breaker between lesson fragments, or I can use it as a teaching device as it is. I'm now excited to create my own interactive children's book!

I think that this is a great idea. The ability to either aquire other peoples work or create your own is probably the neatest thing about it.

This app is very helpful! Me and my little brothers are living in Italy, so this app is a good way for them to learn English!!

It's a great idea, and I might consider purchasing it later, if it gets any danish books.

I'll be honest, it's not something I'll personally use, but its a pretty cool app for the likes of my daughter teaching my grandson to read. Even if she's using an iPad.....

Well being a father of a 4 year old who's headed to primary 1in September this is the perfect summer app. Most programs I have downloaded are pre school and not that interactive. This looks ideal (just downloading now) so I'll try it with my daughter tomorrow. I'mcan understand others not being that interested as you need to have kids but these apps are invaluable in so many situations... like dinner time, in the car, at the grandparents and pretty much anytime they're bored and of this has the added benefit of being educational. Good stuff thx

Nice app, and appears to have some great potential. Loving the indie writers feature. Achievements are always popular, I would like to see them on more educational apps. My kids are already keyed in to the idea of working to a goal, and Xbox achievements may help. Not a deal breaker though. Interactive reading is sweet, helps them to learn without noticing. Would be nice if the books could show the level too. In the UK, my kid brings home books that are rated on difficulty. He is on level 3, and loves trying to get to the next level. Some kind of comparison would be nice.

Great app for my younger sister, nice interavtive elements with nice images and graphics. The design is superb and atttractive. Keep on bringing updates for more content.

I'll begin by sharing; I love new technology and the human interaction with software and devices. If I could, I'd by one of everything, iPad, Surface Pro, Surface 2 Pro, Android tablets, etc. My daughter has used several read apps like these on the iPad. It's nice to see some apps like this available for Windows. I turn 40 this year and it's astounding how technology has changed since my younger years. Support the developers you like. Cheers!

It would be wonderful to have this app available on Windows Phone. I think it would be a great experience on the 1520

This is cool ill have to have my daughter try it out.

My son (3 years old) so far loves the app. I'm really hoping more books jump onboard.

Just had a quick go with the free books. Its more nightie reading I think and is similar to what we have already in some ways. I look forward to seeing the update to see books that are more educational but definitely promising...neat

Looks to be a cool app but my kids in college.

Interactive books from independent authors/publishers? That's a pretty neat idea if you want to begin breaking ground without a large amount of overhead.

It has nice graphics good sounds simple interface and works well. A well made app so need to see the extended library...

Great app. Found all the books that I wanted to read but couldn't find on Amazon Kindle. So good app

I like that these kind of apps are available for kids I look forward to having them for my kids in the future, if they don't already have it they should have a lock into app function where the child cannot leave the app without a password to protect the account from unauthorized purchasing

How neat to have this app available. On the go learning.

That's a very nice app! Looking forward to seeing more content in it! ;)

Seems really smooth and not many bugs that I notice :)

Another one for my nephew to review. He had a good time reading Space Cat and Mr Magic's Magic. He is 5 and at a first grade reading level. The books weren't to hard for him and I think they did a good job of helping him learn.

Great app for the kids, when on long trips you can throw it into kids corner so that they don't have access to my phone. Would like to see a much nicer UI with maybe a store to buy more books, but for right now its a great app Thanks for your support!

I like it. I didn't experience crashes or bugs, but isn't an app I would usually use

Really unique app. Great to see devs coming up with innovative apps allowing anyone to publish their own book

Good to have this kind of app specially made for kids, as more and more kids spend their time on electronic devices. This app achieved the one thing normal books can't do, interaction. As interaction is a big part how kids learn, they want to touch things and so on. This app can really help the kids by providing books with educational things in it, such as simple computation and so on. Self publish is also a great feature for content creators.

What a great idea. I learned to read with my dad using plastic letters and words and then books. There's something about physical books that I still prefer to this day. Somehow I tend to lose interest more often with ebooks. That said, I do own a large collection of ebooks, and they are a great way for kids to learn. I like the interactive nature of this app, and that it has so much room to grow as more books are added.

My dice year old girl is going to love this!

This would be nice for my kids...if I had some.

Nice app, sadly i'm facing real peformace issues on my PC :\

The self publish part is very interesting. Can be used by parents to help their small children creature their own stories and see their ideas come to life, or even for the older kids to spark creativity.

Great children's app. I especially like the self-publishing aspect of the books. Another children's app with a unique idea, I like it.

The selling point of this is the interactivity for sure. My three year already loves reading with Daddy so this should be a great edition. BTW WPC folks, I hope you continue with the 'Hidden Gems' column even after the contest is over, this is a fantastic app discovery medium. Thanks!

It's great for kids. Simple and fluid UI. very cool.

Will be giving this a try with my son. He is at the age where he can start learning to read and if this app can help with that I will be thrilled.

It is a great idea, so I hope there will be books published in various languages (not only English).

I wonder if this can help my reading level. :)

This is awesome. Been looking for good books for my kids tablets. There is one where you can put the physical books that your kids have into the app. You just take a picture of the covers and record the pages. It was only for windowsphone though and I don't really let my kids play with my phone. I'll check this out and see how they like it. A review from actual kids.

Fantastic app! My daughter i going to love this :D

Nice app. Intuitive UI and very entertaining for kids.

Would've been a neat app to have when my daughter was little. The self publish idea is cool because we had some books made for her that were personalized and had stories about her. Making your own book for your child, about them on here is a neat idea.

Ability to write your own interactive books is great... it would be great to have a WP8 app, so that i can enable it in Kids corner and give to my niece and nephews, instead of giving me my touch-screen laptop

I would love to try this out but currently do not have a win8 device. Are there any plans to bring this to WP?

I don't find these things will be awesome

As good an app it is I'd find it hard to gauge the current generation of kids that are @ the age these books are gauged to

Its great to finally have some kind of book store on windows phone.

Nice looking app, I'll download it for my nephews.

Since this is for Windows 8 only, all I can say is it sounds like a cool idea and I wish there was a version for Windows Phone 8.

They should allow you to choose different languages where authors can publish. Have it on the native language depending on which ever region you're downloading from, and then you can switch later on as you wish. You could also let one translate others work where the credit still goes where credit is due. Maybe the authors could be given a choice when they publish where they can authorize translations, and in doing so, they agree to giving the translator a small percentage of the sales of the books that are sold in that specific region.

I like the idea of this app. I personally don't have children but my little cousin plays with my phone sometimes so I'm going to get this for him. Also the self-publishing idea sounds really cool. I'm sure that there will be lots of cool books for the kids. Can't wait.