Interactive Touch Books for Windows 8 (Hidden Gems)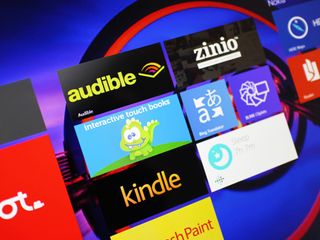 Learning to read is one of the best parts about growing up. The books start off simple and get progressively harder the more you learn and the older you get. Reading these days for most adults takes place on digital e-readers like the Amazon Kindle. Young kids are reading more and more on tablets. Interactive Touch Books is an award-winning app on iOS, that recently made its way to the Windows Store.
As part of our Hidden Gems series, we'll be taking a look at this app aimed at helping young children learn to read. It's sure to be a hit among kids and their parents.
Don't forget, that by leaving a constructive comment below you're entered into winning a new phone or tablet in our daily Hidden Gems contest.
Interactive Touch Books – the app
The app itself is super simple at its current stage. Interactive Touch Books for Windows 8 has only been in the Windows Store a few weeks, but the developers have a nice update due out in the near future.
Interactive Touch Books brings interactive books for young children to your Surface (or any Windows 8 device). The app currently has three children's books inside, with an upcoming update bringing a store where parents can buy more via in-app purchases. The books are aimed at children in various age groups from ages 1 through 12.
The books are narrated and contain fun animations accompanied by sounds that will positively delight your kids. We 'read' all three and found them perfectly suitable for youngers.
Self-publish to make your own children's book
Right now, Interactive Touch Books has three children's books available for free. The marketplace feature coming soon will bring over a 100 highly interactive books. What's really neat about Interactive Touch Books is just how the books get into the marketplace. They come from independent authors and publishers who are able to self-publish through Interactive Touch Books.
Prospective authors are encouraged to go to the Interactive Touch Books website to learn more about the self-publishing program. Though we do want to point out a few highlights.
Authors are able to create interactive books using an online interface. Narrative tracks, sound effects, frame animations, peek-a-boo effects and more can be added using this online interface. From there authors can preview their book, set a price, set a target age and finally publish to the Interactive Touch Books marketplace.
Interactive Touch Books for Windows 8 is a welcomed addition, especially for parents with young children. The selection of books will be immense once the app gains the marketplace feature to get more books. Right now you can download a free, seven day trial of the app from the Windows Store. After that it'll cost you just $0.99.
In the meantime, take this app for a spin and let us know what you think of the three books included for free. Would any of you be interested in self-publishing a children's book? Let us know below. And remember, constructive comments are entered to win a new phone or tablet. Learn more about the contest on the Hidden Gems announcement post.
Get the Windows Central Newsletter
All the latest news, reviews, and guides for Windows and Xbox diehards.