Introducing Hidden Gems, our new series showcasing distinctive apps for Windows and Windows Phone!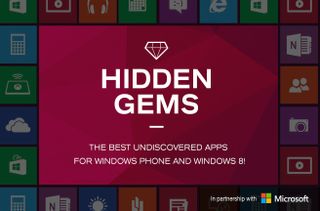 Reporting and reviewing apps and games is part of our job at Windows Phone Central. Some of it is easy, like when a major app finally makes its way to our ecosystem, but if there's one thing we especially love, it's discovering an exceptional and unknown app. Often, it's you, our audience that brings them to our attention. Today, we're changing the tables around.
Starting tomorrow and running throughout the rest of June, we're partnering up with Microsoft to give away some great prizes and focusing on a select few apps and games that we think deserve some attention. They may for devices or services you are not aware of, they may be unique games, but they have all been handpicked.
The series is planned to run every day before noon Eastern Time, and they'll feature our cool little graphic (see below) so that you know it is part of the Hidden Gems program. We're also creating a main topic page, where you can view all the previous Hidden Gems articles in case you want to catch up. You can find that page here: www.wpcentral.com/hidden-gems, so make sure you bookmark it.
Contests
Besides bringing these apps to your attention, we figured we spice it up a bit too. So we're going to give away a prize.
Each. Day.
You read that correctly. Every day, you can enter the contest by simply leaving a comment on why you like (or don't like) the app or game we're highlighting. No need to pretend here folks, we and the respective developers, want your honest opinion. The only thing we do ask is for you to try and make your comments constructive. One-word comments are not going to cut it. If we're going to take the time to give away a phone or a tablet, the least you can do is write a sentence or two with an honest opinion, cool?
The contests are open worldwide.
At the end of the month, when everything is wrapped up, we'll do a massive winner's post, highlighting who won for each of the preceding days in one shot. That also means you can go back and enter the contest for previous Hidden Gems articles up until the end of the month, so don't fret about missing a day.
Hidden Gems is a big experiment for ourselves and Microsoft, though we're confident that we can deliver an exciting and unique campaign for you, our core audience. We're not expecting you to love everything we cover, but we're sure that you'll find something you like.
Helps us make this a fun series and join in!
Daniel Rubino is the Editor-in-chief of Windows Central, head reviewer, podcast co-host, and analyst. He has been here covering Microsoft since 2007 when this site was called WMExperts (and later Windows Phone Central). His interests include Windows, Microsoft Surface, laptops, next-gen computing, and for some reason, watches. Before all this tech stuff, he worked on a Ph.D. in linguistics and ran the projectors at movie theaters, which has done absolutely nothing for his career.
What a great idea! Looking forward to some cool new gems!

This looks so awesome!Definitely going to participate Each.Day :D You read that correctly :3 :P

LOL I see what you did there =P +920

I saw that too. Yes I really did.
BTW, The graphics in the picture reminds me of PolyScreen... It really became too popular, specially among WPC members and editors

Agreed! This is a great idea. Kudos, WPCentral staff.

What type of English dialect are you thinking that in?

+Icon! Looking forward to this!

This is going to be awesome ! And love the worldwide word :DD

Yup! These words should be used more often...

Great Idea...looking forward to discovering some useful apps.

I'd love to see Bluestacks Mobile for Windows Phone 8.1 or maybe WP9. It would be pretty awesome and also a gem every wpuser sure will collect. Imagine emulating & running android apps just for fun (and showoff) :D

So are the prizes based on the posted content or random for those with 1-2 sentences?

We'll have more details tomorrow, but let's just say they're all big prizes...likes phones and tablets big.

Gee, never won anything. I'll be glad to participate.

I've never win anything either. For many years and 100 of contests, I have not one once

Me neither. I hope I win something :D

If they are android tablets, I'll install a Windows Phone launcher.

You Mathee, with immediate effect are automatically disqualified from all of the future contests.:)

Nooooo!!!!! Such lag. Much slow. Needs more Windows. ;)

So im guessing for in regions where most phones are lock to a network we'll have a choice based on were we live/who our service provider is

Baah, if I win a phone, can I change it with a tablet? I have phones everywhere and our imports dont allow phones ;( Buuut wait. Mr Burak is on USA. Lemme think ;)

We demand more details :D! We-wanna-win!

Surface Pro 3?? Or a Nokia Lumia 1520?

This sounds like a great idea!

Sounds exciting and useful. A great way to showcase and improve apps.

Can anyone from anywhere in the world win?

Yes. Worldwide, so long as you have a mailing address ;)

In some 3rd word countries our addresses are as follow: Diagonally from where the old Texaco gas station used to be, down the street from the yellow house, in front of the mango tree

Not just in 3rd world countries. Parts of New Mexico are still like that!! Except it's piñon tree, not mango. 8)

Sorry for popping your bubble, but México IS a 3rd world country I live in México, I'm mexican, so don't get mad about it, but that's the truth 47.4% of the population is poor, so...

um... isn't New Mexico a state of US?

Geography is hard. Posted via Windows Phone Central App

It isn't. We've made it hard :P

Uh!... Am Mexican... and sorry for mildor's ammm lets call it lazy reading hehehehe

You didn't even read the comment properly, did you? He said *New* Mexico. He's not referring to our country.

'New' Mexico not Mexico. I think it's one of the US states.

Those sound like directions i used to get when I was a Marine Corps recruiter, except that you didn't include the words "crick' "holler" and "yonder." (I recruited in WV) "Aight, you go down a ways, past the red painted rock, then turn left down the dirt roa' . On the right you'll see a meat packing plant, on the left you'll see ol' man Wiggan's shack. Go over the crick, past the windmill, and you'll come to a holler. Make a left and a ways down the road over yonder on top of the hill, you'll see our farm. You can't miss it." That was an actual conversation I had with a parent so I could come interview his son for the Marine Corps. So it's not just 3rd World countries...

I'm game. Sadly all apps I have downloaded were talked about by you and Sam, Daniel.

I hope there's just as much focus on Windows 8 as Windows Phone, because I always find it hard to find decent apps for my tablet.

I agree 100% as even I have the same problem! It's one of my top priorities in the coming months.

Yep, same here. (try and if you want showcase bustin jieber, please)

What exactly are you trying to find or do? "decent" and "hard" are very subjective. For instance, my family has dish network. Dish has no apps for any windows platform, not even Xbox. But dish has apps for many other platforms, including ps3. Dish also has promotions with other tech firms. Now I could switch to Comcast and get some added applications made available to the windows ecosystem, but my house's consensus is that dish is the better option. I use that as one example of a well known Telco. But parity of conventional apps across various platforms will still be seemingly hard or difficult... Do I find an application to supplement the completion of tasks I already do, or do I find new tasks to accomplish via an application? That is the difficult question...

Out of topic, does anyone has problems with notifications (comment replies) on WPCentral app?

Dont get notifications for weeks...

Well I seem to have a problem with WPCENTRAL tile which doesn't even show the icon of it, it's totally blank!

I'm looking into that issue now, if it's what I think it is and you disabled the live tile after enabling it, some users tell me clearing the app cache works. Others say a reinstall will fix the problem for you :)

I just messed with the Live Tile settings in the app then turned it back off and it fixes it for me.

Never received a single one & would like to see the unread count work without changing the lock screen background

Not had an email for a week or so.

It's been like that for over a month.

ya i do have notifications problem

This is gonna be aaaaaawesome!!

Well, before we get all excited here, and since the partnership is with Microsoft (who still has NOT shipped the prizes of last October's Surface 2 launch contests), will it be US-ONLY or will it be open Worldwide?

Worldwide and we're taking care of the shipping, not Microsoft.

Well, thank God for both of those! ;D

No. Did you read the article?

Of course he didn't. Why would he do that?

Well he's kid .. Hyperkid :P

Cause reading the article is so damn hard.

Wow this sounds amazing. Hoping to learn about some cool apps I missed and maybe win something along the way. Looking forward to this.

I love this program. It seems like it'll be good for users, developers, WP Central, and Microsoft. Nice!!

Kudos people..... Sounds great. I don't surf the store too frequently, and 95% of my installs come via recommended apps on Central.

Same with me, most of the apps i install are because of an article or comment here in WPC :)

This is great, both the showcase for apps, and the idea of having an opportunity to get some nice prizes. Im all IN!

Love the concept! Hopefully will get to see some really cool apps..

..and maybe win some really cool prizes! ;)

For the contest.. add some kind of block on comments, so people can't comment 80 times. You said you need honest reviews, so.. at least for this series

just filter out and discard any comment made by some one doing that

This is a great idea; let's really hightlight the apps and work to make them better. The contest is also really nice!

Great idea. Been looking for a spot light on hidden apps for a while.

Great idea. Been looking for a spot light on hidden apps for a while.

I love your comment to his comment

I love the " " " (in The middle.)

Love is in the air, people.

Also check out @wpscoops!