Introducing Hidden Gems, our new series showcasing distinctive apps for Windows and Windows Phone!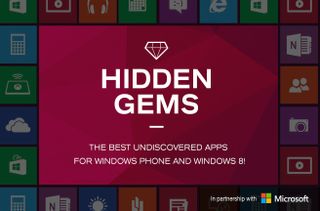 Reporting and reviewing apps and games is part of our job at Windows Phone Central. Some of it is easy, like when a major app finally makes its way to our ecosystem, but if there's one thing we especially love, it's discovering an exceptional and unknown app. Often, it's you, our audience that brings them to our attention. Today, we're changing the tables around.
Starting tomorrow and running throughout the rest of June, we're partnering up with Microsoft to give away some great prizes and focusing on a select few apps and games that we think deserve some attention. They may for devices or services you are not aware of, they may be unique games, but they have all been handpicked.
The series is planned to run every day before noon Eastern Time, and they'll feature our cool little graphic (see below) so that you know it is part of the Hidden Gems program. We're also creating a main topic page, where you can view all the previous Hidden Gems articles in case you want to catch up. You can find that page here: www.wpcentral.com/hidden-gems, so make sure you bookmark it.
Contests
Besides bringing these apps to your attention, we figured we spice it up a bit too. So we're going to give away a prize.
Each. Day.
You read that correctly. Every day, you can enter the contest by simply leaving a comment on why you like (or don't like) the app or game we're highlighting. No need to pretend here folks, we and the respective developers, want your honest opinion. The only thing we do ask is for you to try and make your comments constructive. One-word comments are not going to cut it. If we're going to take the time to give away a phone or a tablet, the least you can do is write a sentence or two with an honest opinion, cool?
The contests are open worldwide.
At the end of the month, when everything is wrapped up, we'll do a massive winner's post, highlighting who won for each of the preceding days in one shot. That also means you can go back and enter the contest for previous Hidden Gems articles up until the end of the month, so don't fret about missing a day.
Hidden Gems is a big experiment for ourselves and Microsoft, though we're confident that we can deliver an exciting and unique campaign for you, our core audience. We're not expecting you to love everything we cover, but we're sure that you'll find something you like.
Helps us make this a fun series and join in!
Daniel Rubino is the Executive Editor of Windows Central, head reviewer, podcast co-host, and analyst. He has been covering Microsoft here since 2007, back when this site was called WMExperts (and later Windows Phone Central). His interests include Windows, Microsoft Surface, laptops, next-gen computing, and arguing with people on the internet.
What a great idea! Looking forward to some cool new gems!

This looks so awesome!Definitely going to participate Each.Day :D You read that correctly :3 :P

LOL I see what you did there =P +920

I saw that too. Yes I really did.
BTW, The graphics in the picture reminds me of PolyScreen... It really became too popular, specially among WPC members and editors

Agreed! This is a great idea. Kudos, WPCentral staff.

What type of English dialect are you thinking that in?

+Icon! Looking forward to this!

This is going to be awesome ! And love the worldwide word :DD

Yup! These words should be used more often...

Great Idea...looking forward to discovering some useful apps.

I'd love to see Bluestacks Mobile for Windows Phone 8.1 or maybe WP9. It would be pretty awesome and also a gem every wpuser sure will collect. Imagine emulating & running android apps just for fun (and showoff) :D

So are the prizes based on the posted content or random for those with 1-2 sentences?

We'll have more details tomorrow, but let's just say they're all big prizes...likes phones and tablets big.

Gee, never won anything. I'll be glad to participate.

I've never win anything either. For many years and 100 of contests, I have not one once

Me neither. I hope I win something :D

If they are android tablets, I'll install a Windows Phone launcher.

You Mathee, with immediate effect are automatically disqualified from all of the future contests.:)

Nooooo!!!!! Such lag. Much slow. Needs more Windows. ;)

So im guessing for in regions where most phones are lock to a network we'll have a choice based on were we live/who our service provider is

Baah, if I win a phone, can I change it with a tablet? I have phones everywhere and our imports dont allow phones ;( Buuut wait. Mr Burak is on USA. Lemme think ;)

We demand more details :D! We-wanna-win!

Surface Pro 3?? Or a Nokia Lumia 1520?

This sounds like a great idea!

Sounds exciting and useful. A great way to showcase and improve apps.

Can anyone from anywhere in the world win?

Yes. Worldwide, so long as you have a mailing address ;)

In some 3rd word countries our addresses are as follow: Diagonally from where the old Texaco gas station used to be, down the street from the yellow house, in front of the mango tree

Not just in 3rd world countries. Parts of New Mexico are still like that!! Except it's piñon tree, not mango. 8)

Sorry for popping your bubble, but México IS a 3rd world country I live in México, I'm mexican, so don't get mad about it, but that's the truth 47.4% of the population is poor, so...

um... isn't New Mexico a state of US?

Geography is hard. Posted via Windows Phone Central App

It isn't. We've made it hard :P

Uh!... Am Mexican... and sorry for mildor's ammm lets call it lazy reading hehehehe

You didn't even read the comment properly, did you? He said *New* Mexico. He's not referring to our country.

'New' Mexico not Mexico. I think it's one of the US states.

Those sound like directions i used to get when I was a Marine Corps recruiter, except that you didn't include the words "crick' "holler" and "yonder." (I recruited in WV) "Aight, you go down a ways, past the red painted rock, then turn left down the dirt roa' . On the right you'll see a meat packing plant, on the left you'll see ol' man Wiggan's shack. Go over the crick, past the windmill, and you'll come to a holler. Make a left and a ways down the road over yonder on top of the hill, you'll see our farm. You can't miss it." That was an actual conversation I had with a parent so I could come interview his son for the Marine Corps. So it's not just 3rd World countries...

I'm game. Sadly all apps I have downloaded were talked about by you and Sam, Daniel.

I hope there's just as much focus on Windows 8 as Windows Phone, because I always find it hard to find decent apps for my tablet.

I agree 100% as even I have the same problem! It's one of my top priorities in the coming months.

Yep, same here. (try and if you want showcase bustin jieber, please)

What exactly are you trying to find or do? "decent" and "hard" are very subjective. For instance, my family has dish network. Dish has no apps for any windows platform, not even Xbox. But dish has apps for many other platforms, including ps3. Dish also has promotions with other tech firms. Now I could switch to Comcast and get some added applications made available to the windows ecosystem, but my house's consensus is that dish is the better option. I use that as one example of a well known Telco. But parity of conventional apps across various platforms will still be seemingly hard or difficult... Do I find an application to supplement the completion of tasks I already do, or do I find new tasks to accomplish via an application? That is the difficult question...

Out of topic, does anyone has problems with notifications (comment replies) on WPCentral app?

Dont get notifications for weeks...

Well I seem to have a problem with WPCENTRAL tile which doesn't even show the icon of it, it's totally blank!

I'm looking into that issue now, if it's what I think it is and you disabled the live tile after enabling it, some users tell me clearing the app cache works. Others say a reinstall will fix the problem for you :)

I just messed with the Live Tile settings in the app then turned it back off and it fixes it for me.

Never received a single one & would like to see the unread count work without changing the lock screen background

Not had an email for a week or so.

It's been like that for over a month.

ya i do have notifications problem

This is gonna be aaaaaawesome!!

Well, before we get all excited here, and since the partnership is with Microsoft (who still has NOT shipped the prizes of last October's Surface 2 launch contests), will it be US-ONLY or will it be open Worldwide?

Worldwide and we're taking care of the shipping, not Microsoft.

Well, thank God for both of those! ;D

No. Did you read the article?

Of course he didn't. Why would he do that?

Well he's kid .. Hyperkid :P

Cause reading the article is so damn hard.

Wow this sounds amazing. Hoping to learn about some cool apps I missed and maybe win something along the way. Looking forward to this.

I love this program. It seems like it'll be good for users, developers, WP Central, and Microsoft. Nice!!

Kudos people..... Sounds great. I don't surf the store too frequently, and 95% of my installs come via recommended apps on Central.

Same with me, most of the apps i install are because of an article or comment here in WPC :)

This is great, both the showcase for apps, and the idea of having an opportunity to get some nice prizes. Im all IN!

Love the concept! Hopefully will get to see some really cool apps..

..and maybe win some really cool prizes! ;)

For the contest.. add some kind of block on comments, so people can't comment 80 times. You said you need honest reviews, so.. at least for this series

just filter out and discard any comment made by some one doing that

This is a great idea; let's really hightlight the apps and work to make them better. The contest is also really nice!

Great idea. Been looking for a spot light on hidden apps for a while.

Great idea. Been looking for a spot light on hidden apps for a while.

I love your comment to his comment

I love the " " " (in The middle.)

Love is in the air, people.

Also check out @wpscoops! They have a bunch of hidden gems that you guys have missed. Especially indie games such as pako, tales of the adventure company, and cube raider just to name a few. Posted via the WPC App for Android!

I think he wants to won one in the contest.

Have a Windows Phone. 925 is my daily driver but I use my Nexus 5 when I'm around the house. Posted via the WPC App for Android!

Sounds awesome! Cannot wait to see what all you highlight!

Looking forward to finding and trying out some of these hidden gems. Can imagine there being some great apps/games around!

WOW!!!
Thank you WPC.. :D

Amazing! I knew that wpcentral was up to something, this is huge giveaway, or better say giveaways! This should also improve the brain storming for apps, since people will be required to be constructive in their comments

Useful, I bought a lot of apps, this is a great way to ask for improvements on some of them...

Not going to lie... this is simply an awesome way for Microsoft to engage with its community of devs and users and fans. Mad props to them. Great initiative!

Sweeeeeeeeet! Let the games begin!

If it means we also get access to some free apps then bring it on

If i get showcased, I'll give 100,000 coins to everyone. ps. Gonna update it tomorrow, it'll be legend- wait for it -dary.

Great idea. Hopefully I'll find some apps I'm not aware of

Great ideia! Can't wait! Please WP Central: If you get some contact from the developers that you'll review the games ask they to make their games available here in Brazil. I can help them.

Looking forward to cream-of-the-crop apps I've missed in the Store.

Great Idea! I'm always looking for new app ideas.

Thanks for going worldwide with this!

Neato (official opinion).

This is a great opportunity for new apps, count with me

US only what a freakin surpr... Oh wait. \:D/

The contests will be US only or available worldwide ?

Sign me up I'm in. I rarely ruin stuff so I'll try my best.
Ps. Please Microsoft get Cortana to the UK. I know you read this.

Just wait a few weeks....

Awesome. I'm always looking at the little known apps as opposed to big names. Sometimes the devs tend to really put an effort into them instead instead of riding on a name and not caring.

Is there an age restriction?

I love this idea as well. The prizes are a nice bonus but I'm really looking forward to seeing the apps.

Looks like I'd better make a wpcentral account.

Based on your comment, you did. Welcome!

This article is encouraging

Been following WPC for a while... Never commented
This might just get me started ;)

Well, i hope every app has a try, so we can test it all of them!

Wooow! What a good idea! Live it! We get to know new apps and you're giving us the opportunity to win amazing prices! WPcentral for the win!

What countries can participate? (We're still waiting for the "developers survey contest" that never show up results)

Yes, I have 200+ apps and I want more.

Awesome idea. Hope it works :3

Interesting..well I will need to polish my english and start writing more than two sentences. I need a new tablet!

I'm liking this. There's always buried treasure to be uncovered in the Store.
Winning something would be icing on the cake.

I like how most of the idea are driven fun the forum.

Sweet !!! Looking forward to it!
Prizes-or-not I'm always looking for the good stuff & love hearing your take on it! :) Seriously, thank you guys :)

I love it! Just another excuse to brag about my windows ecosystem to my coworkers today :)

WPCentral never disappoints

Oh! I really like the idea! :)
Maybe you could also make use of Nokias App Social :)

My favorite is video, but there is one I hate an is because of it lack of features, I am talking about calculator it only has the basic, no it should be as smart as Android or IOS

Turn the phone calculator will switch between different modes.

Nice, great idea WPCentral Team!

Awesome!! Another contest!!! This site........................is................................................SO COOL!!! :D

Hidden gem : Power planner

New to Windows phone, luv it! WP central,is the most used app on my 920

Can I claim the prize SKU "lunch with Daniel Rubino & Satya Nadella"? My treat, of course...

On here multiple times a day! Happy to participate :-)

Made an account just to lower everyone's chance of winning!
... Just kidding guys ;) I had to create an account sooner or later, and this seemed like the perfect moment to do so. Good luck and have fun everyone! :)

Constructive, hmmmm! I think this is a brilliant idea and you need to run it longer than the end of June. Keep up the great work, I read your articles every day.

Great idea bring it on. I'm all ready to comment...

That sounds awesome, count me in!

You guys are awesome! Keep it up

not exactly original in the context of smart phone app articles but I have to praise you for finally putting a stop to the whole weather app feature. may we never see another weather app again!

The biggest reason you had so many weather apps is that was pretty much the only system API that developers had access to back in the early days. More API access = more diverse apps.

Very Cool! And a Prize to Boot! - you had me @ at "Hiidden Gems" ~ScottGeek.

This is awesome, I'm always looking for great apps in my WP that for some reason are not popular enough.

Lets kick this into overdrive.

I just pee'd a little. Great idea.

This is such a nice idea from you guys and the people from microsoft! I´m looking forward for some interesting stuff! Sing:
"Summertime,
And the livin' is easy
Apps are jumpin'
And the chances are high"

What a great idea! I'm looking forward to learning about these hidden gems!

That's awesome,
what a great way for prize giveaway and benefit at the same time from constructive user comments thus make the app(s) better and see what currently trends!
I'm all In!!

Now this is awesome and worthy of windows phone central.

Sweet mother of Odin. This will be great.

WPC + Microsoft = Awesomeness
Fantastic idea, really....
A win-win for all, developers, users, WP !!
Thank you very much for this opportunity.

Love The idea. Bring it in.

Can't wait! This is pretty cool. Been following this site 2010. WPCentral has became a must have app for any WP. Literally the only place to get WP and even win rt app news. lol

Thank you for making the requirement more than one word and constructive. I *hate* all the "useless" talk around here. It offers nothing to the conversation.

Karaka! There's too much of us. We are really big nerds! After years complaining about MS, we look like cheerleaders. Kkkkkkk

Omg HUEBR detected HWIEHAUEHWUEH. We'll win some prizes!

A contest each day keeps the JoRdaNeK at bay.....you read that correctly: Each.....and.....Bay :P

Hi Daniel, This is a great idea. It would help developers like me. But my question is how do I get my latest apps to be reviewed and reported in this series?

Sounds like Awesome sauce of Awesomeness...

What a great comp. Just goes to show how popular this site has become that a competition of this magnitude can be run. All because of the great articles & reviews.
Keep up the great work lads. Think I'll have to make room on my 925 to install these gems. Good luck everyone.

Is there an age limit for entering for prizes

Bookmarked the page.
So excited with this!!!

I think this is a great idea. I am a relatively new WP user (about 3 months now) and will find information about apps very helpful since I haven't really had time to explore many of the ones I'm not already familiar with from my previous Android phones. I was an Android user for quite a few years and wanted to try something different. I'm glad I did. I like WP (Lumia 1020) a lot more than I expected.

Nice! Sometimes i ask myself.... What cool apps I could download.... I think now I will have a guide!

Lives the idea. Thanks wpc and ms

I can't wait for these reviews. I just got a 520 last week.

Cool! I hope you enjoy your new phone as much I enjoy mines'! Got it since March 2013 :)

+800 Everyday! +800 Worldwide!

This should be interesting. I'm looking forward to continued app discovery through wpcentral.

This is really cool, guys, thank you!

I will surely try my best to give the right and honest comment :)

Do the Hidden Gems stop at the end of June or just the contest?

Can I install Windows Phone 8.1 on my Nokia X? http://en.wikipedia.org/wiki/Nokia_X

Before noon eastern time. What will be the timeline for India before which we can comment?

Eastern time is GMT-5 I think. Best just to do a quick time conversion search. :)

Here http://betanews.com/topic/windows-8-apps/

I loved the idea of Hidden Gems! I for one mostly install apps WPCentral recommend as I'm afraid to lose sensitive data on mischievous apps or waste money with bad quality apps. Game's on!

Good to see contest open worldwide instead just for USA

+630
Hoping for 512Mb apps only :D :D

I like the sentence "Open worldwide" :D

This is Great!!! A good way to learn new useful apps plus review! Personally...I think WP is still lack of a good system to bring these "hiden gems" to public. P.S. I don't like Nokia App Social...

Dude, it takes time to review an app... Make a way out for late comments to...

It's gonna be really productive. I'm thinking about the devs. Some just don't get the attention they deserve. Well that's gonna change now! Excited to find some hidden gems :D

Great idea. Chance to win swag and new apps for my phone. Nicely played!

Lovely idea, I am always searching for well crafted apps and honestly, the AppStore isn't the best way to do so. The new one is much better but still not very good at promoting great apps.

A nice idea guys! There are some great apps on wp platform that go unnoticed!

Always nice with a chance to win something, and certainly a cool feature to bring something useful to peoples' attention!

Hidden gems, give aways, World Wide....how can this be anything other than fantastic?!
To who ever came up with this Idea - Thank You

Nice! I've always loved discovering new apps, this is a great way!

This will be interesting and better apps could show up to the world.

Okay. Now thats cool. I'm in ;)

This is gona be gr8.. Explore new apps nd at the same time get prizes..

Sounds good let's get it started! I'm glad to see the US finally getting some WP love again, because we sure haven't been getting any new phones lately!

,I'll win a tablet as surface 3 in my dream ,oh damn,,,i can not sleep,:(

Awesome !!!! this is going to be interesting ..

Sounds like a great idea, and with Microsoft as partner, can't wait to see what apps surface up...

Sounds like an excellent idea

Great idea! Can't wait to see what you dig out! :)

Excellent love finding new apps

I like it. There are loads of apps worth your time on WP that people don't know about. Case in point: http://www.steambirds.com/

Sounds like fun and maybe a win-win situation for WPCentral and the unpopular apps developer.
Subscribed!

I've been on WPC every day for several weeks, but this my first comment ever! I'm a sucker for giveaways! Yay for Hidden Gems!

What happened to the surface pro contest ?? Is there anyone who won that ? I think the wpc team forgot about that.

This is great. This is going to encourage the app developers if their app gets highlighted. It is going to help the users to look for useful but unnoticed apps. Overall a good thing for windows phone and it's customers.

Going to participate and will try to give honest opinion

excellent, i believe this way we all win customers, companies and developers... i do not regret leaving my BB to come to WP...

Fantastic program. Any forum that encourages Windows Phone discussion, can only benefit the platform. Very exciting.

Wow! I'm excited. Can we recommend an App we like for review?

This is great! Thanks WPCentral and Microsoft. This is a great way to get readers involved and to gather real world feedback for the apps.

Definately would like to see more tablet worthy apps showcased for Windows 8.x Wishing there were banking apps for showcasing on Windows Phone - severely lacking and the only reason I cling on to my iPhone - would prefer just my 1520!!

I'm really looking forward to this! Thanks guys!

Great idea, looking forward to this series!

Looking forward to it, roughly when you do plan to post each day?

I suggest EmiPSX, an original Sony PlayStation console emulator to be added in Gems list.

Oh yeah...I am all over this. Great idea, guys!

I like the clean interface and the simplicity of the app. Also, the challenges should be a great way to measure improvement over time.

Daniel, what happened to the Surface 3 Pro contest??? Did I win? Lol

Do I need to actually download the featured app to join?

WP central should host some award ceremony for best apps, games etc like the Oscars.

This sounds like a lot of fun, thanks WP Central!

Looking forward to see calendar apps that provide better Google Calendar interface than the stock app on my Icon.

This sounds like a great innovation. Will be good for getting the great games that nobody knows, known and also to find out about some quality ones at the same time.

That's an incredible initiative, you can be sure I'll give my best review of every app you highlight.

Not bad at all! I like looking for new apps but it's not always easy to find the best. The WP store is way too underrated. This will help :)

I'm looking forward to this.

When is this starting... A day is already over ...

Great. It is always useful to get info about new (and potencially good) apps. I'm always trying this apps that recomends other apps to find hidden gems :-)

Sounds fantastic! Really looking forward to some nice windows 8 apps because those are pretty hard to find.

The best thing about WPC is they are worldwide! Not US Specific! Love you guys for this! And Many many more reasons!

Omg such a great idea! Loved it! Thanks WPCentral and Microsoft!

I sure hope to see some great hidden gems that can become part of my daily routine!

Didn't win my new surface pro 3. I'll be all over this one.

Looks like a good series.

Liked the idea. Of course Microsoft would be interested in such contests. Keep it up, WPC!!!

I hope I win this time. I lost in surface pro 3 contest

always great to find new apps and such, thanks for the info!!!

Love the way you lie...
Just kidding guys ;P

Noq this is something exciting one

Its a good idea, lets just hope the developers take some feedback into consideration if they read these forums

This partnership just shows that Microsoft and the Windows Phone team support this site! This is exciting, I look forward to learning about some new apps.

I am so excited about this and i am waiting for hiddem gems apps

Looks good! I think that's one of the (very) few positive things about a small market system. There are less unknown apps.

GREAT IDEA, THERE'S TOO MANY GREAT APPS IN THE STORE WITHOUT ANY ATTENTION.

Hey, i don't find any place to ask questions about this contest. So I am asking here. You mean, every day there is a winner like from 18 to 30 June ,totally of 13 winners. Or is it one winner for all?

Hurrreyyyyy! I think my dreams would come true!

This a good segment for people with up and coming apps, it gives them the oppertunity to be showcased, whereas they would not have been givin the chance otherwise, very good for developers, us the consumers and amazing thay they are working together with Microsoft simply for posting a comment, it can't get better than this!!!! :P

how many comments are allowed?

I must say it seems like a pretty interesting idea. I think it'll help bring more attention to different apps etc too.

If this is to be reviewed, I would say that its awesome!

Yeah , loving every bit of this. Cool apps discovered each day and cool prizes too

A great idea. I need to start trying these apps out.

so excited to win a tablet to download some cool apps

The best and more extensive comment will win? Or of all non-one-sentence comments will choose a random winner?

Have to say I love this initiative. Helps developers feel they are appreciated, highlights some real gems (both in press and to potentially unaware WinPhoners). And finally something international! By the way, anyone else get the feeling that the need for a contest/feature piece like this speak to the need for a better curation and feature functionality on Windows Phone Store?

I hope the developers of these apps are able to get some good constructive feedback. There are many apps out there that have a strong foundation but could always be a little better.

It's gonna be great !! :)

Its a great idea and a great offer for all the WP Lovers..Thanks WPCentral and Microsoft for this contest..!

Yay, summer sweepstake to win nice prizes. Allways appritiaded. Do you go by recommendation or do you find the aaps by yourself?

It's awesome to see that Microsoft takes care of it's developers

Are you sure they are giving stuff???

Thanks for supporting small developers!

Thank you! I know WP users are not the majority, but we still need a good place to get app reviews and more. Keep up the good work!

please make it available for wp7.8...Developers are concentrating on developing apps for wp8 .what about wp7.8?? We too need updates we too need apps.these apps are good to use .. we bought our phones at high costs yet we aren't getting any good apps for wp7.8..we are suffering even after spending lots of money on phones(wp7.8)..please make good apps like these availible on wp7.8.please

please make it available for wp7.8...Developers are concentrating on developing apps for wp8 .what about wp7.8?? We too need updates we too need apps.these apps are good to use .. we bought our phones at high costs yet we aren't getting any good apps for wp7.8..we are suffering even after spending lots of money on phones(wp7.8)..please make good apps like these availible on wp7.8.

Yipee!!! Hope I'd win a Lumia 1020+

Great initiative. are there prizes on this page as well? and when are the results coming?

I hope to see some applications for nontypical uses. For me, part of the fun of a tablet or phone is to find new ways to make them useful. I am still waiting for a top shelf OBD2 app for windows phone and/or Windows 8 that would give torque a run for its money. Or maybe a visual effects generator that could use the microphones on our phones and tablets to generate realtime effects from music. Either way, I totally would lovea Lumia 1520 here in Kyrgyzstan!

Yay! Contests! Yay! Underappreciated apps! I love both concepts. :D

RESULTS??????????????????????

Awesome work guys keeps it on the track

Want to know when cyan update will be available in India ?

Awesome i just have no words

Waiting for more apps on hidden gems

Is There any Special Things In hidden Gems

Good to have such contests

I hope I can get something.

Kudos to Windows Phone Central and Microsoft for this series.

i like an app called top task lists. it helps me keep an account of what my daily tasts are.

i like an app called top task lists. it helps me keep an account of what my daily tasts are.

Is this game still up? if it is how and/or where do I post the app name and what it does? I'm a little lost.

very nice ui and and also nice concept !

yeah! very good website to know more about apps

That's really awesome,I like It.
Windows Central Newsletter
Get the best of Windows Central in in your inbox, every day!
Thank you for signing up to Windows Central. You will receive a verification email shortly.
There was a problem. Please refresh the page and try again.