Interested in a Feedly app on Windows Phone? Join the open beta for Phonly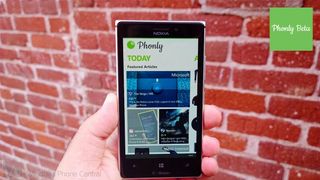 Windows Phone has been out for nearly three years, but there are still a handful of apps and services missing in the Store, at least in official form. Thankfully, we've got a strong community of devoted developers who take time to make a strong offering in the form of a third-party or alternative app. Phonly is an upcoming app on Windows Phone that will be a Feedly app on Windows Phone. There's a beta opening up right now, but first let's check the app out.
So what is Feedly? It's a news aggregator that pulls in content from nearly any website you want. You can create categories and add the sites that correspond to that category. For example, you might make a section focused on design and add the feeds for sites like Core77 and Design-Milk.
Feedly has official apps on Android and iOS, but nothing yet for Windows Phone. Daniel Berg, the developer behind some of our favorite apps like Weight Story and Wodhalla, recently received permission from Feedly to use their APIs to create an app for Windows Phone. And after looking through the Windows Phone Store, it looks like Phonly will be the first 100% pure Feedly app on Windows Phone when it launches.
The app will come with a variety of features you'd expect out of an app on Windows Phone. Things like lockscreen supporting, pinning categories, live tile support, and a clean design can be expected from Phonly. But there's only so much that Daniel Berg can do by himself. That's where the beta comes in.
Sign up for the Phonly beta and help Daniel make a Feedly app for Windows Phone that you'd use. Provide feedback on features, design, crashes, and anything else you think would be helpful in crafting an app you'd use.
You'll need to have a device with Windows Phone 8 to take advantage of the beta. Interested in trying it out? Hit up the source link below to join. Don't forget to provide feedback to Daniel via the feedback section within the app or by contacting him on Twitter over at @bergdaniel.
Our thoughts on Phonly so far? It's pretty darn awesome and we're now really using Feedly/Phonly on a daily basis to stay on top of our favorite sites.
Source: Phonly Beta
Looks like my type of app

Unrelated but, why can't we go to WP central home page from the app when we click a toast notification?

Good question. I'd like an answer too. I usually don't click on the toast for that reason.

People please stay on topic, you confuse and frustrate readers when you derail the smooth motion of the post. Readers enter a certain article for that article not for off topic material. Thank you. . . P.S. The Steelers lost today, does anyone know what happened to pouncy?. . . Hi mom

Torn ACL and MCL. Out for the season.

What an absolute idiot you are jlynnm350z grow up

Sir yes sir Mr. Hallam sir. Sorry sir. I am a child. Should be more like you. . . An as. . . I mean a grown up. Sorry I'm not 97 years old an sophisticated. Let me guess, you think your better than everyone else

Not at all, I just know how to speak to people with respect and not have a go at someone for making a comment on a forum. I'm sick of reading stupid comments from people on here, talk about what's on topic and respect the fact that people can make mistakes

Your first comment was not respectful.

I think it would be better if the toast still sent us straight to the article, but tapping on the WPcentral logo would send us to the homepage. Just my 2 cents.

This is exactly how it should be.

I'm confused, how is NextGen reader not a feedly app?

It is, its just... Not as aesthetically pleasing.

I want to love NextGen reader, but see my comment below.

I've used NextGen Reader on Win8 and on WP7 and WP8. Its absolutely a Feedly app, so its sort of a bizarre claim -- likely an advertisement, I guess?
But, I'd drop NextGen Reader in a heartbeat if there was a Feedly app that didn't sync to the phone or tablet. NGR is the only one I've seen that does that, and its a usability hassle for anything but the completely disconnected use case -- and on a cell phone, that's a pretty silly use case to focus on.

Hi Traction, Phonly doesn't sync anything to your phone. It caches content in memory while using the App for performance, but nothing is ever persisted on disk.
Cheers,
Daniel, Geek Industries

So if I donwload data while on wifi and then close the app... what happens when I open it back? Is the data there or do I have to sync again.
Is it possible to avoid downloading photos while not reading the article?

Hi! The doesn't persist any data on your phone's storage. While the app is running it stores in-memory. So, yes, when opening the app again data is downloaded. Future versions will include the ability to save articles for offline viewing. But it is in essence an online-app. Currently there's no way to prevent the app from downloading images. Thanks! /Daniel, Geek Industries

The problem with NextGen is that it doesn't emulate Feedly in that it marks your feeds read as you scroll past them. It's incredibly annoying because you either mark everything read or not. Right now I prefer to read news on my Android and I don't want that!

Feedly is a non-starter for me right now because of requiring Google. They have promised to offer other options soon, however.

yes, i moved to digg reader for the same reason.

Really ... Feedly does not require Google!

But you can't change your log in method if you signed up via google to transfer over your feeds. Your stuck with google at the moment

What is the purpose of this app since Nextgen exists? Why would someone use this if he/she already paid for Nextgen? Does this even have a Windows 8 version? The nice thing about Nextgen is that the Windows Phone and Windows 8 versions sync. A standalone Windows Phone Feedly app that doesn't sync with Windows 8 wouldn't be of any use to me.

Why are there a billion Twitter apps? Different strokes for different folks. But NextGen Reader does look damn good.

Nextgen doesn't sync between phone and PC because it's the same app, they both access Feedly. So any app accessing Feedly will "Sync", regardless of who makes it. Incidentally, I used Nextgen on the PC and Newspot on the phone (a much better app) just fine.

Exactly. But in my case I use Nextgen on my phone, and Feedly itself on my tablet, both of which sync just fine together.

No, the stupid thing about Nextgen is that the versions *need* to sync. Feedly knows what has been read and not read, just like Google Reader did. Nextgen's behavior means things are forever out of sync with each other.

I paid for the nextgen reader app to support the developer but to be honest, I've never found the general layout and design of it to be very appealing.

As a long time Feedly user - this is very exciting for me. Some newsreaders have Feedly integration, but none come close to capturing that Feedly feel. I signed up immediately and got an email that said I would be informed when the beta is available.........aw.

It's available. I just got about1000 e-mails to go through and add Beta-users, so bear with me for just a little while. :-) /Daniel, Geek Industries

Didn't Feedly announce they were developing a WP8 app around the time google reader shut down, or am I just imaging that?

I read that too. I think it was the Feedly blog.

I love Nextgen because its also on WP7.

I haven't seen the app yet but based on the images, the dev's got this Windows Phone look and feel thing figured out. Looks miles better than when we got our first sampling of apps via WP7.

All I need now is Flipboard and I'm good.

No unofficial snapchats either now :(

Got this response on trying to apply for beta testing. 'The Beta is currenty full. We'll notify you as soon as we open up more slots!'

Hi! Yes, I'm sorry. The interest has been huge in the Beta-program and the 1000 slots I had have been filled. As soon as I open up more slots I'll update the homepage and post about it. Thanks,
Daniel

Is anyone else wondering why a lot of the official apps are not being made for Windows phone. Its either none of the developers like Microsoft...or Apple and Google have paid premiums to these companies to stop any WP8 development. After seeing the presentations on the C++ architecture and how easy it was to develop for PC, tablet and phones, I was expecting a flurry of apps to be made, but still waiting. This app is another example of that, it is disappointing

Its not that developers don't like Microsoft, and its also not that they get paid premiums from Google and Apple to stop WP development. The reason we don't get a lot of official apps is simple because Windows Phone is because is market share isn't as big as iOS or Android. As it grows more, which its doing, we will see more and more apps come to our OS.

I get what your saying George but the thing that's doing my head in is that where getting told that all the top 50 apps are coming to windows phone and more but it just isn't happening. So people like myself who commit to a two year phone contract expecting that the best apps will be coming....and they don't, makes me feel slightly mugged.

Yes, looking forward to this app very much! NextGen Reader works, but Phonly just looks much more beautiful, judging by the screenshots!

Nextgen Reader is simply awesome. Simple, functional, yet pretty UI, with plenty of settings.
Of course, having more apps just brings healthy competition and fits more tastes.

still scroogle account needed ???

With ""Nextgen Reader"" and its Brilliant functionality No one needs this S**T , at least the developer behind it is showing some LOVE for the WP7.x and didn't forget it.... So regardless to whatever this app has to offer ; for us the ""WP7 x users"" it already Sucks...

Maybe if you didn't have a shitty attitude, the developer might consider making the app for WP7.

Hi Deacon! I will definitely invest time and effort in supporting Windows Phone 7 as well. Just have a little patience with me as I try to sort out the biggest Beta-bugs out first. :-) /Daniel

I hope you feel like an asshole now that the dev went out of h is way to respond to your childish post.

Same feeling my grandpa had when everybody got a wireless remote and he still rocked the wired model.

The beta is already full, lame wanted to participate. Any idea of when it will be released?

How beautiful is this!? And its only in beta. Only suggestions so far : live tile with rotating images from latest articles
Cannot wait to see what this becomes

any news on the official Feedly app ? It was announced back in June.

If they dump the Google account requirement i'd give it a try. In the meantime i'm using Weave on the phone. Ofcourse the drawback to Weave is there's no syncing to a desktop or 'Metro' app on Win 7/8.
I was going to give nextgen a try but saw the goog account requirement for feedly and said 'uninstall'

Beautiful app. Loving it already.

I was hoping for something that followed the design of the official feedly apps. I think they were already pretty well suited to the modern design. Not every app has to look the same. It looks good, but is really no different than hundreds of other apps.
Windows Central Newsletter
Get the best of Windows Central in in your inbox, every day!
Thank you for signing up to Windows Central. You will receive a verification email shortly.
There was a problem. Please refresh the page and try again.