Keep track of your body with Weight Story for Windows Phone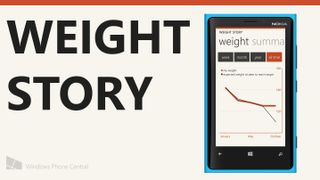 Summer is in full swing up here in the northern hemisphere. Long, warm days go hand-in-hand with trips to the beach, river, or lake. It's not too late to drop a few pounds if you had plans to start summer off with a six-pack. Weight Story for Windows Phone is a good looking app that can help you keep track of your progress as you get into range of your ideal weight. Let's check it out.
Remember Wodhalla for Windows Phone? It was a really well done CrossFit app we covered a handful of months ago. Those devs are the same ones behind Weight Story. So why use Weight Story to keep track of your weight instead of something as simple as OneNote or Excel? Here are some features in Weight Story you don't get in those apps.
Beautiful UI
Get inspired by following tags and users on Instagram
Live tile that will display your weight loss, a message if you're on track and a random image from your Instagram feeds
Set a target weight and date and Weight Story will help you reach your goal based on your personal data
Keep a journal of your weight loss
See how many calories you must increase in training or decrease in consumption
Share your weight loss with your social media accounts
BMI indicator
Graph to help you see if you're on track
Keep your data secure and backed up with SkyDrive
Password protection
Weight Story does one thing really well. It tracks your weight in a gorgeous UI, with pleasant looking graphs. It also adds a few things that don't seem like much, but really add up to make this worth the $0.99 price tag.
Entering weight is straight forward, you just enter the weight (you can set your units to imperial or metric in settings), the date for that weight, and if you'd like you can include a photo. The photo twist is something that is really cool. Sometimes losing a few pounds might not seem like much, but the difference you'll see in your body can be a little more drastic. You can grab an image from your camera roll or take one on the spot when you're entering your weight.
You can also select a target weight you'd like to reach, in addition to the date when you'd like to reach it. When you're viewing your progress in the beautiful graph you can compare your current and pass achievements against your projected future. The app will also tell you how many pounds to drop per day to reach your goal.
Need help reaching your goal? There's something about looking at beautiful people that helps you stay motivated. The app has a really cool inspiration page where you can add hashtags or user names from Instagram to show up as a feed on the pain pivot of Weight Story. Just add some gorgeous fit women (or men, if that's your thing) into the inspiration section and you'll have an easy way to stay motivated. It's not going to make you drop 10 pounds instantly, but it's nice to keep you on track.
Obviously, the pictures and information you enter into the app might be stuff for your eyes only. The app can be password protected if you'd like. Although make sure to delete the photo in your camera roll after. You can also back up your data from Weight Story to your SkyDrive account. A great thing to do in case you break or lose your phone.
Weight Story is available for all Windows Phone devices. It's only $0.99, well worth the dollar for a well-designed app that looks gorgeous. But if you're penny pinching, the trial is fully functional that limits you to three entries. Making it a viable way to check out if the app is for you.
Grab it here in the Store, use the QR code below, or swipe to the right in our app.
Looks great and has some nice features. Would really be nice if it integrated with Fitbit and MyFitnessPal.

I'd love integration with Fitbit and MyFitnessPal!

If you want to include food information - here we have a great food database api:
http://fddb.info/db/i18n/about/de_api.html

Thanks! Nutrition data is a feature I'm really keen on adding to the App.

Does it support metric for the non-US world? How does it measure BMI accurately? Last year I went on a huge exercise regime, initially I lost 2 kg but then the muscle gain took off so my overall weight stayed the same while I kept trading fat for muscle. In the end I was still only 2kg lighter but looked heaps fitter. So measuring only weight-loss isn't a good indicator... Well unless you're already very overweight!

It supports metric. BMI is inherently simple and not accurate in determining your healthiness. I'd count it as a rough motivating factor for weight loss, gives you something to aim for.

Since you know so much about fitness youll know that just looking at your weight isn't a good assesment for your body. Especially if you're carrying more muscle mass than the average joe. But if you're the average joe (or jane) this app works great for keeping track of your weight. Plus BMI in general is "OK' for determing your health/fitness. In your case, look at your body fat % + weight to determine where you wanna be. Obviously since you're lifting you're going to weigh more than the average person. Muscle is much denser than fat, so as you pack on muscle you're going to pack on weight.

All good points but he is always upset at the pace and technological advance of the species.

Hi Schlubadub! It supports metric and tries to detect your preference when first launched (if you're in the US or UK it'll select imperial). The values are also re-calculated should you want to switch. The BMI is calculated to the standard formula, so it doesn't take into account your muscle mass, etc. I agree with you, BMI is sometimes a very blunt indicator, but could give a pointer. /Daniel, Weight Story developer

app looks good but according to the app my base calorie ussage per day is 71025 ??????
also it doesnt show my bmi it only says i need to fill in weight entry but i cant . in profile i need to fill in height in meters and height in cm ??? if it works its maybe worth buying .
but not as it is now



Hi Style2k12, You have probably set your units to metric. Go to settings and change to imperial. Then you can set everything in pounds, feet and inches. You also need to add at least one weight entry in the journal. That will be your starting weight which the App will do its calculations from. If you have any other questions just drop me a line at daniel@geekindustries.se and I'll help you out. Cheers,
Daniel

Just download it, I look forward to it for the motivation

Be sure to share some cool Instagram accounts/hashtags you think are worth following for fitness motivation.

How do you get to the bmi??

It's in the "progress"-section. :-) Set your profile information and add at least one weight entry in the journal (your current weight). /Daniel

It's always a great article when the Dev is answering questions in the comments. How about Withings integration. Maybe something like it pulls all weight and bf % from withings but still lets you add the pictures and other great features.

Cool, didn't know about Withings. I'll have a closer look at the API and add the integration to the backlog. Thanks!

The ability to import from other apps would be nice. I've got a few months of data I wanted to dump into the app. I managed to find a way to "import" my data, but it wasn't exactly user friendly to do.

For those that want to try importing the way that I did… try this at your own risk. I exported my weight data from "Weight Tracker" as CSV, then reformatted it into the XML format Weight Story uses. After that, I backed up my WS data to Skydrive, then overwrote the "weight.xml" in the backup folder. Back in Weight Story, I told the app to restore my data from Skydrive to pull in the new data.

If you're feeling adventurous, here's the script I used: https://gist.github.com/joshbuhler/5952857

That is seriously cool, Fogo! Let me know if I can do something to help out :-)
Windows Central Newsletter
Thank you for signing up to Windows Central. You will receive a verification email shortly.
There was a problem. Please refresh the page and try again.