Keep track of your body with Weight Story for Windows Phone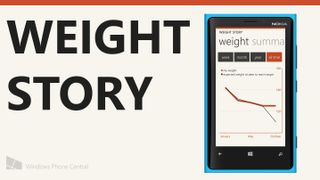 Summer is in full swing up here in the northern hemisphere. Long, warm days go hand-in-hand with trips to the beach, river, or lake. It's not too late to drop a few pounds if you had plans to start summer off with a six-pack. Weight Story for Windows Phone is a good looking app that can help you keep track of your progress as you get into range of your ideal weight. Let's check it out.
Remember Wodhalla for Windows Phone? It was a really well done CrossFit app we covered a handful of months ago. Those devs are the same ones behind Weight Story. So why use Weight Story to keep track of your weight instead of something as simple as OneNote or Excel? Here are some features in Weight Story you don't get in those apps.
Beautiful UI
Get inspired by following tags and users on Instagram
Live tile that will display your weight loss, a message if you're on track and a random image from your Instagram feeds
Set a target weight and date and Weight Story will help you reach your goal based on your personal data
Keep a journal of your weight loss
See how many calories you must increase in training or decrease in consumption
Share your weight loss with your social media accounts
BMI indicator
Graph to help you see if you're on track
Keep your data secure and backed up with SkyDrive
Password protection
Weight Story does one thing really well. It tracks your weight in a gorgeous UI, with pleasant looking graphs. It also adds a few things that don't seem like much, but really add up to make this worth the $0.99 price tag.
Entering weight is straight forward, you just enter the weight (you can set your units to imperial or metric in settings), the date for that weight, and if you'd like you can include a photo. The photo twist is something that is really cool. Sometimes losing a few pounds might not seem like much, but the difference you'll see in your body can be a little more drastic. You can grab an image from your camera roll or take one on the spot when you're entering your weight.
You can also select a target weight you'd like to reach, in addition to the date when you'd like to reach it. When you're viewing your progress in the beautiful graph you can compare your current and pass achievements against your projected future. The app will also tell you how many pounds to drop per day to reach your goal.
Need help reaching your goal? There's something about looking at beautiful people that helps you stay motivated. The app has a really cool inspiration page where you can add hashtags or user names from Instagram to show up as a feed on the pain pivot of Weight Story. Just add some gorgeous fit women (or men, if that's your thing) into the inspiration section and you'll have an easy way to stay motivated. It's not going to make you drop 10 pounds instantly, but it's nice to keep you on track.
Obviously, the pictures and information you enter into the app might be stuff for your eyes only. The app can be password protected if you'd like. Although make sure to delete the photo in your camera roll after. You can also back up your data from Weight Story to your SkyDrive account. A great thing to do in case you break or lose your phone.
Weight Story is available for all Windows Phone devices. It's only $0.99, well worth the dollar for a well-designed app that looks gorgeous. But if you're penny pinching, the trial is fully functional that limits you to three entries. Making it a viable way to check out if the app is for you.
Grab it here in the Store, use the QR code below, or swipe to the right in our app.
Get the Windows Central Newsletter
All the latest news, reviews, and guides for Windows and Xbox diehards.