If you're into CrossFit, check out Wodhalla for Windows Phone 8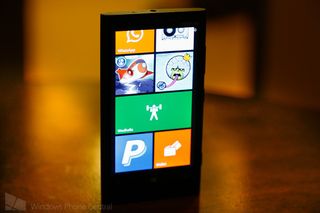 Even though CrossFit has been around since the mid-90s, it seems to have really taken off in popularity the past few years. CrossFit is an excersice program that has spawned a new definition of what being healthy and fit means to a lot of people. There are numerous gyms affiliated with across the globe, but workouts can just as easily be completed daily for those without access to a gym. The community has a daily workout, appropriate called "Workouts of the Day" which most people abbreviate to WOD.
For CrossFitters that use Windows Phone, Wodhalla is a new app for Windows Phone 8 that is aimed squarely at the CrossFit community.
If you're into CrossFit you might be interested in checking the app out. Its part RSS feed, part workout logger, part database for all those WODs and more. When you first launch the app you're presented with the home section where you have: wods, stopwatchers/timers, a fitness log, statistics, weight tracker, and the settings for the app (basically kilograms vs. pounds). Swiping to the right you'll get the 'news' section, which is an RSS feed from both CrossFit and Reebok Crossfit. One more swipe and you're in the paleo section which is a feed for Nom Nom Paleo. Unforunately right now both the workout and paleo feeds just open links in IE, it would be nice to not leave the app to read the article/post (maybe a future update?).
The WODs section of the app has a bunch of different workouts that you can do. This app seems to clearly be aimed at those already in the CrossFit community because I couldn't find any description for the exercises within the app. While most are self-explanatory if you've ever been to a gym, others are unique to the CrossFit folk and I had to look them up online. The stopwatch feature is nice as well. You get to choose between four different types: a normal stopwatch, tabata, countdown, and interval. Great for those timed workouts. The logging of workouts and weight is fairly straight forward.
So if you're into CrossFit this app is worth checking out. It might be easier to actually join a local CrossFit gym if you're looking to start for the first time. It's not a bad showing for a first version of the app, the idea definitely has potential. The developer is also open to feedback and improving the app – be sure to email them any suggestions/feedback you have for the app.
Wodhalla goes for $2.49 in the Windows Phone Store, but includes a trial so you can test it out before parting with your morning coffee. Grab it here, QR code below, or swipe right in our Windows Phone Central app.
Get the Windows Central Newsletter
All the latest news, reviews, and guides for Windows and Xbox diehards.