If you're into CrossFit, check out Wodhalla for Windows Phone 8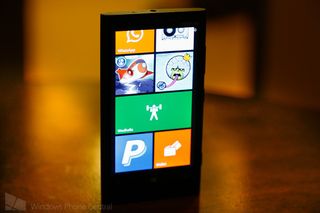 Even though CrossFit has been around since the mid-90s, it seems to have really taken off in popularity the past few years. CrossFit is an excersice program that has spawned a new definition of what being healthy and fit means to a lot of people. There are numerous gyms affiliated with across the globe, but workouts can just as easily be completed daily for those without access to a gym. The community has a daily workout, appropriate called "Workouts of the Day" which most people abbreviate to WOD.
For CrossFitters that use Windows Phone, Wodhalla is a new app for Windows Phone 8 that is aimed squarely at the CrossFit community.
If you're into CrossFit you might be interested in checking the app out. Its part RSS feed, part workout logger, part database for all those WODs and more. When you first launch the app you're presented with the home section where you have: wods, stopwatchers/timers, a fitness log, statistics, weight tracker, and the settings for the app (basically kilograms vs. pounds). Swiping to the right you'll get the 'news' section, which is an RSS feed from both CrossFit and Reebok Crossfit. One more swipe and you're in the paleo section which is a feed for Nom Nom Paleo. Unforunately right now both the workout and paleo feeds just open links in IE, it would be nice to not leave the app to read the article/post (maybe a future update?).
The WODs section of the app has a bunch of different workouts that you can do. This app seems to clearly be aimed at those already in the CrossFit community because I couldn't find any description for the exercises within the app. While most are self-explanatory if you've ever been to a gym, others are unique to the CrossFit folk and I had to look them up online. The stopwatch feature is nice as well. You get to choose between four different types: a normal stopwatch, tabata, countdown, and interval. Great for those timed workouts. The logging of workouts and weight is fairly straight forward.
So if you're into CrossFit this app is worth checking out. It might be easier to actually join a local CrossFit gym if you're looking to start for the first time. It's not a bad showing for a first version of the app, the idea definitely has potential. The developer is also open to feedback and improving the app – be sure to email them any suggestions/feedback you have for the app.
Wodhalla goes for $2.49 in the Windows Phone Store, but includes a trial so you can test it out before parting with your morning coffee. Grab it here, QR code below, or swipe right in our Windows Phone Central app.
Windows Central Newsletter
Get the best of Windows Central in in your inbox, every day!
I thought Crossfit was a term for dudes who wore women's clothing while working out... (no wonder everyone was looking at me)

Check out Blitz at the Sports Club LA in San Francisco. Blitz beat CrossFit any day!

Anything beats Crossfit. Pick up some damn weight and stop jumping around the gym like a fool. The only result you will achieve more quickly than a real program is injury. /crossfit rant off

So true. People are more prone to being injured while participating in crossfit.

You might want to checkout the upcoming CrossFit games if you aren't familiar with CF. Also, there should be an update for the app soon.

We have a cross fit program at our high school, for FREE!!

Or you could use your phone and go to one of many sites that post CF WOD's every day for free, including the main CF site.

Surprised at the CrossFit hate on here... it's one of the best programs I've ever joined. Beats years and years of just lifting weights in a gym...


Its probably the only program you have joined. There are other alternatives that lower the chances for injury.

Agreed. And surprised at the hate for a developer putting out a quality WP app. We need more like this. Also, we need developers to be able to make money from their apps to stay with WP.

Thanks!!!!!!! I use the Crossfit all to the the WODs from the HQ... I will try this one also...
I lost 35 pounds since I started crossfit

Holy moly that's impressive! When did you start CrossFit?

I am 7.8 user. I will go to iPhone.

Hey guys!

My name's Daniel and I'm the developer behind Wodhalla and a enthusiastic CrossFit-practitioner myself. Thanks Sam for the article!

The App with the benchmark WOD list is free. The paid version is only if you want to use the statistics to track your benchmark progress, weight progress or add custom RSS feeds.

Other than that it's for free, WOD list, stopwatches & all. :-)

Version 1.1 is going to be released soon with some improvements, including rep-counter in the stopwatches. Version 1.2 will include the possibility to add custom WODs (also to support the tracking of your 1RM).

Thanks for your support and I'll do my best to improve Wodhalla with your suggestions.

/Daniel, Wodhalla-author

If you add the ability to input custom WODs, track 1RM and record PRs, I'll pay for the app. Another feature I'd like to see doen the road is the ability to keep my data stored on SkyDrive but that isn't as important as the custom WOD functionality.

Cool! SkyDrive (or at least cenralized data management) is a prioritized feature, but I can't say in which release it's going to be shipped in or when. I'll keep you posted!

The Heimdall-release of Wodhalla where you can enter custom WODs and track them is now in store . :-) We're not fully there with SkyDrive yet, but it's coming!

Great addition to the platform. Always great to see any new fitness apps, regardless if one does that type of exercise or not. This day in age, getting most of the lazy people off the couch is a great thing. If someone decides to start with CrossFit, than that is a great thing, much better than no exercise at all.
Anyway, thanks Daniel for putting out, what looks to be a well developed app and a welcomed addition to the WP Platform!

Thanks! Glad you like it! :-)
Windows Central Newsletter
Thank you for signing up to Windows Central. You will receive a verification email shortly.
There was a problem. Please refresh the page and try again.