Alienware talks to us about their upcoming Windows living room PC, the Alpha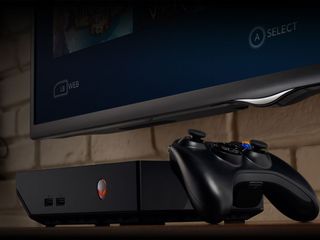 Our interview with Alienware's General Manager discussing the Alpha
While game consoles like Microsoft's Xbox 360 and Xbox One have found their way into hundreds of millions of homes to be connected to televisions, it's been a challenge for the PC industry to offer a product that's designed to connect to a big screen TV and be used in a living room setting. A year ago, Valve announced a plan to launch its own Linux-based operating system, SteamOS, that was designed to be used in small living room PCs to play native Linux games and to stream PC games from their Steam service.
While Valve announced earlier this year plans to team up with a number of third party PC OEMS for a SteamOS hardware launch later in 2014, the company later revealed those plans have been pushed back to sometime in 2015. However, one of those SteamOS partners, Alienware, decided to go ahead and launch their SteamOS machine this year as a Windows 8.1 PC, the Alienware Alpha. While it may use Microsoft's latest operating system, the team at Alienware (which Dell acquired in 2006) are also developing their own UI that will allow owners to use the Alpha as a gaming PC with an included Xbox 360 controller, with no requirement to use the Windows 8.1 desktop.
To learn more about the upcoming Alienware Alpha, which is currently available for pre-order for shipment in November, we got Alienware's General Manager Frank Azor to take some of our questions. He also offered us some thoughts on the PC gaming industry in general, tells us if Alienware will ever launch a gaming-themed tablet, and more.
First, It's been a year since Dell became a private company once again. How has this change affected the Alienware division, if there have been any effects at all?
The Alienware Alpha began as one of the PCs made to run Valve's SteamOS but will now be released as a Windows 8.1-based PC with your own UI. Why did you think it was important to release the PC now and not wait for SteamOS and its controller to officially launch?
Do you still believe that Valve is making a good move in launching the Linux-based SteamOS and its own controller in a bid to launch living room gaming PCs?
The living room is a place where many companies, including Dell and Alienware, have tried to develop and released PCs with limited success. Why do you believe the Alienware Alpha will succeed when the others have not been as successful?
Is it important for the PC industry to get devices like the Alienware Alpha into the living room in general and if so why?
The Alienware Alpha will still use Valve's Big Picture mode on Steam combined with its own UI. How will this work for the owner of the PC and will he or she never have to see the Windows 8.1 Start screen or desktop while using the Alpha?
Alienware is also still launching more conventional gaming PCs such as the upcoming Alienware 13 laptop, but we have yet to see a gaming tablet from the division. Is a gaming PC tablet something that Alienware would like to release at some point in the future?
Let's talk about the gaming PC industry in general. Now that the Wii U, Xbox One and PS4 are out, where do you and Alienware see the industry moving in the future in terms of PC hardware and software services and will they be able to compete with those consoles in terms of pricing and features?
Steam games are much less expensive on average than traditional console games
The library of games is exponentially larger on Steam and you can play your back catalog of games you've previously purchased
There are no subscription costs to access the Steam network and play games online
The Alpha comes bundled with 9 games, 3 of which have already been announced, traditional consoles don't come with any at their entry price points
You can use your existing Xbox 360 gamepads rather than having to buy a whole new set of gamepads
You can upgrade several components in it yourself including the hard drive, memory, CPU and WiFi card
Ohh and it's also a fully featured Windows based PC if you chose to use it as such basically giving you 2 products for the price of 1"
Microsoft has announced DirectX 12, but it may not launch for a while. Based on your knowledge, will it be a huge step up for PC game graphics when it is fully released?
In your opinion, will a cloud-based streaming game service ever really take off and offer as good of an experience compared to playing PC games on a local hard drive?
Finally, is there anything else you wish to say about Alienware Alpha and its upcoming launch?
We would like to thank Frank for taking the time to answer our questions!
Get the Windows Central Newsletter
All the latest news, reviews, and guides for Windows and Xbox diehards.