#IDARB for Xbox One developer exposes the game's crazy origins in our exclusive interview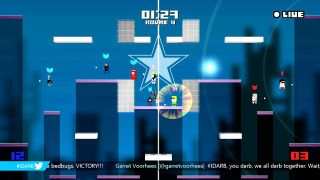 #IDARB or It Draws a Red Box Is easily my most anticipated ID@Xbox game of the year. Developer 'Other Ocean' describes the game as a "chaotic 8-player eSport jumping jetpack future arena ball game that is as inspired by Bomberman, Smash Bros., and NBA Jam." That said, the game is constantly changing and evolving as Other Ocean crowd-sources ideas from passionate users.
Xbox One owners will be able to download #IDARB sometime before the end of the year. In the meantime, we interviewed Mike Mika, game designer at Other Ocean. Mike spills the beans about a new #IDARB feature, the history about Other Ocean, and even shares some moving words about the recent Atari dig that he attended.
Mike, it's a pleasure to meet you. Can you tell us a little about your background and what you do when you're not making games?
I've been making games professionally now since 1994. My first games were created in the 80s on an Apple II and the Commodore 64. I really can't think of a time that I wasn't making games or fantasizing about it. By third grade, I had these "design documents" (Stacks of drawings) of games I wanted to make.
I would send them to every game company I could find an address for. Atari and Activision were the only people who would engage, and both so differently. Activision would send me design notes and information on what I needed to learn to become a programmer and all kinds of encouragement, and Atari would send me order forms for their games in appreciation and suggest I become an arcade game distributor and work with the "Atari Team." And to be honest, I wanted to do that, too.
When I'm not making games, I do family things. My kids give me an excuse to bring out all my old toys and watch cartoons.
Tell us about Other Ocean and how you ended up there.
Other Ocean is a distant relative to a company called Digital Eclipse, which was started, I believe, in 1991. Digital Eclipse made its mark as the creators of the first commercial emulation of classic games, with Defender, Robotron, and Joust for the Macintosh. They came in these really cool cardboard arcade-game-shaped boxes that now fetch a pretty penny on-line.
I joined just before the release of the Game Boy Color, in, I think, 1998. I was moonlighting with Andrew Ayre (CEO Other Ocean and previously of Digital Eclipse) on a few Game Boy games while still working at Next Generation game magazine. Finally, I pulled up anchor and moved over to Digital Eclipse full time and worked on a bevy of Game Boy games, Game Boy Advance, PlayStation, etc. We were known for original game designs based on movie and television properties and our experience in bringing classic games to modern platforms. Those were some pretty crazy times!
We eventually became Backbone Entertainment after a merger with a company called ImaginEngine. And not too long after that, we formed Foundation 9, a large collective of great game studios around the world. I left that company for a brief stint to help launch a mobile studio after Steve Jobs eloquently painted the picture of what the App Store would be on the iPhone.
That company, NGMoco, was amazing – we were in a position to create a lot of firsts for mobile and I loved it, but it was also a startup and very grueling at a time that my wife and I were expecting our daughter. So that holiday I ran into Andrew, and we were like "Let's get the band back together!" He had arranged to take one of the Backbone studios with him when he left Foundation 9, and I joined Other Ocean and that's sort of how it all came together. In many ways, Other Ocean is Digital Eclipse. We have a lot of the same people and the same inspirations.
How did #IDARB come about?
Way back in January of this year (2014), I started doodling with the game engine we used in a previous game. I wanted to get back to programming, and I hadn't done it for a while, and I also wanted to work on something that I could share. Most of the games we work on need to be shrouded in secrecy and coordinated with a marketing team, etc. I also was missing the old school way I used to make games with my friends. So I started by doing what I've always done and created a box that I could control. It was red, and I had it standing and jumping on some platforms.
I posted an image of it and basically said "It draws a red box" and asked what I should do with it. I hoped maybe a couple of my friends would chime in or I'd get a few weird ideas, but I didn't expect the engagement to be so rich and fascinating. The sheer volume of response since that tweet was insane. I decided pretty much that night that I was going to try and put in every idea that I could and use it as a way to find what the game was going to be.
What's the story of you guys joining ID@Xbox?
I've known and worked with Chris Charla for a long time. He's always been a huge advocate of independent games, way before there was even a term for it. We'd worked on games together, and he's always envisioned the day that small studios and teams could produce games and go straight to market on a console.
He called me around the same time that I was posting the progress of our game and was like:
He filled me in on what they were planning to do with the Xbox One, and asked me a lot of questions, and then asked if I'd be interested in bringing the game over. In fact, I think it was Chris who actually first used the acronym #IDARB. At this point, I was still just doing this for fun at night, but once he sent over the hardware, we were pretty excited just to see if we could get it up on the Xbox.
It took about a week, and we reported our progress, and the now christened ID@XBOX team offered an incredible opportunity to feature the game at GDC in two prominent locations. We suddenly saw the effect of a marketing and publishing titan strap on the rockets and the game, now only really a few weeks old, was standing toe-to-toe with Titanfall on the show floor. That was pretty surreal.
Other Ocean has developed a lot of licensed games, plus a few unique ones like Duty Calls and Dark Void Zero. What's it like to collaborate with fans on #IDARB and receive so much praise from the press?
I've only experienced this once before in my career, and it was for a game called Death, Jr. that we made for the PSP. It's incredibly rewarding. The fact that we can talk about the game during development, and make changes without having to go to a small committee who often times has its hands tied and is limited by the constraints of a license or IP. You can really see the difference.
Everyone in the studio has contributed to #IDARB and their motivation comes from a place of true excitement to be working on it. We have a lot of fun with the game, and we still, after all these months, love to play the game. It really is a simple game, and I feel really fortunate to be working on it. I hope the fun we are having shows through, because I really do believe that your attitude during the development of a game inevitably affects the mood and enjoyment [potential] of the game itself.
Speaking of the collaborative process, have you received any particularly weird suggestions from fans?
Surprisingly, most suggestions were very thoughtful. Some throwaways like "Put in Leland Yee selling rocket launchers to children" would show up, and we'd actually take a stab at some of those ideas. (For the record, we had to remove Leland Yee for legal reasons, but he was in there for some time!)
The last time the public saw #IDARB was back at Gamescom. What are some things that have changed or have been added since then?
We added a lot since then. We have a song editor now that enables players to create victory songs for their teams, and a logo editor to create logos. We have over a dozen recipes to unlock via achievements. Real world food recipes. They were contributed to use my some awesome game industry folks like Jeremy Hoffmann and Abbie Heppe. Also, Caitlin Oliver gave us this amazing teriyaki chicken recipe. She's the world record holder for arcade Splatterhouse.
How does it feel to have industry veterans like Tim Schafer and the staff of Giant Bomb not only support your team, but even agree to be featured in the game?
It feels like collusion? It's actually really awesome that we have an "industry" that is still small enough to be filled with all of your friends and that those people can support you when you are small and don't have the means to get the word out.
We will never be Activision or any of these larger companies, and we will never be able to out-market those guys. But when people like Tim, Brad, Jeff and the rest of the crew give you some of their valuable time to help promote you, it's a bit humbling and amazing.
What are you most proud of with #IDARB?
That something I got to make and play with all my friends turned out so damn fun.
You participated in the recent Atari dig. How did you enjoy that experience and discovering the truth behind the urban myth?
When I was just out of college, I created one of the first "homebrew" Game Boy games. I reproduced my favorite game as a kid, Yars Revenge. (It later was officially released). While I was hacking away at the game, a friend of mine said he saw Howard posting on some forum, and he nabbed his e-mail address. This was still early internet days.
On a whim, I emailed him and told him what I was up to. He wrote back! And he said he was actually going to be in the town next to mine in the next week. We arranged to meet up and he told me the whole story, from the early days of his career, where and what he was doing then, and he gave me so many insights into the development of Yars and ET. He was such a nice guy and he encouraged me to finish the game, gave me some critique, and then told me that the best games he's ever worked on built "complexity from simplicity." I would write him every once in a while, and he would write back with advice and words of encouragement.
When I moved to California, I looked him up and featured him often in Next Generation magazine. He was always hilarious and upbeat. But I could also sense a little bit of regret. He never outright said it, but you could always tell that the burden of being blamed for ruining something he really cared about and loved, the game industry, haunted him. He'd joke about how he would work with Tod Frye, the creator of Pac-Man for Atari (Another game often blamed for the demise of the game industry), at other companies after Atari and they'd tell people, jokingly, that they were the two people who could destroy the game industry again.
To me, the idea and notion that ET destroyed a game industry was just lazy. I had the game as a kid, and so did a lot of my friends, and we all played the hell out of it. So when the documentary came around, I had no idea what the story was going to be, or what other people were going to say, but when it came time to discuss the quality of ET and the talent of its creator, my pent up instinct kicked in.
I remember later thinking about how I might be the only guy in the documentary who felt that way, and I might seem crazy. But I really believed it, and it was exciting to see my friend Ernie Cline also come onboard, who I knew felt the same way, and then Seamus Blackley, and all these people I've worked with come to Howard's defense.
Then to hang out with Howard at the dig site – it was pretty emotional. Here's this guy who was an amazing mentor to me, and supporter of my career, and now it was his moment. He was surrounded by fans, family, and friends when that bucket came up. And to see him finally let out that pain as people cheered. I think the demon was exorcised at that moment.
Other Ocean recently hosted a launch party for #IDARB coinciding with the premiere of the Atari: Game Over documentary. How did that go?
It was a nice cap on a really busy year. The best part was that it felt like a reunion of all of my old Backbone coworkers and partners and all my friends. It was weird too because there were people like Lorne Lanning there supporting us. HOW THE HELL DOES THAT HAPPEN? He my hero! My Daughter's kindergarten teacher even showed up!
Does the launch party mean the game has "gone gold"? If so, what's the expected release date?
I think we are literally days away from a big announcement if all goes well. I wish I could say more! I think everyone will be happy.
Get the Windows Central Newsletter
All the latest news, reviews, and guides for Windows and Xbox diehards.