Interview: Marco Argenti, Nokia SVP of Developer and Marketplace division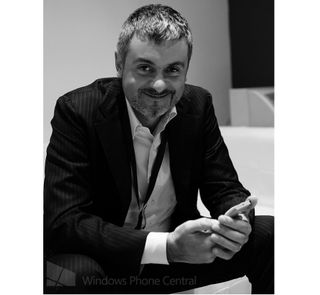 Whilst at MWC, Windows Phone Central had the chance to sit down with Marco Argenti, Senior Vice President of the Developer and Marketplace division at Nokia. We had just been checking out the new partner apps being shown off in Nokia's sizeable booth and were keen to hear more about the relationships Nokia are continuing to build with developers both commercial and indie, especially following the news of Nokia's new imaging and HERE API features.
You can find the full write up of that discussion after the break.
On Nokia's new services and APIs
Our interview kicked off with a conversation about the new API's Nokia are making available to developers, both how they are being used and why Nokia is offering the new services out to developers.
Marco, clearly prepared for our opener, tells us that Nokia are bringing the strategy of differentiating from other Manufacturers forward into the app realm. The new APIs can be separated in to three categories, each corresponding to Nokia's differentiators.
They are Imaging, Music and Location.
For Imaging, Marco talks about the new sequencer capability, part of the framework which makes up Cinemagraph, you can see a very inventive use of the system in Burton's app, allowing time lapsed images as an object moves across a static background (for instance a Snowboarder making a jump). Nokia are also keen to talk about image processing and filtering into the Windows Phone API, as well as allowing developers to tweak various settings (such as ISO) after a moment has been captured.
Music revolves around integration with Nokia music, in that third party developers are able to provide access to your playlists, both online or offline. Third party apps such as Burton are already demonstrating this by showing you relevant playlists and then jumping out into the Nokia music app when you tap.
Location for Nokia is now all encompassed under the HERE brand. Marco defines two layers for developers to leverage. First is the core data layer, what Marco calls the "index of the world". This is the mapping data, vector based rendering for normal maps and tiles for more complex data such as aerial photos. The second layer is the utilizing of extended APIs, these are available to Nokia's partners and designed to be more deeply integrated into an app. All these APIs allow for use of the technology in HERE transport, drive (including traffic info) and CityView. These partner apps can still function without extended capabilities on non-Lumia devices, the capabilities of each device are identifies through a combination of the Device Information APIs in Windows Phone, and specifics in the app's manifest.
We asked Marco to tell us a little more about what the Nokia HERE platform offered to developers, including how it was an improvement over Bing maps. To this question he answers by highlighting the low bandwidth mode and offline capabilities offered by the HERE platform. With low bandwidth he is referring to the vector based rendering, which of course requires far less data to be transferred than tile based systems. It is also true that with offline maps delivered in Windows Phone 8, all calls to the SDK for mapping use whatever data has been already downloaded rather than having to call their own mapping data.
On working with partners and exclusives
A topic of particular interest to many here at Windows Phone Central is Nokia's exclusive app ecosystem, something we introduced as a topic by asking about how the new apps we had been exploring earlier had been conceived, how is it that companies come to working with Nokia directly rather than employing other developers? Do Nokia approach the relevant companies? Or is it the other way around?
Marco showed some hesitance around the specifics of this process. He explained that who approaches who was not of particular importance, carefully avoiding the question. Instead he says that the process involves engaging very deeply with the relevant parties. He told us that most of the initial conversations happen around the design table with these companies, identifying how the partnership will progress and what Nokia can bring, such was the case with GoPro.
In the case of Foursquare though, we did manage to establish some background. Marco informs us that the inflection point for Foursquare was with the release (and subsequent success) of Windows Phone 8. At that point Foursquare and Nokia shared some similar goals regarding location based services and discovery, and it became clear that working together was mutually beneficial. Of course Nokia are looking to unify their experience, and desired a single conversation about their entire range, both Asha and Lumia.
We asked Marco about the Nokia exclusives model as well, if there was one model which was followed when approaching these apps. Marco explained that there is no particular fixed timeframe or any set of business models. Instead, when Nokia have worked to assist in the development or marketing of an app, a fixed deal is agreed based entirely on that app. In some cases this will be having unique features only on Lumia, in others it will be about an exclusivity period. Marco made it clear that Nokia's intention here is to work on quality of the apps available for the Lumia range, rather than blocking any kind of experience on the wider Windows Phone ecosystem.
On supporting developers
The last topic of conversation between Windows Phone Central and Mr. Argenti was the work which Nokia are doing to aid Windows Phone developers. We discussed how Nokia's distribution channels, Ad Exchange program, and developer champions are reaching out to help developers deliver quality content, and subsequently consumers enjoy a higher standard of software on their Windows Phone.
We began by asking how developers can get involved with Nokia if they are looking for assistance or to broaden their app's distribution. Marco says that Nokia are looking to reward quality, either with advertising on their behalf or through device pre-loads. While some developers will have success with a 'cold call' to a Nokia staff member, the best solution is to either get in touch with a Nokia developer champion, or to use the Dvlup website, recently launched in the UK and already available in the US and Canada.
Dvlup can be compared to foursquare in that it rewards engagement with badges and points, which in turn will help them grow their app. When using Dvlup, by following challenges involving updates to their apps and a level of quality according to ratings in the marketplace, developers earn points. These points (or XP on the site) can be exchanged for advertising space, or for prizes such as Nokia devices. Dvlup also hold live real time competitions to build app ideas which also reward members with XP.
Nokia's champion developers are elite developers who are selected by Nokia to work part time aiding the community around them. We've seen similar ideas from Microsoft directly where champions are responsible for organising networking events, providing assistance to developers when they get stuck or need advice.
With Nokia Ad Exchange, we were curious to find out how Nokia's offering is different to the competition, what does their network offer that the likes of Microsoft or the popular AdDuplex do not? Marco is keen to emphasise that with Ad Exchange, Nokia is guaranteeing high yield on advertising campaigns, focusing on specifically relevant geographies rather than attempting to appeal to the whole globe. Nokia have aggregated 120 different networks, with advert selection performed whilst being aware of what is on that user's device and what may appeal to that user through intelligent data processing. The Ad Exchange system is integrated with your Microsoft developer account and includes a Business Developer Kit (BDK) designed to assist each developer with billing, how to distribute and monetize their apps, and the trial before buying model.
In Summary
Nokia have made no secret of their desire to focus on quality apps rather than flooding the marketplace with meaningless numbers, and in our time with Marco Argenti this message was clearer than ever. He is clearly a man passionate about engagement with all types of developers, whether indie or enterprise. By offering assistance not just at a technical level with extended APIs, but also at a business level with advertising and distribution, here at Windows Phone Central we can think of no possible reason why every developer out there shouldn't look into Nokia's premium developer package (it includes a Microsoft Windows Phone publisher account) and get involved with the Dvlup program. For consumers, we hope you're as excited as we are to see what great new apps and services Nokia can bring to the Windows Phone ecosystem in the future.
Windows Central Newsletter
Get the best of Windows Central in in your inbox, every day!
so you had a Nokia app guy and you didn't ask him about apps like Instagram, official Facebook etc? I know Instagram is beating a dead horse but honestly when has any 'higher up' been asked point blank about these apps?

Wow...
We already have an official Facebook app and to be honest, whilst it has a couple of performance failings it's pretty feature complete and has only just been outdone by the other platforms when they finally went native.
With Instagram, we did not ask Marco about that as the specifics of deals he was not willing to discuss with us (mentioned in the write up). Nokia are very aware of the instagram problem as are Microsoft. Heck, the app was mentioned at the launch of Windows Phone 8 as something they were working on

I'm no developer, you are, but to the best of my knowledge an 'official' app is a first party app. The Facebook app on Windows Phone is NOT a first party app. And a couple of performance failings? Have you ever gone through the forums on this website? Have you read the reviews of the app on the Store? The app is an embarrasment both performance and feature wise. I'd give it 2/10 for performance and features, and that's generous.
I'm sorry but you should have asked him this. You should have asked him about Viber, an app that was Lumia exclusive on Windows Phone 7.
Seems like an excellent oppertunity wasted discussing arbitrary things.

This is the official Windows Phone Facebook app: http://www.windowsphone.com/s?appId=82a23635-5bd9-df11-a844-00237de2db9e and yes apart from some fairly painful issues with image loading I would not give it a 2/10 for performance. People complain about every Facebook app on every mobile OS as far as I have ever seen.
I am sorry you feel that way, obviously the 4 hours sleep we had the night before had clouded our capability to ask insightful questions when instead we should have given him a list of apps we felt were missing.

I'm sorry Jay but it's quite a shock to see you call that an official app. Do you know what an official app is? That app has nothing to do with Facebook what so ever. Just because you use publicly available APIs to make an app doesn't make it official. Is Rowi an official Twitter app? No it's not.
And yes 2/10 is exactly what it deserves. I can give you a long list of things that an official Facebook app is suppose to do but this WP app doesn't. I'd suggest you pick up an iPhone and Android and play around with it. Try doing an offline chat with someone through Facebook and tell me if the app we have is decent or not.

In fact I'll make it easier. Open Facebook on your computer and open it on the Windows Phone app. Compare the newsfeed. You'll get your answer.

Ok, as you don't seem to know the background I will go as far as to tell you that an official app is whatever app the company who owns the product endorses. For instance when I developed wpcentral I did not work for them, it was official because it was their endorsed app which they licensed. Facebook did the same thing with this app, it is developed by a consultancy (I forget the name), under Facebook's direction, and published by Microsoft.
The official twitter app, was not developed by twitter themselves, it was outsourced to another company but it was twitter's official app as they had licensed it as such (note a different developer may have made the brand new twitter app I am not sure). The news feed issue you mentioned is because Facebook's site by default shows the top stories (ranked by likes etc) whereas the official app is using the most recent feed, which is also accessible by the site.
Anyway this exchange is a waste of time and I really need to be sleeping before my flight tomorrow. Enjoy the rest of your day

Completely agree and, I for one, appreciate the article and the time gone into it.

Don't get me wrong, I like the article. But I feel like if you get a hold of guys like these, which happens rarely, you should ask them the questions the community wants the answers to the most.

Who is ammarmalik2011 and why is he such an uninformed ass? Why the hell would Jay consider it his most important question to ask about Instagram and Facebook to a Nokia rep? Do you really think that even if the guy knew anything about them he would just spill it in a side interview? When there is news on Instagram there will be a huge announcement. If anything breaks before then it will be from rumor sources, not an official Nokia interview at a trade show. Now please admit you're wrong on the whole "first party app" thing, apologize to Jay for being a jerk, and GROW UP.

I have a better solution; why don't you bite me?!

Please be civil both of you. I took the wrong attitude with you yesterday ammarmalik and for that I apologise, I was at the end of a stressful day. Hopefully you feel more informed from our exchange

Oh... fine. ammarmalik2011, I apologize for my rude comments.

It just upsets me when I see someone taking really informative articles like these for granted and dismissing them becuase whatever they personally wanted was not included and they assume everyone else wanted the same thing.

But I'm sure I went too far. I should have just moved on.

Not to worry poddie, to react the way we both did doesn't create the community we're striving for here, I know I've learned from this as well

You can't even set the app to show 'top stories'. The merits of a 'fake' official app.

If it is any consolation, I can back Jay up here. I was in Remond working on another app at the same time as Facebook and Twiter were - I was working from an office just down the hall (chatting with them over beers and pizza every day) - Although the app was made by another company, it was authorised by Facebook, with specifications given by Facebook, using Facebooks private authentication system (not the system we other developers have to go through). Just beause it doesn't have Facebook written as the publisher doesn't mean it isn't the oficial app - It actually is!!

Jay, please don't feed the trolls.

This is my first time replying to this blogs, which I ready very often. I've been a long time loyal Nokia user (10 years). My last Nokia phone before changing to iphone 4 was the 5800. Still waiting for Nokia's comeback I then changed the ip4 for an iphone 4S. Finally the Lumia 920 arrived and got mine unlocked last january from ebay (Canada Rogers). Knowing the iphone's Facebook app the WP8 Facebook app it's horrible to be honest. There are alot of things that need to be added and others to be changed. My Lumia 920 is very unestable. I don't know if this is because I live in Mexico and the 920 is not available here yet. The LTE was working beatiful after my carrier's technician downloaded a different windows version than the roger's one it came with. But when I visited the US it didn't automatically connected to an american carrier. I had to do it manually, and after that it's been very unestable. Not even getting 3G most of the time. But getting back to the apps I really think that Instagram is a must for WP, because most of the people wants to be connected trough that app, and I don't use it. Being loyal to Nokia I'll keep my 920, but they need to improve FAST in order to gain customers.

But is instagram aware of this problem?

Instagram (as is Pandora) is the popular app that MICROSOFT should be making an effort to bring to their OS. It is NOT Nokia's responsibility.

Nokia's commitment to developers and their users is commendable. Helping developers deliver great experiences to their users has only helped Nokia establish a brand quality in the eyes of the consumer that you can't buy. I'm glad they are part of the Windows Phone ecosystem.

Nokia - Please build an instagram app!

They do make Nokia Creative Studio whcih mostly does the same things.

Instagram was never about filters, it is about community

Someone ask him if they're planning to do an ESPN/Nokia Fantasy Baseball app for 2013?

I can't take Nokia seriously when it comes to their maps as every single time I have searched for something I am either misdirected by Nokia/HERE maps or it simply cannot find the location. In each case I have compared the same search parameters to Bing Maps and somtimes Google Maps if Bing is unable to find it as well (very very rarely).
Why does Nokia/HERE hate the idea of a reliable POI database for North America? This is the only conclusion I can come to, they either hate the idea of supporting North America map data or they hate North America. Nothing else makes sense to me.

People - help pressure Nokia to invest in their POI database. I've already contacted Mr. Elop and he has put me in contact with Michael Halbherr. More pressure never hurt so voice your concerns!

Nokia maps has led me astray several times. But I still use it and like it

Where are you guys from it works great in New England.

Live in Seattle, WA. I have the "Maps" app that just directs to the Bing Maps app on my homescreen instead of the Nokia/HERE maps. I have just been led astray way too many times or not been able to find something that I know is there. And they mispelled my favorite teriyaki place that has been around for 15+ years and is extremely popular. Just very very poor work in my opinion. Very poor.

Never get lost here in Texas with Nokia Maps - San Antonio, Austin, Waco, Dallas I seem to get lost with Bing Maps in the following cities - San Antonio, Austin, Dallas lololol

I'm in Australia and it works fine, In fact I have set aside my Garmin as I no longer need to carry 2 devces with me.Only my Lumia and my Surface. Hint..hint Nokia!!

It gets tedious that all people keep banging on about is instagram. I wanna know about the xbox games situation.

Wow you guys are ridiculous even if Nokia makes us some epic Facebook app everyone doesn't have a Nokia phone and why should they be the only ones pushing out great apps I see if Jay fail to ask someone at Microsoft this question Nokia is focused on pushing out certain apps they feel will make our day to day life with windows phone a unique experience even if Nokia or Microsoft gave yall what u wanted you'd probably keep complaining I can't even remember what I was going to say now about the actually article you guys suck

I am kind of new here. After years not only using android, but writing in some websites in Brazil about it, I decided to move to Windows Phone for a while.
I guess many here are waiting for Instagram's news. At least something official. The WP Central was supposed to ask about it in these days. Until now, nothing was said.
I am not instagram's biggest fan, but I enjoy the social network around it. I also love apps like Fx Camera, that it is a Japanese startup that started with Android, got 20 milions of users and now released for IOs. Anyway I would like to hear some news about Instagram, something new, from Nokia, Microsoft and uppermost the FB (instagram).

A good app that could release for wp: http://fxc.am/
The filters are nice and in some way even better that Instagram. It has a strong community, 20 milions users. Peharps WP central could ask them about it.

Is Marco a common name in Finland? I only ask because Nokia sure does have a lot of "Marco's"

Wanted to ask the same thing! It's quite common where I live as well, though - probably due to my countrys proximity to Italy.

> Nokia have made no secret of their desire to focus on quality apps rather than flooding the marketplace with meaningless numbers
So why was DCinemagraph so bad and couldn't even share gifs when it was released?
So why I can't even flick through photos in it?
Why is there still no Nokia Counters for WP8?
And why is Panorama app so god damn awful?

The Nokia counters is a good question, I was under the impression it would be replaced by the built in solution in Windows Phone 8, but that has to be carrier supported.
Out of curiosity, what would you like to see changed in the panorama app?

I hate having loads of different apps on my list for different camra features.
In WP7 you had one app showns as Camra Extras that allowed you do do a range of different shots.Which was a much better way to do things.

Interesting. I would say that still exists with the Nokia creative studio app? The rest are lenses rather than apps, designed to extend the camera functionality by launching a single purpose app.

Panorama never works for me, it's innaccurate, that dot skeeps disappearing (using L920), when it merges photos I see tons of ghosting.
I also feel like whenever I need to take the next panorama frame, that dot tells me to slightly lower camera till I end up taking last frame of my legs rather than the horizon.
I bet that with WP7 Photosynth I could take a 360* photo faster (and it would be far more accurate) than you could take a panorama shot with your L920

Hey Jay I remembered what I was going to ask you. I was wondering about Nokia's in door navigation I was recently at a convention and it would been very useful.. Did that come up at all??

They should have picked Facebook Places instead of Foursquare. Facebook is in everybody's life. Foursquare is a game for those who want to play it, won't involve the rest of the critical mass.
Windows Central Newsletter
Thank you for signing up to Windows Central. You will receive a verification email shortly.
There was a problem. Please refresh the page and try again.