Nokia and Foursquare team up on revamped app for Windows Phone 8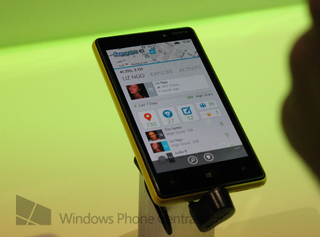 Here's a little secret that's not many have caught on, but Nokia and Foursquare have tag teamed to re-do the official Foursquare app and no joke, it's quite awesome. It's the Foursquare app that Windows Phone deserves (we still love 4th & Mayor, but official apps should set the bar themselves).
Nokia released a self branded Foursquare app last year, which differed very little, but now it's clear the two were already collaborating for something bigger.
Due out sometime this spring (possibly in March), the app is fast, fast, fast. New features include app speech integration with TellMe for searches, NFC for both check-ins as, friend requests and to share plans and app-to-app integration so that HERE Maps work directly from within the app.
The bigger deal is for Nokia Lumia owners as there will be two versions of this app: one for all Windows Phone 8 devices and one for Nokia Lumia phones, which will of course have one major feature: Augmented Reality. Yup, Nokia's CityLens-like experience will be coming to Foursquare as well, which makes sense since the company has opened their API to other developers. In fact, we've already seen this with Weather and the Groupon app for Lumias, with the latter going wide for all Windows Phone 8 devices recently.
The new app is simply gorgeous looking and those maps are just super fluid. We've always appreciated the look of the old Foursquare app but this new one with Nokia's guidance has really set the bar. In addition, Windows Phone users can start to experience having all of the latest Foursquare features brought to Windows Phone 8 on time instead of trailing the competition.
How excited are we? We're giddy but don't take our word, watch the video demo yourselves!
Windows Central Newsletter
Get the best of Windows Central in in your inbox, every day!
Daniel Rubino is the Editor-in-chief of Windows Central, head reviewer, podcast co-host, and analyst. He has been covering Microsoft since 2007 when this site was called WMExperts (and later Windows Phone Central). His interests include Windows, laptops, next-gen computing, and for some reason, watches. Before all this tech stuff, he worked on a Ph.D. in linguistics, watched people sleep (for medical purposes!), and ran the projectors at movie theaters because it was fun.
Now Nokia should do this with the Facebook app

They should do this with Whatsapp...

Umm....they are? You just had 3 app updates in the last week and there's more to come. Who do you think is behind that, HTC? :)

lol, nice Daniel, but seriously where does Nokia have all this cash to invest in all these partnerships? Is this part of Nokia's deal with Microsoft? Awesome they are helping major devs make updates to their apps. Also, do you know what games DreamWorks is hoping to publish second half of the year for lumia phones? Haven't seen an article on wpcentral yet.
As a side rant, these apps, lenses, augmented reality, 3D printing etc. must be beyond the schizophrenic nature of the stock market. Sold down Nokia today because they didn't launch any hero devices. These additions are all quite awesome and will position Nokia to grow in the future.
Thanks Daniel to you and Jay for covering such great stories.

Yelp is probably the biggest app I miss from android, so I definitely agree.

There is already one, Social Scout. Check it out: http://socialscout.jdbpocketware.com

That's awesome I love the idea but wasn't a fan of the app. One more reason I like Nokia so much.

Awesome. Something in the back of my head suggests that Nokia is probably pushing through with multiple key social-networking apps (e.g. Tumblr) for its WP line. Heck, it wouldn't surprise me if they're looking to line Flipboard up as well.

God a Nokia flipboard! My life would be complete!!! :) Tumblr.. Not so much :P

I would consider becoming a Nokia fanboy if they manage to secure Flipboard. The app is was awesome on the little time I spent with Android. I can only imagine what could be done with it built specifically for Windows Phone.

I dig 4th and Mayor, but obviously welcome a much improved official app. Good on Nokia and Foursquare for working together.

It's so great to see Nokia doing something like this. Very cool! The official Foursquare app was horrendous, so I'm glad they're revamping it. I hope Nokia will continue working with other developers to fine tune and revamp apps that really need it. I'm looking at you Facebook and Twitter.
I left the WP8 platform a few months ago. I loved my 920, but I definitely couldn't comit to the platform just yet. I'm hoping that when Nokia announces the 41mp Catwalk/Laser/Whatever lumia phone, that I'll be back on that platform.


This is good news. Nokia rocks. But I could've sworn I read back in '11 that Foursquare worked directly with Microsoft to redo their app that's currently available. lol

Yeah they basically recompiled it to take advanatage of the Windows Phone 8 software/hardware. However, it's the same thing as the Windows Phone 7.x app, just runs faster.

I don't use foursquare but that sure is a gorgeous looking app.

Im curious if they plan to introduce working notifications. 4th and mayor notifications are sketchy at best.

Facebook and Instagram would be nice

Agreed! Instagram especially but a decent Facebook app would be welcome, the current one is useless.

Does this revamp finally have push notifications? 4th and Mayor doesn't even have those working yet.

I get push notifications from 4th&M all the time.... quite annoying actually lol. some of my friends are checkin whores.

I'd love to see Nokia do something like this with that pathetic Yelp app. But Yelp seems not the least bit interested in WP.

I was thinking the same thing. I've just about stoppped using Yelp because the app is so bad.

Didn't Microsoft buy yelp? Or was it someone else? I can't remember.

Nope, no one has bought Yelp. Maybe 4sq should...maybe then we'd see a decent app.

They also announced a tumblr app.

http://www.windowsphonedaily.com/2013/02/tumblr-gopro-joblens-foursquare...

Come on nokia do the Facebook app

Holy nuggets, that app is extremely gorgeous, fast and quite "official" if you know what I mean!!!!

Facebook, instagram, and pinterest next please?

Really excited, looks great. Not that I dislike 4th and Mayor it hasn't been updated in a long time and doesn't have feature parity with iOS/Android 4square apps. Hopefully this Nokia collaboration changes that.

4th and Mayor was last updated Feb 8.

Microsoft should just transfer the windows phone team to Nokia and call it a day :)

Lol agreed, Nokia is running circles around Microsoft

I believe that's what they're doing... :)

It's great to see Nokia working to improve Windows Phone 8 apps. My problem is that Microsoft should be the one doing this. They're the ones with the deep pockets. Anyways good job Nokia!

I too would like to see MS jumpstarting development for key apps. Maybe they could have a team of developers that create version 1.0 for certain targeted services (instagram) and then turn the app's source code over to the company to maintain going forward as well as some knowledge transfer to the company's developers.



Viber and Tango too (for WP8)...pretty please!

All these new windows phone 8 app announcements are making me more pissed off about 7.8.

I don't get the point of this app but I guess millions of others do. What exactly do these people check in for???

For one, you can share with friends different places you've been. I love it because many restaurants and stores have special deals for checking in

Amazing! Definitely looking forward to this, 4th mayor is great most of the times but a few shortcomings still haven't been fixed, might be replaced by the new official app

i knew i would feel this way when i got my 8x over a lumia device, the app difference and the dedication nokia has toward WP, havent seen one thing for us 8X users from HTC.

At least you have...beats?

Well that just might make me start using 4Sq again.

Any hope of it coming to 7.8 users?

It would be oh-so-awesome! But... it wouldn't surprise me if we don't get it, we didn't even get HERE Maps or the revamped Live Tile on Whatsapp, and that is something REALLY minor.
I was OK with Windows Phone 7.8 until WP8 devices arrived in Argentina, but app developers are boldening more and more the line between the two generations, I would just settle for a Foursquare update that changes the UI to the WP8 one and fixes bugs, but, I guess it won't happen

I've come to the conclusion that any real Windows Phone 7.8 support is dead. Even more so with low end Windows Phone 8 devices like the Nokia 520. It sucks as a 900 owner but oh well nothing I can do at this point.

Shame, since the 900 is a great device. Windows Phone is moving fast, which is fine, but here we just got the Lumia brand past year, and the LG Optimus 7 passed straight under the radar to be noticed when it arrived in 2010.

Let's just hope that WP8 lasts long enough to allow us to get a phone that lasts more than 3 months without getting obsolete.

I prefer 4th and Mayor. but I will give this a go.

So to double confirm I should install the Nokia one instead of the Four Square one correct?

Any word on if we will see this soon? Original rumors were March but were now into April. Foursquare just announced a new and improved iPhone app so I am hopping the WP 8 version discussed here isn't far behind.

I use Foursquare all the time. Wish wish I could tag the person I am with like the iPhone version.

So I guess this partnership is dead. So sick of waiting for both Foursquare and 4th & Mayor to be updated to the new API.
Windows Central Newsletter
Thank you for signing up to Windows Central. You will receive a verification email shortly.
There was a problem. Please refresh the page and try again.