We interview Vivino's CEO about their new Wine Scanner app for Windows Phone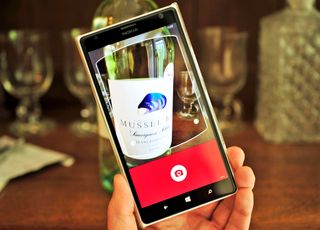 A few days ago, Vivino Wine Scanner made a triumphant return to Windows Phone. Although an app for Vivino had come out a few years ago, it hadn't been updated in a long time, and the company wanted to start from the ground up. The new app is designed for Windows Phone 8 and beyond, bringing with it a highly polished UI and enhanced user experience.
If you're not familiar with Vivino, they're the largest service for finding and logging your wine collection, including ratings. Their cool scanner device though is the real attraction, as all you have to do is scan a bottle's label and let the service fetch all the necessary data through its image-recognition technology. It makes logging your wine a whole lot of fun.
With the recent launch, Mobile Nations writer John Callaham had an opportunity to ask Vivino CEO Heini Zachariassen a few questions about their service and the new app.
First, for people who may not be familiar with Vivino, can you give us a quick history of the company and the app?
Vivino released an app for Windows Phone 7 a few years ago, but the company didn't update it. Why was that decision made?
Why has Vivino made the move to launch a new app for Windows Phone 8 and 8.1?
What are some of the features that Windows Phone users can expect to access when the app is released?
How hard was it to develop an app and did Microsoft provide any assistance?
How does Vivino feel about the Windows Phone ecosystem in general? Is there room for a third mobile platform to compete with Android and iOS?
Does Vivino plan to update the new Windows Phone app after it is released with new features around the same time as its iOS and Android counterparts?
Is it possible that the company will release a Windows 8.1 version of the app and make it a universal app with its Windows Phone version?
Finally is there anything else you wish to say about the Vivino app release?
Our thanks to Heini Zachariassen and the Vivino team for the interview and their new app for Windows Phone.
Don't have the Vivino app yet? Go get it now as it's completely free and just in time for summer! Let us know in comments what you think of it!
Daniel Rubino is the Executive Editor of Windows Central, head reviewer, podcast co-host, and analyst. He has been covering Microsoft here since 2007, back when this site was called WMExperts (and later Windows Phone Central). His interests include Windows, Microsoft Surface, laptops, next-gen computing, and arguing with people on the internet.
This app seems really cool. Gonna tell my sister about it. :)

I added my wine collection to it. It has some usability issues like no way to go home. No way to batch add wines to your cellar. It also like to say it has no internet connection on my box of wines for some odd reason.

They have to believe there's room for more ecosystems if they're showcased in the Amazon Fire Phone launch event and I'm sure this wish Bing Vision had the same integration capabilities as FireFly does (not that it matter much as Bing Vision is getting buried deep in 8.1)

Do we believe that these developers seriously like the art of wine?.. No, really.. It's a totally non judgmental, unbiased question.

I would imagine they do. Otherwise, it would be a waste of time and resources developing an app about something you don't totally care for.

I could see someone developing an app about something they aren't particularly interested in.. You never know,, and its all about vision, and execution....$$$$$

i love design :x 5 * for this app

Welcome back. Very useful and beautiful app. And thank for supporting and treating Windows phone with equality.

I had this app on my WP7 (Lumia), when it disappeared from the store I had to download it on my workphone (Iphone) so I'm really happy it came back ;) (I have now paid for the Pro-version in both wp-store and app-store).

Five star for this app. Very easy and intuitive to use and to keep on track with your wines. I personally have recommended to a lot of friends

Love it. Been waiting for this app since day one on WP. Bought it straight away and now that I'm investing the bar&restaurant business this can be handy to check out which wines people actually like most.

Downloaded. Created an account. Scanned a bottle of wine. It worked great. Basically untapped for wine.

Thank you Heini. I'm a wine lover and appreciate your hard work/your app.

Confused at the point for the app. Would have been better for teaching how to make wine or at least showing the recipes

I would like a similar app regarding cigars. Anybody got one?

Beautiful app, it blends well with Windows Phone UI. I can't try though since we're out of wine, even bottles. :(

Had this on my wp7 Omnia.. Glad they developed for
Wp8 now. Thanx..

I downloaded this app as it will be helpful when I'm on vacation in the Philippines. I am currently in Saudi Arabia and wines are not allowed here. Anyway, thanks for this app.

Nice app, but a few more tweaks to make it really great. Too many clicks to scan and add bottles (when I scan in a bottle it should be much easier to add bottles to my cellar) and a persistent shortcut to home/my cellar would be useful.

This is a fantastic app! I love using it to rate all my wines and see what other thought of the wine. It's scanning accuracy is suprisingly good!

Absolutelty brilliant! I've had the WP7 app on my Lumia 920, and it sort of worked. Now it works wonders. The accuracy is quite good, and the ones that the machine doesn't recoqnize get usually manually name dquite quickly. You can also add the info yourslef, which is good, but of course people name the wines a bit differently, so it has created a bit of a chaos in the database with dublicates. But highly recommended!

Dont have any opinions about this app. I'm in a country where alcohol sales are prohibited. I'll be flying to Europe soon. In case I do get an opportunity to use this app I will download it and share my thoughts. I think its cool to have an app that scans wine. Would love to use this app.

Finally.... A company that see a opportunity in Windows Phone...
Thanx Vivino!

They finally throw it away vivino support wrote :'(
Windows Central Newsletter
Get the best of Windows Central in in your inbox, every day!
Thank you for signing up to Windows Central. You will receive a verification email shortly.
There was a problem. Please refresh the page and try again.