Vivino Wine Scanner for Windows Phone 8 is now available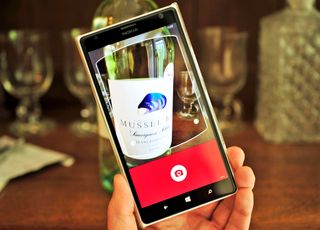 We mentioned last week that Vivino Wine Scanner was coming back to the Windows Phone Store soon. Well, the wait is over. The popular wine app and service is now available for download. It helps you pick, remember and share your wines.
Features
Snap a photo, recognize and save wines. Manually identify the few wines not immediately recognized
Simple and straightforward - find all you want about wines, prices or ratings
Add wines to your Wish List to ensure great future experiences - and know where to buy which wines with our Nearby function
Get personalized recommendations based on your taste
Connect with your friends via Facebook, Twitter, Gmail or Contacts and be inspired by their wine experiences.
Browse wines, ratings and reviews from more than 4.5 million users
Like and comment on their ratings
Scan offline, we keep your image and resume when you are connected
Upload old pictures from your photo album and store on your wine list. Know when to drink by adding a Drinking Window to your wines
Vivino Wine Scanner is a free download at the Windows Phone Store. There's a PRO version that adds more features:
Simple cellar management with My Cellar: Log the wines you own, sort them by price, rating or date and add notes.
Get in the Fast Track for manual matching - it really is a fast track.
Are you a wine drinker and have been waiting for this app? What do you think? Let us know in the comments!
Want more? We'll have an interview Vivino CEO Heini Zachariassen coming up!
via: Deani Hansen
Windows Central Newsletter
Get the best of Windows Central in your inbox, every day!
Windows Phone keeps getting better

Unless you're a music fan

At least nobody is WHINING about the price.

No, that would be the last drop.

I don't have any use of it. Still happy as the ecosystem grows......:)

So happy for this! Pleasantly surprised to see that when I bought the Pro membership on iOS it's tied to my account, not the specific app.

No, you'll need something like Untappd for that http://www.windowsphone.com/en-us/store/app/untappd/2b72bcab-ae88-4134-9...

Untapped is wonky at best.

I love apps with good design

I don't drink.....but I'm excited.

What do you do with your mouth?

Just think how excited you could get with a few drinks.

Don't drink, ever? Not even water :D

Do you know on the pro version if the cellar management with My Cellar, allows you to backup you collection? The thought of putting the collection in and resetting my phone does not appeal to me. I will not use a database that is strictly on the phone, with no backup.

Yes, it's all sync'ed to the cloud and between any other phones you may have - across WP, Android and iOS :-)

Thanks, I need to get back to cataloging my wine. I hate need to go donw and look at each bottle figuring out what I have when I want to select or not knowing when I am at winery looking to buy.

Why does it need location services?

We have a few neat features that requires location: The "Nearby" section shows you wineselling places nearby (restaurants, stores), and you can check out their selection through Vivino. You can also indicate where you're scanning a wine, so that other users can know where to buy it.

Will checked it out today.

It's a great app. Been beta testing for a week now. Wrote to them some time ago and asked for a WP app. Nice that they got back and sent a beta link. Even nicer it's generally available now!

Won't let me upgrade to Pro, saying "can't find item in catalogue"

Hey, works now. Windows Store just had to get up to speed with the In-App Purchase launch as well :-)

Just downloaded, nicely done .. there are a couple features I think are missing but that gives me an jdea for a new app.

Daniel, "The the" popular wine app...

Funny, I saw this app on the Amazon Fire phone announcement and was wishing it was available for Windows Phone. Wish granted!

You can't always get what you want. Sometimes you get what you need. In this case you needed a nice new shiny awesome wine app ; )

Cannot buy to Pro version... Says "Can't find item in catalog"....

Thanks! We're looking into that. May just be a delay in the store roll-out, but we're checking :-)

Hey, works now. Windows Store had to get up to speed with the In-App Purchase launch as well :-)

Thanks, just bought it. Great job !!!!

This is what I waiting for

If my best friend seen this he will love I.

Yes! Lets see how it works...

I was worried that this would not work with the 'focal length' quirks on the 1020 - it kinda worked - right label - wrong year ..

Today is a good day! To have a glass of wine? I say yes!

not for dry states.....................like ours

I don't think anyone knows how excited I am about this. How good are they with foreign, little known wines?