iPhone Price Drop - Serious Competition for Windows Mobile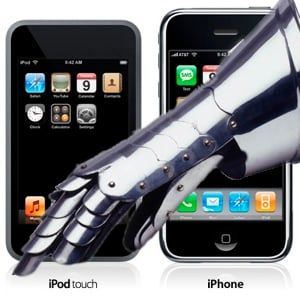 I'm talking to my Windows Mobile peeps here: the gauntlet has been thrown down and thrown down hard. Everybody's atwitter about the iPod announcements yesterday and here's what I think it means for WM:
First - that iPod Touch, if Apple ever decides to get serious about adding PDA functionality, is serious competition for the non-smartphone PDA market. It's a market that's been shrinking fast (one of the reasons we here at WMExperts basically avoid it altogether) and I foresee it shrinking faster.
Second, and most importantly, I'll let Mike at Phone different have a word here from his "Phone different: 8GB iPhone: $399, Ringtones" article:
Holy smokes indeed. I'd like to crow about how the price drop means the iPhone hasn't been moving as well as Apple hoped, but I don't really think that's the case. Instead, I think that it clearly means that Apple is serious about bare-knuckled fighting in the smartphone space1. I also think it means that we can expect a hardware update to the iPhone sooner than we may have previously expected - mayhap price drop to clear inventory?
In other words, Microsoft knew the iPhone was a threat before, now Apple's made it a big, spiky threat. I know this will ramp up the recent rumors of a Zune Phone, but I'm still of the opinion that Windows Mobile 7 / Photon will feature radically improved media (and browser, pretty please) functionality. Windows Mobile will absorb Zune functionality, not the other way around.
1 Yes, I'll admit it's basically a smartphone, at least it is now that you can hack it to get native apps. It's no true SDK, but I suppose it's enough. Yes, that's a turnabout. No, I don't want any to hear any guff about it.
Get the Windows Central Newsletter
All the latest news, reviews, and guides for Windows and Xbox diehards.