All set for the IPL, the official app for Indian cricket arrives on Windows Phone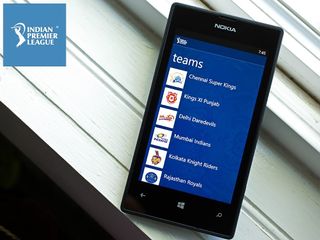 The Board of Control for Cricket in India (BCCI) is the national governing body for all cricket in India. Formed in 1928 and a member of the International Cricket Council (ICC), the BCCI owns all cricket events in India, including the Indian Premier League (IPL), an annual Twenty20 cricket tournament started in 2008 where different franchise teams participate for the title.
The BCCI has released their official app for Windows Phone devices. While the app's branding and content position it as the official app for the IPL, the app's description states that it is the official app for all BCCI events. Maybe, the app was designed for the IPL and will be repurposed for future events after an update.
The app in its current avatar provides fixtures, live scores, and results of all IPL matches. You can also check out detailed information of all the teams and players, along with their performance stats. The app has the basic user experience of a hybrid app, and although well-intentioned, doesn't impress much with execution.
Apart from team and match information, the app also features Pulse Polls, live polls that are integrated into the television broadcast, and the official Twitter channel. As the official channel, the app includes exclusive news, features, and interviews.
Download the BCCI app for free for Windows Phone 8 devices from the Windows Phone Store. If you are a cricket fan, it's great to have the official app on your phone, although for following matches and keeping a tab on the scores, you'll be better off with several other quality cricket apps on the Windows Phone Store.
UPDATE: Like few of our readers have pointed out, the app has been their since the last edition of IPL but has been updated for the latest season a couple of days back. The latest version number is 1.0.0.3. Apologies!
Does it tell us who fixed which match this year? ;)

I was going to write the same thing but still it is better to see an official app.

Well everything apart thnx for d app ..!!! Official

Can anyone recommend some better looking and smoother app for this purpose ? I prefer fluid apps, and this doesn't seem to be one. So ? Personal tastes regarding cricket tracking apps ?

RCB - No..
CHRIS GAYLE - Yes

Yuvraj is going to be RCB's go-to man ! :))
Sorry for the sarcasm, i know people do have bad days, that was just meant as a joke, i do appreciate yuvraj's efforts and know that he's a great great player ! (atleast was until a few months/year ago)

Well I guess it was released some time during last year's IPL. Neverthless good to remind us ppl, downloaded it...

MUMBAI INDIANS. but we miss sachin sir

Apps arrive on windows phone but most of them are not on par with android or iOS apps.This app has not at all improved from the past year. Looks same.

Sunrisers Hyderabad anyone ??

I say this every year, being from Punjab. Sadly, KXIP doesn't even come close to my expectations every year round !

Sehwag all the way.
no matter he was in DD last time. Or in KXI_PUNJAB.

Want bing sports to show such live tile updates of cricket.

This time it wont be fixed as Sunil Gavaskar is now the BCCI president. So I think now such things should come under control otherwise really strict action will be taken against them who so ever it will be

Supporting RCB, even Kings Punjab with Viru will be intresting.

MI here... Duniya hila denge!

So is that some special cricket like jiminy cricket?

Chris Gayle nai toh Kohli. Kohli nai toh Yuvraj Singh, Yuvraj Singh nai toh A.B de Villiers.. RCB.

Finally, a cricket app that's right for me...

It was there instead of 'their'...

Korbo Lorbo Jeetbo Re....

Is there a built in weather app which will predict Gayle storm!!

Nice app and now i can get all score even on time. great work. Thanks
Saravanan B
www.geturdeals.com

Cheenai &dhoni all the way...Abhishek ji wats ur team?

Was MI for first six seasons because of Sachin Tendulkar... But I'll try now to go local and support Delhi Daredevils. :-)

Im gonna support Jajastan Royals as they made a Windows Phone app. Gotta support home turf ;)
Windows Central Newsletter
Get the best of Windows Central in in your inbox, every day!
Thank you for signing up to Windows Central. You will receive a verification email shortly.
There was a problem. Please refresh the page and try again.