Ireland's Ulster Bank releases official app for Windows Phone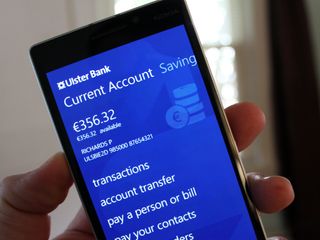 If you happen to call the Republic of Ireland your home, a new banking app for Windows Phone has just rolled into town. Ulster Bank ROI is now available on the platform, giving customers access to their banking data on the go. The app is your typical banking fare, but here's a quick rundown of the features you can expect:
Get Cash from your account at any Ulster Bank Republic of Ireland or EasyCash cash machine without using your debit card.
Pay bills & Pay Your Contacts
Transfer money between your Ulster Bank Republic of Ireland accounts
Check your balance and your statement
Find your nearest cash machine or local branch with Near Me
Check your Ulster Bank mortgage account and credit card balance
View standing orders that you have set up
Share our app with your friends and family by recommending it from the more menu
Given some of the more high profile banking app losses over the last several months, its good to see a new bank adding support for the Windows Phone platform. If you're an Ulster Bank ROI customer, you can go ahead and grab the app from the Windows Store below.
Download Ulster Bank ROI from the Windows Store (opens in new tab)
Via: TechBuzzIreland
Windows Central Newsletter
Get the best of Windows Central in in your inbox, every day!
Dan Thorp-Lancaster is the former Editor-in-Chief of Windows Central. He began working with Windows Central, Android Central, and iMore as a news writer in 2014 and is obsessed with tech of all sorts. You can follow Dan on Twitter @DthorpL and Instagram @heyitsdtl.
Bank of America,Nationwide,HSBC and countless others.Hold your heads in shame.

And Chase!! Bastards!! I used to use it all the time too, now I'm forced to use the mobile website grrr!!!

"Bastards" .I like that word.

It's more like a 'small handful' of others. The sensationalists make the count of banks leaving Windows Phone out to seem like it's about a hundred when it's really like... four... ... compared to this NON-STOP flood of banks showing WP love - a flood we've had going for about a year and some change. That's not as sensationally troll-baitable though. Personally, a combo of Mint and Prism are preferred even when on my iPhone 5/Nexus 5 where I have my US Bank app available. Mint collaborates everything so one app can show my balance for all my banks, PayPal, my student loans - and without constant login pestering. Then when I need to pay a bill I switch to Prism and it's paid with one swipe. The counter argument of "can't take a picture of a check to deposit" always comes up, but who's actually supporting a family off a job that doesn't just use direct deposit in 2015?

Does it cover Northern Ireland
Edit: Cant spell my own birth country

It might cover *Northern Island.
I doubt Norhern one.

Thats what you get for typing to fast and not checking your work...
From someone who was born in NI :)

They released both. Search for Ulster Bank NI

Just kidding man. Nothing serious:)

There are two apps. Ulster Bank ROI and Ulster Bank NI

About time as this is essentially same app as RBS and NatWest. Go figure

Looks exactly like the Natwest app, which isn't a bad thing its a really nice app! Doesn't touch the Barclays one though which is without a doubt one of the best designed apps out there, and not just compared to banking apps.

RBS, Natwest and Ulsterbank are all the one company. Not sure why they didn't just release the same app with different branding at the same time. The RBS one has been out for ages (and it actually really good)

Agreed. I used to have Barclays account and was extremely happy with their app. Now I'm with Metro Bank and their app doesn't work at all most of the time (When putting your pin number in it randomly jumps back to the main screen.) and when it does work it looks like a child programmed it. Didn't expect much from Metro Bank but I did expect a basic app that works more often than doesn't.

Oh and worse than that, their website isn't mobile so logging in via edge is a real pain in the ass.

I have been using Metro Bank app for a year on 8.1 and now 10 with no problems. (Using a 925 and an 830). Even more annoying though is that First Direct has an app but HSBC which is part of the same group doesn't. That's why I left HSBC for Metro Bank.

Come on AIB get the finger out!!!

The sky is falling!!!! Oh wait.... :')

Where is chase . Bank of america. Capital one . Discover...just release for windows 10 and u will be killing two birds with one stone..I am waiting

They've also released Ulster Bank NI!! :D Been waiting for this app for a long time!

Had the actual RBS app for a while, and use it at least every couple of days. The guys deserve some kudos for such a decent app. They update frequently too, and keep adding new features and improving the look. I used to add feedback frequently.

This is good news for those of us hoping the Natwest or RBS stay around for the future. Hopefully they are getting telemetry and seeing that people are using the apps. Do 99% of my personal banking in the app, just want a HSBC app for business use

Belgium Belfius Bank has also released a well designed app.

I really wish companies would stop developing Windows Phone apps with Windows Phone 8 SDK's. Target Windows 10 UAP already and hold off on releasing them.

If an app is ready to be released why hold off? Win 10 mobile won't be released for another couple of months..

Lloyd bank should think te make there app for Windows. While the Dutch based Rabobank is coming with W10 uni app in November.

I hope those bastards from UniCredit Bank will also make their app available for Windows Phone users.

UniCredit Bank is available in Italy, so i don't know why is not in tour country.

Was waiting for this app since 2012!

Finally, seems decent so far!

Now where are the American banking apps that are worth a damn if they even exist?

This is a perfect example of whats wrong with Windows Phone so far. If we had a living ecosystem with lots of apps in the App store, sites like wc wouldn't have to report about each and every app from a random bank out of a random country. The reason why they can do it is, causer it isn't like we are getting more than 1-2 of those apps per month

At last.... Waiting on this app since I had my Lumia 800, nearly 4 years later here it is!! better late than never I suppose, I'm just glad its here.

Delighted that Ulster Bank finally released this app. It is working great and one of my most requested apps.

Good to see! I'm with Nationwide, a bank which is many times bigger covering the UK, and they have pretty much refused to bother with Windows Phone. It's frustrating to have companies with so many of their customers being totally ignored.
Windows Central Newsletter
Thank you for signing up to Windows Central. You will receive a verification email shortly.
There was a problem. Please refresh the page and try again.