It sucks that Xbox fans have to beg for sequels
Microsoft is one of the biggest publishers in the world, so why can't we depend on it to support its franchises?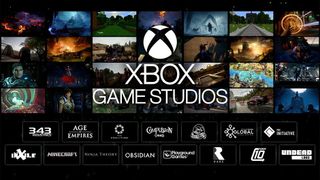 (Image credit: Microsoft)
One of the biggest and most valid criticisms of Xbox in recent years is the quality of its first-party IP. Cancellations, like Scalebound, Fable Legends, and Phantom Dust, to over-marketed, under-realized games like ReCore and Crackdown 3 — disappointment is rampant among Microsoft's efforts in the space.
Microsoft has had some success stories too, of course. Publishing wins like Cuphead and Ori and the Blind Forest have been huge, and pillar games like Forza, Halo, Gears, and Minecraft have continued to do well. Even games that launched in a relatively disappointing state like Sea of Thieves and State of Decay 2 turned it around to some degree with strong post-launch support.
Microsoft has so many incredible worlds and characters in its portfolio and has built up huge fan bases to that end. Why doesn't Microsoft seem to notice this?
The battle for sequels
One of the biggest sources of frustration with the Xbox brand is the lack of consistency in its franchise curation. Microsoft is often viewed as the HaloForzaGears company because those seem to be the only franchises you can depend on for frequent support. Other franchises like Killer Instinct and Halo Wars, despite huge amounts of concurrent users, feel virtually abandoned by the big Seattle company. Can you imagine Capcom being done with Street Fighter, or Nintendo abandoning Super Smash Bros? The possibility doesn't even register.
Killer Instinct YouTuber Maximillian_ recently caused #BringBackKI to trend on Twitter globally, as fans got fed up with Microsoft's apparent apathy towards the franchise. In 2017, Microsoft revealed Killer Instinct had served 10 million players, and that was before the full game hit Steam or Xbox Game Pass. Although we heard rumblings that Killer Instinct might be getting a sequel, it never materialized in reality. Serving millions of players, in what universe doesn't Killer Instinct get a sequel?
On top of that, you have games like Halo Wars 2, which enjoys a surprisingly healthy player base according to stats APIs. Fans are petitioning for bug fixes and balance updates, along with Steam support. Microsoft reportedly rejected Creative Assembly plans for an additional Halo Wars 2 DLC, which may have included space combat. Yesterday, Microsoft noted that support for Halo Wars has ended for the "foreseeable future."
There are countless other examples where Microsoft has built up games, bragged about their success, then let them die. Quantum Break is another such example. The game ends on an excruciating cliffhanger, Microsoft bragged that it was their fastest-selling new IP ever when it launched back in 2016. So why is Microsoft refusing pitches for a sequel, according to Remedy?
As frustrating as some of this stuff is, there are business realities to consider, and Microsoft has been going through a huge period of disruption and upheaval practically throughout the entire generation.
Overmarketing, undermarketing, and business realities
Recore typifies overblown expectations created by expensive marketing.
I think one of the main things creating this air of frustration is how over-budgeted some of Microsoft's marketing for Xbox games is. Some of these older pre-rendered trailers for the likes of Recore, Scalebound, and Phantom Dust are utterly stunning, creating piles of hype from the outset.
The gorgeous ReCore reveal trailer has almost 1 million views on YouTube, and it created the impression of something truly "AAA," a far cry from the rough (albeit fun) platformer we eventually received.
Microsoft generally doesn't do this sort of stuff anymore, swinging in the completely opposite direction. Microsoft is aggressively hiding its upcoming portfolio, ironically creating frustration in other ways. Microsoft was criticized across the board for its lack of Gears 5 campaign footage at E3, and has kept details on upcoming games like Halo Infinite extremely close to its chest. Practically everything else Xbox Game Studios is working on remains a mystery.
We know nothing about Age of Empires 4. We don't know anything about the RPG (probably Fable) Playground Games is working on. And we don't know anything about what The Initiative is working on. By comparison, Sony and Nintendo have a large slate of announced upcoming platform-exclusive content and have built up a reputation for supporting a broader range of "tentpole" franchises and delivering on expectations, catering fans with sequels. Nintendo has been particularly transparent about its roadmap, offering a good spread of info for upcoming exclusive games like Animal Crossing: New Horizons and Pokemon Sword and Shield. I wish Microsoft could do the same.
As I mentioned, there are business realities to consider, of course. Microsoft's new leader of Xbox Game Studios, Matt Booty, is leading the charge for Microsoft's efforts to re-energize its portfolio. Xbox head Phil Spencer also commented in a recent interview, conceding that Microsoft hasn't "done its best work" with games in this generation.
As it pertains to sequels, it could be argued that non-service type games like Quantum Break simply don't make sense for investment in 2019. Without a service component for post-launch monetization, the upfront cost creates a risk that few publishers are willing to stomach nowadays. It could also be argued that they very much do make sense for Microsoft, for whom Xbox is utterly core to its platform. Upcoming device-agnostic streaming service Project xCloud is powered by Xbox consoles too. If the streaming war between Amazon Prime and Netflix is any indication, exclusive content will be gospel in the fight against Google Stadia. Stadia is rumored to be splashing the cash on big exclusives of its own. In a world where switching platform is as simple as canceling a subscription, what happens if fans cannot trust you to deliver consistent quality for franchises they love? They'll begin to look elsewhere.
Please stop letting us down
There are piles of reasons to look forward to the future of Xbox, from xCloud streaming to more investment in exclusive content than ever. But plenty of reasons to doubt as well. Phil Spencer recently noted to Gamespot that Satya Nadella tasked him to justify Xbox's existence, which accentuates my perception that Nadella doesn't care about the consumer-oriented parts of Microsoft's business.
Spencer eventually did convince Nadella to give Xbox another shot after the Xbox One's dismal reveal in 2013. But as with anything in Microsoft's utterly vast, diverse business, no single thing is so critical to the megacorp that Microsoft would let a failing division stick around. Xbox has to justify its existence not just from a philosophical level, but from a business level, which is why I feel Spencer has put a lot of emphasis on global services like Mixer, Game Pass, Minecraft itself, and Project xCloud, to give Xbox a chance to grow beyond the confines of a flat console market.
These future-facing decisions for growth, however, don't necessarily benefit today's Xbox Game Studios fan. Those fan's investment is responsible for keeping the business afloat in the now. Sometimes I worry that Microsoft is looking so far ahead that it might lose sight of what it has today. The truth is, Microsoft has heard of all of these criticisms, acknowledged them, and responded to them by bolstering its internal studio headcount by several hundred people. Turning around a ship this large will simply take time.
My issue here is less to do with the number of games coming. We know games are coming. It's more to do with how Microsoft seems to perceive franchise success. It's inconsistent for Microsoft to gloat that Quantum Break broke sales records or boast that Killer Instinct has served millions of players, while seemingly abandoning the fanbases it has built up around those games. Rather than ditching an entire world when Microsoft feels a single game underperformed, Xbox Game Studios should take it as feedback rather than failure. Unless it makes zero sense whatsoever, fight back with a sequel, come back bigger and bolder. Be dependable.
There's only a finite amount of times the Xbox brand can cut and run before people will begin tuning out and mistrusting anything and everything the company announces, games-wise. Xbox fans shouldn't have to beg and petition for sequels and support. It should be a given.
Related: Is Microsoft doing enough to nurture its game franchises?
Get the Windows Central Newsletter
All the latest news, reviews, and guides for Windows and Xbox diehards.
Jez Corden a Managing Editor at Windows Central, focusing primarily on all things Xbox and gaming. Jez is known for breaking exclusive news and analysis as relates to the Microsoft ecosystem while being powered by caffeine. Follow on Twitter @JezCorden and listen to his Xbox Two podcast, all about, you guessed it, Xbox!