It's finally here! The official Amazon.in app is now available for Windows Phone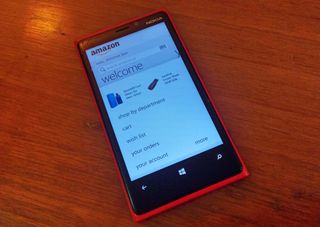 Amazon.in (opens in new tab), the Indian affiliate of Amazon.com is an online marketplace offering customers a vast selection of products with a world-class e-commerce platform. While the Amazon app has been in the Windows Phone Store for a long time now, Amazon India customers had to wait until today to access the storefront from their Windows Phone devices. The Android and iOS apps for Amazon.in had launched last year.
The official Amazon.in app allows customers to browse, search, and shop from a selection of 17 million products across a broad range of categories from anywhere on their Windows Phone devices.
The Amazon app allows customers to browse and search for their favorite products and brands, view recommendations and customer reviews, and add to wish list or the shopping cart. Once you've completed a purchase, you can track the status of the orders from within the app, and also check out your previous order history. The app also supports barcode scanning for quick price checks. You can pin the barcode scanner to your phone's Start screen and access it with a single tap.
The app features a neat and modern user interface, and although the app offers a broad catalog and a lot of features, the user experience is intuitive. While new customers can sign up for an account from within the app, existing customers can use their Amazon.in credentials and their order history and account details would carry to the app.
Amit Agarwal, Vice President and Country Manager, Amazon India, had this to say about the launch of the app on Windows Phone:
Download the Amazon.in app, titled Amazon App, for free for Windows Phone 8 devices from the Windows Phone Store. Give it a whirl, and let us know how you like it.
"...app is now available for Windows phone arrives"?

Grammatical mistake in the title of this article.

That's a good timing since pre-orders for Xbox One just begun in IND! :D

I was about to mention that!

seriously! XBOX-ONE is so highly over priced, i can make a twice as powerfull steam mechine rather wasting money!! i really was looking forward to entering into MS-eco system, but since no surface3, highly overpriced XBOX, no lumia 930, no functional cortana, COME-ON!! It is THE BAD TIMING!

Xbox one has more features than play station 4 which is limited only to gaming. India isn't a market of consoles. Even play station 2 was selling well here coz of availability of pirated DVDs. Rest if u look at ps3 the sales was less than ps2.

Xbox one is correctly priced, 40k for normal one which is same as PS4, if you need USA prices then go and live in USA, there are import duties for importing consoles or any other electronics in India along with much lower sales than USA market.

The standard Amazon app is also quite outdated... It's time for a complete overhaul and redesign...

did it not just get updates? also could you not just change the market there to india? i can change around germany and uk

Yes you can and its the same app. Only until today it was not available on the indian marketplace and amazon India was not an option in the in-app country list.

Maybe he's too excited to write about it :) btw when will Amazon hit the Philippines?

I thought all the Asian areas were using Alibaba? My understanding is that those guys are bigger than Amazon and Ebay combined.

You also have the likes of Lazada in SEA. Asia is such a vast story so obviously there is more than one big player.

In India the most popular is Flipkart.. Amazon is growing and most of them have trust issues with eBay..

Used it! But the flipkart app is way way better !

Another addition to my newly created online stores folder.

Flipkart App wins here, they need to overhaul to match Flipkart

Also why "Amazon APP"? Just "Amazon" would have been enough.

otherwise we might confuse it as a web wrapper! :P

It used to be called just Amazon a few updates back. Not sure why they added the app to it.

Flipkarts UI is better bet this seems faster.

So I got excited thinking it was Amazon video or even amazon music locker app lol

nah! their delivery is sooooo slow in india!!

Agree. Flipkart is much faster.

Trust,Service and reliability - Flipkart wins hands down... Match service then apps... :P

Now that there is exaggerated. Amazon is equally good. Have ordered from Amazon and Flipkart and orders fulfilled by Amazon are usually on par with those from Flipkart. Just give them some time will you? Posted via Windows Phone Central App

Amazon is just a platform for other retailers... So there is no trusting for genuineity... That's all I said...

Fulfilled by Amazon is from Amazon's warehouse, just like WSretail is from Flipkart's warehouse. Both Flipkart and Amazon are a platform for retailers apart from their own warehouse and infrastructure as 100% FDI in online retail is not allowed in India till now.

Well said. Besides if you notice, a lot of 3rd party retailers listed on flipkart do not service certain pin codes or even entire cities such as Pune with the exception of wsretail. That is not the case with Amazon or Snapdeal.

WS retail is flipkart. Not some third party. Amazon in India however does not sell anything due to the FDI rules.

Good, hopefully this will keep Indians happy for a few hours before they start complaining again about lack of support in India by the universe.

Haha! I'm an Indian but can't disagree, atleast in reference to WPC.

Thanks for taking this the humorous way, as it was meant to be. Certainly don't mean any offence here to anyone. ;)

¡¡¡NO SUPPORT FOR INDIA!!! hahaha :D

Gr8, have been waiting fr it...

Yeah, agree with you. Flipkart sucks in my area. Amazons service and offers are better than flipkart. Amazon takes only three days to deliver but flipkart takes 7 days. Amazon has cod in my area but flipkart don't have.

All Lumia 520 owners from India are ecstatic. :)

You bet. I had to visit the app on my iPhone 4 just for that India option. Gotta love my Lumia 520 now.

ICAI Now, official app for Indian institute of chartered accountancy also available.
Sorry reply you, my new comment replaces older one. Posted by app. That's why I choose to reply

Kotak Mahindra bank app also available
http://www.windowsphone.com/s?appId=ae80c3f3-3b98-45c1-b633-3e8ce9ffe7fa

Its out of context , but i can't resist . Where is the update for IMDB app amazon ? Terribly needed an update . Been ages after the latest .

We want to see this
Finally is here!! The official facebook app now available in windows phone store Please we want to see this

The facebook app in the store is official.

No its not..That is made by Microsoft not Facebook inc

Yes, but its official.
http://www.wpcentral.com/facebook-app-windows-phone-updated-recent-beta-...

It shows up UK search results? I get the price in Pounds !

I am going to arrive on you.

Interesting. Posted via Windows Phone Central App

Interesting and sophisticated.

Can't change my region to India on Nokia Lumia 800

Still hoping for the ability to watch Amazon Prime on my phone!

Been waiting for it 1 year! The app UI sucks! Their delivery Sucks (really worst where i live), Their Service is worst, Their tracking system is the most iritating and confusing, always shows wrong info! Only thing that i like is their packing and some of their product discounts, otherwise i mostly buy from flipkart, and snapdeal! while flipkart takes only 1 or 2 days to deliver amazon takes a whole week! and most of their product is not available where i live! duh!.... where flipkary has almost everything including a 50 inch tv available in my location! Seriously they are the worst!

Cough ... Amazon Video ... Cough

Why doesn't the fit it app shows up as an accessory app on update 1?

Me: NO WAY AMAZON INSTANT VIDEO IS FINALLY HERE : D

"Finally" is a word that gets used a lot with Windows Phone and I don't see that changing any time soon.

I am glad to hear the app is getting published in other countries, bit a part of me was hoping to read, "Amazon Prime app available for Windows Phone. "

App is smooth and works faster than flipkart app.

I don't see deals of the day and other deals..I think its better to pin the site then using this app

Anyone else think this was about cyan DP? All I saw was "finally here" :'(

Nice work.India is finally catching up for local apps.

Is that a crack on that 920's screen? :O
How is that possible? /s

So guys how to set region or its by default India, but i am getting everything in dollars, and they said they can't deliver to my address which is India offcourse.....
Windows Central Newsletter
Thank you for signing up to Windows Central. You will receive a verification email shortly.
There was a problem. Please refresh the page and try again.