It's not just you: Bing web search results are currently not working [Update: It's back]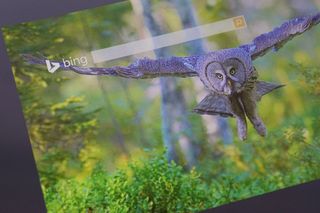 It looks like Microsoft is having some issues with Bing today. At the moment, the Bing.com site is not generating any results when users with their web browsers try to type in search strings.
This issue doesn't appear to be affecting Windows Phone devices when they search directly in their Bing app. It also doesn't appear to be affecting image, video or news search results. Hopefully Microsoft will fix this problem ASAP and when they do we will provide an update.
Update Looks like search results on Bing are back to normal. The outage seemed to last an hour or so on our end.
Update 2: Microsoft sent us this statement about the outage: ""Microsoft became aware of an issue earlier this morning causing some users to experience intermittent access to Bing. We took immediate action and restored access to the service."
Thanks to the many folks who tipped us!
You know there was this one person saying "let me give Bing a try"

Yea, I'm on the road and it totally f'd me at lunch time. That was the last straw Windows Phone. And yes, it did hit Windows Phone too.

You sir need to go because you're an idiot..

Bite me, bitch. Explain yourself because it damn sure hit Cortana.

Not only Bing but calendar issues. Entered week of appointment's nothing transferred to any of my devices. Go blow MS!

You do know that things like this can happen on any OS, right? Google had downtimes as well before ;)

Not a major issue by itself, it's just another stick on the fire that's been building. The primary pissers have been Here Maps, Outlook, and random phone reboots these past couple weeks. This OS and its apps just aren't ready to be taken on the road.

Come over to android >:D Posted via the Windows Phone Central App for Android

I would but Google is just an anal probe I'd rather not have near my accounts but I may have to bite the bullet and suck it up. I have an iPod touch I'm going to pipe through my WP and try it for a couple weeks. If it works out, I'll get an iPhone. If it doesn't, then on to Android.

Sadly I have to agree I would only recommend it to advanced users and people who wouldn't mind hassle! Microsoft does have too many os issues that should be so technical in the consumer hardware space! Microsoft get your shit together although I am staying with windows until it completely fails cause I only see potential in this os!

To be fair, my biggest gripes aren't just with MS. Here Maps is entirely on Nokia. Audible is on Amazon. Missing apps are on other companies. MS drops the ball on media support, hardware support, Outlook, etc... The overall problem is that it all collides inside WP for a very frustrating experience.

Yeah and MSN is having issues too. As well as logging in to Live. Posted via Windows Phone Central App

Working in the UK for me!

Feature not rolled out to UK yet ;-) (working fine here)

Hahahaha, eye C wat u did th4r!!!!!

Can't tell the difference at Indonesia

Trying to use Cortana to search. Doesn't work. Lumia 930.

Interesting...i just made multiple searches on Bing, and everything worked out fine

Working fine here in India

Is having problems on WP search and also two weeks ago that disappeared the calendar icon in outlook webmail

I'm in Viet Nam and no issue.

Windows phone search not working for me. (Northeast US)

and goodbye to you, the random 0.0000001%

Get your facts straight. It's not 1%.

First of all, I'm talking about others -non Microsoft fanboys- leaving, not me; second: it's a JOKE. Wtf

Not working via web on my Surface Pro 3, nor with Cortana on my Lumia 1020. Such a shame. Edit: Some searches working, others aren't. Seemingly random.

Forgetting this temporarily issue.Why do people hate Bing? When it on par with Google?

Bing is on pair with Google just in USA. I use Bing, but I hate too, because here is just a web search (no Bing rewards :()

Canada is outside the US and Bing works great here. And in some aspects, it performs better than the leading competition

Perhaps you should leave the USA to realise that outside the US, Bing is a big pile of crap.

I live in egypt man and IMO bing is the best ,and yes better than google.

Sorry but I have a really hard time believing you when you say it's better than Google. Unless of course the current Egyptian government censors Google a lot more than Bing. Perhaps YOU like it more than Google, and that makes it better in your eyes. Then, it's understandable. But objectively, for the regular consumer, it's very hard to believe.

Works fine for me and I'm in the US.

Where are (Why not India) guys?

It's fine over here I guess

huh? its working as usual here

Yeah can't able to install any thing

I noticed that, hope it works soon! if not I won't be able to search anything, even if it was just a site and i was too lazy to type it on address bar.

Not working to me Bing search engine on windows phone am on Santiago chile and my phone language and regional settings English USA and

A mi tampoco en Antofagasta con la misma configuración.

It has some problems..yeah..!!

I'm running WP 8.1 Update 1 Developer Preview and it *is* affecting Cortana's Bing searches.

here working on bing website

Not working in browser or through Cortana/bing for me.

Wouldn't happen to Google Search

Yes it can, issues happen to all technology no matter whose name is on it.

At least bing knows how many mb are in a gb

The app store is affected as well

I was just using Cortana to search things(It was working) when this post came

Is this affecting Siri or Facebook?

Please hurrry up & resolve this. I'm the only person in my IT Dept. that uses Bing and they always lash out at my with Bing jokes --- I'd never hear the end of it if they catch wind. I referred a few of thing to Bing Rewards so they do use Bing to get their searhes each day & revert back to Google.

This has happened more than once this year....

I thought something was weird, all I was getting on my phone was images and videos

Working fine here in India

MSN was not working yesterday night.

Has it really ever worked? :-o

For me Bing works well, but I have problems with the store.

Actually, Bing result on WP are being affected, with the local scot feature. I asked Cortana to pull up the nearest deli's/sandwich shops and no results were found. But I noticed Cortana is kinda broken in the latest Preview for Developers update. Won't listen to my follow up questions/commands. For example, the other day I asked to pull up the list of Chinese restaurants. Then I asked if the third one (on the list) was opened (or to call the third one so I can place an order) and Cortana replied that "Sorry, I didn't get that". But that happens with any local list I asked Cortana to generate. I started a thread about it in the forums. Great appreciate it if anyone else has the same issues. Quite frustrating as I use that feature all the time.

Working Southwest USA here, and stupid fast too faster than normal

So as journalists, you're not going to press MS for a cause to the issue? Umm ok..

Emails have already been sent out to the appropriate PR contacts :)

man microsoft has been having a bad week.

Can't get any hits on the Store app as well.

Same just videos and photos and Wikipedia also Cortana isn't working right and market no issues

That was a pretty fast fix

I can't download any apps from the store right now

No problems here in Italy lucklily, all my clients use Bing

Working fine in Chicagoland. Thanks for not adding "what do you think...." ;-)

My outlook mail is responding very slowly

The other day I had problem with xBox Live account.

I was seriously confused there for a second.

Microsoft is working hard to unify MSN, Outlook and bing. A few minutes of outages here and there are to be expected.

Ok because I was bashing Bing for forcing me to use Yahoo & oogle search...lol couldn't say the G-word fully.

If you use yahoo, you're really using bing anyway

Well that's fine, as long as it's not oogle.

We outside US didn't notice anything because we don't use Bing (Bing is useless outside US)

Had to use Google, felt dirty

I noticed MSN.com was not working yesterday. It returned an HTTP 404 error any time I clicked a news article. I later noticed that the MSN Health & Fitness app would not load the diet or fitness tracker, and the Cortana search would not work on my phone. The issue finally seemed to be resolved last night. The only issue I noticed today was this morning the Games hub on my phone kept giving an error that said: There's a problem with your account. Sign in at Xbox.com to fix it. It then had one of these two error codes: 0x80072efd or 0x80072ee2 I'm still not sure if the error today was related. I assumed the issues yesterday had something to do with Microsoft's servers, but I couldn't find any information about it.

Well here in my device I searched many things for the day but was not generating the results but when I was on PC, I use to get the results! This happens day before yesterday.

I wonder if anyone here has a job for whom Bing/Cortana is mission critical. You know, something where you absolutely, positiviely could not have used the Goog over your phone for an hour. It's always good to have a back-up strategy...even if it's dogpile.com.

Don't know if this is the right forum, but according to Verizon rep Cyan update is being released today and can be download 10 days from now. Please, don't hold me to it..Just passing along the probable BS from Verizon.

My MSN news on my phone is taking lot of time to load headlines after being updated from bing to MSN

Well that was frustrating. I kept searching, searching, searching for some good pornog and kept coming up blank, so I had to go old school and walk to the store and buy a magazine, which not only cost money, but there weren't even moving pictures inside.

Lol happened on my way to a final. Was trying to get some last minute answers. =/

No issues here in the UK, Cortana and Bing have worked fine all day

No issues, because I use scroogle!

Didn't see it but if I had there are other options :)
Windows Central Newsletter
Get the best of Windows Central in in your inbox, every day!
Thank you for signing up to Windows Central. You will receive a verification email shortly.
There was a problem. Please refresh the page and try again.