Why it's time for Microsoft to release a Surface PC for gaming
I tried hard to make the Surface Book 2 a viable PC gaming option, but it just wasn't meant to be. Should Microsoft bring its PC hardware innovation to the gaming sector?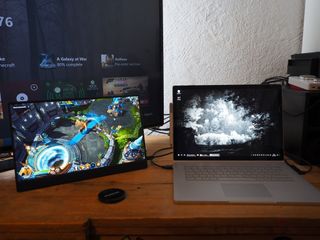 I'm a huge Surface fan and have owned a Surface device in every product generation since the Surface RT. At face value, for what you get with a Surface, they generally seem overpriced, especially on the higher-end. Surface delivers unique form factors and a level of quality that often eludes other PC manufacturers, where every angle feels refined and fawned over by a team of passionate engineers.
Surface devices often get compared to Apple's laptops , which redefined what sexy desktop hardware might look like. Surface has carried the hardware innovation torch with gusto, spawning an entire ecosystem of tablet-like PCs that even Apple was forced to copy. I see Surface devices almost everywhere I go in Europe, from airports to coffee shops, among family and friends, with tech influencers praising the software at every turn.
Strangely enough, though, Surface seems to have sidestepped one of the PC ecosystem's biggest growth areas: gaming.
With Project xCloud game streaming and an increased focus on PC gaming from the Xbox team, it feels like a great for a Surface gaming PC to be released. This is particularly true when you consider that the most powerful Surface offerings simply don't hit the mark.
Surface Book 2 has the internals but not the form factor
Despite rocking 16GB of RAM, an i7 CPU, and a GTX 1060, my 15-inch Surface Book 2 could only handle the most modest of gaming loads. Thankfully, the huge library of Windows PC legacy content means that you'll never be short of something that will run well on the Surface Book 2, but for a PC that costs nearly $3,000, you'd be forgiven for expecting to get a little more juice out of the hardware.
Surface Book 2's greatest strength and greatest weakness is its form factor. Rocking a detachable display, the Surface Book 2 can serve as a productivity "clipboard" or be reversed and laid flat in an inking canvas mode. In the real world, I'm pretty sure almost nobody actually uses the clipboard mode, detaching the screen only to flip it into its canvas form factor. A 15-inch tablet is simply unwieldy for use as a tablet, probably confining it to board meetings where you want to look particularly professional. The reversible hinge on some Dell XPS or Lenovo Yoga laptops strikes me as a far more logical configuration for almost every other user scenario. The fact no other manufacturers really do the detachable-display-keyboard-docking thing should be evidence enough that it's a wasteful design.
The relentless pursuit of thin-ness gives the Book 2 some seriously crappy thermals. In a perfect scenario, the silicon inside the Surface Book 2 should be far more powerful for games, but the thermal throttling kills the whole proposition. And this is even when you disregard the fact the Surface Book 2 doesn't draw enough power to max itself out, draining the battery even when it's plugged in under load. This is the epitome of form over function.
The fact that Microsoft included the Xbox Wireless direct protocol in the 15-inch Surface Book 2 model says to me that the division at least has gaming on its mind, even if it's a bit of an afterthought.
Surface has shown it can be 'fun'
Surface generally skews towards productivity and "work" in its marketing and messaging, but the lineup has shown repeatedly that it can be fun. too. Surface Go, right from its name, speaks of a more accessible product tailored for consumption and light tasks rather than serious work. I feel as though this device wouldn't find a lot of traction beyond consumers and schools.
The uncanny thing about PC gaming hardware is that, for Windows, it intersects very nicely between productivity and gaming. If you want to do high-end video editing, 3D modeling, or complex art tasks with multiple layers with high resolutions, you're going to want beefy hardware. As an added bonus, serious PC hardware for productivity naturally translates into gaming scenarios. Razer has capitalized on this fact in recent years, launching grey versions of its laptops that are a little more appealing to creative types, in contrast to the black chassis and rainbow RGB chroma it's known for.
The Surface brand is more than versatile enough to add a gaming sub-brand to its lineup. Additionally, the Surface team is stocked full with hardware innovators capable of capitalizing on this exciting hardware sector Microsoft has never really immersed itself in.
PC gaming is a crucial area of hardware innovation
Microsoft has built gaming-oriented software, services, and accessories over the years, producing what is arguably the best gamepad of all time. It's always keen to talk up the Surface Book's vague capability to run games, too, showing off Gears of War 4 on the original Surface Book when it was previously revealed.
Companies like MSI, Razer, ASUS, and more have all been pushing the envelope on what portable PC gaming hardware can look like. The new Razer Blade laptops (opens in new tab) have displays that go up to a blistering 240Hz while remaining less than 2 centimeters thick when closed. Acer's insane Predator Helios 700 (opens in new tab) is a huge, hulking beast that effectively compresses a desktop PC into a lappable chassis. MSI, Alienware, and ASUS ROG are all also innovating, coming up with unique thermal solutions that push the concept of portability without sacrificing airflow.
Microsoft's Surface line not only serves as a showcase for the best of Windows, but historically, Microsoft also baked in unique solutions that push its OEM partners to try new things. Having a hero device that showcases the capabilities of Project xCloud as a handheld alternative to the Nintendo Switch might also be something the Surface team could capitalize on.
The time is now for a Surface gaming PC
As good as the Surface Book 2 is, as powerful as it is, it's frustrating how it's not able to meet its full potential as a gaming device due to the form factor. A couple of tweaks, maybe a 144Hz display, a more airflow-friendly footprint to combat throttling, 32GB RAM option, and ditching the GPU dock mechanism would be obvious first steps. Surface is known for innovation, though, and I'd love to see what the team at Redmond might be able to bring to the PC gaming market.
What do you think? Would it be worthwhile for the Surface team to lend its expertise to the PC gaming hardware market? Or are OEMs doing enough already? I'd like to hear your thoughts in the comments.
Our favorite Surface accessories from Microsoft
Every one of these valuable Surface accessories is Windows Central Approved and guaranteed to please.
Surface Precision Mouse (opens in new tab) ($77 at Amazon)
The Surface Precision Mouse is not only one of favorite Surface accessories, it's one of our favorite mice for any PC. It's packed with valuable features and customizable buttons. Its scrolling and tracking are seamless and spot-on. And it's rechargeable so you never have to buy new batteries for it.
Surface Pen (opens in new tab) (From $72 at Amazon)
Every Surface owner needs this Pen. Period. It supports 4,096 levels of pressure sensitivity, tilt support for shading density, and enjoys supremely low latency. When paired with a Surface PC, the potential is endless. And it comes in a bunch of cool colors.
Surface Dock (opens in new tab) ($136 at Amazon)
With two Mini DisplayPorts, four USB-A 3.0 ports, an Ethernet port, and a 3.5mm audio jack, this dock gives you the ports you need to stay connected to all your favorite devices. Plus, it easily turns your Surface into a desktop power hub. We highly recommend it.
Jez Corden is the Managing Editor for Windows Central, focusing primarily on all things Xbox and gaming. Jez is known for breaking exclusive news and analysis as relates to the Microsoft ecosystem while being powered by caffeine. Follow on Twitter @JezCorden and listen to his Xbox Two podcast, all about, you guessed it, Xbox!
They should call it ... DirectX box. Or Xbox for short. I don't think there is a place in the market for a premium gaming PC from Microsoft. What would be its unique selling point? What would it cost to be in line with Microsofts current Surface devices, starting at $4000?

Yeah, I don't get the point either. It would be having one just to have one.

What's the unique selling point of a Surface Laptop?

I never thought the Surface Laptop made sense either.

Yet it's a great device and my wife who isn't a techy much prefers her surface laptop to her old 2015 MacBook air.

Of cause she does. But wouldn't she even more enjoy a Surface book, which she really can use as a tablet?

Not saying it's not a great device. Just saying I don't really think it fits in with the rest of the Surface line. There were already many premium laptops. It wasn't really introducing anything new.

Surface Laptop is rather odd on Surface line up since it is just a touchscreen laptop and nothing unique about its form factor. Pen support is weird for pure laptop which is only useful for occasional annotations. I think they can really make Surface Laptop to have beefier hardware with better thermals like what Jez is suggesting. But this kinda conflicts with Surface Book which is supposed to be a pro laptop, only limited by its thermal design.

While my wife likes her Surface Pro, and she enjoys her iPad. She also prefers to type on a quality keyboard. And she can type fast. She does not like the touchpad on the Surface Pro. So, for a bit cheaper, she can get a Surface Laptop and solve her three big issues: good trackpad, good keyboard, and portable/smaller than her Desktop. Each Surface device fits a specific user profile for utility. If I can sell at least $1 billion a quarter, then I have a viable business. MSFT also gets a better understanding of how each device fits with the usage of the customer.

It would just need to have Thunderbolt, and a Microsoft-branded gaming dock. Or they could have a "Gaming Base" that's thicker than the Performance Base with beefier graphics. Part of the issue I have had with getting a Surface Book over a Surface Pro has been the reality that you're just paying a lot more to have a heavier keyboard. A couple of extra ports, especially since they're ALL in the base, isn't really compelling to most people (Microsoft has stated Surface Book is #3 in their lineup by popularity).

I'd be ALL over a Surface for gaming - I've also rocked all of the Surface devices, and now game intermittently on my SB2-15, with some limited success.

I would say that the actual starting point for a Surface PC would be the Surface laptop. While a Surface Book can be more powerful, given that much of this article is about how the Surface Book design isn't conducive to a gaming PC, start with the Surface Laptop. Just add power. While Surface devices tend to be geared towards businesses, there still would be a business angle for a high-powered Surface Laptop. This is assuming though, Microsoft is serious about Windows Mixed Reality. If they're bailing on that (which I think they are), then there's not much of a business case for a gaming PC for businesses.

"Surface has carried the hardware innovation torch with gusto, spawning an entire ecosystem of tablet-like PCs that even Apple was forced to copy." WHAT?

I agree with the article on this one. Apple only knows how to make rectangles with rounds corners. Not much there really.

"Apple only knows how to make rectangles with rounds corners." Apple also knows how to make money.

iPad Pro with Keyboard and Pencil.

What he said is correct, the iPad pro is Apple's effort to catch up to the surface pro :p

iPad Pro was literally a rip off of the Surface Pro

dude, iPad has a marketshare of 99.99999% and actually makes money. Surface is basically non existent compare to that... and only thing we know is "it's a billion dollar business", which literally says nothing if Microsoft are having pure profit of it when remove the R&D expense. Not to mention it includes the entire Surface line. Apple iPad had keyboards and pens from the very beginning. It's just a bundle now for the Pro line. Apple and the real world btw (not the one in the WC forums) literally could not care about Surface any less. A rip off lol. Good lord we have Apple to literally show everyone how to make usable tablets. Who is the actual rip off? Microsoft have always tried to look like Apple so desperately - the "eye on detail", the premium materials, the built quality NOW, the promo videos, the ads, the presentations and keynotes to certain extend, the physical stores... it's so pathetic. a rip off... https://notebooks.com/2010/10/29/kensington-keyfolio-wireless-keyboard-w...

Surface Brand is making almost 2 billion.
I see the Surface all the time. It's become a popular machine.
Personally I'd go for a different one similar to the surface cuz the partners I think have made more up to date surface like machines. But still. It's a popular machine.

BTW, I don't think the iPad is that usable. It started out as basically just a large ipod. Gradually the software changed but in reality, it's really just as powerful as a surface tablet that would run windows 8 and only got apps in the store. Sure there's more games n fun apps in the iOS app store, but software wise, iOS is no where near as powerful and functional as a PC. Not yet anyways.

Interesting proposition Jez, however there is one factor I think that needs to be considered and that is upgradeability. Generally, most pre-built systems are somewhat upgradeable and use off the shelf components. The Surface line up is known for highly bespoke components to offset design challenges. They could do something with MXM GPU cards and standardise that market, which would prove to be hugely beneficial for the repair movement for laptops and OEMS. As OEMs can use standardised ports for GPUs instead of being at the mercy of Nvidia and consumers benefit as well, in the event a GPU dies they can swap it out for another. The reason why I'm suggesting MXM, the Surface Studio has an amazing monitor and it already has somewhat a pre-built case which could be slightly modified to house the components maintaining that sleek design and form factor. So you could have bluetooth and WiFi onboard or also use the MXM standard (which has the added bonus of pairing the right intel WiFi card and Intel CPU you can receive and transmit via miracast). For storage they can use m.2 ssds and so-dimm RAM modules. CPU cooling wise, they could partner with Noctua and get some decent slim low noise cooling. I've worked on an Elite Desk 800 G2 Mini which had a full fledged intel CPU in it so it is possible to cram a non U or Y series processor in a very small form factor. The biggest issue would be the power draw and power supply, I'm sure the Surface team & Xbox team would be able to figure out something. So in short, the Surface Studio would be able to double up as high end gaming PC and a high end work station for creatives. Win-Win in my book. Additionally, this would also allow Microsoft to sell the Surface Studio Monitor Seperately and the base seperately should they wish to do so. This would make returns and repairs to much easier to handle as well as giving consumers a premium option. Win-Win-Win all around.

Aye, I think if they did go for a gaming Surface, adding modularity would be part of the experience, hopefully.

A gaming version of the Surface Laptop would be cool.

Surface Xbox? Xbox Surface?

I actually kind of like surfx, although the only downside is if you say it really fast or not clearly is sounds like you're saying cervix lol

hahaha! *Please say slowly*

I'd love a Surface for gaming, but not what you are thinking. I want touch games. The hardware is there, but there are very few touch games in the store. To make things worse, there is no way to find touch games in the store. There needs to be a filter by input method. Microsoft needs to partner with the big mobile game studios to get them to publish in the Microsoft Store. This is the one of the top two reasons I haven't bought a Surface. The other is the lack of USB-C on the Pro.

Such a troll, you always have a reason. What was it last time oh yes it does not have the software you need keep coming up with excuses

Personally I would like to see it happening but it's not going to happen. Too busy getting ready for Windows light.
And they are launch 4 new devices in October anyway

When they release a Surface with Thunderbolt they'll probably create a "Surface" GPU enclosure for about $1500 bucks and market that to people who want to game.

It would be cool if Microsoft reused the costum APU (with unified GDDR6 or HBM2) from the Xbox Scarlett to this "Surface laptop gaming". An APU could give numerous advantages like:
- Thinner Laptop because it uses a single chip.
- Using a less noise cooller because it produces less heat.
- Higher battery due to lower Power Consumption We just need to look at the Xbox One X, that console consumes at total of only 172w while playing GoW4, that is very low and the Xbox Scarlett should be similar.

I think I'd rather see an XBox branded portable game player with gps and telephony. Forget Surface Phone... hello X Phone...

In my mind, the Surface Book is a workstation...

It can do a lot ... It's a nice device on the sofa or for notes at the customer when detached, it's nice for presentations in tent mode. In the evening, you can run some light games on it. And the next day it is a powerful desktop / light workstation for Dev or design work. Only thing it's not is a phone - i still need a second device for that.

They had one surface gamer already
But they called it Xbox

Sorry. Not viable. Soon all surface products will be gaming devices through Xcloud. Executed right, there will be no need for beefy hardware with high cost and poweconsumption

Sure, but if I'm on a plane I can't exactly use xCloud super reliably can I :P

I don't really understand the complaints about the form factor. It's a laptop if that's what you want it to be. Since the first video of the Surface Book was shown I've had a clear vision about what Surface needs to be: a modular computing platform. Take the Surface Pro and accessorise. A light weight keyboard like the type keyboard. A more substantial keyboard with dGPU like the surface book. A simple dock allowing for more connectivity and desktop setup. A bigger dock with built in mobile dGPU in the same magnesium alloy as the device for those who only game or do more demanding work at a desk. Then a proper full size eGPU Dock for proper gamers. Keep the kick stand so tablet can be used on it's own as well. Also, please get rid of the outrageous bezel. This would mean the Surface could be a single device with a complimentary ecosystem. It could be upgraded as well. Either by buying new docks or upgrading GPUs. It would also allow people to build the form factors that work for them. I genuinely can't see why this hasn't been done. At the very least the Surface Book should have any of the basic hardware features required to stand alone: any ports, a kick stand, battery life long enough to watch a film... Taking it even further, I always thought that the Surface Phone could be this One Device To Rule Them All. Carrying a device around in your pocket that's essentially your only computing device sounds great and it's even more perfect with the advent of folding phones. There's a perfect ratio for a phone sized device that three-way folds out into a 12" tablet. I'd even be open to that weird Asus design from years back with a phone that docks into a tablet if people are unhappy about screen size.

Absolutely NO NO NO!!! - It would be released and a short time later Razor, Dell and MSI will beat it, then what for another 12 months? Brand damage, thats what, they have missed the boat and not worth it. If they want to fight, get back in the mobile space!

Your argument makes zero sense. Surface shouldn't make a gaming device cus they missed the boat... you don't think they've missed the boat in mobile? lol

Best to leave it to Razer and Dell IMO. What would MS bring to the table that the others already don't?

Well they bought new things with Pro, Book, and Studio. The crux of the argument is that Surface would invent some kinda x-factor thing to make it unique. If I knew what that was, I'd probably be an engineer ;)

No, because the world of gaming is going to go the way of streaming. However, they could design it in such a way that you can use an external GPU.

This article would make Morse sense if it wasn't focused on gaming. It should be "Why it's time for Microsoft to release a Surface for productivity and gaming" Right now the surface book 2 is almost perfect. Except that it boggles down in pressure. If it had better cooling power and a higher clocked CPU then it would be the ultimate productivity/gaming machine. A device designed for gamers that looks cheesy isn't going to appeal to enough people to be worth it. A device designed to appeal to people who do video/graphic/photo production and has enough power to adequately handle mainstream gaming would appeal to the masses. When I bought 15" surface book 2 o had no clue how underpowered it was going to be even for simple things like photo editing. A less than 2ghz base clocked CPU that has thermal problems isn't ideal for gaming OR productivity making the current surface book line almost pointless since their marketing team directs it towards our group of people. Those saying the surface laptop should be the gaming laptop must not realize the surface laptop would be a way worse option. It's too thin to properly handle to necessary hardware and cooling for high level gaming or production software. The surface book is designed to be the workhorse not the laptop, it just happens to do a bad job at being what it was designed for.

I agree. I would love a Surface style console PC especially, but a traditional desktop tower would be great too. I have the Surface Book 2 and it's not as awesome as I thought it would be for gaming.