An in-depth look at the new Windows 10 Xbox app
Finally, Microsoft has created a PC game store for Windows that doesn't suck. It's currently in testing, but it's already better than the Microsoft Store. Here's a look at the new Xbox app.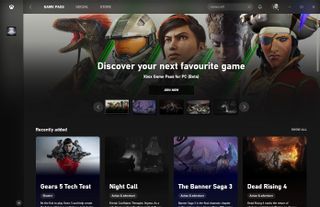 For years, users have been mocking Microsoft's half-hearted efforts at creating a PC gaming store for its Windows platform (myself included). Finally, Microsoft reacted. Say hi to the new Xbox app for Windows 10, simply called "Xbox" right now, it incorporates Xbox Game Pass for PC, and (almost) the entire catalog of core PC titles offered via Microsoft's own store.
It's very early days, still in a beta phase, but it's already far superior to the regular Windows 10 Microsoft Store for browsing PC games and is well worth trying out if you're on the May 2019 Windows 10 (1903) update or above. You can grab it in the Microsoft Store here (opens in new tab), or bundled with an update assistant for Windows 10 here (opens in new tab).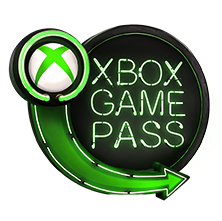 Netflix for PC games
(opens in new tab)
Endless fun

Microsoft's high-value PC game subscription service provides some unprecendented value for those looking to try out new games.
Navigation and signing in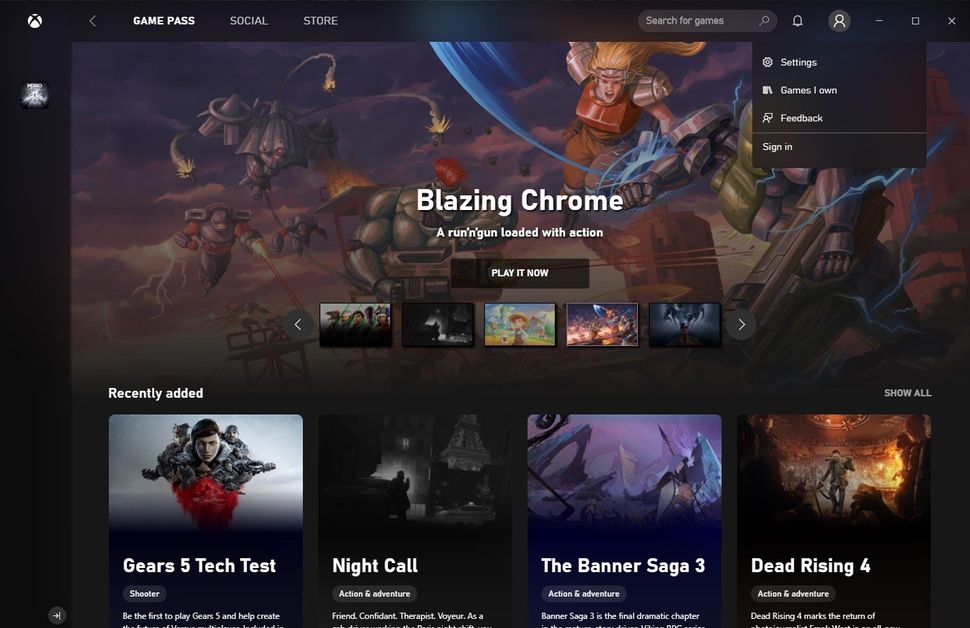 Signing in is straight forward. You simply click on the avatar icon in the top right and click sign in. You will be prompted for your Microsoft Account, which can be created for free over here (opens in new tab).
Once you're signed in, there's a variety of new options available to you, across the top of the screen and down the left side.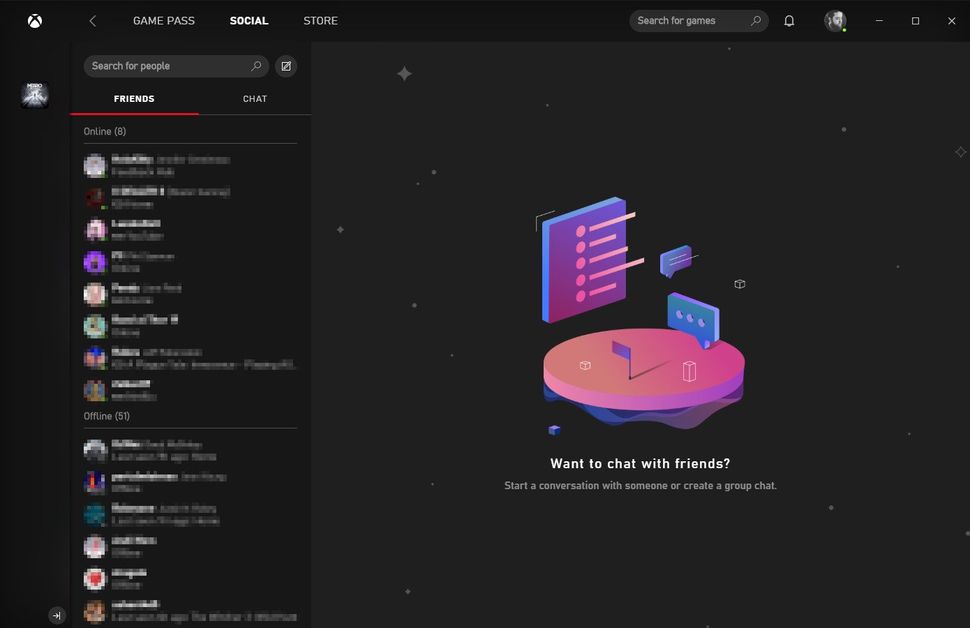 New options include:
Game Pass is a subscription service, currently priced at $5 during the beta, giving you access to over a hundred PC games for Windows 10. This section showcases the catalog.
Social is where you can add friends, send messages, or start voice chats.
Store catalogs everything Microsoft has on sale from a PC gaming perspective.
The left bar is where your games live, for launching and uninstalling.
The search bar on the top right is for quickly finding games either in the store or in Game Pass.
The notification bell gives you a history of all your recent notifications on Xbox Live.
The profile button gives quick access to settings, your library, code redemption, and your online status.
The Xbox app is missing a few noteworthy sections right now, such as Xbox Clubs and other social features like the social feed from the Xbox app, but these aspects will likely arrive in future updates.
Game Pass for PC
The first section that loads up is Xbox Game Pass for PC, which showcases the library of games available as part of the subscription. Signing up for Xbox Game Pass for PC costs $5 during the beta phase, with an introductory price of $1 for the first month. You can sign up on Microsoft's website. (opens in new tab)
Once your subscription is active, you gain immediate access to the full library of Xbox Game Pass PC titles. The available games rotate in and out on a monthly basis, depending on the contractual terms reached between Microsoft and its partners. Some games remain for months, while others exit much more quickly. Microsoft's own games, however, are permanent fixtures as part of the subscription, arguably making it worth while. Forza, Halo, Gears of War, and other major Microsoft franchises are all part of the program, with future titles like The Outer Worlds, Wasteland 3, and Bleeding Edge all confirmed to be joining the party as well.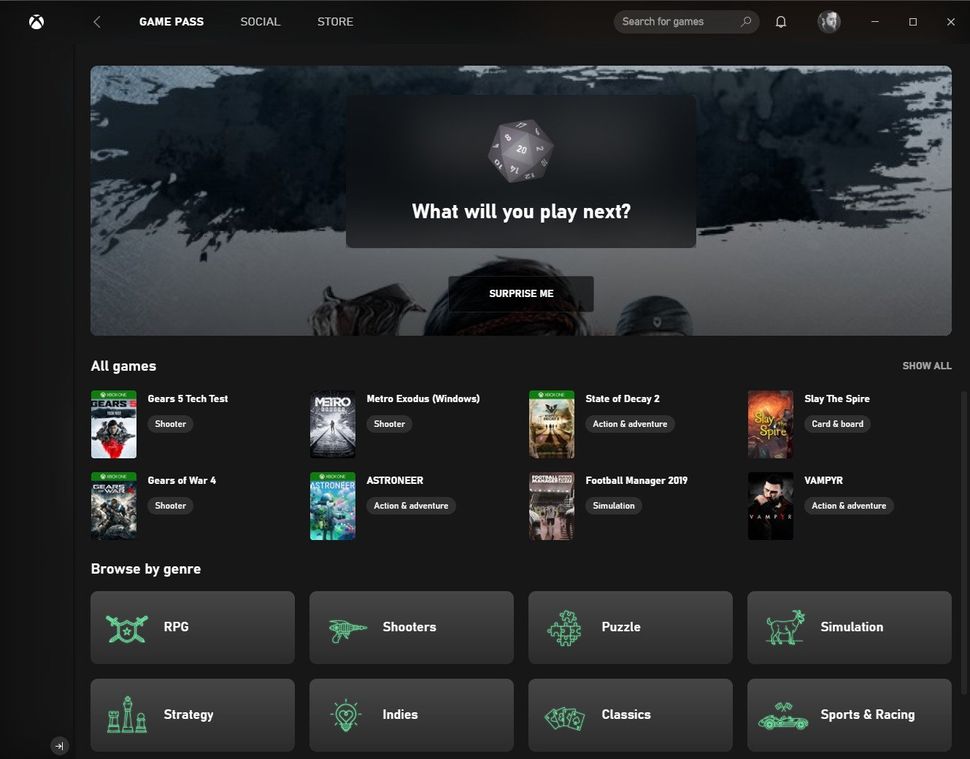 Finding games to play on Game Pass is as simple as scrolling down on the page. Microsoft surfaces some of its own recommendations, but at the bottom you can sort by catagory, browse the entire list, or simply pick a game entirely at random.
Related: Full list of Xbox Game Pass PC games
Social features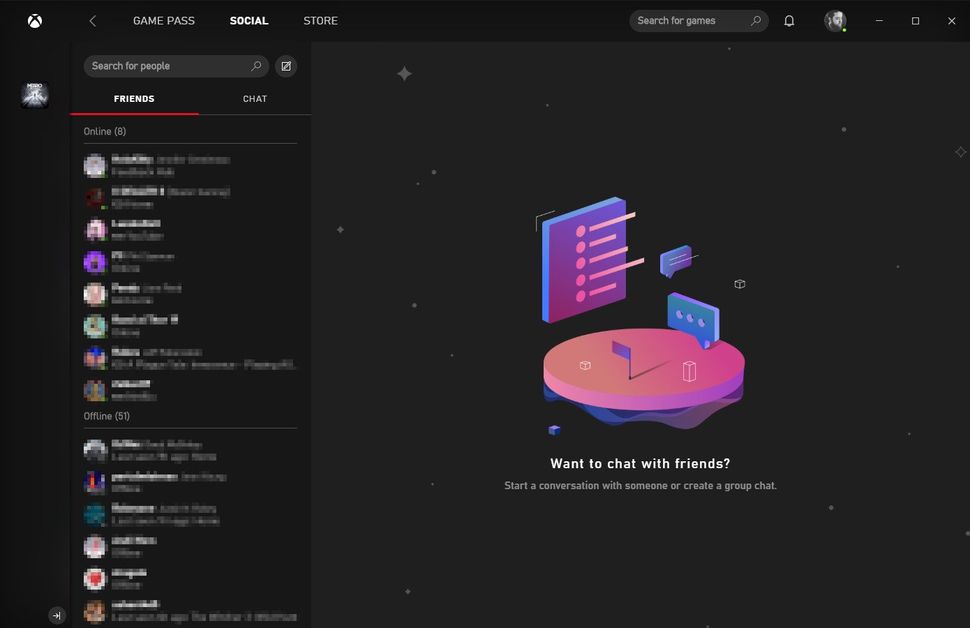 The social features available in the new Xbox app are relatively bare bones right now, with simplified profiles, missing Xbox Clubs, and no social feed. However, the features that are available work very well and showcase Microsoft's efforts to speed up its Xbox Live messaging system, which has historically been relatively slow.
The search bar at the top of the friends list allows you to quickly and easily search your current friends list and will dynamically expand beyond your friends list if the system detects you're actually trying to add someone new, similarly to Skype. Next to the search box is a button for creating new message groups.
Below the search box are two tabs for your friends list and active chats. At the bottom is Microsoft's new "Message Request" section, which is an attempt to combat spammers. If someone from outside your friends list messages you, the messages will end up in this overflow section instead.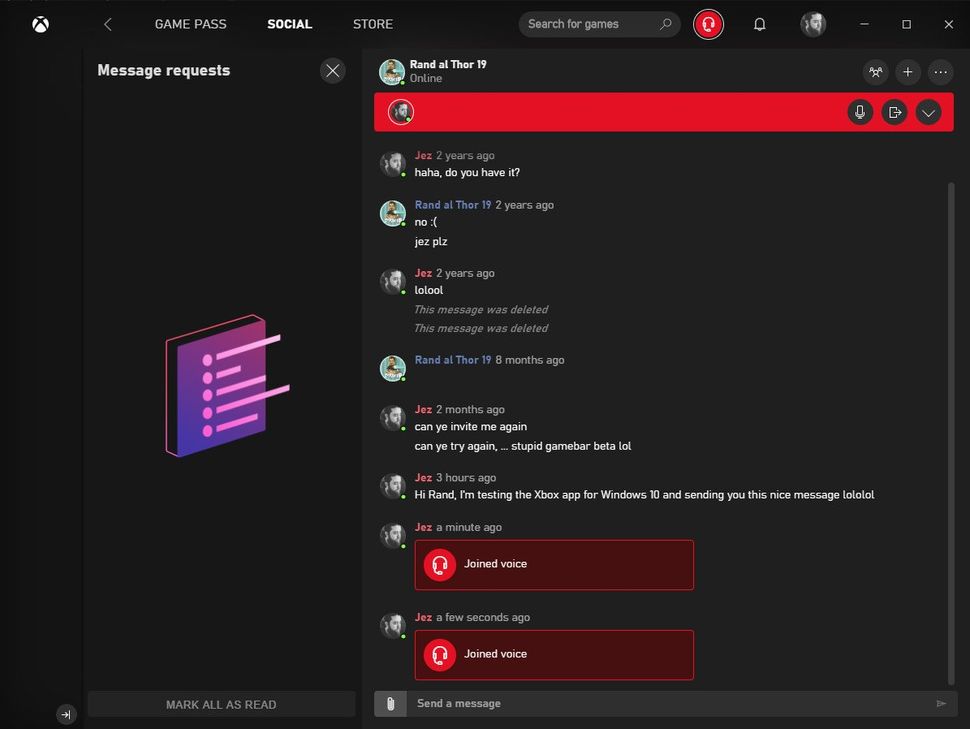 Once you're in an active chat, it's simple to turn the chat into a voice lobby by clicking on the headset icon on the display. New control sections will open up below using your Windows 10 accent color (red for me), giving you control over your microphone settings, as well as the ability to leave the chat. You can right click on a message to delete individual notes and click on the elipses (...) menu to remove the chat entirely, shift it back to Message Requests, or mute it for the time being.
Xbox PC store and settings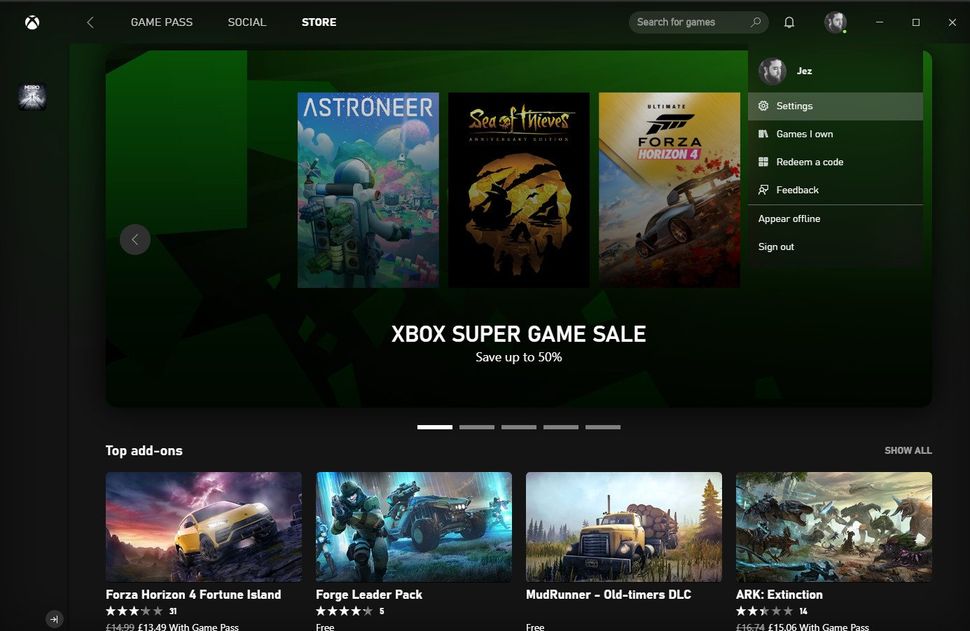 The new Xbox PC store as part of this app is a huge leap in quality from the Microsoft Store itself, ditching casual mobile games in favor of core PC titles. From here, it's easy to browse the full catalog of PC titles Microsoft offers. Each listing shows details on PC specs, screenshots and trailers, live Mixer streams of the game, and posts from developers who are using the Official Xbox Clubs system to offer updates about their games. The system also offers user reviews, but they currently lack some of the additional context provided by Steam reviews, though it can still be a useful tool to learn more about a game from people who own it.
Thankfully, the new PC store also offers the ability to select a storage device before committing to a download, something the main Microsoft Store historically struggled with. Once your game is installed, it'll appear on the left side bar, with a right click menu for uninstallation.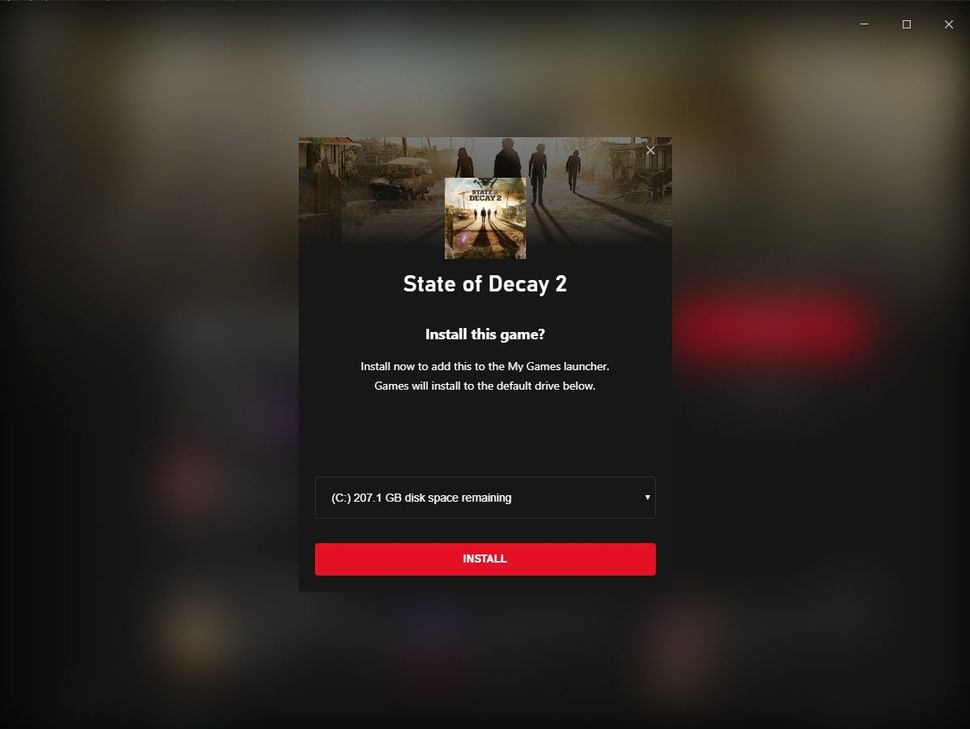 If you click on your profile picture at the top of the app, you can gain access to code redemption, the ability to set your online status, your game library, and the main settings page. The options available as of this writing are a little on the thin side, but all of the important things are on offer.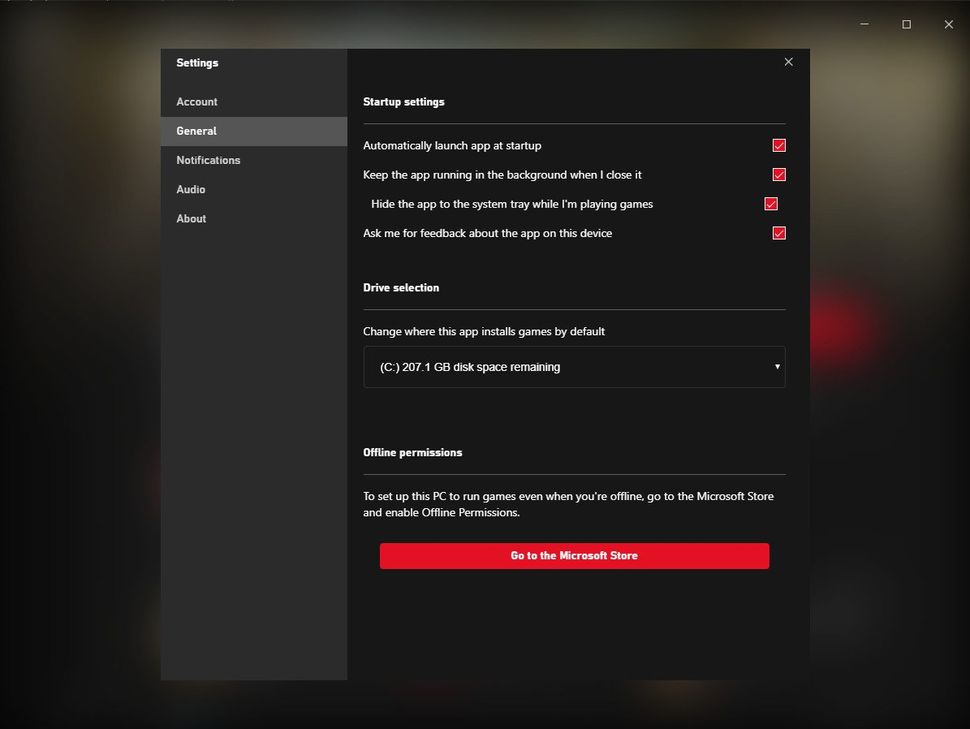 Some of the settings you can manipulate are as follows:
Account gives you access to your order history, your subscription status, the ability to log in to another account, and change your gamertag.
General lets you decide whether to launch at startup, set up background processing, change default installation location, and access offline gaming permissions.
Notifications lets you configure how and when notifications are received.
Audio allows you to set up a push to talk key, change your microphone and speaker devices, and tailor the sound mix.
That's pretty much it (so far)
Even in its early beta state, the new Xbox app for Windows 10 is a huge step up compared to the Microsoft Store, which lacks design consistency and decent curation. The team at Xbox has been dilligent in responding to user feedback and adding new features, so expect to see more from this service relatively rapidly.
If you want to try the app for yourself, you need to be running the May 2019 Windows 10 update at the very least (Build 1903). You can then download it from here (opens in new tab).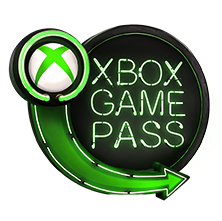 Over a hundred PC games
(opens in new tab)
Great value

Over a hundred PC games for a low monthly fee, what's not to love?
Cheap PC accessories we love
Take a gander at these awesome PC accessories, all of which will enhance your Windows experience.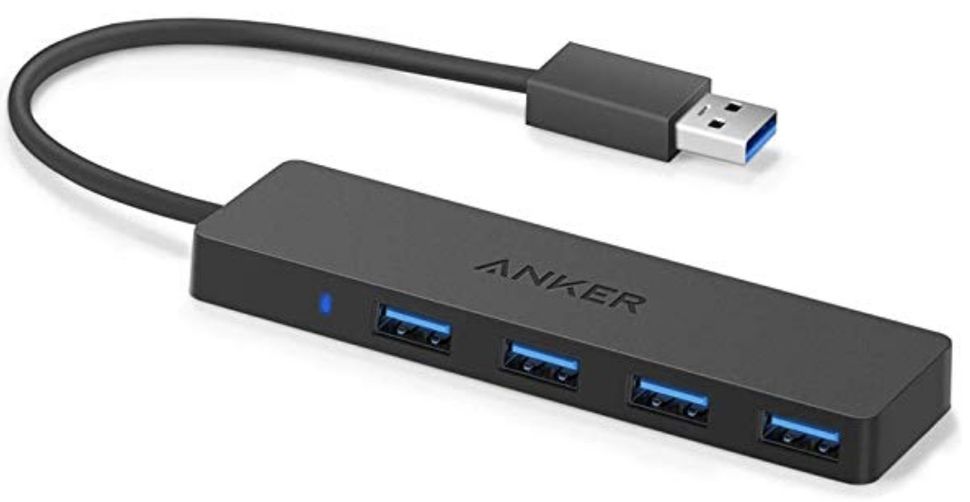 Anker 4 port USB 3.0 hub (opens in new tab) ($10 at Amazon)
Whether on a desktop or laptop PC, you always need more ports to connect things to. This hub gives you an additional four USB 3.0 Type A ports.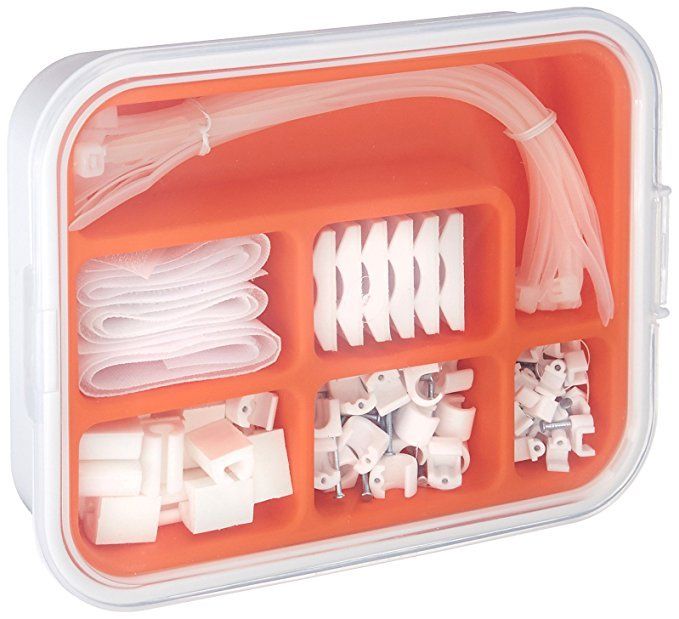 Ikea Fixa Cable Management System (opens in new tab) ($11 at Amazon)
This IKEA cable management kit is your ticket to a clean setup. It's simple and functional.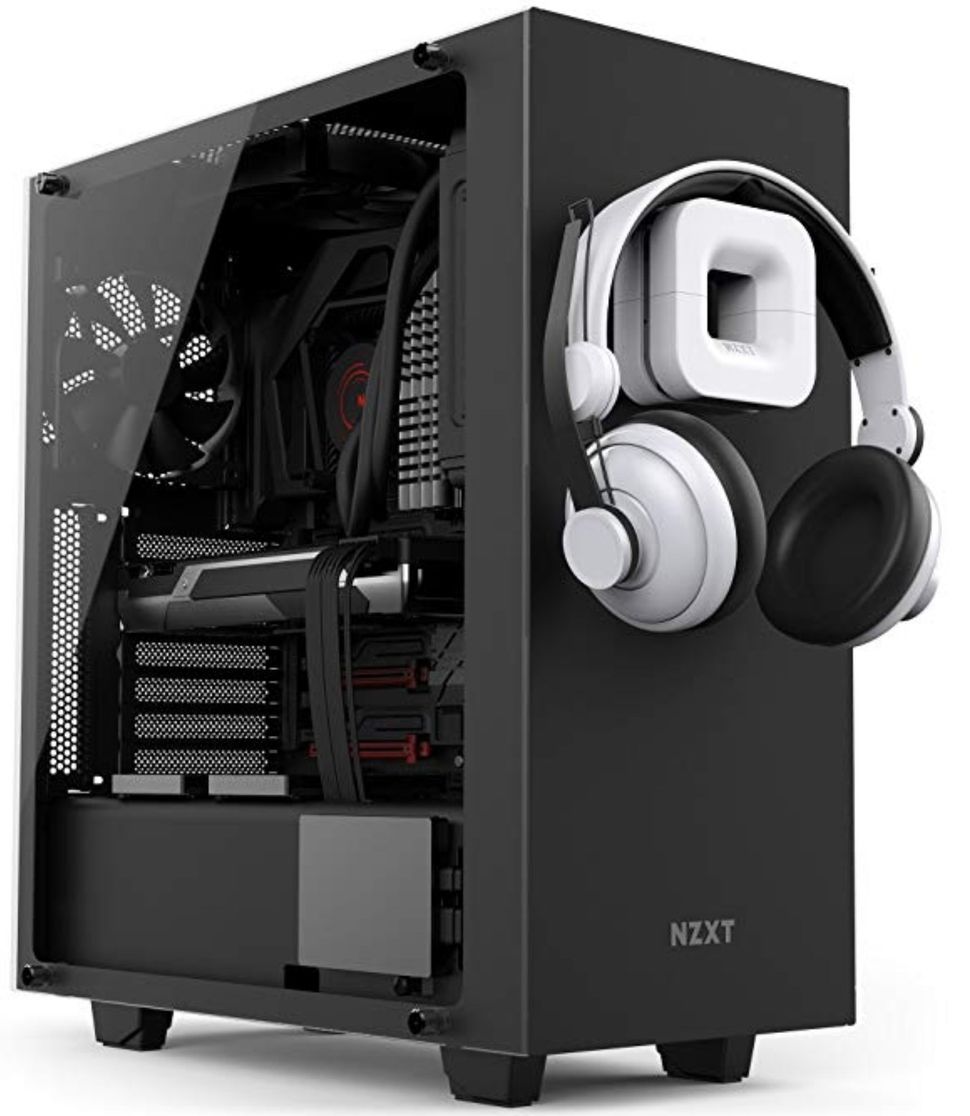 NZXT Puck (opens in new tab) ($20 at Amazon)
This clever little accessory has powerful magnets on the rear to make it stick to any of the metal panels on your PC case or anything else. It's great for hanging accessories like headsets.
Windows Central Newsletter
Get the best of Windows Central in in your inbox, every day!
Jez Corden a Managing Editor at Windows Central, focusing primarily on all things Xbox and gaming. Jez is known for breaking exclusive news and analysis as relates to the Microsoft ecosystem while being powered by caffeine. Follow on Twitter @JezCorden and listen to his Xbox Two podcast, all about, you guessed it, Xbox!
This is a good overview article. But it leaves aside the many problems people have been having that prevent them to play their games. Personally I'm unable to play about two thirds of the games because of these issues. And they haven't been adressed or solved by MS so far, despite having been a couple of update since release. I've made a Reddit post trying to visibilize the issue: https://www.reddit.com/r/XboxGamePassPC/comments/cfmlzw/game_pass_pc_pro... This is a problem that affects a lot more people than you'd think, judging from the posts you find around related sites or communities. It basically will prevent you from playing or installing any game that requires admin permissions to install, which the game info page in the app specifies. So you won't have problems with Sunset Overdrive, but you won't be able to play Slay the Spire, Hollow Knight, or the Gears 5 tech test. Which in the last case, considering the kind of effort MS is putting on promoting that title, could lead to serious issues.

I've got to be honest, I'm not a fan of the new Xbox app and think it's actually worse than the Store in a lot of ways. It was a chore to download, as it's not a UWP Store app. It failed to add the majority of my games to the library on the left-hand side, even though they're all Micrososoft Store purchases. It's slow to load up. It focuses seemingly exclusively on Game Pass so it might as well be the Game Pass app and not the Xbox app / Store replacement, and game tiles take up too much space, forcing you to scroll too much, and the biggest disappointment of all: the total lack of filtering options. The Windows 10 Store has some filtering options, but still unacceptably too few and inaccurate, but the Xbox app is far, far worse. I just don't get this, at all. Microsoft has a decade and a half of digital store experience, and they're still launching digital stores without basic filtering options? Yes, I know it's in "beta", but this really is inexcusable. Never mind all of the redundancies of this Xbox app with the Game Bar, Console Companion, and Smart Glass apps. The only cool thing about the app is the "Surprise me" feature, but even that's too large, takes too long, is buried below, and also badly needs filtering options (I should be able to select parameters like "Genre", or "Publisher", or "ESRB rating", or "User review scores", or "release date", etc. and have it 'surprise me' from there rather than the truly needle-in-a-haystack random approach now).

I tend to agree. It's usable, but not much better than the store. I just need a simple app that maintains downloads. I would rather have the app thats actually doing the work.

Article is wrong. This app is game pass only titles

I just really hope they don't remove network streaming from the new app, by all means add Internet streaming with xCloud, but please don't remove network streaming I really enjoy playing little indie games on my tablet while watching a movie in my lounge room (sometimes when the stars align just right I can even play more intensive stuff as well). Although that being said, this seems like more of a Xbox PC Store app, than an actually Xbox One app, so maybe it will run in conjunction with what we already have.
Windows Central Newsletter
Thank you for signing up to Windows Central. You will receive a verification email shortly.
There was a problem. Please refresh the page and try again.