Japan-based Freetel to launch Windows Phone device this summer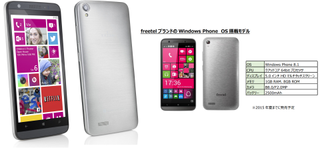 Japan-based OEM Freetel revealed plans to enter the Windows Phone market later this summer. The company will showcase the phone as part of its 2015 Mobile World Congress announcements next week in Barcelona, Spain.
The phone, which doesn't have a formal name yet, will have a 5-inch 1080p display. Inside there will be an unnamed 64-bit processor (likely the new Qualcomm Snapdragon 410), along with 1GB of RAM, 8GB of internal storage, an 8MP rear camera and a 2MP front-facing camera. It will also have a 2500 mAh battery and will be sold SIM-free.
The render of the Freetel phone looks a lot like the Kazam Thunder Windows Phone devices that were revealed just a few days ago, so it's likely that Freetel is simply using the same case design for its product.
Although the hardware looks mediocre, itself a recycled design from Kazam, the bigger story here is Windows Phone returning to Japan. The Japanese market was all but dropped from the Windows Phone 8 launch with the Toshiba-Fujitsu IS12T from 2012 being the last big seller. Needless to say, this return could be interesting.
Hopefully, we will learn more at MWC 2015 next week as the same phone model should be shown for European carriers. Stay tuned for our coverage starting on Sunday!
Looking forward to the next local carrier announcing this phone with another name in another country... ;P

HTC needs to make more mid range WP devices. their build quality is good.

The screen is not Full HD, check out the press release in English: http://www.freetel.jp/en/pdf_data/windowsphone_pressrelease.pdf. And what's up with the render (the one on the right, obviously)? Microsoft should approve press releases for Windows Phones before they're published, because in this case it isn't really flattering.

We should have mentioned that.

Flagship...!
Edit:Specs similar to 830..! Isn't it..?

Nope, the 830 doesn't have a full HD display

1080p isn't a full HD Display..?
Edit: :3 my fault i read your comment as " 830 have a full HD display" i apologize...

830 is 720p display not full HD is 1080p Posted via the Windows Central App for Android

Yeah its just regular HD not full HD or really full HD or super duper big time HD

Lol I remember seeing that listed for some monitors a few months ago

Alot new phones look like HTC, WP and Android. One of the best design, too bad they had 4mpx only (20 is coming)

I think it would be mid range ..

Its obviously mid range...

It's obviously not a flagship....

Nothing wrong with Mid ....everyone's obsessed with flagship's

@steve I know right? I have a 1520 and I can say that there's nothing special about flagships, at least in the case of Windows Phone. Android however, you almost need to have high end hardware for it to function halfway decent. With Windows Phones I noticed that the performance is pretty much the same, from budget phones to flagships. The only difference is maybe what kind of games it can run more efficiently, but that's about it. People want flagships for stupid reasons, like wasting time away on processor hungry games or wanting to watch porn in high def.

I'm wanting a phone with a great camera (I'm moving to Japan and have been advised to use Instagram to show off photos of the place), as well as support for "Hey Cortana!" - currently you need a flagship for that (930/1520/Icon). That's why I want a flagship.

Instagram??? Great Photos? That said, I am using a 930 in Japan now and people marvel at the photos it takes. Rivals all the iPhone stuff around here, The only cameras that touch it. But I am thinking of getting the Madosma as then I will have an actual LTE. Softbank won't allow you to use a "foreign" made phone in Japan. When I went there 3 year ago with my Titan, they were like, "Sorry, we can't support your phone." All I wanted was to change form the Apple Black sim in my 3GS to a different sim. No can do. So searched and put the card in my phone. Problem is, the card is now slow compared to the network on our plan. They would love to sell me a new iPhone, I am sure. NO way. So maybe, if they will swap out to the Madosma, manufactured in Japan, so no excuses, then if I like, swap the card out to the 930. Problem is, I have already sliced a card twice, and not sure they will appreciate the precision with which I have managed a full-sized to micro-sim for a 920 to nano-sim for my 930. Pure artistry.

Looks like a better version of HTC one by the design.

Subjective. I like the design on the one m8 for windows that I have. Theres a few announces but mostly I this phone.

what I see interesting is the 64 bit processor. John, is this the first phone that come with this processor?

Chrome and snapchat on the live tile? This summer means it will comes with windows 10. Nice looking phone with good spec btw. Love the bezel-less display.

I can't see one of these...oh opps! WC app.. :3 can't see images clearly...! My bad..

I'm on the wc apps too. The image is pretty clear..

No it isn't...n even i can't read those specifications from image.. :\

http://wmpoweruser.com/japans-freetel-to-launch-a-near-bezel-less-64-bit...

This link I got from windows central site....and it is showing a clear image

Swipe to More and select image.

Might be fake or some other app,that is why windows central never posted

WMPU here - its another app found in China. Our bad.

It also shows two columns of tiles which likely won't be allowed on a 5" phone right? At least I can't do this on my 930 or 830.

Really? Didn't know that two column doesn't work on 5"+ phone..

nope, anything under 5" gets the option of using the two row or three row tiles, but anything over 5" is forced to use the 3 row.

True. And it's f*cking annoying. Posted via the Windows Central App for Android

For once I actually agree with you on something, though I prefer the three rows option, I see no reason why larger devices cant have the less tiles option, yet smaller devices can have the more tiles option.

The 735 is also forced to use 3 column tiles

The 1520 renders also show this. Its just a mistake

Isnt it just android with a wp theme, because the top of the screen shows a Gmail notification and wp doesn't show them like that and both those apps aren't coming anytime soon probably

@Tomsassen......well noticed man

I believe he keyword Render" was used in that pesky article

N tile size in which date n time is showing..!

Not sure if it was an android launcher but there's no way that they can copy that people hub. Hope they didn't put that features in windows 10. I mean that top screen notification. Looks messy.

I remember the Fujitsu IS12T mentioned in the article. That was a nice looking phone and I had good specs for the time.

I actually found the IS12T's design pretty cool. Remember wanting one back when WP7 was the latest OS version.

With this mid range phones emerging, it gives me hope that sometime in the near future a high end will come from an OEM that isn't Microsoft.

64 bits processor and 1GB RAM. There's something wrong with these specifications

Japan is a big market that Microsoft should really consider to expand the.
today LINE updated with timeline,.
I think more Japanese OMEs will make a good start for Windows phone in Japan.
but again they will need more local apps

Alot of mistakes here guys that make me confuse:
1. They are marketing "WindowsPhone" or "WindowsPhone OS", but Microsoft market it as just "Windows" or "Windows for Phones".
2. They say "WP 8.1", but "Windows 10" is on the way.
3. Since when WP supports 64 bit processors?

im pretty sure GDR2 is adding support for that

Nope, not GDR. Win10 will but likely not initially. You can put 32-bit builds on 64-bit processors though.

WP supports 64-bit already, since the NT-core is there for 64-bit.

The tiles in the phone on the right don't make sense..

It's a poor render. Between the google chrome tile, and the overly elongated wide tile, it's just a poor render.

Plus it shows an email icon on the status bar as a notification. Windows Phone doesn't do that. This is a VERY poorly done render

I hope this means Windows Phone actually having some sort of presence in Japan...meaning higher chance for ports for some Japan-only apps and games =)

Good luck in Japan ... It's all iPhones over there

Wow, I thought WP was all but dead in Japan and Korea. No here maps support makes it painful.

Agreed - I'm using a Lumia 925 (main is iPhone 6 Plus...) here in Japan, and it is pitiful that HERE Maps is completely unusable in Japan.

In the Japanese market dominated by Apple and Sony, I'm afraid this will be the "Kamikaze". Because in the end crashes and burns. Posted via the Windows Central App for Android

So a Windows Phone.... That's a flagship.... In Japan.... Lol good luck with that.

Snapdragon 410 won't be in a flagship device

http://global.kyocera.com/news/2015/0204_fgjy.html In addition to Mouse Computer and Freetel, Kyocrea may enter the WP market by solar-powered phones.

Does it have Combo number of Tiles? upper part is Two Square Tiles, Lower is Three Square Tiles. is that really is?

Its a very poorly done render.

Anyone seen the state of maps on both Here and Bing for Japan? Go to here.com, maps.bing.com (or the apps), and compare with maps.google.com... Search for Tokyo Tower

Plus it shows an email icon on the status bar as a notification. Windows Phone doesn't do that. In the tip row of the second phone image, it shows that its two columns, but in the bottom it's three columns. Lol. This is a VERY poorly done render

The only Japanese OEM I'd like to see is Sony, there are too many mistakes in these pictures

So mid range phone standard for this year should have full hd screen?

The build looks like HTC. Windows Central App for Android- Lenovo IdeaTab A3000

This sounds promising. I would love to see the performed of this versus the new Moto E. Hopefully they are of similar price point.

YES YES YES YES YES FREAKING YES OMG YES HALLELUJIA PRAISE THE LORD YES!

Finally Microsoft won't have an excuse not to update their currently abysmal maps for the region...

XOLO - Kazam - Freetel ... Anybody else?

I love Japan (proof: I finished watching the newest episode of the Kill La Kill English dub less than 15 minutes before typing this, and both my phone and laptop's home and lock screen backgrounds are pictures of Hatsune Miku), and I love Windows Phone. I'm glad to see my favorite mobile device OS in my favorite country again.

Whatever they do to put windows phone on the market is fine. They should know however, that there is no chance to have really functional phone with only 8gb of storage! It needs 16 gb or more.

This is a small step but a necessary one. All the OS needs is a chance. It's like the Little OS that could.
Windows Central Newsletter
Get the best of Windows Central in in your inbox, every day!
Thank you for signing up to Windows Central. You will receive a verification email shortly.
There was a problem. Please refresh the page and try again.