Jaxbot of famed Windows Phone Hacker to "retire"; We look back and give thanks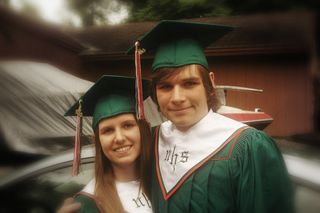 For those of you who are into the 'homebrew' hacking community for Windows Phone, you'll want to take note that Jaxbot, the man behind the site Windows Phone Hacker (www.windowsphonehacker.com) will sadly be retiring.
Jaxbot just graduated from high school—yes, he was a young lad---and he will be moving on to college in the fall, where he hopes to take on other projects and adventures. We can't blame him as he's at that age where being pigeonholed into one area is not something you want to have happen. It's a time to explore and experiment, though we hope he continues to dabble in Windows Phone.
From his site:
Jaxbot was responsible for many early homebrew apps on Windows Phone 7, back when the OS was a wee bit more accessible to developers who had unlocked devices for sideloading. Some of those included Keep Alive, which allowed you to keep your Wi-Fi connections persistent in Windows Phone 7 devices. Later, that app became publicly available and even became a part of Windows Phone 8 proper.
Other homebrew creations going back to 2011 were Multitask 7, which enhanced multitasking on Windows Phone and a custom Start screen app.
Jaxbot later released some commercial software, including our favorite Lock Widgets, which places weather and battery information on your Windows Phone 8 lockscreen and Blur, which allows you to create excellent fuzzy pics for higher visibility as background images.
Another big tool was 'Seven eighter', which helped folks update their Windows Phone 7 .x devices to 7.8, even when carriers would not support their phones. It was an extremely helpful tool that made updating your phone much easier and gave respite to many of our readers who wanted the latest OS updates.
Needless to say, we'll miss his contributions to Windows Phone and we're grateful for what he did do—there's no doubt that he left an indelible mark on the platform's development and future.
Jaxbot, we wish you the best of luck in your future endeavors! Thanks for everything (and if you ever need a writing gig, give us a call).
Follow Jaxbot on Twitter (@jaxbot) to keep up with him or check our his personal site: https://jaxbot.me/.
Source: Windows Phone Hacker
Windows Central Newsletter
Get the best of Windows Central in your inbox, every day!
Daniel Rubino is the Editor-in-chief of Windows Central, head reviewer, podcast co-host, and analyst. He has been covering Microsoft since 2007 when this site was called WMExperts (and later Windows Phone Central). His interests include Windows, laptops, next-gen computing, and for some reason, watches. Before all this tech stuff, he worked on a Ph.D. in linguistics, watched people sleep (for medical purposes!), and ran the projectors at movie theaters because it was fun.
Good luck in college man.

So no more support for lock widgets??

Please read the article before posting a comment, thanks. From Jaxbot, quoted above: "I'll still be here, fixing things here and there, maybe releasing something in the future", In other words, if things break in his apps, he'll fix 'em.

Oh thanks,should have read the full article..hope he continues to support his apps,lock widgets is one of the best app out there for wp8

Been waiting for a couple of days for Lock Widgets to update my lock screen.

I wonder the same thing. Lock Widgets is the only app of his I use and I noticed an update just days ago.
You can assume from the quotes in his article that he implies continued support, but you know what happens when you ass u me.
Only time will tell... is my assumption.

Good luck:) PS I could use a writing gig!!!

Good luck! Hope you come back!

Being in college myself right now, I can see the angle he's coming from. And it may seem selfish of me, but I wish he would continue his work. In any case, the best of luck to him. Maybe he'll come back soon enough. EDIT: I just noticed in that picture his high school has the same initials as the one I went to (NHS). So weird.

Not too weird considering the HS stand for High School. N isn't that uncommon of a letter. Now if it were XHS or YHS that might be a little more odd.

I should've also mentioned that the shade of green they used is very similar to the one we had. That was also what made it strange.

I graduated from XHS (Xenia High School)

I think that's national honors society.

Ah, that would make sense.

I wish him all the best in Life!

Wish there was some hacking for windows phone 8 :(

People over at XDA haven't figured out a way to hack wp8?????

As far as I know, Nope no one has hacked it, I'm pretty sure it is possible to hack it, but it's just that most of the hacking goes to Android. Jaxbot was the only one that did hacking and it was not even on wp8... And now he is gone :|

I will not say it is impossible. But IMO the reason why he is leaving would be hopeless of hacking WP8.

Did Microsoft really make wp8 that secure? Or are hacker neglecting it because of low sales?

Atleast its secure in piracy than Android and IOS

He will be missed, he took my tmob dvp to 7.8

Best of luck!!! You will be missed. Thanks for everything!

I'm familiar with and used the Seven Eighter tool for updating several phones. For that tool alone, I am eternally grateful. Thank you and best of luck on your educational and professional endeavors. You always have a place here.

How does he do it! Why can't I have that brain and skill. I guess was born to be a slave.

Farewell Jaxbot. You brought lots of new stuff. Best of luck.

Hope you stay close to windows phone.

Good luck, Jaxbot. Best wishes and all. Hopefully the next 4 years won't be iOS. :)

Oh no! Maybe he is already there! :-P

I bet he's going Android. Damn even hackers leaving our platform :(

He says "niche", so definitely not Android, probably Vita.

Good luck and thanks for all the fish!
I hope MS has been smart enough to give you a Scholarship :D

BTW, nice companion there. Smart is Sexy ;-)

Dude much love for your future. It will only be as bright as the lights you yourself turn on. So find halogens!!!!

Awesome and congrats! Best of luck on your education and thanks for all the fish!

Gook Luck on your next adventure.

Goog luck and thanks for everything!

As an off topic question, in general, how do people become so skilled at coding/hacking without having "learned" it in a classroom setting? It it just by looking tons of things up online?

I've started by just poking around at code and started learning from that. I only look stuff up when I run into a problem or just stuck. You can't learn in a classroom environment at this age, everyone wants to teach that PIECE OF SHIT excuse of a programming language called "Java" :'(

Thank you for all the work you've done; seveneighter was absolutely great for my Lumia 710 and Lockwidgets looks really cool.
Good luck in college man!

On the pic he looks a bit like the young Steve jobs :)

Thanks jaxbot for taking care of windows phone 7 users. Now we are lost. No, wait! Daniel Rubino is there.... Lol, now we will be dead :-(

Thanks for the help esp with the seveneighter brother. Good luck in school.

I didn't know the kid was just in high school! Good luck in college Jaxbot!

A hacker is a criminal, and you thank him...???

Wow. I bet you are one of those that sue McDonalds because you got fat eating their food. Aren't you?

The word "hacker" has been turned into a bad word by the media. Historically, anyone who tinkers with electronics or computers is a hacker. By this same terminology, a "cracker" is someone who hacks into systems for damage or profit.

NO. A hacker is a criminal, but the media turn it a hero. That's why we have virus on computers, and people who created it are good. And we have to spend money to buy such a thing called antivirus software. This is ridiculous.

You have no proof he's done anything illegal - everything he's done has legitimate uses. If you pay for antivirus software then you're a fool - you are directly supporting the companies that write the viruses in the first place. Don't think so? Who stands to gain the most from viruses? That's right, the antivirus companies. I've never paid for antivirus software, and I've never had a virus - only fools get infected, and fools are easily parted from their money. You can get Microsoft Security Essentials for free. If you need anything more than that then you need to stay off the dodgy websites! haha :P

LOL, he did not call himself a hacker. You and others called him a hacker. And then you turned around and called him a criminal. There's no proof that he has done anything criminal, but you falsely accused him of being a criminal. That makes you a potential criminal.

Why must you totally drop Windows? If you like it don't to quit it totally to try new things. Oh well see ya

I thought that was Ashton Kutcher for a second:)

Thanks for your contribution to the WP platform. You are such a gifted kid. Good luck in college and put your talents to good use.

All the best jaxbot with what ever you choose to do, like many others the seven eighter made my life easier updating some of my relatives WP 7's as without that they would have gone back to their iphones!.

Without Jaxbot my Focus would not have been as cool as it would have been. He and the guys at xda made windows phone worthy within the homebrew community.

Thank you for all the help over the years mate, all the best ;)

TYVM Jaxbot! Folders is the best WP7 app ever!

Thanks for the seveneigher program to force 7.8 on my 7.5. Young and talented, I'm impressed!!! Good luck and Thanks!

Thanks a lot jaxbot, all the very best for your future assignments

A pity, but I guess all good things have to come to an end at some point. For me he has a breath of fresh air to keep an old phone alive, as it should be. Devices can go on to live longer than a one to two year lifespan. Now my phone has easily past that threshhold and will continue to function a few more years. A truly helpful person that will be missed.