New tool helps make installing the Windows Phone 7.8 update slightly easier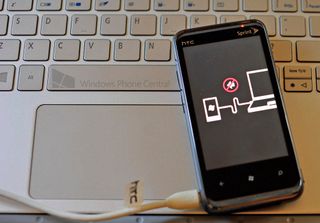 Update: Files have been updated to make the app more stable and reliable and indeed it does work better now. (5PM ET)
Windows Phone Hacker has released a new "wrapper" tool called 'Seven-Eighter' that reportedly makes manually installing the 7.8 update less cumbersome than downloading all the files yourself. The app comes in x86 and x64 and is a simple executable that you run on your PC (you'll need to give it permission in Windows 8).
In theory, it's the same method we detailed in our CAB file post yesterday---you specify the languages on your device and then it fetches the files for you, all through a progress-bar UI.
Since Windows Phone OS updates are cumulative but iterative in the process, you'll have to go up through Tango before proceeding to 7.8 meaning there will be a few cycles of updates.
Testing it out
We gave the app a spin on our Windows 8 machine and ran into a few problems. We tried to do the update on our T-Mobile HTC Radar and had the app throw an "exception" during the process. In addition, it did not appear to have all of the language packs that were installed on our device, which would also cause a problem (having to manually check each language as opposed to 'select all' was also tedious).
We next tried on our Sprint HTC Arrive and had the same exception thrown. Granted, the app stayed "working" with the installing Tango screen in a permanent progression but for all intents and purposes, it had crashed.
Click click click click click
Interestingly, not selecting any languages does seem to get the process started but we don't recommend that. At least on HTC Arrive, we're unable to even access our About screen anymore, telling us something went awry with the update (spoiler alert: incorrect language packs).
Looking over on comments on Windows Phone Hacker, we can see mixed results from users—some are having success after a few attempts, some required that the right languages were supported while some are reporting failure. In other words, your mileage may vary.
Language, Languages, Languages
The key to doing these manual upgrades is choosing the right language packs. Doing that is easy but it's very crucial to the process.
Settings –> Keyboard
Make note of all of the languages installed
Download the 7.8 language packs that are on your device
Some phones only come with a handful of languages installed, while others (including those in the US) come with every single language pack on board. If the latter, you must download all the CABs with those languages for the update.
If you don't do this, it's not the end of the world. You may have some Live Tiles that look odd (People Hub) and you won't be able to get further updates, including device specific firmware should it become available later on. You can always reinstall the OS with the proper language packs to correct the mistake, so long as you are even aware of it.
Our advice
You should first try the Wi-Fi force update method. That will give you the official OS and firmware update for your phone, assuming that there is one. For some of you, your device will never get this update making this method null and void. For the rest, this is the ideal method.
Next you can try 'Seven-Eighter' by Windows Phone Hacker as detailed here. It's a little bit easier than doing it yourself, though as we discussed your success rate seems to be about 50/50.
Finally, you can always just do the manual CAB update for the OS. Assuming you pick the right language packs, this instance will always work.
Read more on 'Seven-Eighter', including download link, at Windows Phone Hacker.
Daniel Rubino is the Editor-in-chief of Windows Central, head reviewer, podcast co-host, and analyst. He has been here covering Microsoft since 2007 when this site was called WMExperts (and later Windows Phone Central). His interests include Windows, Microsoft Surface, laptops, next-gen computing, and for some reason, watches. Before all this tech stuff, he worked on a Ph.D. in linguistics and ran the projectors at movie theaters, which has done absolutely nothing for his career.
Well that sounds like an overall FAIL for this tool

It worked for my wife's 900.

It works! I used it to update my HTC HD7 this afternoon. I did have to run the tool 5 times, but it did ultimately work. HTC is not supporing updating anything but the Mozart. They claim that 7.5 will not work on the HD7's processor.
EPIC fail on the part of HTC for lying and for ignoring this long-term customer. I will be switching to Nokia from now on because of the attitude of the HTC folks.

Do you have a source for where HTC said that it won't work on hd7's processor? I read something different so im wondering where you saw that.

Htc Hd7 T-Mobile unlocked. Closed zune, started application, selected languages, watched the back half of the fifth element, came back, done.

Well, it would be easier if people just follow these few instructions for update instead of installing separate sofwares for it? I have tried it on my Nokia Lumia 800 and it works.
http://windows8tutorials.salmannaseer.com/windows-phone-7-8-mango-update...

For some, like a few first-gen WP devices and Nokia Lumia 710 users on T-Mobile US, seveneighter is the only method to receive 7.8.

HTC Titan - ATT - Locked Phone - US
From 7.5 to 7.8 in about 30 minutes. Flawless 1st attempt.
Had tried the force method too many times to count.

Yes I know that this is a 6 month old post, but writing it for anyone else that has an HTC Titan 1.


On my HD7, display language is on English but dimmed so I cannot get to a drop down menu when clicking; does that mean only English is installed? The region formats are selectable, however

Yes just choose the display languages not the region. I had 6 languages to tick. The update went great without any problems!

any one had success updating the HTC Surround for ATT with any of these methods?

I can't see how the manual CAB method would fail. That method always has and always will work with any Windows Phone. We've said that all along.

No luck for me on the manual CAB method so far. It fails with the same error code as the WPH tool.

I updated my AT&T Surround with the manual CAB method, it worked well.

I am really disappointed that Microsoft could not bypass the carriers like they wanted to. Apart from messing with CABs, I will never get 7.8 for my Arrive. It sounds like this tool does not work for the Arrive.

Do the cab method, as Sprint no longer supports that phone...

I know there is a rom full unlock for the sprint arrive...maybe going that root would open a little more fun out of your phone (lots of 3rd party hacks that are fun)..

I hate Sprint and I hate my Arrive.

I used to adore the keyboard, but right now, I can't wait to get rid of this thing.

I have Spring and the HTC Arrive and just did the update it took about an hour and a dozen phone reboots I didnt count. I had to select US for the language type twice early on then it never asked me again. Im running Windows 8 64bit and the app never crashed like others say so I assume the app has been updated since. It kept applying update reboot and update and reboot etc etc etc just let it do its thing. The tiles are larger it didnt make the combination of smaller tiles but so far it runs very smooth and no issues. Im still exploring but like you stated Sprint will never update the phone. As soon as my contract is up Im done with Sprint. Im going to send this guy some beer money now.

Trying this with the Arrive. Seven-Eighter says preparing to install and my phone reboots, but at this point it starts an endless cycle of reboots. Seven-Eighter then gives me an error message: timeout, wating for phone to reboot. What do I do?

Hi I am also facing the same issue.
Are you able to resolve the your issue.
Please let me what are the steps you followed.

Thanks in advance

I can say for a fact that this does work for the Sprint HTC Arrive. (At least it worked for mine, YMMV.) I did have the app crash after every version update, but that's really not a problem. Remember, you have to install a LOT of updates from when Sprint abandoned the Arrive. I watched the version numbers go up after each reboot. I think I had about 6 updates that I had to do to get all the way up to 7.8.

I can confirm that it works for the HTC Arrive. Just did mine without any crashes. Took about an hour. happy birthday to me!

I might have to do this since I'm getting an error trying to update through Zune.

Trying it now. Fingers crossed!

Updated my dell venue pro using this. Selected all language packs and took three times to get updated to 7.8

Thanks for reporting Mason. I'm toting around a DVP and wanted to got to 7.8. Appreciate it.

Worked the first try on my Dell Venue Pro. Thanks for being the trail blazer Mason.

Not on my update. All the data was still there.

I want to know if this will work with an ATT HTC Titan on 7720? Seems to have all the language packs possible. If not, what's the order updates I need to follow to get updated properly to 7.8. The XDA instructions are somewhat easy to follow but you can get lost when trying to find out what order to go.

No it won't. The author is working on an update to include 7720.

Does this method keep all the data on the phone?

I've not lost any data using this method on my HTC HD7, all music, videos and sms history is still there.

Are you on T-Mobile by chance?

Can't speak for Gatlyn, me, I'm O2...

I couldn't get it to work on my HD7S. Did you have Tango on your device already?

For what it's worth, this worked great for me on my first gen Samsung Focus (ATT). I was way back on 8107, so I had to run it about 5 or six times to get all the way to 7.8, but I got there, and so far, everything seems to be working just fine. I've retired this phone from daily use in favor of my 920, but it's still a good gaming/music device for the kids - and now with three tiles sizes!! Yippee!

I am going to wait to do it to my old Focus when I get a L920

Too late. I already updated it.

Dont try this first... u should try force first...

Looks to be a really useful tool, even for people already knowing how to do that the old way.
I'm wondering if it is possible to re-update an already updated and customized device (Omnia 7 with WP7.8 Dynamics 2.0). It's not really that stable (reboots randomly and loses my most recent SMS when doing so), so I'd like to update it properly without losing anything...
Anyone tried that (with 7.8 or any older version)?
Thanks :-)

im going to try this on HTC Trophy once I get out if work. Anyone else tried updating that device?

Worked great for me (Vodafone Optimus 7). Crash seems to occur when the phone is locked. Had to run it three times, once for each update.

Awesome watermark placement, Daniel ;)

Used the tool and got the update after the 3rd attempt. Everything is ok, however the lock+wallpaper option is not working, bummer, really wanted to use the Bing images as a wallpaper. LG Optimus 7

seveneighter doesn't update the firmware, as it appears to be.

You are also calling the update cumulative. Why is this? A cumulative update is one that contains all prior updates which may be a prerequisite for the current update. But this is exactly what any given Windows Phone 7 update is not. If there is an update that needs to be installed first, you have to install it first on your own.
So the proper term would be that WP 7 updates are iterative.

False, I actually say "Windows Phone OS updates are cumulative but iterative in the process". At least quote me properly. I say this because people often ask "If I update to version 7.8, will I get the keyboard fix from the previous updates?" The answer is yes because these updates are made up of accumulated parts. In fact, if you do the update the proper way (via Zune), the 7.8 update will include previous updates. The user doesn't need to do anything "on their own" outside of plugging their phone in to the PC/Zune. The process itself is iterative as it will need to go through previous OS updates to get there. But for users who are jumping from just Mango to 7.8 they will get the all the other updates in between as well without having to do anything extra.

yep mango to 7.8 watch it do its thing :)

Worked like a champ on my AT&T Samsung Focus S!

is there anything strange happening with it? i want to update my Focus S but don't want to mes it up.

MIcrosoft has rolled out 7.8 update via zune for omnia in INDIA!!!


just tried this on my Arrive with no success. It could be my company network blocking something so I'll be trying again this weekend at home.

worked fine for Htc HD7 - had to go through it 3 times to get each update
But no problems so far phone seems fine
Many thanks

ATT HTC Titan, no love yet it seems.

Will HTC Titan 2 get the 7.8 update?

On the other page about updates....


TITAN II Owners Be warned:

@djdoubt03 Hi Toby - Thanks for the question. HTC does not have plans to deliver a Windows Phone 7.8 upgrade.
03:10 PM - 31 Jan 13

I am using unlocked version of ATT Titan II. Updated without any issues to 8858 with this tool here in Singapore
8113>>8773>>8779>>8783>>8858

Worked with my Verizon HTC Trophy. Took three times as stated above. Have to see if Verizon keeps the ability to send texts to multiple people when they push the update themselves, it currently still works.
OS Version: 7.10.8858.136
Firmware revision number: 2305.13.30202.605
Hardware revision number: 0003
Radio software version: 1.53.00.06.14_23.172.05.13U
Radio Hardware Version: 3.2.3.D4
Bootloader Version: 3.2.230513.2
Chip SOC version: 2.3.0.5.13
Dave

Yes work for me as well. Verizon HTC Trophy. Three times and everything same as yours. This was very simple if you just follow the directions. I'm not waiting on verizon. Just make sure to chose both english and spanish for languages.

Thanks much for the confirmation on the Verizon Trophy!

I do all kind update and nothing helps to make my Omnia7 get 7.8 update. Always at the end of update I receive some error code.

All updated via the force trick. Nokia Lumia 710 on O2 UK.

Is it a no go on lg optimus 7 ?

Works like a charm! 1st gen focus (AT&T) from 7720 all the way to 7.8! Thanks!

no need to go for a tool, for just a update, you may not know. try for some simple hacks, not to trust with some xz software for update..

For the moment working fine in HTC HD7:
- Update phone via Zune to 8773 (Last official Mango for HD7).
- Taked out SIMM (call me maniac).
- Enable flight mode.
- Run the "seven-eighter" 3 times. It do 2 minor updates previous the 7.8 last one . Select same languages that appear in phone configuration (English, Italian, French, German and Spanish in my case).
All working fine.

I can confirm this worked flawlessly updating my unlocked HTC Radar. It first updated to 7.10.8783.12, then up to 7.10.8858.136 (7.8).
Looks a treat, loving the new smaller/larger tiles!

This is confirmed working on T-Mobile USA HTC HD7. It took 5 updates. When I first tried it, it was throwing me exception errors. So what I did was only selected english for the first 4 updates, and on the 5th update (when it was installing 7.8) I selected all languages and got no errors. It installed without a hitch. I started out with 7.10.8107.79.

Awesome, I followed your update path (same carrier/phone/version), no problems :) Thanks!

Thanks for posting this. I just ran the update with my T-Mobile HTC HD7 and it worked flawlessly. I put it in airplane mode and selected English as the only update language. The update tool (Windows 7) or phone did not crash; all my data and home screen were preserved. It did take about 1hr and it went through about 5 update cycles, so I would suggest starting the update then taking a shower and nap.
Make sure to buy this guy a beer for making something so easy to use... as easy as updating through the zune software itself.

Hmmm... may have a Wifi issue. It can't seem to locate any networks... Is anyone else having the same problem?
FIXED! I ended up turning airplane mode back on, then with airplane mode on, flipped on Wifi and it started to work normally.

Work for my samsung focus s Att yay

what did u do??? am getting error

Hmmm...I can't update my Focus Flash (ATT) past 8783 for some reason

Was able to update my Focus Flash all the way. I had the app crash after each update was successful. But 7.8 is fully installed for me. Try it again, make sure zune is not running in background..

Success,, updated my htc hd7 with 3 updates from 8773 up to 8858 :)

Can confim this works with LG Quantum! It was a bit tricky configuration wise but after 3 updates I've got 7.8 on there. Here's how I did it:
First update: Select English only (US & UK) for language.
Second update: Select all languages.
Third update: Select English only (US & UK) for language.
Hope this helps out everyone with a Quantum.

I got error no devices were found :(

Trung you might need to install the USB drivers for your device/os.

i had the same error but just opened and closed zune and was all good after that

running it now on my tmo hd7. Crashed after every successful update, but restarted it and went on to the next one.

would this be safe for a att lumia 900?


I would presonally recommend doing the Zune trick over this for the Lumia. If you are unfamiliar with it here's how it goes:
1. Put phone in airplane mode
2. pulg phone into computer
3. launch Zune
4. click on phone tab
5. click setting tab
6. go to phone setting and update tab
7. after clicking update tab wait 5 seconds then disconnect internet on your computer
It may take quite a few tries (it's all about timing) but if done right it should tell you that you have an update available. Be sure to re-connect your interent on your PC before you click the update button. Also you will need to do this operation twice to get to the 7.8 update. I hope this has helped.

THANK YOU! i already tried to do this option but it didnt work i was still on 7.5 but i tried this and its updating as we speak thanks alot!


No problem man. I updated my Lumia 900 that way as well. Enjoy 7.8!

Brilliant! Updated flawlessly. Went from 8107 to 8112, 8773, 8779, 8783 then finally 8858 (7.8) on an HTC HD7 unlocked from T-Mobile USA. Good stuff WP Hacker.


Mine didnt do nothing? it just said device updated and im still on 7.5?

There is more than 1 update. You need to run it as many times as necessary until you're on 7.8.

keep it updating bro! its it until the final one

Im updating my current HTC HD7 t-mobile locked and so far so good, its been working fine and im onto the last update, i only chose english as my main language :) props to the creator of this program, i salute you sir!

Guys, I installed 7.8 via this tool, now lock+wallpaper does not open. what can I do?

What device do you have and which language packs did you install?

T-Mo USA HD7 clicked in! 5 updates, only checked English. Awwww Yeah!!!!!

running it now on my tmo hd7. Crashed after every successful update, but restarted it and went on to the next one.

update: on the last one now. WPH, thank you for creating this tool. This will show HTC what happens when you deny customers the latest updates.

Updated my HTC Titan II on AT&T through this tool (got tired of waiting haha) worked flawlessly although had to run 4x, started on mango I believe. Excellent tool for someone tech savvy but not an expert in hacking or anything like that. Over all awesome, loving 7.8! :-D

How did you do that? I can´t update my HTC Titan on AT&T with this tool, it seems like if works but when my device restart this tool just crash and I get an error!! and nothig happen later!! HELP!!

The application crashing is very common and doesn't mean that nothing happens. Depending on your device and WP version, it may take up to 3-6 updates to reach 7.8.

Couldn't update my HTC Titan (generic), error message: timeout failed to reboot smartphone (though it did reboot and showed transfer screen).

Hi
I am also facing the same issue.
If you resolved the issue, please let me know the steps.

Not all of the languge packs on my lumia 710 is on "seveneighter". so do i just select all the ones they gicve?

I had the same issue with my 610 and 900. Select everything that's offered (from what you already have installed) and go. 78er was missing several languages that were installed on my phones but the updates "took" and I'm running 7.8 on both without any problems.

the application only crashes After it installs the update. I updated my phone 3 times to get it to 7.8 and it crashed 3 times but only AFTER the phone updates so as far as i can tell, it works just fine. I can confirm that my att samsung focus s updated just fine and runs great. I love the new homescreen!

As with others this worked on my Verizon Trophy after 3 tries. Thanks!!

The Cab sender seems better than this to me..

Seveneighter uses the same method that Zune uses to install OS updates via .cab files from Microsoft servers containing the required files. As far as it's concerned, the tool simplifies the entire process. I prefer using the program instead of the manual method, since finding out which .cab file contained which language packs was a time waster.

seems like this thing only works seemless for HTC phones................

Nope. Updated my T-Mobile US locked Lumia 710.

Noob question. I have a T-Mo 710. If I update via 78er, what will I be missing fimware-wise? And will I be able to get the firmware updates later via Zune?

Hi there! No worries. I am on stock T-Mobile radar, and I've gone through numerous custom roms on Titans and HD2/7...this tool only works as a wrapper for the UpdateWP file which is official request from the server based on your current device's version. It will literally not force anything to your phone via modified bootloader/HSPL. Best of Luck!

The phone will still be updatable via Zune, but using seveneighter ONLY updates the OS version, not the firmware. As far as I'm concerned, Bluetooth Share and Ringtone Maker is a no-go as well as switching search providers.

At least it's better than being stuck with 7.5 (Mango or Tango) due to T-Mobile's ignorant decision.

This method is fantastic. Updated Samsung Focus Flash (AT&T US). Went from 8773 to 8779 to 8783 and eventually 8858!!! I chose all language packs each time. All files, apps, and SMS messages were preserved. This is so sweet!

Also I am using Windows 8 x64. The application does "crash" after each incremental update. But you just reopen and run again until you're at 7.8

hey you said you are running Windows 8. The link had xp, vista and 7. What did you download? I want this bad on my Tmo HD7 but since i have Windows 8 i thought i was outta luck.

I'm using Windows Vista SP2 x86 with about 900mb of RAM and it doesn't crash - this may be a Windows 8 thing

Just updated Samsung Focus S using this method, too.

Didn't work with my trophy and errored out. Is there a trick to it?

Check your version. It does not go straight to 8858 but rather gives you each update one by one until you reach 8858 (7.8). You have to run it multiple times and the crash is normal after your phone restarts. Just run the program again.