Jo Harlow, Microsoft's phone division leader, will also leave the company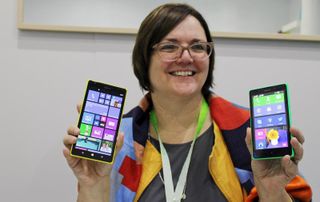 Microsoft's big leadership shakeup that was announced this morning will also see a major force in its phone division depart the company. Jo Harlow, who until now has served as Microsoft's corporate vice president for Phones, will leave alongside her boss Stephen Elop.
Harlow's departure was confirmed by a Microsoft executive to The Verge. Harlow joined Nokia in 2003 and worked alongside Elop when he was CEO of the company. After Microsoft acquired Nokia's Devices and Services division, Harlow also joined Elop at Microsoft.
As previously announced, Elop's Microsoft Devices Group has now merged with its Operating Systems Group to form the new Windows and Devices Group. That division will be headed up by Operating Systems division head Terry Myerson.
Source: The Verge
Windows Central Newsletter
Get the best of Windows Central in in your inbox, every day!
She's obviously not very important if i've ever heard of her.

head of windows phone os, yes but she was head of the microsoft phone division
elop was head of the device divison (all hardware exept phones) no they merged 3 into one

I always thought the phone head is Joe Belfiore.

joe did something in user interface experiance. I think.. Jumpst all over the place. but in wiki it is. Joe Belfiore is the Corporate Vice President, Operating Systems Group at Microsoft.

Yes, because you having heard of someone is the only measure of importance we should go by...

That's kind of an arrogant comment. I'm sure there's a lot of very important people you haven't heard of.

During the Nokia days she was front and center and also in the rotation of presenters when they announced new phones

She was a mediocre presenter

Yes, because you're such a man of the world at all your 16 years...

which is your favourite operating system?

nicely put. that's arrogance...thinking u know everyone important at the age of 16.

Relax lol, it was a joke. Got to know me to know im kidding my friend ;)

Comedy is clearly not your strong suit.

I had seen a video for Lumia 925 and she introduced Pro Camera for thw first time

Congrats - you just won the award for idiot comment of the day. Good job

What has age got to do with it?? Well said spinzero!

Well said, SpinzeroWL lol

Common ! Really ! Technology is for all people !

You're not very very bright, are you? Silly me. Of COURSE age is a measure of ones capability. Not y'know, their experience. Or work ethic. Or education; just how young they are. That means I should probably quit while I'm ahead too then, right? Ageism is right up there with sexism and racism on a list of things you definitely SHOULDN'T use to discriminate people with. You're comment is bad and you should feel bad!

Just to play devels advicate. Comentisim.. To say he should feel bad about voiceing an opinion. just sad. you should feel bad.

Um. Yeah. I don't feel bad at all to be honest. If that's a joke, it's not a very good one. His comment was bad. And completely unnecessary. Besides, I never said he couldn't have an opinion; only that I disagreed with it and thought it was stupid on his part. It seems me and many other posters also share this sentiment.

If it weren't for us old people, you kids wouldn't have any devices to play with.

Just makes the coveted Microsoft Surface Phone more of a reality.

She's bitter Elop is gone so she just quit. She can't leave her main squeeze. Hahaha

I think this was a good, old fashioned house cleansing.

New twist plot : She's join snapchat and revenge microsoft

Oh my. It's Armageddon. Bad day to work for MS phone division.

I'm sure these people leaving will be very well compensated for the loss of their high 6-figure salaries.

Tech execs don't have problems finding jobs. If you're lucky enough to have those skills you can count on having headhunters coming out of the woodwork even when you ARE NOT looking for a job... These companies occasionally even poach each others employees.

I think you mean 7 figures. She was a Vice President at Microsoft.

Yeah, like those people have not already earned a fortune and will go on to new, well paid, roles.....

Now It's time to hire me. GlanceDevelopers@hotmail.com

Time to spam your inbox.
Btw I'll send it to ads agent :p

I've registered your email to the Man Boy Love Association

It probably wont make it past my email filter. You can try it though (:

Could this mean that Microsoft is giving up on Windows 10 mobile?

Geez, no. Two new flagships are in the works. They're prepping for the fall.

840 and 840 XL, right? :)

The 840 "affordable flagship" for $450! Comes with faux Emerald firmware and exclusive to one U.S. carrier.

I wouldn't be so sure. I suspect the last Windows Phones are released in the first half of 2016 and then, that's it!

Based on the fact that WP is a spectacular failure and that every single MS property is currently better on competing platforms. MS themselves have clearly thrown in the towel at this point. WP has what amounts to no market share at all, where it counts (at the high end), and thus MS can be thought of as starting from scratch with W10M. They will be releasing two hero devices with WP10 on them this fall, if rumors are true. If those fail, and given how aweful W10 is shaping up to be, they probably will, that will leave MS with two choices: Keep trying, or cut their losses. The only sane decision will be #3.

People have been saying the same thing about blackberry since it declined in 2008. Its still chugging along with 1% marketshare. And blackberry has alot less cash than microsoft does to keep it afloat. Meanwhile WP is at ~ 4% and growing. And it is quickly becomming very popular in the high population low income countries. Whether or not windows 10 is a hit, windows phone isnt going anywhere. Microsofts entire new business strategy is in mobile software and devices. They are going to continue to push windows phone, and they have the money to keep it afloat.

If Blackberry didn't sell phones, what would they sell? Blackberry is a smartphone company trying to become a mobile management company. They still make phones because they have to, but even for them, it's pretty clear it's only until they have some way out. MS is an OS and Office suite company. They are trying to become a cloud company. If people access their cloud services from an Android or iOS device, it's just as good for them as if they do it from a WP. Thus, their incentives are a little different... To MS, selling low-end phones for no profit to people who can't afford a $95 a year Office 365 subscription is a liability. There's no sane reason for them to keep doing it. And, muddled and incoherent as MS seems most of the time, they're not insane. They've got plenty of smart bean counters over there who can tell what products are, and what products aren't, making money. If W10 flops, and it is looking like a surefire bet that it'll be a disaster upon launch, the bad publicity will haunt W10 mobile, ensuring that Windows Phones remain a failure. In the USA, where high-end phones actually sell, MS is losing market share, not gaining.

You do know BlackBerry has their hands in a ton of car infotainment systems right? They don't do only smartphones

And in the EU5, where high end smartphones also sell well, Windows Phone has been growing for years. Topping 10% (and in some regions even topic 15%) marketshare. So its not all bad for Windows Phone. The Lumia series finally have hit a sales mark in which they can be profitable (when managed correctly) and there sales figures have only been increasing every quarter for over 2 years now. Microsoft is playing at so many levels that when things finally do come to gether they would shake up the entire tech industry. They would be fools to abandon the mobile hardware just now things, in the grand scheme of things, are shaping up. And for Microsoft services being better on Android and iOS? This is only temporary issue. Microsoft has repetitly stated that there services would be on every major platform but would work best with Windows based devices. And this is exactly there plan with Windows 10. They are building new universal apps from the ground up for basicly every service Microsoft provides. It would be foolish to squander resources on updating apps on a platform (Win8.1) that would be obsolete in a couple of months. The smart thing would be to put all your resorces to creating killer universal apps for Windows 10 so the new OS hits it out the ball park. And everyone could agree that the fast majority is positive over Windows 10 in its current techpreview state. There is quit a positive buzz around the upcomming release of Windows 10. Windows 10 mobile is not ariving for several months so they have plenty of time to fix the isseu's on the mobile front. Well you might be right about Windows Phone being dead ;-) . But Windows 10 Mobile will rise like Pheonix from its ashes :P !

Your brain is a spectacular failure. And yes, come visit Europe where marketshare is >10%

And yes, you should visit North Africa, where they also have de Nile.

To add to the sense behind this point, you only have to read the waffle at the beginning of the press release announcing the personnel changes to see they'll be killing Windows 10 Mobile as soon as they can.

Agree. The number of people around here with Stockholm Syndrome is starting to get a little scary.

641 and 642. MS never fails to disappoint.

No, it's combining resources as Windows is a single OS spanning multiple devices. Hence windows and devices.

yeah, and that's why they are develping it and releasing new buils from time to time, it makes sense..................

Doubt it. Hoping these two were the ones who killed Zune and Nadella just found out. J/k. Regardless, I simply wish them well and thank them for any contributions made.

Read the previous post with Satyas email and you'll see there's no intention of getting rid of Windows for Mobile. All it is, now that Windows is one OS, they are combining their teams a bit better to deliver a more robust software\hardware evidence across all devices instead of a million different teams that have zero idea what the other teams are doing which resulted in a unevenness across all software\hardware.

Microsoft Corp. announced changes to its Senior Leadership Team to drive engineering alignment against the company's core ambitions: reinvent productivity and business processes, build the intelligent cloud platform, and create more personal computing.

To me, that's a long way from having no intention of getting rid of a mobile Windows. In fact, it pretty much confirms they'll snuff Windows 10 Mobile out as quick as they can.

If anything, this is proof that they really want to further their involvement in the mobile sector.

seems nadella isn't too happy with their results, time to clean the house and hope the new leaders bring some badass windowsphonery

Agreed. Time for new blood.

Hopefully that's the main reason.

More like, this is it. The last straw. If Windows Phones take off with W10M, then they will likely stick around. But when they don't (and they won't) that'll be that. These are the end days. As someone who lived through the webOS debacle, I know what the writing on the wall looks like, and it's been there for a long time with WP. I'm surpised it's lasted this long, but even MS can't float this boat forever.

Blackberry has been holding out alot longer than WP has, and windows phone is in a better situation then they are. WP will be fine.

WPs low-end focus is also the basis of all IoT work being done. MSFT can afford to ignore the smartphone OS market, but they can't afford to loose the IoT game of cloud connected device clouds, with deep inroads into their bread and butter business called productivity. So, WM will largely stay with Microsoft phones, maybe a couple of OEMs and hopefully an IoT-toolkit like "build a ROM for your phone" experience. They have time, they can wait for the smartphone to loose its fashion character, or Android finally hitting its security Armageddon. They needed 4 Windows versions to take over the PC.

HP never gave WebOS a chance. But did you know that it is now being used on TV's?

Ironic then that the person who was the former head of WP engineering (and has seen it fail under his watch for years) is now the exec in charge of all things Windows.......

Time for new direction and more dynamic leadership

Now time to promote Joe Belforie to windows phone lead.

why, because he looks good on TV?

No, because of the unique haircuts :)

Not to mention coded T-shirts

I think there are a few guys on this site that could actually make it work, and better the platform.

Sounds like they are not happy with the pace of things. Plus releasing 20,000 low and mid range phones and not one flagship in 2 years does not make a good job. Nor are people deserving of their current roles in leadership.

More like 30,000 low to mid phones

And some are Extra Large!

I wont never forget she playing basketball in the Lumia 925 announcement!

Isn't it "will be led" not "lead"?

So many people unhappy with Terry as leader? Jeez.

Bye, I wish her lucky. Changes are good =)

"Windows 10" will leave everyone astounding.Okay,I see now.

Apparently windows needs hip people like iStiff. Hopefully the new people in charge make things actually happen.

Reason may be the thing in her left hand.. :P

No, don't forget Mr. Nutella likes iPhone and Android very much. Even more than Windows

So that might be the reason.. LOL :D

My guess is they are gone because of the failure of the phone business

Nutella had changed Microsoft so much. Now he is going to send out two spies/trojan horse to Apple and Google. Soon Microsoft will buy these two companies.

No need buying apple and being a brainwashed fan boy company

I used Cortana to search for that name and all it gave me was some website about a sandwich spread.

Make billgates in charge of WP team.

Yea, make him comeback as CEO. We don't need Nutella in Microsoft.

Now I didn't meant that. Nadella has as great vision as Gates.

Also, don't forget Gates became "Technology advisor" and came back to a more active role inside Microsoft upon express request of Nadella. In other words, Gates is now pulling a lot more strings inside Microsoft than he was during Baboon-Ballmer days.

you should make that Nutella joke again. it's funny every time you say it! (that's sarcasm, which i have to point out to you because you don't understand humor at all)

I personal think that Joe belfiore is more into the windows phone presentations. He is the passion when he does the presentations or demos.

I think Microsoft is going to focus on services more than on devices. That's why Terry is in charge of the newly formed team.

Yup. More services for crapdroid and boreOS!

I hope so because the way Win10 mobile is going I might as well consider an Iphone for my next handset.

Joe boy is the one to thank of no allocation of resources to windows phone. That is his job after all.

Joe is part of the problem and needs to go. Almost every project he touches at MS ended up failing. Zune...

I think Joe Belforie could be a good lead. When he is doing windows phone presentations he show his passion for windows phone

Let's submit it to the uservoice. Oh wait...

Is just my opinion, of course.

To become a good leader you need more than just passion. Some people are passionate at doing something but they can't lead a team/group.

This sounds good and makes sense. Microsoft needs to have the right people for Windows 10, and now that Windows 10 is one platform running across devices, it makes sense to have the same leader. Terry Myerson is really the most important person at Microsoft today. and it seems the future will be bright if Microsoft and Myerson keep going this way. It feels surely better than before, when it seems divisions were different companies fighting each other and not working fully together. I just will hope and wait for a bright and good future for Microsoft and Windows.

Still cant convince me that Windows 10 will be a big success. People are getting brain washed by some fruit company.

Hah, the writing is on the wall and you will be convinced :)

This comment makes no sense.

Whoa nelly...whole lotta shakin' going on.

Not much baking going on though.

MS has fired thousands from Nokia phone division, don't know how much good talent is left in that department.

Where are they all going? To Nokia to work on the 1020 successor running adroid in 2016?

This doesn't sound good. Microsoft is cleaning house of longtime employees, eh?

She joined Microsoft after they bought Nokia devices, so certainly not a longtime employee!

Right - and she was with Nokia for how many years...?

She was management in a company that was going out of business, right! Microsoft bought said company and gets rid of some management, who will be on 6 figure incomes and will get a pay off too. She will no doubt get another 6 figure position after leaving Microsoft. Can't see any tears here, right!

Hope things will pan out for Microsoft and more importantly Windows Users....

Maybe it's a strategic takeover over the device's dept. to source in some new innovations just as the way the microsoft brains want it to be rather than nokia's left veterans. No particular logical reason for such actions seems mentioned.

I think these all are worked for Android or ios not for Windows. Sorry... Just my o opinion.

Best wishes for the executives leaving the company. And hopeful for the better prospects of Microsoft now that Windows and Devices Groups are consolidated together. Compartmentalization in my opinion prevents products from achieving perfection and I, for one, is glad to see what Nadella is doing with the company. Encouraging employees to share data between teams and integrating Windows and Devices teams together could make way for a better hardware-software optimized products from Microsoft. Which in turn could force Microsoft's hardware partners to achieve the same level of optimization. All of this may bode well for end consumers. Or so I hope.

Yet Joe Belfiore still has a job.

Elop & Harlow treated just like Jon Snow.

Can we expect and editorial on the new organization soon. I would love to read what the perspective is on this by the windows central crew.

Never heard of this woman....

I just hope she continues on Windows Weekly (thurrott.com) - I love her insights.

Now maybe we'll get some new flagship phone out of MS quicker. Maybe Elop and Harlow were focused on already existing/developed mid and lower range phone because they were in design production at the time of the Nokia takeover? Don't know for sure......just saying.

I never saw this woman on Microsoft's events, I think is important that leaders for such important division as phones are charismatic like Joe Belfiore, from the picture, this woman might be very smart and have a lot of experience, but I don't know if she was charismatic, never saw a video of her on a public event.

Purge. A bit strange that Peter Skillman desided to join MS just yesterday or so. As a forward team of HERE?

maybe the new phones they came up with were like the hooli phones on Silicon Valley

Cleaning house isn't always a good thing but sometimes is definitely necessary. Obviously, we can't know the ins and outs of what led to this, but given what's transpired over the past few years I'd say it's a good thing. We've been without a proper flagship for 2.5 years which is a major blunder in and of itself. We've got an absurdly convoluted product line with far too many variations. And despite those numerous models Microsoft still seems to have a hard time getting their phones in stores. For all their supposed special partnerships they're continually screwed over by carriers and retailers, at least in the US.

Lumia 1520 is a proper flagship. It was announced/launched the last week of October 2013 and released in November 2013. That's 19 months, or just a hair over a year and a half. Two and half years would be 30 months. Just trying to put the numbers in better perspective. That said.. I agree with you... The transition for the X3X (Nokia branded Phones) to the X4X (Microsoft branded Phones) has been so murky. And yes... phones like the 1320 or 1520 (X2X Nokia branded phones) have been left out of those efforts so far.. It will be interesting to see what occurs in the 4th quarter of 2015. Christmas time should see only x4x series, Microsoft branded, phones in the channel. The question is, under this new leadership, how many X4X series phones are we going to see and how many different variants of each model? I hope it will not be as confusing as the X3X series..... Though we do have the XL tag on the end of several models... So will we get a Lumia440 at the low end... and a Lumia440XL too... Will 940XL be the new 1520?, Will 640XL, 740XL or 840XL be the new 1320? What is Terry going to do to clean this all up? Consumers are confused.

October 2015 will come before we see a new flagship. That will be 24 months/2years

Personally, I'm disgusted with pretty much everyone who is left running Microsoft now. They are all idiots as far as I'm concerned.

Scott Hanselman is the last man standing. (sadly not running Microsoft)

Very interesting. Wonder what they are really going to do. IMHO I think they need to stick to low and mid phones and keep incorporating as much apps and services they can in iOS and Android. I also think they need to come up with a Metro launcher for Android phones. I just don't see a demand for a high end phone when there are no apps. I do see a demand for $200.00 phones you can buy outright. Posted via the Windows Central App for Android

Yeah, I gotta say that I REALLY want W10M to succeed, but if it doesn't I hope Microsoft takes a real stab at creating a fantastic Android integration for their services. I just started using a Moto E, and while Microsoft has some really good apps there it's not an alternative to WP yet. But it could be. Most of all, I just hope the app makers take a second look at W10 and makes W10M a viable platform.

If she only came across from Nokia, in 2013 then she is not particularly engrained in the Windows platform or Microsoft. So I cannot she why she would have been so important. Now if she could have driven through a lot more compelling Phone devices then maybe I would care.

Because of poor WP results, the ax has fallen!

Is it Nokia's fault or Microsofts fault? Who doens't advertise it much??? Who is all over the place like a chicken with its head cut off? Who cant keep up with evertying going on in its company? Not the old nokia ... Microsoft.. Poor sales are Microsofts fault more then the old Nokia devices group....... The fact they took was it 90% of windows phone sales since launching the 800 is just amazing!

How long until she buys an iPhone?

Anyone who needs to actually use a phone for purposes other than FB will not buy a iPhone.

Out with the old. That is the way of things after a transision.

Hope not. But that been Microsoft U.S. marketing for Lumia flagships. Totally anti consumer!

Nokia is regrouping and will come back as the leader in Windows Mobile, that's the writing on the wall people. It's like a full circle.

Am I the only one to notice those ginormous man hands??

As an ex-Nokia/Microsoft employee, I can say: It's about time. She made some poor roadmap decisions, never took responsibilty for those decisions, but had no problem to held other accountable for them. I don't feel sorry for her, but I feel sorry for her next company.

Good riddance. This should have happened years earlier. Anyways,

These news about valuable people going away makes me think: Is really Microsoft considering the implications of its actuations? I'm afraid of what it means for the competition who can take advantage of this situation in their own benefit, hiring those people full of knowledge and expertise, and much relevant, the information they can share about Microsoft plans. Look about what happened with this technician from Nokia with high expertise in camera lenses who was acquired by Apple, and probably there are more examples as that. Besides is beeing rumoured ongoing plans by Nokia to return to the smartphone business. I'm very concerned and anxious about Windows 10 and what it has to offer in terms of universal execution and high performance. In addition I'm planning to acquire a newly released Windows Phone ready to run Windows 10 properly, giving me a unique experience. I hope my plans finish in a happy end, knowing Microsoft is going to support me without time limit in a way beyond. Well, I just wanted to share my fears about this new cuts.
Windows Central Newsletter
Thank you for signing up to Windows Central. You will receive a verification email shortly.
There was a problem. Please refresh the page and try again.