Joe Belfiore will take an extended leave from Microsoft until summer 2016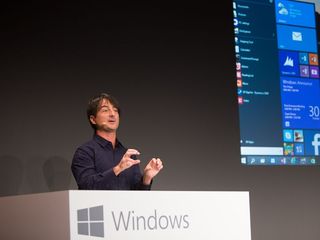 Joe Belfiore has been one of the biggest forces behind Windows Phone at Microsoft over the past several years, and more recently he has helped to lead the development of Windows 10 as the Corporate Vice President for the company's Operating Systems Group. Belfiore has revealed he will be taking some time off from Microsoft, but promised he will be back at work sometime in the summer of 2016.
As he explained on his personal Facebook page, Belfiore wants to spend more time with his family. That will begin in November with a trip to see the northeast US before he, his kids and over 600 other students take a trip around the world in a "Semester at Sea" excursion beginning in January. He states:
Belfiore added he will continue to work on the Windows platform when he returns to his Microsoft in the summer.
Source: Joe Belfiore (Facebook)
Why wasn't he at the devices event?

Sometimes family matters more than some event. Joe is a good guy, he needs rest and he deserved it.

True. But that was not the reason. It was devices event. Simple.

Sometimes, you mean all the time.. :)

Should be fired, unefective and uncommited.

You should be fired for your post *uneffective/ineffective and *uncommitted. Please troll effectively and spell correctly.

Thanks to Joe Belfiore Windows Mobile has strategic development initiatives like Project Astoria which will let WP users finally get access to all Android apps since the last notice was that apps with same APK on Android should run on Windows Mobile 10. My thought is that Joe Belfiore already accomplished this task so he can now go and have a long vacation with his family, well deserved. He will probably come back to announce in 2016 the day any Android app will run on Windows Mobile, and that day will be epic.

Because it was a hardware not a software focused event. It was Panay's show.

Exactly. Windows 10 Devices event.

Yes Panos was powerfully impressive, he even, at times, slightly oversold it, best email client on the planet, I put all my eggs in the MS basket, but that was overselling it a bit :-). I can even say this after MS gracefully, and unrequestedly, offered a full refund on a half year old band 1 today due to an imperfection. Thankful for an early upgrade to band 2 guys.

he's a software OS guy, the event was hardware centric.

I'm sure he wants to believe he'll be back, but anyone taking a year off work is definitely having a change of mind in life...

He'll be back. This is basically a sabbatical after 25 years at Microsoft, that's a big deal, and well deserved. A lot of tech companies give sabbaticals, do this isn't something new.

Summer isn't a year from now, unless you live in the Southern Hemisphere I guess.

Software is not ready for primetime.

It is, we will finally see Windows Mobile 10 release on the Lumia 550, 950 and 950XL and it will probably come 1 week later to 640 and 640XL, and 2 weeks later to 535, 435, 735, 830, 930, 1020, 1320, 1520 and 920 Sorry, no official release for 520, 620, 625, 720, 820, 925 those devices should install preview if they want to have WP 10 in Christmas 2015.

Not sure about the exact time period 1 week or 2 week for other devices, but it makes sense to say 950,950XL and 550 will be the first phones to get Windows 10, and that is probably coming in ThanksGiving (late November)

He was getting his hair cut.

I want Joe Belfiore and Panos Panay on stage together. I find both extrememly enjoyable to watch!

@dwarfsize:
THIS! Thank you very much for talking some bi-partisan sanity.

Also, he is planning to experiment with several different hairstyles during his sabbatical.

Lmao, that's pretty damn funny.

I nearly spewed my coffee....epic!

@Jason Gilbert:
[Microsoft] comment of the day!

Maybe working on Windows 10 lead him to the point of doing a Britney Spears so he needed the rest

Going around the world? Come and meet me. :)

He will try to keep his personal life afloat... Good for him

He wasnt bad but If Panay is in charge I am happy.

Different departments, Software / Devices, someone else will hold the reigns on the software side.

Tony Myerson is head honcho of the software side, they'll be fine without the direction of Joe for a few months in the mobile specific areas. The roadmap for the OS is probably set for the next 6-12 months anyway.

Too many mistakes....
A true wp lover, we can bet on it, but not the right man for the job.

Exactly. The guy gave us Zune and WP and I respect him for that, but looks like he has lost himself. Maybe he just needs to recharge his batteries, maybe he's done for good. I'm hoping that whoever replaces him knows how to make a beautiful and consistent OS.

Please argue your sentence, or just shut up.

Ok, I will. 1: Joe is the only person publicly in the company that has shown any care or passion for this platform. 2: This is a very large company, you have no idea of the support, funding or man power that has been made available. 3: We have no idea what the reorgs or office politics have done within the company or the specific groups within. Bottom line is, you cannot put the failures solely on his shoulders. He seems to love the platform as much as we do and we need someone like him on our side.

He also pissed off Verizon with the Ken, and made promises MS didn't keep. Posted via Spaceship One

Venetasoft...There is a reason why I refuse to purchase any of your apps.

Whatzup, Venetasoft was argumentative, but showed no judgement towards the topic, why the harshness? I like Joe, but if he 'd been a woman, it would have been all about his fancy presence with his exuberance.

So glad I don't have a job where details of my life like this are scrutinized by the general public. The man needs a break. Moving on.

Just like his name in Italian, he is exactly that. A beauitful flower. I mean this in a cool way!

There is no "cool" way that came out LOL. J/K

Are you all gonna hold hands and sing kumbaya ?

Naw. I think he'll just go on brushing his hair

This speaks volumes about him and MS. Enjoy your time off!

Yeah I wish I could get 6 months off at my job lol

Nice way to say he was FIRED.

How exactly is he fired if he is returning.

Read the article . Hint: it's in the title

In 6 months or so, you'll quietly hear that he won't actually be returning

That is indeed the most likely scenario.

Based on what exactly? You have literally no evidence of that, other than you're own speculation, to be the "most likely scenario"

If one is in a leadership position, especially at a company such as MS, it is VERY unlikely that someone can actually completely leave the job for halve a year (or more) to go travelling and then come back and pick right up where one left. Not unheard of, but very unlikely. Mind you, I applaud him for spending time with his family like this, but just don't hold your breath for a return to the same job he is leaving.

That still provides absolutely no proof. I mean he did just finish the largest OS upgrade that MS has ever completed. I can't imagine how many late nights he worked during the W10 build. Not to mention it's possible the entire story may not be available to us. I can speculate just as much as you can, and have 0 evidence to support it. It doesn't make any of my claims to be true.

I have to agree with this comment. Joe has a senior position, its not a usual thing to do.

It doesn't matter how usual or unusual it is, you have no real evidence to back it up.

That leave is just too long for that kind of important role. I think someone is going to replace him.

Again, you THINK, based on no evidence what so ever. For all you know someone could be sick (including him) and he's taking a leave to take care of it. There's hundreds of reasons for it, and unless you can base your opinion on some real evidence, it's nothing but a random persons opinion on the internet.

Is he leaving to spend time with you and not his family? You seem awfully defensive of him!

Remember Steven Sinofsky? He was the man in charge of creating the original Surface (it's literally his baby), he was in charge of creating Windows 7, and then Windows 8. He was in all the major events for the Windows 8 launch time frame. And then he was fired, right after. Therefore, saying that JB just finished the biggest OS upgrade doesn't really mean much. Satya is obviously not as blunt as Ballmer at letting people go, but this is not impossible. If you look at large businesses in general, this is also a popular way of letting people in senior positions go.

Quite true actually. It allows a changing of the guard without a shocking, jarring headline. You can bet that everyone who reported to him in the past is updating their resumes. Watch for who 'temporarily' replaces him. If it's someone who's already in a similar level of leadership, we can probably expect that two divisions will be combined, followed by some 'rightsizing'. Or he could just be going on holiday with the kids.

What do you know about companies "such as MS"? What do you know about leadership positions? Please provide an example of when someone in a leadership role took an extended leave with plans on returning and didn't come back. Do you think Joe or MS would flinch if they were ending his position or role? Do you think they would attempt to hide that?

It is interesting that some people here seem genuinely and personally offended by stating something that happens all the time in the corporate world. And yes, I have seen a fair share of similar cases in my professional live. To be clear, I have never used the word "fired", because not only would that indeed be pure speculation, I also do not think that it is what happened. But when someone who has had a very public profile at a company does not have that profile anymore and then announces to take an extended leave, it strongly indicates that it is not "business as usual". There can be many reasons (personal, professional, a mixture of both), but again: I'd be surprised to see that person in the same role and capacity in the same company again after more than halve a year.

Microsoft fiscal year ends 30/6 and basically ALL former executives stepped down around that date (Ballmer, Gates, Sinofsky, ...). It's probably because their contracts are also always running until 30/6.

That doesn't make sense. How would you be able to come back if you are fired? I'll wait...

Are you completely retarded, or just halfway?

Don't insult retarded individuals by associating then with this poster.

This is actually a goof thing. I wish him and his family safe travels. Work will be just fine without him and better when he returns.

Well deserved and good timing, enjoy!!!

Nooooooo, I really like him, come back soon!!

@Sandro1893:
Wouldn't be the first time an extended leave turns into an eternal leave...
And I have to admit, that I was skeptical too when he was completely absent from the october event.
I wish you all the best for your time off. Please stick to your announced plan and come back Joe!

The reason he was not there at October event because It was Microsoft Windows 10 devices event.

That reason is weak, if I was head of a software arm of the most famous software company in the world that was showcasing devices running my sole focus at the company, you bet your ass I'd be there. So that plus an extended leave seems *very* suspect is all.

Thought about posting a "nooooooo!!!" comment but somebody beat me to it.

Well you could always do a "noooooooo!!!" comment. The number of "o"s makes all the difference.

I do hope the windows 10 mobile platform is in a better state when he returns but that's unlikely :( Unless Panos Paney is a miracle worker

Panos has become synonymous with the Surface brand....he's kind of like Microsof's version of Jony Ive (at least to me).

@Jagar Tharn:
Which you couldn't really blame Panay for, because he is 'only' Microsoft's "hardware guy".
Software (operating system) part of Microsoft is Belfiore's capacity.

Why you say that, project Astoria is the next big thing and is coming in 2016 and it will be the day carriers can finally adopt Windows 10 with same commitment they have with the Android platform. Just as this is not ready, it means Satya Nadella must wait for Windows Mobile to get all the apps before removing any monetary or human work force support to this mobile OS.

Good, need more capable people, next.

@madmass:
Then you please stay away from Microsoft.

Disagree, Android may have support from developers but it lags a lot on starter devices, a Lumia 535 with basic hardware runs apps faster and lags less with same hardware than on an Android device with same specs. This has to do with the great job Belfiore did on the Windows Mobile OS.

Good for Joe! Microsoft is awesome, but family comes first.

Glad he's getting time off but honestly Panay is a better presenter and show man BY MILES

Both are of different departments snd cannot be compared.

You can't compare 2 guys who present Microsoft products where one does it with personality and salesmanship and the other is flat and boring?

@cannon#WP:
This is where I beg to differ:
I never found Joe's presentations boring.

Oh noooooo Windows 10 Mobile is DOOMEDDD!!!! /s In other words, he's taking an extended vacation that many Americans don't take advantage because we're just so overworked.

25 years, I bet he is using all is Vacation time in one shot.... he'll be back in Summer 2016 ? Dam I wish I had that much vacation time :- / Joe, enjoy your time out and bring back a updated WIndows Media Center :)

Sabbatical, probably has 6 months at 100% salary in the bank

It's amazing how, up to this point in the thread, no one else thought to post those words.

I doubt it's all that vacation time. You'd be surprised how fast it adds up at a lot of places. My wife built up 6 months paid time off in just 4 years on her current job, and took 3 months off at once with no issues. Again, 2-1/2 years later, she took another 3 months off. She's got about 5 months of time built up right now, less than 3 years from the last time she took time off. I've had the last 6 years off, but don't plan to return to work. I retired on purpose. My wife is still wanting to pursue her career. You'll find that in high-intensity jobs like Joe Belfiore has, it is necessary to take long periods of time off from time to time to prevent burn-out. Microsoft knows that, as any decent corporation does. Most in the tech industry will allow the VPs and others to take Sabaticals like this without issue. CEO, not so much. They have to take a little here and there but can't take off very long at once. Most people will take 30 day vacations that are never noticed by the media, and they take 30 days to 60 days vacation every single year. If he's saved up a few years, then he deserves it.

Awesome. Enjoy that time off with the family bud!

ooooo a holiday. Isn't that bad in coorp?

In the meantime, maybe Microsoft will find someone who can play ball with Verizon.

hi did his job, so why not
windows 10 for desktop, mobile and xbox will be released until november.
perfect time to take a break.

I just hope they make it back! It would be an amazing tale though if it turned into a much bigger adventure...man, that's pretty badass. =p

Probably tired of hearing all the whining about windows phone out in the world and not being able to catch a break. I don't blame him. I'd need a rest too. He deserves some time off.

Good for him, has his priorities set.

Hopfully Joe doesn't return as Joanna ...LOL

We know you are. Thanks for sharing. :)

He'll be back Belfiore you know it.

@someone2639:
I appreciate a good play on words from time to time.
Guess I'll be left unsatisfied today...

Wish this schmuck never returns...

@ricsip:
You certainly do not care to substantiate your statement, I presume?!

He may be the greatest/funniest guy ever but truth is WP is in the hole. When this happens someone has to go.

In the other news: Microsoft has increased its workforce for iOS and Android apps and services development.

@maktaba:
So, business as usual in this regard.

Is this bad? This is bad, right? Is it REALLY bad?

Dude.. You've got a f#$%ing dart in your neck! Classic

Well it's only a matter of time before he leaves..."spend time with family" is a corporate buzzword for I'm not happy with being passed over in the corporate reshuffle, so I'm exploring my options...Panay is an uber manager, has stronger presence and I like him better than Joe.

@FunGuy13:
By now we should all know that your personal preference for Panos Panay is the true reason Joe Belfiore leaves...

He is nothing but just a joke.. First of all, he gave us an OS which can't download a music, can't transfer a file (no file manager at all), no background app support. Many people quit Windows PHone because of it half baked. Availability of apps is something that users can understand.

and you are a clueless person on what his role is or was before his new role, so maybe you should just keep your mouth quiet and stop talking stuff you don't even know about? maybe you should write your own OS from SCRATCH and see how it goes? I am sure you would do better than MICROSOFT, because I am sure Joe Belfiore wasn't the only one working with Windows Phone before Microsoft got restructured and Terry got to lead every OS.

I wish him best of luck & hope he have fun & spend some quality time with this family. On the other side, 600 frickin kids? Stuck with them most of the time in a ship for six months? eeeeeewwwww

Haha he'll need another 6 months off to recouperate after that!

College was mentioned. Maybe he's taking the family on one of those Budweiser party cruises. Joe's too cool and not old enough to want kids off his lawn.

This is what they say when someone gets suspended from school ;) But anyway, I guess he can take a break if Terry is the boss here, on Joe news role I guess he wasn't getting much work and stuff. who knows? I am sure he will return and it's not like he is being "fired" if not, they would say it straight like they have said "X person is leaving the company" end. It's not like Joe was the image of Windows OS anyway, it's Terry. if Terry gets a break, I would worry. but Joe? Joe was just the cool guy to have around, but not important one anymore.

I will bet he never comes back. This is how executives leave. I support this because I think windows phone needs new leadership even if he is no longer the primary lead of that project. He's a great person and all but his track record: is windows media center, zune, and windows phone. We need a person that can turn windows phone around, not the person that has necessitated its turn around. Best of luck to Joe, but microsoft needs a hungry miracle worker at the helm of windows phone. It needs a Nadella/Panos equivalent for the phone efforts and clearly change is happening for a reason. The "family" story is just to make it graceful. I'm sure he'll go found a great start up like big wig execs do when they leave big ships.

So Windows 10 Mobile is not even RTM and the man responsible for it decides to leave for six months. I'm pretty sure we won't see him back at Microsoft. Also his MS executive page already got deleted.

This is good news for Microsoft, he wont be making promises to MS partners that will never happen.
Verizon will now carry the windows phone. Watch and you will see. Posted via Spaceship One

Looks like time to leave windows phone.

How van a person take such a big vacation. Such a big a vacation wasn't there in my school too. And he says he will reuturn in summer 2016 that might be next year July I guess. How can one take such a big vacation. Something Joe and Microsoft both are hiding. His words are like he's like he's u spent 25 yrs at Microsoft seems like he would leave the job.

Microsoft should get a good employee from apple ti work for windows 10 mobile but the current team ss doing a great job. Microsoft just needs better marketing employees for windows mobile with good advertisements for their flagship phones.

Sabbatical? hope both Ms and his futures are bright, whatever they are now..

Excelente decision on Belfiore's side.

Makes sense good time the next year is bug fixes then do you need a Ui guy there if there are little changes planned?? Isn't he a vp?? Does he need to do product demos?? Seams alittle low now for his stature.

@swizzlerz:
Well, he could always simply personally like doing public appearances on stage...

Good for him, well deserved. If the US can get everyone working, a month's worth of vacation for all would be a blessing. The best motivation for anyone is a happy life outside work.

Am I the only one who thinks Joe kinda resemble Steve Perry back in the day?

Fix the freakin' Start menu!!!!!!

Good for him. He's done plenty for MS.

I consider this to be either the beginning of the end for Windows phone.... or the beginning of something positive for Windows phone

Think positive, it can only be positive. Posted via Spaceship One

Belfiore needs a raise when he returns, he is the person behind Windows Mobile since the Windows 8 mobile kernel started to be used on devices like the Lumia 920. This OS runs very fast, specially on starter devices compared with Android similar hardware. All it needs to become popular so carriers and OEMs begin to use it just like Android is project Astoria, after that is acomplished, there will be Samsung Galaxy Edge or OnePlus One devices with Windows instead of Android.

Sounds like he's leaving. Corporate spin. Hope not but a year is a long time. Maybee it's best. Companies need to move forward or they go backwards. Windows phone needs a kick up the backside. A lock on the video player after 5 years would be a start. Gapless playback on the music is finally here tho! I do wonder how many employees actually use a windows phone as a daily driver tho.

I was a student on Semester at Sea, they actively seek out "celebrity sailors" (for my semester it was Desmond Tutu. I'm not sure how active he'll be in the shipboard community, or he'll really be coming back to Microsoft, but he's definitely going to have a trip of his lifetime for the semester

This is a permanent leave not an extended one...good luck Joe :-)

I think he needs To get away from Windows Phone for awhile. It's a Pain in the a##

He won't be coming back.
This is how Executives re think their lives.

I wish him all the best. Have fun with the family and make memories while you can.

Would Belfiore be considered part of the "old" Microsoft crew--I mean he was there for launch of Windows Phone 7 Series phones, right? What if the way Windows 10 mobile development is going now is just too crazy for him? I mean, I would be feeling odd too; he was probably used to shipping a polished product and now it's "get it out! we'll deal with it and fix it later" way of doing things. He deserves a break and hopefull returns to help keep the ship on course. Odd timing that Windows 10 is launching so close to him leaving on break though...

He was there for windows phone 7 and i would say from where they were with that a few years ago and where they are now they have taken a massive step it's shocking for some of us and he has been part of that to make that happen.

That's it!
No more windowsphone for me! /s
Windows Central Newsletter
Get the best of Windows Central in in your inbox, every day!
Thank you for signing up to Windows Central. You will receive a verification email shortly.
There was a problem. Please refresh the page and try again.