John Lewis starts selling mobile phones to take on Carphone Warehouse
UK retailer John Lewis aims to take on Carphone Warehouse by offering an alternative to the lack of competition found on UK high streets, now Phones 4u is no longer in business.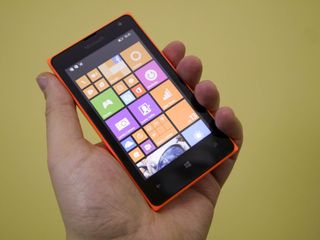 John Lewis will begin a pilot scheme at two trial stores, Oxford Street in London and Cheadle Manchester, rolling out the scheme to more stores if successful. The two stores will stock latest mobile devices and offer free insurance and two-year warranties on all handsets sold, including Apple iPhones, in a bid to stand out from the crowd.
As well as the free insurance and extended warranty, John Lewis will limit available tariffs on mobile devices to just two, further simplifying choice for consumers and streamlining the purchasing experience. Vodafone will partner up with John Lewis for the contracts, but to start things off 25 devices – not connected to any network – are available from the John Lewis website.
The retailer aims to have a range of mobile devices available in the two stores-within-a-store by mid-August, managed by staff from John Lewis and Vodafone. While tariffs will be limited to a low-data and high-data choice (unlimited SMS and calls with both), it's reported consumers will be able to pick up any Vodafone plan, should they choose to do so.
Source: John Lewis (opens in new tab), This is Money
Windows Central Newsletter
Get the best of Windows Central in in your inbox, every day!
Rich Edmonds was formerly a Senior Editor of PC hardware at Windows Central, covering everything related to PC components and NAS. He's been involved in technology for more than a decade and knows a thing or two about the magic inside a PC chassis. You can follow him on Twitter at @RichEdmonds.
Competition is always good

This sounds like a great idea, every company needs competition.. After years of poor service from CPW I would certainly try John Lewis.

I HATE vodaphone....horrible company

All companies are horrible.

Best of a bad bunch tbh. EE suck and O2 aren't much better. Vodafone CS are bad but at least I can reliably make calls in the areas I am.

When I worked there briefly last Christmas a lot of the staff on the computing department were huge Apple fanboys and hence influenced customers to buy iPads and iMacs, probably due to how apple's "luxury" image ties in with that of John Lewis. Lets hope they're a bit more objective when it comes to phones, and not just a glorified Apple reseller.

Having worked they're for almost 10yrs the Tech dept in JL leaves alot to be desired. If its not Apple/Samsung then their knowledge is quite limited. Still was a wonderful place to work. I wonder if their superb electronics guarantee will extend to phones too ;).

@SamJHannan and DreadVenom, that is always my experience when ever I visit JL. Previously if you asked about productivity apps, they clam up and change the subject lol. Now they use office as a cop-out.

Yes, but will they sell WP devices, or Windows 10 devices❓

They already sell Laptops and Surfaces so guess so. And with free insurance AND a 2 year warranty, it's one to consider. Bought my Surface Pro and Surface 2 from them due to the 2 year warranty and price matching. All good.

I remember going their to see the new SP3 and the rep was trying to convince me to buy an iPad cause it was better!!!

Please tell me you played it out and then embarrassed him?? I know its mean but people need to be educated sometimes.

I do the same lol
Does the iPad have live tiles or just those boring do nothing icons?
Where does the SD card go into the iPad etc etc....

@2tomtom, lol sometimes its pretty fun to embarrass them. Especially when they are trying to shove a galaxy tab or iPad in your face when they can see (I hope, if not they are just dumb then) you are not remotely interested in any of those two products. Also every store I went to had faulty 2520's and surface's but no faulty displays for the galaxy tabs or iPad... Hmm I smell a conspiracy! :P.

Ha ha - I asked him where I put my USB stick in and how can I install desktop apps. Asked him where the kick stand was etc and he just went on about how cool Apple devices are and how so many people have them and how they can't be wrong. My response was that not everyone owns a Ferrari and just because there are more Vauxhall Corsas on the road it doesn't mean they are better. He smiled and went on about how MS products are for work...

Haha, i got in the same situation and here how the conversation went (it was in T-Mobile Macedonia shop): Me: I bought this beautiful WP device Samsung ATIV S from you 15 months ago, I think I want to upgrade myself with a good smartphone, money is not the object (I intentionally didn't mention any OS platform) Rep: Excellent, I would recommend the iPhone 6, it's a beautiful device, everybody have it and love it (at this point i notice that he have his phone iPhone 6 sitting on his desk, so it was obvious) Me: Good, it's a nice device, what can you tell me about it? Rep: It is 4.7" HD 720p display (tho it's 750p, but i let him continue), it is full aluminum body, dual core 1.4 GHz CPU, 16GB internal storage, 1GB RAM, 8MP camera, a big 1820 mAh battery (a big? LOL) .... Me: OK, i am bit confused here, so let me clear something first. My ATIV S have 720p 4.8" Super AMOLED display, dual-core 1.5 GHz CPU, 8MP camera, 1GB of RAM, 2300 mAh REMOVABLE battery, Micro SD slot, etc... So, my ATIV S in hardware numbers is kinda better than iPhone 6 and it's 2 and a half years old smartphone model. So please do explain me, how come iPhone 6 is big upgrade from my current phone? Rep: (feeling already embarrassed, was trying to pull himself from the sh*ts he got in) But it runs iOS, the most beautiful OS in the world! Me: Oh really? Is it? How? Obviously you know sh*t about any OS in particular. Please either call me your manager or send me someone who knows what he is talking about, preferably someone with tech knowledge. (after 10 minutes of waiting no one came, not even this iPhone fanboy rep and i left, LOL)

@Boris NevermorE. Lol nice. I just hate reps when they can't see beyond their bias and not listen to the customer. Which is why I tell reps if they bother me constantly about a product I'm not interested in, I'm going to walk straight out (if they are consistently hovering and asking to go over for a demo on this "amazing device" [in their hands]. Most of the time a polite - "No, Thank You" does the job. Sometimes it doesn't unfortunately lol.

Exactly :). I could've just said No Thanks, not interested, but when i saw his approach towards me as a customer and his zero knowledge about anything smartphone matter and on top of that was trying to sell me a product without even mention other options, I just had to put him down, show him how little (read: NONE) knowledge he have and by that i just wanted to embarrass him in front of the others. Cruel of me, but he just asked for it, :)

Fantastic, John Lewis is my favourite shop.

Yes John Lewis have fantastic service and are a company owned by its staff, and operate a profit sharing scheme for its staff. They always come out well I surveys of the best companies to work for. They deserve to do well. Posted via the Windows Central App for Android

Both sound like stupid names for phone companies

Great news. Had a great experience last time I used a John Lewis. They are a little more expensive usually, But I can't see that being an issue if they are just flogging contracts.
Windows Central Newsletter
Thank you for signing up to Windows Central. You will receive a verification email shortly.
There was a problem. Please refresh the page and try again.