Jon Rettinger from TechnoBuffalo switches from iPhone to Windows Phone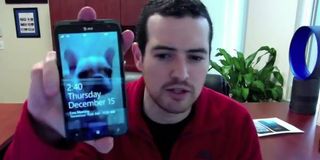 Jon Rettinger of TechnoBuffalo has published a video of himself explaining that he's switched from the iPhone to Windows Phone, and the HTC Titan is now his main handset. One of the main features he loves about the platform (and the device in this case) is the size of the live tiles and content on the massive 4.7" screen. Rettinger's main concern with making the switch (as is with every potential buyer) is the choice of apps on the Marketplace, but goes onto state that every app he required was actually present in the catalogue, or an equivalent available.
Overall he's impressed. What's more is that when Rettinger shows his Titan to other people when out and about, there's generally a positive response, but he notes that the biggest flaw of the system that could be turning away a lot of folk is the attached "Windows" brand. Let's not forget that Microsoft is in a reforming stage, if you will. Closing up, he has no regrets in switching and doesn't look back at the iPhone 4S. Take that Siri.
Source: TechnoBuffalo, thanks Theo for the tip!
Windows Central Newsletter
Get the best of Windows Central in in your inbox, every day!
Rich Edmonds was formerly a Senior Editor of PC hardware at Windows Central, covering everything related to PC components and NAS. He's been involved in technology for more than a decade and knows a thing or two about the magic inside a PC chassis. You can follow him on Twitter at @RichEdmonds.
Read a few comments on youtube, some people really have issues with this. Some priceless comments!!! :)

hahaha.. like a comment every 5s.. Very entertaining.

Awesome! He is truly wise. I've also overlooked the lack of tons of apps and went with the quality of the overall experience.

Horrible review...great phone.

The actual, full review of the phone was done by Noah Kravitz - He likes WP/Titan as well :)

I like Jon...One of the few, if not only tech reviewer that publicly admonished Apple to change up their notification system, among other things - pretty brave seeing as how they send him ALOT of Apple gear to review.

His fans are going to go beserk, and call him out. The thing is, he's always liked and complimented WP, but felt that with NoDo, it just wasn't ready. I hope that he sticks it out with WP, at least until Apple releases the next iPhone...he really is an Apple guy at heart, and I think that if the next iPhone has a bigger screen/different form factor, that he will switch back. But with his popularity, and him evangelizing WP, for the moment, this is great :)

So he finally on the good side of the windows phone force and left dark side of iphone force LOL

I'm somewhat confused by what he said in part of this video. At some points he says that he is huge on hardware, and that hardware can greatly influence his choice of phone, specifically with the iPhone. Yet, he dogs on the hardware a LOT of the Titan in this video. But says that he loves it.

If he likes the Titan because of the UI thats great, but he kept saying he switched to the Titan from the iPhone because of hardware. Maybe I missed something there?

I noticed that too but he did mention he loves WP's UX (which is a relief he didn't make the switch completely because "it's big")

What he means is that the iPhone hardware has become stale, Android requires more powerful hardware and still suffers from lag and poor performance yet Windows Phone performs just fine on slightly older hardware.

uhm, uhm, uhm, ahh, ah, uhm, Ret really needs to work on his rap, but he is correct. The low Reslolution actually makes everything on the phone ridiculously easy to see and read. There is nothing bad about that. Before I got the Titan and Mango, I was thinking that we were still playing catch up to IPhone. But after using it extensively, it's so far and above WinPh7 v.1, and, we have leaped frogged the IPhone here. No doubt about it for me.

Noah Kravitz from TechnoBuffalo and formerly PhoneDog also made the switch from iPhone to Windows Phone.
http://www.technobuffalo.com/companies/microsoft/windows-phone/why-i-dit...

Looks like TechnoBuffalo are becoming big Windows Phone fans.

I'll only get better from here. I don't blame them for falling in love with the UX. Its like that. Its unpretentious, its bold and it's unashamed of what it is. (Like me) And what it can do it does very well...and its only baby. The only thing I want to change is my cell carrier as soon as my commitment with Shawshank Inc. aka, Sprint is done. I'm going after the Samsung Focus S.

i have to agree with Jon, Wp7 is a really cool experience, after coming from an iphone myself, i have to say i like the wp7 better, i really think a lot people will like it if they just tried it with and open mind, i will admit the only drawback will be app selection, but its getting there. so if you havent triesd WP7, give it a try you will like it!!.

To be honest I am getting tired of people drooling over my samsung focus and saying how amazing it looks and then the look of shock and horror everytime I say its a Windows Phone. The first few times I thought it was funny but at this point its like what the heck Apple and Google are the only companies that seem to get any credit for design people just want to hate on Microsoft no matter how much they love Hotmail Xbox Windows 7 Office etc...

Attitudes are changing, albeit slowly. The upcoming generation has no such distaste for Microsoft. They've never used Windows 98 and they've never seen the "I'm a Mac and I'm a PC" ads. My teens think my Toshiba Windows 7 Tablet PC is cooler than an iPad, for example (which they also like). They also know my WP is superior to their iPhone and I am not shoving propaganda down their throats. They just see it for themselves and haven't had any negative Microsoft experience or been tainted by moronic tech bloggers or false advertising.

I'm just like him, except that I switched directly from feature phones (smartphones never really got me into buying one) and I'm not as good looking. A Mac guy using Windows Phone and it works beautifully. WP has to fight the idea of mess that Windows Mobile left, and it's cool to see these guys talking about it. I just hope Microsoft is not paying them to do that.

I never get tired of people drooling over my phone, I just bring some kleenex and keep spreading the good word.

Which phone do you have? I really wish the HTC Titan had come out for T-Mobile as well. Ah well, I am either getting the Radar or the Lumia and I am kinda leaning towards the Lumia. It's Nokia, the camera and camera software will be excelent.
Windows Central Newsletter
Thank you for signing up to Windows Central. You will receive a verification email shortly.
There was a problem. Please refresh the page and try again.