Jongla launches for Windows Phone 8, free messaging app aimed for youth market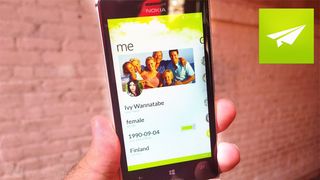 It's always a good day when a major app joins the Windows Phone platform. But for me personally, it's more of a win for the platform when a smaller startup dedicates limited resources to develop for Windows Phone. Suffice to say we were stoked today when Jongla joined Windows Phone. Let's check it out.
Jongla is a messaging platform that has had successful launches on both Android and iOS. Now it's available for Windows Phone. What makes Jongla different from other messaging apps and services? It's aimed right at the teen market, targeting users in the 13-24 age group. Jongla worked with Nokia to help hone the app for launch. Here are all the features you'll be getting:
Free, unlimited - No hidden costs. You are free to chat and send an unlimited number of messages anywhere in the world.
Stickers- Delight your friends with fun Jongla stickers.
Full YouTube integration - Browse and share YouTube videos easily with your friends.
Safe and reliable - Jongla is a highly safe and reliable application. We respect your privacy. That's why we fully encrypt all your messages with TLS encryption.
Personal- Set up your own profile page and upload an avatar and cover photo to show to all your friends.
No usernames - No need to login or logout. Jongla works with regular phone numbers and instantly syncs with your address book.
No need to add friends - Your address book is used to automatically connect you with your friends. Friends who already use Jongla will be displayed in your friends list.
Push notifications - Jongla uses push notifications to make your two-way conversations fast and smooth. With push notifications, you will instantly get notified about new messages and friends.
Offline messages - Even if you miss your push notifications or turn off your phone, Jongla will save your offline messages until you are online again. You can even write messages to friends when you are not connected, and messages will be sent whenever you are able to connect.
Jongla is a beautiful app on Windows Phone. We did have some initial troubles with notifications, but that's nothing a quick update can't fix, which we expect. Beyond that the finish of the app is really great and shows a lot of promise.
You can also access Jongla on the web, through your browser by going to https://im.jongla.com. So if you need to message friends on Jongla or access your message, but don't have your phone around, you can easily grab them anywhere. The success of any messaging platform hinges on how accessible it is and Jonga wins by having access on Android, iOS, the web, and now Windows Phone.
Interested in Jongla? You'll need to have a Windows Phone 8 device. You can grab it in the Windows Phone Store. Or by using the QR code below.
Beautiful. Keep em coming.

store is full of free msging apps already. its hard for any new app to make real presence.

A messaging app can become successful if the devs put a twist on that app. If not, then ofcourse they will sink. You have to differentiate yourself.

Yeah i agree, but i don't think there is really alot scope left ....!! MOst of the msging apps have almost same features.

Rip off of Air Droid icon.

Almost every application have an issues with Notifications at first.!
Don't know if there is a platform limitation or something else?

Great, contacts avatar in messaging... MS, is that so hard??
Well done, I'll try it out!

Oh... never mind, its just like Viber and WhatsApp....
My Bad, I though its an actuall text message replacement....

so this is like whatsapp?? looks cool though.. hope you guys on WP 8 have fun using the app.
BTW
i cant connect to facebook chat from my messages app. "cant connect to chat" is all i keep getting. From 3G or even Wi-Fi. someone please help me. it is killing me :(

I wonder if there will be a good app Facebook Chat

Been trying to sign up for ages. not getting the verification code or call. uninstialling now

Check the country and phone number are correct, stupid thing to say but I got my code almost immediately.

Useless until the underlying problem with WP Push Notifications is fixed. Sadly most developers are blamed when it's down to MS.

I hope along with the notification center in 8.1 MS also overhaul the push notification system and make it as robust as iOS and Android.

Another messaging app. :(
Windows Central Newsletter
Get the best of Windows Central in in your inbox, every day!
Thank you for signing up to Windows Central. You will receive a verification email shortly.
There was a problem. Please refresh the page and try again.