Africa's biggest online store Jumia comes to Windows Phone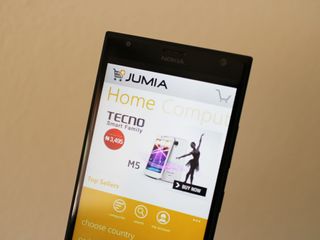 Jumia (jumia.com) is one of the largest online shopping sites in Africa. It was founded in 2012 and has offices in Nigera and Egypt. Think of it as the Amazon or Alibaba of the African continent. They recently launched a Windows Phone app. Find more details and the download link below.
While Jumia has operations in a handful of countries, only five currently support the mobile app. That said, we don't imagine it being too much longer before other African countries join in on the shopping fun.
Here are the countries you'll find support for Jumia on mobile: Nigeria, Kenya Morocco, Egypt, and Ivory Coast.
Here's the app description of Jumia for Windows Phone:
We're not in African currently, so can't download the app. But we wanted to share it for those who might find it useful! Let us know what you think of the app and Jumia!
Thanks for the tip Latiff C!
Windows Central Newsletter
Get the best of Windows Central in your inbox, every day!
Jumia on Lumia.....that sounds cool

So many official apps!!!!

Great. You're about 20 hours late on that, but thanks.

OMG DANIEL FUCKIN REPLIED ME OMG OMG OMG OMG

Your immaturity is quite astounding

omer620 likes to spam "That's what she said" on articles. He's probably around 9 or 10 years old.

Same here.
Jumia Lumia.. Hahahahaha

Wow, incredible after almost a year on Android. Windows Phone is come of age.

I wish the UK retailer Argos would introduce an app for WP8.1. It's not the same using the mobile site...

Ah, an app from my home country gets featured on wpcentral. Cool. Not used the app though, use the website more, well, their big competitor over here is konga. Also an online store, no idea if they have a native app though.

It's nice Jumia made a windows phone app, makes sense since a large percentage of Africans now use Lumia devices.

It feels good to see an app from my country featured here.
So used to the website but glad we now have mobile app.

Great stuff. Every small developer claim to be the biggest in Africa.
False advertising at best

Dude, the article says one of....and it's not a developer, its an online store...try to read before you speak.

I think he read the title.

Jumia is pretty popular here in Nigeria. Konga is popular too with their official app been available for sometime now. Olx too. As always, official apps are always welcome

Yay! Jumia on my Lumia!!!!

I'm from Morocco and I thank you for this even if I like EBay and Amazon better

I'm downloading right away!

Name inspired by Lumia? :D

I am in Nigeria and i use Nokia Lumia 1020. i cannot find Jumia app on the app store to download.

Shop with Yousplendid.com Health and beauty products with lower prices and fast free shipping within Egypt. http://www.yousplendid.com

http://www.yousplendid.com