Ubisoft's Just Dance 2015 has dance parties in store for Xbox One and 360 next month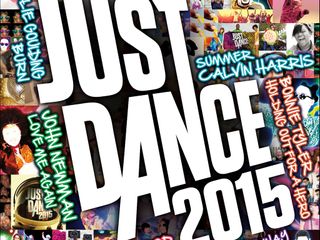 Last week we reviewed Dance Central Spotlight, the best Kinect game on Xbox One and also pretty much the ultimate dancing game. Spotlight is a downloadable game, but it will soon face increased competition at retail from Ubisoft's Just Dance 2015.
The latest in the Just Dance series will arrive at stores (and for download) on October 21 in North America and October 23 in Europe. The lead versions are Xbox One, Playstation 4, and Wii U, with previous-gen versions on the way as well. Which platform has the best sensor for full-body motion tracking? I think we all know.
The main reason to buy a new Just Dance game is that version's song list. Ubisoft has just helpfully announced the 2015 edition's full lineup. Let's see what variety it offers.
Just Dance 2015 Song List
Get ready to dance to the following songs in this year's Just Dance. Note that many of these are cover versions, not the original artists' versions.
"Bang Bang" – Jessie J, Ariana Grande & Nicki Minaj
"She Looks So Perfect" – 5 Seconds of Summer
"Problem" – Ariana Grande Ft. Iggy Azalea and Big Sean
"4x4" – Miley Cyrus
"Best Song Ever" – One Direction
"Happy" – Pharrell Williams
"Till I Find You" Austin Mahone
"Addicted To You" – Avicii
"Black Widow" – Iggy Azalea Ft. Rita Ora
"Maps" – Maroon 5
"Birthday" – Katy Perry
"Bad Romance" – Lady Gaga
"Built For This" – Becky G
"Holding Out For A Hero" – Bonnie Tyler
"Summer" – Calvin Harris
"Tetris" – Dancing Bros.
"You Spin Me Round (Like A Record)" – Dead Or Alive
"Let It Go" – Disney's Frozen
"Burn" – Ellie Goulding
"Bailando" – Enrique Iglesias Ft. Descemer Bueno & Gente de Zona
"Mahna Mahna" – Frankie Bostello
"Never Can Say Goodbye" – Gloria Gaynor
"I Love It" – Icona Pop Ft. Charli XCX
"You're On My Mind" – Imposs Ft. J. Perry
"Love Me Again" – John Newman
"Only You (And You Alone)" – Love Letter
"Ain't No Mountain High Enough" – Marvin Gaye and Tammi Terrell
"Get Low" – Dillon Francis & DJ Snake
"Diamonds" – Rihanna
"Me And My Broken Heart" – Rixton
"Walk This Way" – Run-DMC & Aerosmith
"Don't Worry Be Happy" – The Bench Men
"Epic Sirtaki" – The Bouzouki's
"Speedy Gonzalez" – Los Pimientos Locos
"Macarena" – The Girly Team
"Love Is All" – The Sunlight Shakers
"It's My Birthday" – will.i.am Ft. Cody Wise
"The Fox (What Does the Fox Say?)" – Ylvis
"XMas Tree" – Bollywood Santa
"Fatima" – Cheb Salama
I'm honestly looking forward to that Tetris song.
As far as we know, downloadable songs from Just Dance 2014 will not be compatible with the 2015 game. Ubisoft has always lagged behind Harmonix in that DLC compatibility.
New and improved, mobile companion in tow
Just Dance 2015 brings forty new songs, all with their own unique Ubisoft-created music videos to dance along with (a key difference from the Dance Central series). The Xbox One version will support four local dancers, which is actually a pretty big advantage over Dance Central if you have the room for it.
The 2015 Edition adds a cool new Community Remix mode. Instead of dancing along to those music videos I just mentioned, players will be able to dance along to other players shown on-screen.
How the game can share video of other players while filtering out inappropriate content remains to be seen. Players will definitely be able to vote on shared content. If everything works right and nobody gets unwittingly exposed to anybody else's junk, it should be a great alternative way to play.
Alongside the main game, Ubisoft will release a companion app called Just Dance Now. The app acts as a controller for the game, using a phone's accelerometer to communicate the player's hand position. That feature makes more sense on the Wii systems in which players hold motion controllers called Wiimotes in order to play the game. It sounds totally unnecessary on Xbox One and 360. The Kinect sees your whole body and doesn't require players to hold anything.
The app announcement doesn't list specific platforms, but preview images hint at iOS and Android. We'll see whether Ubisoft releases a Windows Phone version of the app – we did get a Just Dance companion app way back in 2012. There was even a (terrible) Dance Central app that year!
Just Dance 2015 arrives on October 21 in North America and October 23 in Europe. What do you guys think of the newly announced song list? And do you have room for two different dance games in your life?
Just Dance 2015 – Xbox One – $49.99 – Amazon Link

(opens in new tab)

Just Dance 2015 – Xbox360 – $39.99 – Amazon Link

(opens in new tab)
Windows Central Newsletter
Get the best of Windows Central in in your inbox, every day!
Paul Acevedo is the Games Editor at Windows Central. A lifelong gamer, he has written about videogames for over 15 years and reviewed over 350 games for our site. Follow him on Twitter @PaulRAcevedo. Don't hate. Appreciate!
Good Xmas gift for the Mrs..

Need anime dance.it would be fun

Dancing the night away.. You can say what ever you want but Microsoft is on top of everything lately... Full steam ahead which is good for all of us... Keep it coming MS

Sweet!!! Every Wednesday at the gym. Kinect dance, fitness all the way. Keep it up MS and U.Be.Soft ;)

I want a filter for wpc app. Sick of Xbox stuff.

You should buy one. Then it won't bother you so much.

WPC isn't all about WP, FYI.

Daniel said AGES AGO that we would get a name change "real soon". It's been what, like 2 months since he said that? Where is the name change? Maybe he works for Microsoft, because Microsoft trademarked "Coming soon, but you'll have to wait". JK! :P

I agree, they should change the name to "things-microsoft-central"

That's not even remotely true about "many" being cover versions. Last year, only 5 out of 50 songs were cover versions. The previous year, it was 5 out of 50, too. 10% is not many.

Is there a list online somewhere? I remember it being a lot in 2014, but the press releases and even Wikipedia make no mention of which ones are covers. Also, IMO, any number of covers is too many.

Lets face it, Kinect has never been that accurate; hence the use of a phone.

The Kinect 2 is quite accurate, actually, particularly in Dance Central Spotlight.

I was surprised how accurate the Kinect 2 was, excellent device! I just don't like Kinect games, but you know that already. :P

4-player mode sounds pretty awesome.

Yay, one more week till the Xbox one comes out in Asia, its been a loooong wait...

I'm too fat to dance, back to the workout app lol. Waiting for ubisofts Kinect game too

I bought Just Dance 2014 for XBO, only because there was no Dance Central at the time, and I was very dissapointed, I would never buy another Just Dance game again. Dance Central is the ultimate dancing game.

That's funny, because I bought Dance Central for my niece... and it was garbage. She rarely made through a song without the game freezing.
So I pre-ordered Just Dance 2015.

DC had some crashing issues when achievements were unlocked, which in the beginning happens quite oftern, but that has been resolved now. But comparing the games for what they are, DC hands down has the best routines, the best moves and better song selection, and better tracking of the person dancing. Just Dance for me was very bad, the routines sucked, they were so bad it's not even funny and the song selection was lackluster. Buy hey, if you enjoy it, good for you, it's just not for me. DC is the one that I trully enjoy.

Yesterday I lost all my progress and unlocked routines in Dance Central :( I thought stuff like that don't happen in this new gen era (joking).. But yeah, totally sucks.... with all the work that went behind it -_-

The crashes were likely related to Achievements popping. They patches the game about a week ago, so it should be fine now. As Vla.m said.

Hmm, is it just me or Just Dance has better song line up than Spotlight?

Well, it's 40 songs compared to 10... Unless you're counting Spotlight's DLC too.

I for one am very excited for this game :D

I love Dance Central. Might get this as well. :) This article has barely any comments. Must be only good looking slim people in this comments section ;)

Has anyone tried using their 2014 DLC in Just Dance 2015? Just wondering if i should sell 2014 to help pay for 2015. Or will i lose all those purchased songs???

The DLC from 2014 does not transfer over. Annoyingly.
Windows Central Newsletter
Thank you for signing up to Windows Central. You will receive a verification email shortly.
There was a problem. Please refresh the page and try again.