Just Hot Air, an explosive golf-styled game for Windows Phone 8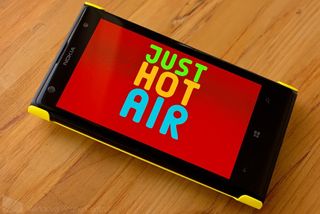 Just Hot Air is a golf-styled game for Windows Phone 8 that has you knocking around a small creature instead of a golf ball with the courses laid out more like a game of putt-putt golf.
It is an odd sort of game in that each hole or level of play has a limited number of strokes (known as kicks in the game) and if you go over the limit, the little creature explodes much like a balloon filled with too much hot air. Graphics are nice, game play challenging but there just seems to be something missing with Just Hot Air to get it over the hump and be a rather attractive Windows Phone game.
Instead of an 18 hole round of golf, Just Hot Air is a multi-level game with each hole representing a level. You currently have twenty-one levels of play and two little creatures to kick around.
Just Hot Air's Gaming Levels
Game settings are available from the levels menu and cover graphic quality and sounds. Along with setting the music/sound effects levels, you can set the graphics to high, medium, or low as well as customizing the level of detail for the game.
Just Hot Air Settings
With each level, the goal is to kick your creature into the hole within the set number of kicks. To kick a creature, just tap on the creature and drag your finger back to set the power of your kick and aim. When all is set, release your finger. The fewer kicks it takes to sink the creature into the hole, the higher your score.
Just Hot Air's Overhead View
Your point total for each level is displayed at the top center of the screen and a directional icon is in the upper right corner that will display an overhead view of the entire hole. The number of kicks you have available will be displayed in the bottom right corner and will vary based on the complexity of the level.
Levels have various challenges to keep things interesting such as sand traps, lava traps and barricades to bounce your shot from. The current levels are beach themed, which includes a vast ocean that you need to avoid as well.
Just Hot Air Sandtrap
Overall, Just Hot Air is a decent Windows Phone game and has potential. The 3D graphics aren't shabby and the levels are challenging enough to keep the game from going stale but, I could not help but feel as though something was missing. The game does have a slight children's game feel to it that may water the game down a bit but when the creatures explode and splatters all over your Windows Phone screen, the children's gaming feel fades quickly.
Maybe it's a golf-styled game played in levels instead of an 9 or 18 hole round but it felt as if the game was incomplete. There is a local, multi-player mode and more levels of play in development. Once in these features are added to the mix, maybe Just Hot Air will have more attraction and the feeling that something is missing will fade. Nonetheless, Just Hot Air is a Windows Phone 8 worth trying and one to keep an eye on as things develop.
Just Hot Air is a free game for Windows Phone 8 devices. You can find your copy of Just Hot Air here (opens in new tab) in the Windows Phone Store.
Get the Windows Central Newsletter
All the latest news, reviews, and guides for Windows and Xbox diehards.
George is the Reviews Editor at Windows Central, concentrating on Windows 10 PC and Mobile apps. He's been a supporter of the platform since the days of Windows CE and uses his current Windows 10 Mobile phone daily to keep up with life and enjoy a game during down time.
Cruelty against creatures! That's disgusting. So what if its a game.

I am eating a steak right now...go cry in a corner now

Yes. I will in pity for you

I regularly go out and throw birds at pigs. The birds often seem quite angry about it too...

Are you fo real? Fyi I strapped cats on my rocket launcher in postal 3 . Now what's up?

Raphael Menges, if you are reading this: can you please make your game available here in Brazil? You can use a PEGI or an ESRB to do that. I can help.

This game makes me want to kick my cat!

Just downloaded asphalt 8 how much space it takes?

you downloaded..you should tell us the new update is also quite big though as i was unable to update it over 3G

In storage check it showing 1.4 gb but it takes 2gb space. I have 3gb of space but after download it it is 1.04 gb

It will first check the space available on your phone, that must be more then 2.4gb
After installing,it takes about 1.4gb

After installed it takes about 1.4 right. But in other storage it takes another 600 mb. If ucan check in phone storage in gdr3.

Whats the main reason why it takes more storage?? Plss explain!!!!

This is the problem,we all are facing, the 'other' storage problem, acquiring many of my phone's space too,

Apps to sd card come soon

That would be so much appreciable , and one of most welcomed feature to the os,
Also,they should made music+video app faster for swiping from artist to songs, it lags, though i use a class 10 sd card, still,not as fluent as it would be ,if the song is saved in phone memory,

For another alternative golf-style game check out Bonsai Golf Coral: http://www.wpcentral.com/windows-phone-game-review-bonsai-golf-coral

U ppl r releasing so much games...bt no space in our phone memory...n our sd card is going waste...come on nokia developers!!!! Before saving any app or game v need an option asking whether in phone memory or in sd card...our mobile supports external memory of 64 GB...n ther s oly 7 GB of space in our phone memory....hw much can v download to our phone memory...huh??? Just think??!!!!!

Don't blame this fault for developers and Nokia. Blame Microsoft who have restricted this entire OS like a nuclear plant where doors have to be opened and closed by computers, voice, iris, finger scanner and entire body scanning !!!

Yep, this is Microsofts issue to sort out. I honestly don't know if they have any plans to allow the installation of applications and games to SD.

It's on the speculative list for WP Blue, because it's one of the features they accidentally marked as completed on Uservoice. People reckon that this means those features are coming.

Like a nuclear plant sounds funny. But bro saving on sd card is needed but not safe on android. So wehave to wait a bit untill doing such thing is safer to use

To be honest Android does not allow app on SD card by default. No offical Android phone has SD card slot and it will never have a SD Card. Unless you root and install special app most that you can do with SD card on Android is to save pictures and videos. And no you can't have SD Card on iOS either. Best approach so far is to keep games that you're playing and others you can reinstall when you feel like paying them (as long as you don't run out of luck and app is no longer avaliable on windows store). I know I have a couple of big ones that had to go due to memory sortage and are waiting "for their turn".

Apple thinks sd card is a risk. U download any file on sd card its bound to impact on phones performance. So do nokia and MS. Thats the maun reason they r making high end phones without sd card slot. Android doesnt csre of all these stuffs. They can just provide open source platform and ppl think google is better in everything except you tube.