Kanye West brings The Life of Pablo to Groove Music, Spotify, and more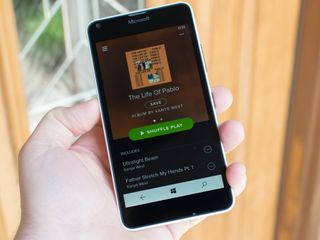 Alright folks, this isn't an April Fools' Day prank: Kanye West has brought his latest album, The Life of Pablo, to the major music streaming services, including Groove Music and Spotify. The album was initially released as an exclusive to the Tidal streaming service, and West had previously stated that it would remain that way.
The Life of Pablo is West's seventh studio album, and features several guest vocalists, including Rihanna, Chance the Rapper, Frank Ocean, and The Weeknd. Interestingly, while the track listing for the album remains the same, a number of people are reporting that the tracks themselves have been updated and tweaked since their initial release on Tidal.
If you prefer to purchase your music, The Life of Pablo is available for $20 directly from Kanye West's website.
Windows Central Newsletter
Get the best of Windows Central in in your inbox, every day!
Yes he certainly did. I just listened to it. Avant Garde hip hop.

Don't mean to interrupt, ima let you finish, but I don't know who Pablo is.

I'll give it a listen via my Groove pass.

What a fool. I guess Tidal is not so profitable after all.

Actually it wasn't about the money if you realized for his past three albums he does something out of the ordinary. But thats just from my observation.

Anythingthatsomehowpertainstowindowscentral.com

Jokes are funny.....he isn't even that! So his grab with Tidal didn't work then lol

Already downloaded it like 3 weeks ago LOL

Do you have the new version of Waves Posted from Windows Central for Windows 10

Not worth downloading it even for free haha

Really high windows related news value

It's available on Groove, for those who use Groove. That's why it's relative.

Ahahah so now every album in groove and every movie on tv app is relevant? I hope they received good money for this advertisement at least they would have traded this site good name for something :)

He is also going to sue the Swedish and Norwegian owners of the service Wimp that he bought which Tidal is built on. Oh Kanye....

Who the hell still likes that self centered douchewad?

Apparently you do sport Posted from Windows Central for Windows 10

"Apparently you do" What? Because he commented on the article it means he likes whoever this guy is? That makes a lot of sense... /sarcasm

Me, and I don't think he's any of those things you said. Not worth potentially arguing about though. Have a happy Friday. +950 XL DS NAM CV Windows 10 Mobile

He's all those things and more Posted via the Windows Central App for Android

Well he's one of the greatest artists of the 21st century. I don't care about musicians' personalities, since most of them are full of ****. Besides, none of us knows him personally, who cares what he does in the media?

ARE YOU KIDDING ME???? Wow... just wow. It's amazing what passes for music and "art" these days. I wouldn't even be able to name one of his songs.. that's how insignificant he is. I just know he's a disgusting, racist scum bag

Now that's just revisionism. He may have fallen off with his last three albums. But his first two albums are well known and received major play outside of hip hop circles. He is not insignificant. Posted from my Lumia 950XL

Fallen off? Are you high? MBDTF was his best (and most critically acclaimed) album ever.

And it's not one of his last 3 albums. Counting isn't hard. Wikipedia is available for all. Yes his first five albums are good, I have them all. But since his Kardashian marriage he has fallen off. Posted via the Windows Central App for Android

Yes it is dipshit. Past three are TLOP, Yeezus, and MBDTF. so go **** yourself

In addition to that, let me leave you with some advice: African Americans can't be racist. Prejudiced, yes, racist - no. Good day sir.

Can't be racist? They're the most racist people there are. All you have to do is look at any black comedian. Look at "BET" awards... etc etc. Amazing the bs they get away with

There has been plenty of white artist that won on B.E.T awards!

Thank you. People act like white MCs never receive recognition from the black community. Posted via the Windows Central App for Android

Don't forget the MOBO awards. Imagine if there was a MOWO awards? Universal condemnation and racist accusations.

We're the most racist people? OK. Thanks for calling me out on that. You're the first with this brilliant insight. Any black comedian? First of all, that's not even true, second of all, black comedians aren't all black people. You're kind of simple, regardless of the shade of your skin.

Apparently you don't listen to his music. So what's the point of even making a comment.

You are just wrong. Deal with it. Separate opinion from fact please. And grow up.

Right...and who still uses Facebook? Pssst...what you like isn't universal.

He's the Zoolander of hip hop

I don't see how this is a good thing.

I would rather stab my ears with rusted drill bits than listen to his garbage

West is a moron. Greed will always win. Exclusive to Tidal was just another moronic statement and idea.

You do know, he releasing another version of the album right? Exclusive to Tidal.

backspace backspace backspace backspace ;)

Yes I'm aware he's making another version that'll not stay on Tidal long too :) Again putting his album out to 3-5% worldwide market share isn't enough $$$ for the West Greed. Plus is literally makes no sense and makes me not want to be a fan.

So if your a fan get a Tidal account - what's the problem?

You're really defending this lol. My problem is I'm very happy with my Groove Music and Google Play Music accounts and refuse to let ONE artist sway my desicion to change to another streaming provider becuase he "thinks" he can, or that we "should". That about wraps it up.

So because he didn't use "your streaming provider" he's greedy. You have the right choose your streaming provider, he has the right choose to move his business elsewhere temporarily, that's business mate. I on the other hand chose to stick with Tidal. Where I have been listening to his album since last month.

I think you've been misunderstanding my thoughts here. Intially they were his "greed" overrode his choice to keep it exclusive to Tidal. Meaining, He realizes the same statement I mentioned above. With Tidal he's hitting about 3-5% of streaming music audience, meaning he's missing out of 95% with not being on Apple, Google, Spotify and Groove etc. His wayward statement of it's never going to be on the others was not well thought out as the "greed" won. Needing the other services. That's all. I didn't mean to make this go back and forth so much, yes he has a right to do whatever he wants with his music. However, he alone will not sway the music market wordwide becuase he wants to be so cool on Tidal to make it the best. It's simply not and that's my opinion. Google has one heck of a service that includes YouTube Red and Groove is great with having it all integrated on all my devices.

has some good tracks but will wait for the newer album it he wasen't kidding

I love how's people think that anyone cares who they do/don't like in a completely subjective topic. Yup...elitism with a healthy dose of self importance is awesome. /s

Kanye hasn't been good in the past few years

I don't get it... What musical instrument does this person play?

You're right...you don't get it. Your attempt at being clever/funny is squashed, regardles. He's actually very good on the piano and other keyboard instruments as well as the drums and other percussive instruments. He was a music producer long before he put out his own albums.

Great, he plays piano and drums, thanks. I'm just trying to understand why a piano playing, drum-beating music producer that made a stupid marketing decision a while back deserves mention in a Windows-oriented forum. Oh, I think I get it now: Groove Music. That has to be the connection.

I assume Windows Central did put this up because of Groove. This was originally going to be Tidal only, meaning that Windows users wouldn't have access. Allowing it to be streamed (no offline though) to Groove and Spotify makes it accessible for Windows mobile folks. As for why he chose that Tidal exclusive deal, I have no idea. I do know that he has ties with Jay Z (Tidal founder), they even put out an album together. Maybe Kanye is part of that or Jay Z made him a sweet deal. Unfortunately, I can see a lot of this segmentation of artists tied to services, in the future. It's certainly not ideal.

his voice is so pitchy, I cringe everytime he sings live. How can so many people like him. He's terrible.

I admit, I love Kanye's music as much as anyone out there. But if there's anything worse than his ego, it's his haters. Just look at these comments.

Groove is doing well. More many local artiste in my country have their songs on groove
Windows Central Newsletter
Thank you for signing up to Windows Central. You will receive a verification email shortly.
There was a problem. Please refresh the page and try again.