Keep track of your candidate with Election Essential for Windows Phone and Windows 8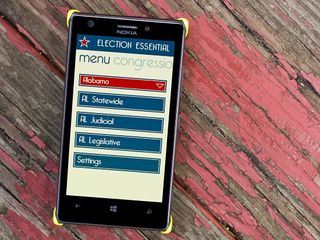 Mid-term Elections are right around the corner with U.S. voters going to the polls to elect Federal, State and Local officials. Election Essential is an app available for both Windows Phone and Windows 8 that is designed to deliver information on the State and Federal candidates on the ballot.
The information is compiled from various political watchdog groups such as Sunlight and Project Vote Smart. Along with candidate information, Election Essential will also provide users with information on any Statewide Amendments and measures that will appear on the ballot.
Election Essential comes across as a handy app to have if you need to dig around and see which candidate is worthy of your vote.
State by State Information
The main pages for Election Essential begins with a Menu Page where you can choose your State and view any Statewide offices that are on the ballot. This will include Legislative and Judicial offices as well as the office of Attorney General, Auditor, Secretary of State, State Board of Education and more.
It does appear that the Judicial Offices covered by Election Essential are the Statewide positions (State Supreme Court, State Appellate Court, etc.) and not the local State Circuit or District Judges (trial level).
Once you have selected your State, additional pages with Elections Essential will become populated with Congressional and Governor's races and any State measures that are on the ballot. The Congressional page will list any U.S. Senate or House seats that are on that particular State's ballot.
Your Gubernatorial Page will list both any Governor's and Lieutenant Governor's races that are on the ballot while the Measures Page will highlight any State Amendment or Referendum that is to be decided.
Information on each candidate may include:
.Biography Summary
.Contact information (Twitter, Facebook, Email, Phone Numbers, etc.)
.Key votes on hot button issues (abortion, crime, national defense, economy)
.Ratings from key National special interest groups (NRA, ACLU, Planned Parenthood, etc.)
.Campaign Contributions
If records are not available or cannot be found, Elections Essential notes that with many of the candidates.
Overall Impression
These days most of us are on the go constantly and have little time to sit down and read the local papers or catch the local news to stay up to date with the various political candidates vying for our vote. While I wish Election Essential drilled down to local candidates, it does a nice job of delivering a lot of information on Federal and State candidates.
The app ran smoothly and was simple to navigate around. I did find a few offices with duplicate entries for candidates but nothing too widespread. Overall, Elections Essential comes across as a nice source for candidate information.
George is the Reviews Editor at Windows Central, concentrating on Windows 10 PC and Mobile apps. He's been a supporter of the platform since the days of Windows CE and uses his current Windows 10 Mobile phone daily to keep up with life and enjoy a game during down time.
Too late, presidential elections finished yesterday here in brazil

Concordo! Bem que poderia (e pode) ter um desses para as eleições multi-países -- a exemplo da brasileira.
Agreed! There could (and let's hope there shall) be such an app with multi-country support.

No way! Vote Mayor for Mayor! Vote Mayor for Mayor! Vote Mayor for Mayor! Vote Mayor for Mayor!

Queue the mud throwing in 3, 2, 1...

Keep track of your corrupt money hoarding "politician" of choice! :D

It looks nice but that font though. Horrible! Why not some nice Segoe UI? I think I'll pass on this one.

I have spent hundreds of hours to bring you free apps, please give it a shot and try to see if you can forgive me for the "horrible" font. Thanks

Thanks, but I'll just stick to Bing elections since it already gives me all I need. The value proposition just isn't there.

Does Bing Election give you voting records, ratings, and other fact based information? If you want to play the prediction game Bing Election is the game to play, but when you want to participate in our great democracy Election Essential will deliver the information you need, when you need it. Thanks for considering Election Essential.

I agree Mo! Voting records in your app is a great value to have. You can skip the thousands of TV ads and just use your app and let the records speak for themselves. Thank you!

What else can be done to get where a candidate stand if they haven't held public office yet? For example, senate candidate Grimes in KY doesn't have a voting record available

You are correct Sanchez, sometimes candidates have no records and it is hard to gauge them. Looking at their campaign finance helps a little, try the Windows app and look at her campaign finance so you can see who is financing her. Good luck and thank you.

You have to understand that there are some people who don't appreciate the work that people do. They like to dismiss others efforts. I found your app to be very useful. The one thing I would have liked here in California would be a ballot summary. Meaning, that I could research all of the Ballot Initiatives and decide how I want to vote and have that list available to me in the voting booth. I would use it for all of the races, but we have so many ballot initiatives here that it would be EXTRA helpful to have that in the app. I'll probably make a OneNote list as a workaround. I appreciate the work you put into this app. Thanks!!

Thanks for the thoughtful comment and for the encouraging words. The request you made sounds cool and I will try to add to my application, hopefully next election. Hassan

I get enough from these fools calling the house. Basically the kids who ran for president in high school. Didn't like them then, don't like them now. Most often vote for the lesser of two evils...

Don't just ignore them because what happens in Washington doesn't stay in Washington, laws made over there will affect us directly or indirectly. Thanks

This is actually a pretty cool idea. I really haven't had the time to catch up on the candidates and see where they stand.

The app looks pretty good in the screen shots. I wonder if it will contain the pros and cons of ballot initiatives. That would be handy even more than the candidate info.

Who's pros and cons, gotta think for yourself.

So I take it when you watch a debate on anything, political or otherwise, you already have your mind made up so information simply mean nothing. That's not how democracy works at least not in America. That is a dictatorship.

Sorry, we didn't include pros/cons because we decided to stay away from opinions. Thanks

I like how the Election s Division of the California Secretary of State presents the information in their voting guide. Each side of the initiative gets to write a statement and then the other writes a rebuttal. There's also the Legislative Analyst's Office "overview" that gives background information like "what is a bond?" and "What are the costs?". I believe this information wouldn't represent any bias on your app's part. I'm not sure how easy it would be to GET all of that info from each state. If you keep up with this project, maybe you can consider including these things in future elections. Thanks!

That sounds like a good information, I will look into this. Thanks

Anyone know if this has any accuracy or bias issues? I really like the idea of more people being informed voters, but only if the information isn't worded in ways that paint a poor picture when there isn't one, or vise versa.

All the information on this application are 100% accurate, no opinions. Thanks, The Developer

Excellent thanks for the reply. I'll be checking this out.

Thanks you and please try to rate/review if time permits :)

The app doesn't appear to work in WP 8. Disappointing for those of us who are still waiting for 8.1....

Daniel, I am sorry for not taking Windows 8 into consideration, I hope you get the 8.1 update soon, so you can enjoy my app :) Thank you.

The phone app is great, but the Windows app doesn't even have a menu. All I'm getting on my tablet is the national stuff. No menu?

The Windows app doesn't have statewide information, we are only presenting U.S. House and Senate information. I understand you gave 1 start rating, can you please consider changing your rating and judge the application for what it is trying to present. Thank you.

Good App but I was hoping for Local Politics as well. I'm already voting for Wendy Davis. :p I'd like to see local district Info.

Thank you Thank you very much for taking the time to review my application, you (Windows Central and Staff) are a key asset to Windows developers and you don't discriminate between rock star developers and rock bottom developers like myself. Hassan Windows developer and a loyal member of Windows Central community.

Mo, Thank you for the prompt email regarding my review and 1 star status. While I can appreciate your wanting me to change my rating, I will not do so at this time because although I think it is one of the better apps that I have seen, you make no notice that State election information is not available for Windows 8. In fact it reads just the opposite" Election Essential will give you up-to-date election information about your local State Ballots and Federal Condidates" < That is right off of the description..... After I read your email reply, I came in here to send a reply and noticed that you had now clearly posted that, and that that post was approximately 5 minute prior to my coming here.

Yes Mo it is unclear. I am not a programmer, but from what I saw at the streamed developers conference the way apps are done now simplifies it so that an app for Windows Phones is now more easily ported to tablets. You indicate at the bottom of the Windows app store by using the dual icon that that is how the app was developed. My contention with your Windows app is that the two are not even close INMO to being the same. It is also just my opinion that I would much rather read the information on my state candidates on my tablet vs, my phone, which is what I had to do last night. Your app is providing a wealth of information to all of us I for one truly appreciate it. I hope you will Please fix the Windows app. John

There is nothing missing from my apps, I designed them, developed them and gave them exactly what features and functionality they have.
You words about the app "providing wealth of information", "is great", "is one of the better apps" and you paid total of $0.00 but you decided to give the worst ratting possible. Thanks again

Mo, Those statements reflect my feeling of the information contained in the Windows Mobile app only and in all fairness to you I have just updated my review of the Windows Mobile app and have given that app a four star rating. This discussion is about the Windows 8.1 app. They are as different as night and day in content and functionality. When you took the Windows Mobile app as far as you did, why didnt you continue on the same path with the Windows 8.1 app? As my pappy used to say, people always remember first class, but will remember less than first class longer..... Just sayin Wouldn't it be easier for you to just fixit / update it, and keep up the good work than it would be to argue with me when you won't get me to give you a better rating on the Windows 8.1 app until it is fixed? So much potential ! Just fixit Please!

The State Ballots and Federal Candidates are both included in Windows application, but your rating was based on a missing statewide candidates. Please try to compare the Windows Phone and Windows app descriptions and you will see the difference. You are also saying the application is one of the better apps you've seen, yet you gave 1 star. I am sorry if the application's description is unclear, what would you like the description to say? Thanks

What I'm lookingf for is an app that allows me to check in at poll sites when I go to vote and also get stickers for voting and share that on social networs and promote voting

Mo_Hassan, I happen to like the font and the distinctive look of this app. You adhered to the MS style/navigation guide, but also made it unique. My only disappointments: Here in California where we have 53 congressional districts and a lot of uninformed voters who haven't got a clue who their congressional representative is, it would be cool if your database included the info available on the congressional database (I think it goes by zip code?). I know that would be a daunting task to enter by hand for 435 representatives, but a wishlist item. Yeah, that. And don't forget to add in a location finder that will tell me who my congressperson is (if I'm that lazy, I shouldn't be voting). ;-) Also, here in the California 47th, you have information about the incumbent, but none about the opponent (although you do have a duplicate blank record), not even their basic background or resume. I didn't check other districts, so I'd like to think that is an anomaly, but it's pretty much the same story for California gubernatorial candidates. Giving you kudos and the benefit of the doubt. If your sources don't have the missing information, shame on them.

Hello Nerdy, Locating candidates by zip code didn't make it into the current version but it will be part of the next version. The reason you seeing the missing data is because the candidates didn't provide the data, they usually don't provide much information, particularly when they don't think they can win. Thanks for the feedback

Don't simply ignore them as a result of what happens in Washington does not keep in Washington, laws revamped there'll have an effect on USA directly or indirectly.http://www.trainingintambaram.in/salesforce-training-in-chennai.html
Windows Central Newsletter
Get the best of Windows Central in in your inbox, every day!
Thank you for signing up to Windows Central. You will receive a verification email shortly.
There was a problem. Please refresh the page and try again.