Get this app now to keep up to date with all of your music on your Windows Phone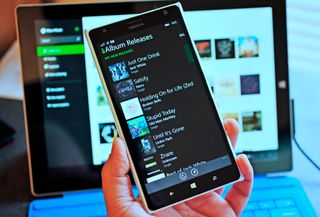 Digital life sure is hectic in 2014. It's harder and harder these days to just keep up with what's going on in the world, never mind tracking the latest album releases from your favorite bands. I can't count the number of times I find out that one of my beloved artists has a new album out…3 months after the matter. Fact is if you listen to 20 or so different bands, keeping track of their latest releases can be time consuming, assuming you even remember to check.
The app 'Album Releases' helps solve this problem by scanning your music library and then fetching the latest content off of Xbox Music tell you what's new. You can then filter by type or release date. What's more, you can pin the latest releases of just your library to your Start screen where you'll get a Live Tile with a counter bringing that information right to your eyes along with banner notifications. You can even have it show up on the Lock screen via the notification icon or the detailed notification area.
Album Releases isn't a new app, as it's been our since January, but today it has jumped to version 3.0 with some new features and improvements, including:
Album Releases 3.0 (new)
Get artists from your cloud collection
Filter releases by date and type
Faster
More stable
New UI
Better notification support
Less data consumption
Transparent tiles
View all new releases
No ads
The new feature 'View all new releases' is handy to browse everything in the world of music, including artists not in your collection. The transparent Tiles should please those on Windows Phone 8.1. Also, the app is completely free with no ads, which makes it even more enticing since there's no risk here.
Probably the only negative with this app is that it relies on Xbox Music, which on Windows Phone 8.1 is not exactly a primetime experience. Still, that's not the app's fault and as Xbox Music gets updated that experience will get better too.
I'm not sure what else to say about Album Releases. It matches the Windows Phone UI, integrates with your music collection, it's free, it has transparent Live Tiles and notifications galore, and it fills a feature-gap on Windows Phone. All of that makes it an instant add to my Windows Phone since it's making my life easier. The developer is also in our forums, should you want to chat about requested features or issues you're having.
Interested? Pick up Album Releases here in the Store. Free. Windows Phone 8.0/8.1
Via: Windows Phone Central Forums
Get the Windows Central Newsletter
All the latest news, reviews, and guides for Windows and Xbox diehards.
Daniel Rubino is the Editor-in-chief of Windows Central, head reviewer, podcast co-host, and analyst. He has been covering Microsoft since 2007 when this site was called WMExperts (and later Windows Phone Central). His interests include Windows, laptops, next-gen computing, and for some reason, watches. Before all this tech stuff, he worked on a Ph.D. in linguistics, watched people sleep (for medical purposes!), and ran the projectors at movie theaters because it was fun.
I just hope XBox music gets serious soon. I hate how I download a song and it shows 2 of the same song in my library.

XBM update should be today. Two weeks passed since last update. I hope it won't bring just another "fixed minority bugs"

Yeah, for sure. I usually show off my music app to people who want to see my phone. XBox Music does a good job on the new releases of albums. Even though it doesn't alert you on what just came out.

You have this issue too? Me too..

XBox Music update today??... I hope so because if not then MS would've broke it's promise to do bi weekly updates... Not a huge deal if not updated today, but WP fans are really pushing for a better XBMX on WP8.1.
..................
But, they better have one early next week or some are going to loose faith...

Since music has been removed from the Windows Phone store in WP 8.1, this app is great. The store "experience" through the Xbox Music app is atrocious and this makes it much more tolerable.

I can't even find New Releases inside it!! It's awful!!

Yes in the old store there would be sections like new releases then you could drill down by genres its almost like they don't want you to discover Posted via the WPC App for Android!

Is there an app that scans music library and automatically adds tags and album picture cover to the songs?

MPATool does some of that.

MPATool is sadly useless with the 8.1 music app. :-/ I thought it might work after the latest music update, but I just tried it to no avail.

MPATool is useless in 8.1.

I hope it gets an update for 8.1 support soon!

No, the Zune software does a wretched job of it. I stopped using the program altogether because I was so annoyed. Unless all you like is popular music and don't mind terrible genre tagging, Zune's really bad for tags. I use MusicBee on my PC as a result, and it's become my music-playing program of choice as a result (partially because it has a feature to search and display lyrics as well). They actually search several databases when you use the program to find tags, and it'll ALMOST always get accurate info for the artist, song, album, record label, and genre (though genres can be tricky because there are so many). What's better is that it'll also grab the RIGHT album art as well, and when it can't find something it's really easy to manually edit it in the program. Trust me, I've had to do this for multiple thousands of songs. MusicBee does tagging MUCH better than Zune because it's more accurate, it gets more info, and it's easier to edit manually. The only thing the Zune software has over MusicBee is the GUI, but it's not substantially better.

Can you add artist images of your choice, that show up on the XBOX music app?? If so, please tell me how. I can't add anything other than album art.

Mpatool, but wont work on 8.1. I tried

If you download Music Tile Hub you can get almost the same player as used in 8.0 and mpatool work with that

I'll wait, but I use Music+ to download music with the right info and album covers for each song.

I really hope the dev can get it working with 8.1. I have too many albums without art...

It does work, but not with the new stupid Player. Download Music Hub Tile to access the Pre-8.1 app. :)

Leave it clever developers to see a need and fill it when it comes to Xbox Music. Awesome, and great job! :) +Icon

Quite good, but it only managed to find releases by six artists in my current library. That said, it has let me know about singles by Savages and Om Unit that I didn't know were out, so that's handy! I have not bought and will never buy music from XBox Music though. I still buy on CD if I can, and I buy digital music from indie stores as much as possible (Boomkat, Juno, Bandcamp, etc). I realise it's a tall order, but if there was some way that the app could work from other info sources -- maybe a massive retailer such as Amazon or Play, or a large database such as Discogs? -- that would be better for me.

Hi I will be working on providing different music services like Amazon to purchase your new releases. Thank you for the suggestion.

Problem here http://forums.wpcentral.com/showthread/285491.htm discuss please..

I can't understand why MS can't simple do a link for the Music Store inside the Xbox Music app!!! Is so difficult to do that?? I can't find any new music or album!!

There would be a lot more music on my phone if XBM was fit for purpose.
I have hundreds of tagged albums and songs on my computer. At the moment when I like to listen to music eg when cycling my old SG2 becomes my main phone. A situation I find ridiculous

Interesting. I had a pretty similar idea for an app. Now I'll have to dl this and see just how similar it is.

Yea dvlup had a contest similar to this a few months ago using Nokia music API instead

Investing, i had no idea. And here i was thinking i was sitting on an unique idea! Lol

I was going this would be added to Xbox music, this is good

OMg! I woke un this morning wishing there was an app for that! Awesome! As you say in the article, when you have 20 or so artists in your collection it's time consuming to search for new releases, but with my collection of almost 500 artists it's pretty much impossible to keep up to date, so this app will help a lot!!

I'm glad I can help! Just by the way, 500 artists will take some time to scan through for new releases so consider unfollowing a few which you can do in my app. That way it'll reduce the time spent searching for new releases.

Oh! Awesome, I didn't know there was a feature to unfollow some artists!! I'll be sure to unfollow a few of the old bands that are either dead or only release best of albums! Thanks for the reply!! Oh, and actually, I'm really surprised that it didn't take that long to load a years worth of new releases for 500 artists. It really wasn't as bad as I expected, so even for people with big music collections the app works great!

Are there Korean and Japanese artists in Xbox Music?

Hmmm, there's PSY... LOL.

Hey, Daniel, care to share your 20 bands? Sam, Mark, Michael, et al.?

Good app, but had to remove it as it kept telling me the same thing over and over again!

anyone know of a windows 8.1 pc app like this that scans your entire library mp3 library?

I got you, http://apps.microsoft.com/windows/en-us/app/album-releases/6907d74c-d703-4cef-9f00-4b3990d38300

Still only getting 2.8....no update for me, yet.

How I am able to download free songs from nokia. I dont wanna purchase subscription just for songs....

OK, at the risk of sounding like an idiot.... I have a 928, which means no micro SD card and only 32gb of storage. How on earth am I supposed to have a music library on my phone? I currently have about 1GB of space available I'm assuming OneDrive? But, if I connect to my computer, can I move all my songs up to the cloud? None of them was purchased via xBox music or Nokia music, it's all stuff I got from either iTunes, Amazon Music, or uploaded from CDs. Obviously, I don't want to repurchase all my music again. Will OneDrive and Xbox music and my library all play nice together?