Kevin Turner leaves Microsoft after 11 years to become CEO at Citadel Securities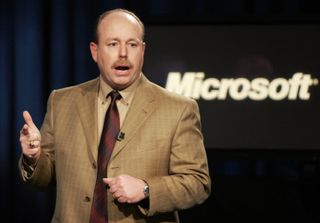 Microsoft's Kevin Turner has left the company after 11 years. The Chief Operating Officer will be heading to Citadel Securities to take on the position of CEO. Microsoft CEO Satya Nadella covered Turner's departure in an open email to employees (opens in new tab), which also went into some detail of leadership changes taking place.
From Nadella's email:
Turner was tasked with managing more than 50,000 employees worldwide, as well as heading up parts of the company including worldwide sales and field marketing. It's been decided to integrate the sales, marketing and services group into Microsoft and form one unified leadership team. As noted above, the email also touched on other position alterations, which will affect:
Judson Althoff — will lead the Worldwide Commercial Business, which will focus on the commercial segments, inclusive of EPG, Public Sector, SMS&P, DX and Services.
Jean-Philippe Courtois — will lead Global Sales, Marketing and Operations, which span all of Microsoft's 13 areas across our North America and international businesses as well as the global Marketing and Operations organization.
Chris Capossela — will lead the Worldwide Marketing and Consumer Business, which includes CCG, MSA and PSM, OEM, and Microsoft Retail Stores, in addition to his current worldwide marketing team.
Kurt DelBene — will now also lead IT and Operations, in addition to Corporate Strategy.
Amy Hood — will now also lead the current SMSG finance team and WWLP, in addition to the central finance team.
It's not yet known who will succeed Turner as COO at Microsoft. Nadella closed the email by suggesting Microsoft needs to continue evolving and adapting to an ever-changing world.
Rich Edmonds is Senior Editor of PC hardware at Windows Central, covering everything related to PC components and NAS. He's been involved in technology for more than a decade and knows a thing or two about the magic inside a PC chassis. You can follow him over on Twitter at @RichEdmonds.
I was hoping he would say something about Windows Phone in his email but he didn't.

Why would he? It's just a general email announcing a member of staff is leaving.

Because from previous maktaba comments, he wanted a comment about WP so that he could make his usual troll comments about it.

Good grief, when this story hit I almost made a sarcastic comment about how people here would find a way to make this about phones right off the bat.

I was hoping he was going to announce he was leaving. that would be good news!

Nadella will be next. That time can't come soon enough.

Is it just me or since Nadella came in alot of the higher up people have been leaving?

That is not uncommon when the CEO changes in any company.

Of course, They all see what a bonehead nutella is and what he's doing to microsoft. They can't run for zee hills fast enough!

Good luck and best wishes.he is wise & talent person .

So he left his job to be the CEO of Citadel which has a greatest library in the world? I hope Samwell Tarly would meet him in next season! #GoTfans will know :3

No women and children allowed!

He knows there is only one way for Microsoft. Going down. He left before it's too late. Posted via the Windows Central App for Android

Gotta love that wishful thinking.

You sound stupid, it's the companies that have all their eggs in one basket who will be going down... Apple (computers, iPad, iPhone, iTunes, watches). Hardware only. Just look at Microsoft total portfolio compared to other tech companies, then comment.

Except no viable mobile os and as a result no apps in store.

Total portfolio as in different revenue streams outside of computers which a phone and tablet are members of that category.

OMG55, UH.....IOS, Watch OS OSX....sounds like a whole bunch of software there! ANNNNNND, all that hardware and software apple has, works seamlessly together. UNLIKE microsofts mess. MS can only wish to have their computers work with their phones like apples do. Look at how the products in the portfolio work......Then comment. And as far as Nutella is concerned MS has or is putting it's eggs in one basket called enterprise....carefull who you call stupid.

He knows that he is offered a chance to lead a company as CEO and those offers don't come too often. Plus, I'm sure he got a major bump in salary. The chances of him becoming CEO at Microsoft in the future is pretty low. Most people would take advantage of this opportunity.

An Android fan here trolling. Say it isn't so. Execs left Google/Alphabet in the past few months. Execs left Apple in the past few months. Guess those companies are going down, too, and wanted to get out before it is too late.

Thank goodness he's leaving. he's the worst head of sales! Maybe now they'll get rid of that horrible marketing team they have. Next on the list Terry Myerson!

Looks like he hasn't bought a new suit in 40 years.

Next on the list.....NUTELLA and all the rest of his lackys. MS may rebound then.

The pitful excuse that they have become in the past 2 years. thats what. All the bonehead nutella is worried about is enterprise. Enterprise this, enterprise that. They abandoned their consumer base like the red headed step children we were. I am happy I have moved on to new and greener pastures. The computing experience is so much better since I have turned off my microsoft phone, and computers. Hopfully the board takes this twit and tosses him in the gutter where he belongs, and rights the sinking ship that is microsoft.

They are worth more and are more profitable now than they were two years ago.

Still does not mean they have better products since Nutella took over. They are more profitable because they now charge a yearly/monthly fee for software, office, etc. before you bought it, it was yours. Now, you buy it every year, for the same price you would buy software once. That does NOT make the products better. He just knows how to squeeze his customers balls for more money. and the crap product being released down right sucks. thats why I am gone from the sink hole that is microsoft.

Windows phone is going down the ******* at an alarming rate, w10 is being rammed down customers throats, therefore giving the illusion of success. I bet if they just released it as a free upgrade for 7 users, and left it at that instead of constantly hounding people...the rate of conversion would less than 1/2 of what it actaully was. Most people just said **** it. I will upgrade to stop the constant pop ups etc. MS is a crap peddling company now.

If you don't own anything that's Microsoft and you hate Microsoft, why are you here trolling?
Windows Central Newsletter
Thank you for signing up to Windows Central. You will receive a verification email shortly.
There was a problem. Please refresh the page and try again.