Titanfall finally lands on Xbox 360, Kinect Sports Rivals sprints onto Xbox One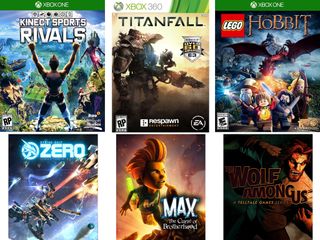 Last week was a slow week for Xbox console releases, but not this week. The Xbox One gets three new releases: Kinect Sports Rivals from Rare and Microsoft Studios, LEGO The Hobbit from Traveler's Tales and Warner Bros., and the downloadable Strike Suit Zero: Director's Cut from Born Ready Games. Strike Suit Zero is the very first ID@Xbox game to reach the market!
The week is no less special for Xbox 360, either. Microsoft's still-popular previous-gen console gets several new games of its own: the long-awaited Titanfall, LEGO The Hobbit, Max: The Curse of Brotherhood, and a new episode of The Wolf Among Us. Not too shabby!
Kinect Sports Rivals
This third entry in the Kinect Sorts series is both the first game to come from the Microsoft-owned Rare studio in more than two years and the first Microsoft-published Kinect game for Xbox One. You could fairly say Rivals has a lot of pressure on its shoulders to justify the new Kinect as a gaming peripheral.
Rivals includes six motion-controlled minigames of varying quality:
The critical consensus towards Rivals seems to be about the same as previous Kinect Sports games. Casual audiences looking for motion-controlled sports games will have fun with it, but players who lack the patience for the quirks of motion controls are unlikely to be swayed.
LEGO The Hobbit
The LEGO videogames are always good, sometimes even great. Just as they released a LEGO Lord of the Rings game on 360, Warner Bros. has now published an adaptation of the first two Hobbit movies. Yes, this game only adapts two of the planned trilogy of films. That leaves the door open for a sequel game to coincide with the final film.
LEGO Lord of the Rings was actually a great adaptation of the films though, and LEGO the Hobbit seeks to recapture much of that fun. Play as Bilbo Baggins and numerous other characters from the books and movies as you travel towards a fateful meeting with the dragon Smaug.
A new crafting system adds some RPG-like complexity to the standard beat-em-up and puzzle-solving gameplay. Reports are mixed on whether the crafting really enhances the game itself. Perhaps Traveler's Tales will refine it further in the sequel.
Strike Suit Zero: Director's Cut
The first Xbox One game to be developed and published by an indie developer under Microsoft's ID@ Xbox program is finally here. Strike Suit Zero is an enhanced version of a popular space flight combat game on PC.
The story centers around a war in the far future between Earth and its colonies. The conflict starts when both sides claim ownership of a mysterious alien artifact. Players control a fighter pilot who must battle to save the Earth. Fully-voiced conversations bring the narrative to life during gameplay, lending the game a cinematic feel.
As the ship pilot, players have full 360 control over the ship's flight. Combat involves blasting enemies with close-range weapons and locking onto them with missiles from afar. In my short time with the game, the combat feels a little clumsy. Hopefully it picks up when the ability to transform the ship into a robot unlocks. I'll hop back into the cockpit and work on a full review soon!
Titanfall
The Xbox 360 version of Titanfall was originally scheduled to debut two weeks after its Xbox One counterpart, but a last-minute delay pushed the release back until today. Strangely, Electronic Arts and Microsoft have chosen not to promote the 360 version in advance. No official screenshots or videos preceded its release, nor has a single review been published as of press time today.
Xbox 360 screenshot
Despite the secrecy, some leaked videos do prove that Titanfall looks very close to the Xbox One game on Xbox 360. It even runs at 30 FPS or higher, though not a mostly consistent 60 FPS as you'd get on Xbox One.
Although Bluepoint Studio handled the 360 version of Titanfall, it looks to stick closely to original developer Respawn Entertainment's designs. With 6-on-6 online battles, giant controllable mechs, and unprecedented freedom of movement thanks to jetpacks and a wall-running ability, Titanfall should please first-person shooter fans who haven't upgraded to Xbox One yet.
Max: The Curse of Brotherhood
Max: The Curse of Brotherhood is the sequel to Windows Phone 7 launch title Max and the Magic Marker. It also happens to be exclusive to Xbox One, 360, and PC – just like Titanfall.
Initially the game plays just like any other 2D platformer. Max can run, jump, crawl under spaces and climb ladders and ropes. Before long, Max meets a mysterious old woman who imbues his marker with magical powers. Armed with the marker, Max can affect the game world and solve puzzles.
Xbox One screenshot
The Curse of Brotherhood is an excellent platformer. It looks beautiful and the puzzles are actually fun instead of annoying. The Xbox One version recently received an update that improved its frame rate and adjusted the difficulty a tad. Although the 360 game doesn't run quite as smoothly, platforming fans won't want to miss it.
The Wolf Among Us: Episode 3
From Telltale, makers of the popular The Walking Dead game series comes another episodic adventure title. Wolf Among Us is a prequel to Bill Willingham's Fables comic book series. Players control Bigby Wolf, the reformed Big Bad Wolf and sheriff of Fabletown.
The first episode of Wolf Among Us is free, and subsequent episode cost just five bucks a pop. Have any of you guys tried the series out yet?
Next Week
Stay tuned next week for Trials Fusion, the latest in Ubisoft's motorcycle stunt series. It's coming to both Xbox One and Xbox 360!
Paul Acevedo is the Games Editor at Windows Central. A lifelong gamer, he has written about videogames for over 15 years and reviewed over 350 games for our site. Follow him on Twitter @PaulRAcevedo. Don't hate. Appreciate!
Rename yourself into MS central already

Rename yourself 'I make comments that don't contribute to the discussion topic' already.

Well, 2 days until my Titanfall preorder is available here in Sweden (4/10) so I've got to wait. Will be awesome, but probably not as awesome as Destiny!

Second that...really waiting for the digital download..tired of physical discs...

Wanted Titanfall digital download cuz really can't wait for shipment to where I am but was told not untill 2 weeks from initial release.....still want the game soooo badly :(

Xbox one live arcade games are pretty expensive.

For those on the fence about Kinect Sports Rivals, if you were unaware, you can download the Kinect Sports Rivals Preseason demo and check it out. Be forewarned, though, gorgeous graphics you will see.

No Boxing in Rivals?? That was my favorite Wii sports game

I do wise Rare would be allowed to make some decent non-casual games again, making use of their rich history.

I wish Rare would port KI to the 360 :(
Windows Central Newsletter
Get the best of Windows Central in in your inbox, every day!
Thank you for signing up to Windows Central. You will receive a verification email shortly.
There was a problem. Please refresh the page and try again.