Kochadaiiyaan The Legend Reign of Arrows lands in the Windows Phone Store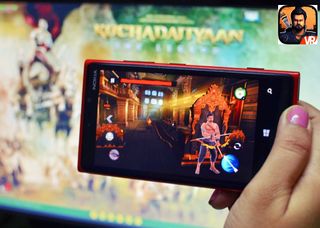 "Kochadaiiyaan The Legend" is an upcoming photo-realistic 3D animation Indian movie that utilizes performance capturing technology used in films such as Avatar and The Adventures of Tintin. The movie stars Rajinikanth, a leading Indian film actor and a cultural icon. The mannerisms and inimitable style of Rajinikanth, the highest paid actor in Asia after Jackie Chan, contribute to his mass popularity and appeal and much like Chuck Norris facts, Rajinikanth jokes are widely circulated all over.
The official game for the movie, Kochadaiiyaan The Legend Reign of Arrows, has recently arrived on the Windows Phone Store. The third-person, action arcade archery game gives you a chance to step into the shoes of the superstar as Kochadaiyaan, and attempt to single-handedly push out an invading army out of the prosperous city of Kottaipattinam which is under siege.
In the movie and the game, Kochadaiiyaan is a historical character who lived during 710 AD as one of the royal guards of the then Pandyan king celebrated for his dominance over the Cholas and Cheras.
Kochadaiiyaan The Legend Reign of Arrows works on a cover based system where the character can only traverse from one cover to the next by the press of a button, instead of the usual forward or sideways movement. You need to dart from cover to cover and shoot arrows at enemies, and refill your arrows at arrow depots.
The game consists of linear levels with visually changing environments. There are also power-ups like Split shot, Explosive arrows, and Rapid Fire and battle support powers like Reign of Arrows and Catapult bombardment that you can upgrade to which makes for an interesting variety of arsenal.
Kochadaiiyaan The Legend Reign of Arrows offers stunning graphics transforming you to the medieval age, and while there's not much in the game, it is a fine game to play, and even more if you are a Rajinikanth fan.
It hangs sometimes randomly, and although you'd excuse that, the game has limited engagement and doesn't have a compelling gameplay. You can download Kochadaiiyaan The Legend Reign of Arrows for free for Windows Phone 8 devices from the Windows Phone Store.
Let us know how you like the game and just in case you haven't as yet, check out the trailer of the movie releasing next week. It definitely looks better than the game.
Get the Windows Central Newsletter
All the latest news, reviews, and guides for Windows and Xbox diehards.
That dude has a little face!

Run for your life before he gets you for insulting him.

It's probably just the drawing and not the actual actor.

LOL,btw Thanks for removing that comment Paul(the one we talked about on twitter) :) Really appreciate it :D Thumbs up! (y)

At least it doesn't have that pointless 1 GB ram limit and will work on every Windows phone

Originally it required 1GB too like other games. Rajni punched the ram requirement up to 512.

Correction: he punched it up till 128, sadly, we dont have windows phones supporting that low ram to test it out. Wp8 supports a minimum of 512.. (the joke's over now :-P)

The requirement isn't pointless. Some games need more RAM to run than they what is available to them on a 512 MB device.

Thalaiva... Proud of you... Only actor in India who have been featured in Black&white, Colour, 3d, Animation movies and now in a game. :D

Proud to be an Indian :-)

There are more jokes dedicated to Rajni than Chuck Norris.
Lets make one up:
Rajnikanth and Chuck Norris are twin brothers from different mothers.

Actually... It is scientifically impossible for chuck norris/rajnikanth to have a mortal father. The most popular theory is that he went back in time and fathered himself.

Dont insult him dude, those are FACTS, not jokes about rajni/chuck Norris.

Seriously.1st game which runs smooth and gives a proper gaming experience :D awesome

I was searching games last night and I stumbled upon this one. IT IS FREAKING FANTASTIC! Shame that I can't find a game that plays just like Dynasty Warriors, but some do make a close-but-not-close-enough-for-a-cigar feeling.

Once Rajnikant f**ked a machine and Optimus Prime was born.

Why would he have coitus with a machine? He can't get real women?

When he f**ks real women Superman, Spider-Man, Hulk, etc. are born.

He has the patent of all the powers he gives loans to other superheroes

Superheroes rent out superpowers from Rajni.

It is available for Windows 8.1 also.

When will cut the rope 2 come for WP?

Maybe along with the release of WP9 ;)

How the hell would anyone know the answer to such a bull shit question on this page? Ask the fecking developers for fecks sake.

Downloaded it today and I was surprised by It's gaming experience..

"Aegon Religare health potion"
Wut o_O

That's a woman's hand in the pic??whatsup Abhishek ;-)

Haha! That's my wife... she hand-models for WPCentral. :D

Will it not work in 8.1 ? At the end of download my phone switches off and that fixing SD card process starts that take a lot of time...it happened twice.. I had changed my SD card from class 4 to class 10 still this happen..here and then.

Honestly, this game in my 520 is smoother than its Android version in my Xperia C with higher RAM...

Android is caught with a malware called bad leparon with many apps on their play store. Two minutes of silence for them

If its so, they must be already habituated dealing with such situations!

This game can play even in64 Mb ram devices

Windows Phone seems to be getting alot of attention from the east...

Do someone know news about the Lumia720 successor

Yes its codenamed as Nokia pink powered by a staggering 4ghs octa core processor with 8 GB ram and a 41 megapixel camera with a price of 60$. It's preorder is available in amazon too please go and search for it. ;)

You nailed it.... Mind it..

Lol ! But the code name is nokia chuck, mind it !

They say a single hair of Rajnikanths mustache fell onto a keyboard. A day later, this app was published. The bugs are because the keyboard hitherto mentioned was actually only a piano's lacking the ability to fully comprehend the majesty of windows phone code.

Not a Bollywood fan. The video was good though.

Actually its not Bollywood movie.its a Tamil movie.

This plays really good on a 620! Very good job done! I just wish it supported XBOX controller on Windows 8.1.

Rajni denied to support XBOX....

I mean controller support, not XBOX live.