Kochadaiiyaan The Legend Reign of Arrows lands in the Windows Phone Store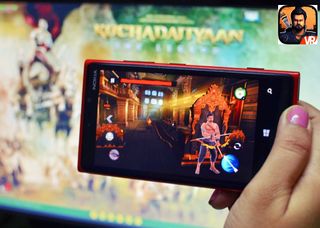 "Kochadaiiyaan The Legend" is an upcoming photo-realistic 3D animation Indian movie that utilizes performance capturing technology used in films such as Avatar and The Adventures of Tintin. The movie stars Rajinikanth, a leading Indian film actor and a cultural icon. The mannerisms and inimitable style of Rajinikanth, the highest paid actor in Asia after Jackie Chan, contribute to his mass popularity and appeal and much like Chuck Norris facts, Rajinikanth jokes are widely circulated all over.
The official game for the movie, Kochadaiiyaan The Legend Reign of Arrows, has recently arrived on the Windows Phone Store. The third-person, action arcade archery game gives you a chance to step into the shoes of the superstar as Kochadaiyaan, and attempt to single-handedly push out an invading army out of the prosperous city of Kottaipattinam which is under siege.
In the movie and the game, Kochadaiiyaan is a historical character who lived during 710 AD as one of the royal guards of the then Pandyan king celebrated for his dominance over the Cholas and Cheras.
Kochadaiiyaan The Legend Reign of Arrows works on a cover based system where the character can only traverse from one cover to the next by the press of a button, instead of the usual forward or sideways movement. You need to dart from cover to cover and shoot arrows at enemies, and refill your arrows at arrow depots.
The game consists of linear levels with visually changing environments. There are also power-ups like Split shot, Explosive arrows, and Rapid Fire and battle support powers like Reign of Arrows and Catapult bombardment that you can upgrade to which makes for an interesting variety of arsenal.
Kochadaiiyaan The Legend Reign of Arrows offers stunning graphics transforming you to the medieval age, and while there's not much in the game, it is a fine game to play, and even more if you are a Rajinikanth fan.
It hangs sometimes randomly, and although you'd excuse that, the game has limited engagement and doesn't have a compelling gameplay. You can download Kochadaiiyaan The Legend Reign of Arrows for free for Windows Phone 8 devices from the Windows Phone Store.
Let us know how you like the game and just in case you haven't as yet, check out the trailer of the movie releasing next week. It definitely looks better than the game.
Get the Windows Central Newsletter
All the latest news, reviews, and guides for Windows and Xbox diehards.