Konami's TurboGrafx-16 Mini is the first console delayed by the coronavirus
The mini console has been delayed indefinitely.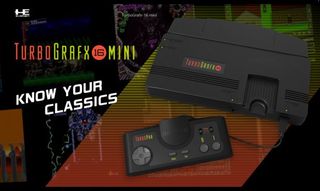 (Image credit: Konami)
What you need to know
The TurboGrafx-16 is a home video game console that first released in 1987.
Konami announced it had plans to release a mini version of the console.
This mini version has since been delayed due to COVID-19, the coronavirus.
Ever heard of the TurboGrafx-16? Probably not, and I don't blame you. It was a big hit in Japan and rivaled the SNES but never really gained enough traction to become a global phenomenon. Still, Konami had plans to make a mini version of the console, similar to what Nintendo have PlayStation have done with some of their classic consoles, but the company has since delayed the release of the TurboGrafx-16 Mini due to the coronavirus outbreak.
The TurboGrafx-16 Mini (try saying that ten times fast) was originally slated to launch on March 19, 2020 exclusively on Amazon with 57 games in its international edition. Konami intends to deliver the console as soon as possible, however could not provide a time frame and stated that more information will be provided at a later date.
Before this statement, Konami had indicated that those who had pre-ordered their TurboGrafx-16 Mini console before March 5, 2020 would still get theirs by the original launch date, but this appears to no longer be the case.
Though several games like The Outer Worlds for Nintendo Switch and notable events such as GDC 2020, Emerald City Comic Con, TwitchCon Amsterdam, and more have been delayed or cancelled, this is the first console to have been delayed due to COVID-19.
As far as we know, the Xbox Series X and PlayStation 5 are still on track for a holiday 2020 release.
Jennifer Locke has been playing video games nearly her entire life, and is very happy Xbox is growing a stronger first-party portfolio. You can find her obsessing over Star Wars and other geeky things on Twitter @JenLocke95.
I'm one who definitely heard of it. Bought my TG16 in 1989 when I was 13. Looking to my left right now, I see it on my gaming shelf. CD player stopped working (need to replace a gear that has a notorious issue with turning soft as it ages). Also have the Turbo Express (bought for a cross country road trip I took in the early 90s). Was nice to take my home console games on the road (was a big deal back then!) Was thinking of getting the mini, just for the games I do not own. Will this actually play HuCARD games? Never looked into it, but assume the card slot is not functional.

no, it will not play hucard games..... it's just like the nes, snes and genesis mini systems. A ton of games, little console. I too had a tg-16 since I think 90-91, but also have the US Duo and a Japanese Duo-R. I had the TG-16 CD as well, bot took advantage of "Turbo Technologies" trade in offer in the 90's. Send your TG-16+CD and $100 and get a NEW duo.

Thanks for the memories... I miss the original game that it came with kind of cool setup...

What about a Philips CD-i Mini, Atari Jaguar Mini, and a Panasonic Real 3DO Mini?

I still have both the Turbo Grafx console and Turbo Express. I play the Express occasionally. I even have the T.v. Tuner for the Express. Got both on their original release. Still in working condition. These are one of my favorite systems. The Express was better than any hand held it's day. Right up there with my sega Nomad.
Windows Central Newsletter
Thank you for signing up to Windows Central. You will receive a verification email shortly.
There was a problem. Please refresh the page and try again.