Kyocera prototype puts Windows Phone onto its rough and tough Torque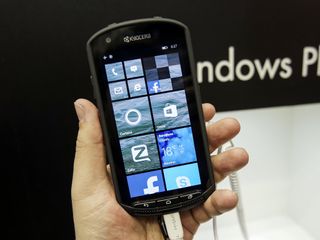 Prior to the start of Mobile World Congress we got word that Kyocera was bringing a prototype device to Barcelona that would be running Windows Phone. So we dropped by to take a look at it, and prototype is definitely the key word here.
That's because this is literally a version of the Android powered Torque smartphone with Windows Phone as the OS. The hardware is 100% identical, right down to the Android physical buttons at the bottom of the device. But, two interesting things in particular stand out.
Firstly, this is a fresh prototype. It doesn't say it on the device, but given what we can see, it's running Windows Phone 8.1 Update 2. The new app permissions and refreshed settings menu are definitely present. So Kyocera has definitely not had this around for long, since the only other phones we've seen this actually running on are the new Lumia 640 and 640 XL.
Secondly, if this device were to launch in a similar form factor to what we've seen here, it would put a nice, niche device into the Windows Phone ecosystem. Ruggedized phones aren't for everyone, but for the target audience, they're essential. We'd definitely welcome this particular type of variety.
But really there's not much to say. There's no point in getting bogged down in the hardware or the software, or anything really. This is a prototype. There are no current plans to bring this or any variation of it to market as things stand, but to see yet another OEM experimenting with Windows Phone is nothing but good news.
Check out a quick look in the video above and be sure to drop by our dedicated page for all the Mobile World Congress news right here
Windows Central Newsletter
Get the best of Windows Central in your inbox, every day!
Managing Editor - Tech, Reviews
Richard Devine is a Managing Editor at Windows Central with over a decade of experience. A former Project Manager and long-term tech addict, he joined Mobile Nations in 2011 and has been found on Android Central and iMore as well as Windows Central. Currently, you'll find him steering the site's coverage of all manner of PC hardware and reviews. Find him on Mastodon at mstdn.social/@richdevine
Design reminds me of galaxy nexus..

Reminds me of one of the wp7 devices

LG Quantum or Optimus 7? Those are what I thought of.

Bring W10 to optimus 7 pleaaase

...can't tell if serious.

Something is better than nothing

This is something I've been hoping would be available to purchase for the last 4 years. Hopefully this something becomes a reality.

Agreed. We need some niche devices like this. I am curious about the battery size.

Yeah, if the battery life wasn't amazing, this would kinda kill the point of having this phone. Btw, y does Richard Devine go to the apps menu to find settings instead of just pulling down the action center?

Most likely due to habit lol.

8.1 has been out for a very long time

So? If he likes it that way

I won't mind having a rugged Windows Phone.

A ruggedized Lumia preferably... Sleek, and super waterproof...

... and dust, rock, impact, bullet, bomb, and nuclear bomb proof.

I want a super nova proofed phone :) that should survive just about anything, except for an event horizon, in that case anything is SOL.

Yeah. That phone would actually look pretty cool if it had a Windows button.

Something is wrong with the button layout :/

eh !! yeah this is an early prototype as the article says

I dont want more phones ! All i want is new W10 FOR PHONES :)

Oh boy here we go again :/

Well typically you need to wait until the os is officially released. I would say let's enjoy what we have today. The devs worked hard on 8.1 u1

Yaa u are ryt, but its over a year now on lumia cyan on my l630. Dont you think its kinda long time for an update ?

You can get windows 10 by registering in windows insider program.....

I'm an insider and i installed it when it became live , but its too buggy to operate bcz its an tech preview ! And personally i didnt like many of its features :/

What do u expect, since its early alpha stage...& MSFT mentioned they will update on montly basis....

I didn't knoe they will update on monthly basis ! Thanks for the info :)

Cyan? I have Win 10 with Denim so dont lie previously I had Win 8.1.1 Update 1 with Denim

8.1.1 with denim on l630 ? Dude seriously ? I'm using it for over half a year and the only update i get is through DP not denim

Have you tried opting out of the Dev Preview, THEN searching for updates.
Dev Preview stops the official update coming through.

I dont think they rolled out DENIM update for l630 in india. Bcz current i uncheckd DP and still i dont reveive any official update

Call it a prototype prototype. Jerks couldn't even care to build a new one. :/

Looks weird with the Droid buttons show the WP start.

I wonder what articles are for

Bit like the panasonic toughpad FZ-E1

Can you people please visit the booths of Innos, Polaroid, K-Touch and Cherry Mobile? Those OEMs also have cool Windows Phones on display.

Never seen a wp cherry mobile on stores yet

Cool this is the first ruggedised windows phone

Nah. Panasonic toughpad FZ-E1 is earlier

that's windows embedded 8.1 not windows phone 8.1

It is but its not. Its Windows Embedded 8.1 Phone. Uses the OS build package of WP8.1, but the tweaking capability of Embedded. Kind like a redheaded stepchild of a product.

Doesn't this phone have a sapphire crystal display?

That buttons are hideous. But a rugged WP is pretty cool.

Can someone please make physical buttons again??? It is such a shame, that I have to avoid pressing capacitive keys each time. This was particularly annoying on WinPhone 7.x, where the apps just didnt run in the background. As a result, the most enjoyable phone to use was Lumia 710, which was never available on Verizon. Also miss physical keyboards, after I found my old LG Fathom yesterday...

Proves that android phones can install WP software with very little work, OEMs are just lazy

Some Android phones can run WP, but not all. It's easy for an OEM to make a phone that will run both, but they have to consider that during the design so that WP compatible hardware is used. I totally agree that more OEMs should be designing their phones this way though because it gives them two products to sell for the cost of developing one.

Well, who knows? Maybe the arrival of W10 will encourage some OEMs to do this!

As long as it adheres to the Qualcomm hardware reference, any handset should be able to run upwards of Windows Phone 8.1.

Expecting galaxy S6 with same harware + windows 10

Expecting iPhone 6/7 with same hardware + Windows 10. [/joke]

""it's running Windows Phone 8.1 Update 2. The new app permissions"" Any hope for the real app lock in update 2 ????

Just use the inbuilt apps corner or kids corner in wp 8.1,you can even disable lockscreen,hardware buttons,action center,and lot more which is not possible on android or ios. even app permissions in windows 10 is not on any other platform.

I'd buy it. Windows Phone/Window 10 for phones needs more form factors. I have friends that work in Facilities and other challenging conditions and they can't buy a Windows Phone due to the lack of water and dust certification WP devices.

Did they ever think to just use an Otterbox case? Best of both worlds...

OtterBox cases aren't available for most Windows Phones, not even for the 1520 and even with one, that doesn't change the IP certification of the device. Even the 1020 in an OtterBox is still vulnerable to water and dust.

I wonder how iphone users do things out in challenging environments...or are these kind of devices an Android only game?

iPhone users don't really need those certifications... They have every kind of cases they want, and yes, there are some sorts of "armor" for them out there.

Exactly, there are specific water and dustproof iPhone cases. No need for Apple to invest in IP certification if companies are building all types of cases to match each iPhone model.

You can see the commitment when they didn't even bother to change the buttons, oh well its just a prototype

Well, I expected something different, that's all

They still think thta MS products are only for Enterprise. "They are partialy right "

Someone should start a project of porting WP to Android devices. I know of the complications of it but, if DFT could put Windows RT on the HD2, im sure some of us could write custom drivers for some Android devices...

Could be done but some of us don't necessarily have the right hardware and flashing tools or the funds lol.

Hopefully they bring this to market, windows phone needs all kinds of devices to win mind share.

Can anyone just throw some lights on the "new app permissions" ?

Dang, I'd hoped for a phone to be released mainstream in Japan. Maybe a Japanese flagship.

Ruggedized is good but if you're gonna do that might as well have a lip around the edges of the screen to protect it on flat surfaces.

congratulations microsoft, on your first ruggedized phone ! the torque has been getting good reviews from folks that like to go outside for quite a while. it would be cool to have a dual-boot rugged phone. that would be pretty awesome actually. maybe microsoft can step into 2015 with a kyocera brigadier with their os on it ? rugged phones ROCK

I would love something like this. My 1520 is a great phone, but something that I could take in the backcountry without concern would make me a happy camper.

it's not a Kyocera Torque, this is a New model Duraforce, $399 http://www.phonearena.com/phones/Kyocera-DuraForce_id8995 ​ ​ ​

omg, those physical buttons are sooo nasty....

So, how do we put 8.1 on an Android phone?

Yes I'm trying to put a windows rt on my Sony tablet s and without the right flashing tools and other things its not working very well.i need some drivers.the windows starts but crashes after a second or too.

@yaman ya - uh oh, you're right. that's not good, because the duraforce has a non-removable battery. well, that just killed it for me and doing anything outdoors :(

So judging by everyone's comments, are physical buttons no longer acceptable? Are they too out of date? For me, I see it as a rugged phone, where physical buttons are a necessity. And obvioulsy its an Android phone, the Duraforce, so the buttons look different, but if a WP version were to ever be made I'm sure they could change the Labels on the buttons to appease everyone's asthetic pallet.