The latest HDFC Bank app update integrates Chillr and SmartBuy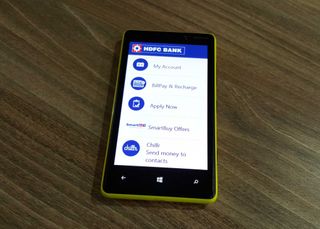 HDFC Bank, one of the leading private sector banks in India, updated their official app last week. One of the top quality banking apps in the country, HDFC Bank app continues to get ongoing upgrades and additional features.
The latest update – v2.6.0.0 – follows the last update that arrived just a few weeks ago and allows one to access Chillr app directly from within your app as well as get exciting offers through SmartBuy.
SmartBuy is an HDFC Bank e-commerce venture specially designed and initiated to give all its customers a friendly and exclusive platform to get the finest deals across shopping, travel, entertainment, as well as bill payment and mobile recharge.
Chillr, an app by Kochi-based technology company MobMe Wireless Solutions Ltd, was launched in March this year in partnership with HDFC Bank. The app allows users to transfer instantly money to any contact in their phonebook 24 hours a day, seven days a week. While customers of any bank can receive money, Chillr tied up with HDFC Bank to allow sending as well as receiving money over the platform.
Chillr is a neat IMPS (Immediate Payment Service) implementation that works pretty well without any OTP requirements or such. It eliminates the need for third-party virtual wallets since the app is linked directly to the customer's bank account. The latest version of HDFC Bank app integrates the Chillr experience within the core mobile banking app.
As an HDFC Bank customer, I think the official mobile banking app is a pretty good one offering comprehensive capabilities at par with or better than other mobile banking apps in India. With the latest update, the app brings unique capabilities as part of the core app experience, and you should definitely give it a whirl.
Download HDFC Bank from Windows Store
Get the Windows Central Newsletter
All the latest news, reviews, and guides for Windows and Xbox diehards.
now if only they had a more polished UI. the images and icons are so pixelated. even scrolling isn't smooth.
still good to see feature support.

American banks should take some cues from these updates :/

Just if the population would also take some cues from this India WP marketshare

Wish US banks would follow up for us users..

Wish US banks would make app for windows 10 .

Wait! I thought Banks, Stores, and everyone was abandoning Win10 mobile...and the sky is falling...yada...yada...yada!!!

Well a few big US banks dont offer anything.. a lot of US Franchinse doesnt offer anything globally and in the UK it doesnt look to different so.. yada yada yada

Actually the UK has a great Barclays banking app, it also has a great app called PingIT which does the same as Chillr. It is just the banks in the states that are behind or licking up to Apple...but then again most of the banks over there are heavily invested in Apple shares.

...and there you have it!...follow the money and you shall see where loyalty lies...I unfortunately bank with Chase and they discontinued their app...i used their web interface and its fine, so I don't miss it at all!

US carriers US banks..............go change their minds

What the heck is Murica?? A city, a state or what?? Posted via the Lenovo K900

But wait, it didn't integrate within app as it just give link to open within browser or store.
May be in next update.

It opens up the app if it's installed and set-up. Love chillr! Love IMPS!

Ok, I didn't have chillr app.

Maybe the US should take note: When there is a large amount of Windows phones in use in a country, apps are provided by companies who wish to service there customers & the app is also kept up to date.

American banks are such jerks that they cant use project islandwood to port their apps to windows 10 mobile.