Latest leaked render reveals AT&T's LTE-enabled Lumia 635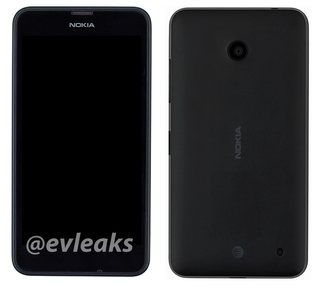 AT&T announced an "intent to carry" the Lumia 635 earlier this year, and if the latest leak is any indication, the device may be headed to the carrier soon.
Courtesy of @evleaks, the image reveals a black Lumia 635 with AT&T branding at the back. Other than that, there is no mention of availability or pricing.
As for the hardware, the Lumia 635 sports a 4.5-inch ClearBlack display with a resolution of 854 x 480, 1.2 GHz quad-core Snapdragon 400 CPU, 512 MB RAM, 8 GB internal memory, microSD card slot up to 128 GB, 5 MP camera, LTE Cat3 connectivity, Wi-Fi 802.11 b/g/n, Bluetooth 4.0 and 1830 mAh battery.
Any of you looking forward to the Lumia 635 launching on AT&T?
Source: evleaks.at
Windows Central Newsletter
Get the best of Windows Central in your inbox, every day!
Harish Jonnalagadda is a Senior Editor overseeing Asia for Android Central, Windows Central's sister site. When not reviewing phones, he's testing PC hardware, including video cards, motherboards, gaming accessories, and keyboards.
If only that thing has 1 Gig of RAM.

Yeah but wasn't it China-only as of now? This device should be sold worldwide.

I agree. Budget WP with 8.1 and 1GB is an ideal phone for kids/people of budget (1GB really means all games compatible while 512MB leaves a lot of them off your phone's list)

Seriously, how much does 1/2 GB of RAM cost?

At least now you have 4G. I forget sometimes that only the 820 and up are 4G capable. Says a lot about the people jumping up and down raving about the 5, 6 & 7 series.

Nuh nuh, the Lumia 521 for T-Mobile and the Lumia 625 are 4G enabled

Nope. The L52x is limited to 3G

L521 is limited to 4G. L635 is lte

3g is hspa
"4g" is actually more like 3.5g, it is hspa+
True 4g is lte
Att and tmobile marketed hspa+ as 4g since verizon came out with lte first
Sprint also uses wimax but is slower than lte but faster than 3g Posted via Windows Phone Central App

4G is more like 3.9G, there already is a 3.5G. and LTE isn't true 4G either. True 4G is LTE-A

Well see what the market says about this phone; highly doubt it will make as big of a market splash as the 520 did

Well $100 would put it in same price range as what 520 was a year ago. Idk why someone would choose this over moto g, cdma versions are $100 or less. Well 635 will be gsm only so should sell well. Idk why they got rid of front camera and flash since 620 had it.. Posted via Windows Phone Central App

Interesting, definitely a price war going on. Moto G $76, L520 $54. This lower end market is key though to winning market share back.

Give me a 820 successor please!

+820 love my 820 and would like another perfectly balanced Lumia maybe a quad core 830? With 720p

I swear I am waiting for this as well.

This phone to me feels so useless. This year should have only consisted of the 530, 930, 1030, 1525, and McLaren. Market the shit out of the last three in US and put on all carriers. Mass produce the first 2 for the entire world.
Somebody make me VP

Really wish the 635 had more like all the sensors and a ffc and camera key the device is severely limited compared to the 520 which has more going for it

No physical or capacitive buttons, no camera key and it looks like a typical Lumia... Yuck.

Since when is looking like a "typical Lumia" a bad thing?

It's a bad thing when you don't like the look of Lumias and most of them look the same.

I like Lumia design, but I am with you on virtual buttons and camera button. Seeing virtual buttons on high end androids is depressing :/

520 is still superior even without 4G connectivity. And at 80€ it's a steal! (And isn't that the price range of the Nokia X devices?) How much does a freakin' proximity sensor cost? I still don't get the thinking that went into the hardware of the 630/635...

Ask Nokia or NSN because all of these phone were in production by them prior to their aquisition by microsoft.

Would why you blame NSN? They literally have nothing to do with the phones at all.

Yeah. I know. I've been following everything Microsoft/Nokia related, very closely. And Nokia made quite a few mistakes, when it comes to the hardware design of its Lumia phones.

The platform desperately needs a new flagship device. This isn't it.

Useless. Every phones with 4G capable comes to my country with cutting its 4G capability. That's why only 630s are available here

I preordered that phone a couple weeks ago. I hope it ships soon.

Why they keep making all those 512 MB RAM phones? It's like decade old.. Stop making sh*tty phones and give me updated 1020 :-)

Not everyone cares about games, they just want a phone that does the basics. If you care about gaming don't get a "sh*tty" phone. Pretty simple.

Meanwhile, no word on when official WP 8.1/Cyan will be rolling out in what seems like forever.

+1020 Now that Microsoft owns the Nokia handset division, you'd think that we'd be able to get Cyan on the Developer Preview and completely bypass the carriers. WTH Microsoft???

Ok moto g has front camera and flash for $180. How much would it of cost microsoft to add it? Posted via Windows Phone Central App

Apparently you can get a Lumia 1320 for$180. It seems to spec slightly better than the Moto g.

Or older flagships like the 920 for free.

Is the 'leak' here that it'll have LTE or that it'll be coming to ATT? Because Nokia's own page for the 635 has shown the phone with ATT branding. So there's that. http://www.nokia.com/us-en/phones/phone/lumia635/

Exactly. When I saw this article, I was thinking that I have seen the phone with AT&T branding on the Nokia website about a month ago.

With LTE and 4.5" screen, I would upgrade from the L520....512MB ram doesn't bother me, I don't play games on it and runs fine with 512MB....4.5" screen I think would be perfect

How does only having 512mb ram affect browsing the internet. I'm not into gaming.

Even a VGA front facing camera would have been better then non. Just no excuse for not having one.

Seems dumb to not have a front facing camera.

Turn the phone around like people did in the olden days.

This is a LOW COST device. There will probably be many (not readers here perhaps) that will be interested in the 635, which *might* raise the needle for WP. Not everyone needs a feature "rich" gizmo. My understanding is the 635 will cost something south of $200 (US). Compare that to something north of $500 and stop wondering/complaining why it doesn't have this or that. If the 635 isn't your cup of tea, feel free to buy another.

Looks like a 520 but bigger.

It could just be me, but this design looks very "boring" to me. I know Nokia/Microsoft can do better. But at least the AT&T branding is minimum, and not on the front.

I'd love to see a practical comparison between this 635 and the 520 (Att also). What real-world results would I get upgrading while still being on 512mb. Lower "resuming" times?
I suspect this would be interesting for other L900 1st-dayers who might be on the same cycle: When 2yr ran out on L900, could've gone with 920-series, but knowing 8.1 was about to drop and would be kicked off with a new hero phone, I waited for //build. And died a little knowing I'd have to wait until I could import the 930 so I went 520 for $50 w/8.1 preview in the meantime, bc as nice as the L900 hardware is, WP7 gets no dev loving anymore, which I don't blame. So I suspect there are others figuring out even the GSM 930 won't work on ATT and wanting something to throw money at that isn't last-gen already. Sell me on the 635, WPCentral? B/c I'd be three times a fool to believe McLaren will be avail on ATT within 6-12 mo.