This is how a financial analyst uses his Surface Pro 3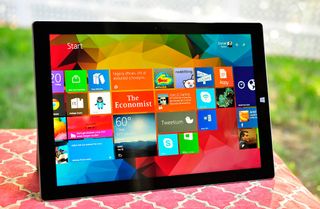 Microsoft continues to promote the Surface Pro 3 with a series of videos that show ordinary people using the 12-inch tablet in everyday situations. The latest such video shows how it is being used by Christian Wallace, a financial advisor based in New York City, in both his work and in his hobbies.
Christian Wallace works for Emancipation Capital, an equity fund that focuses on technology companies. Wallace says in the video that the Surface Pro 3 is "the most important tool we have brought into the firm in recent history". The video shows how he uses the Surface Pro docking station in his office so he can place applications on a larger monitor. Wallace says that the Surface Pro 3 is powerful enough to run the desktop version of Thomson Reuters Eikon, a powerful Windows application designed to monitor all the financial markets.
However, Wallace also uses the Surface Pro 3 for fun. His hobby is putting together wood boats, and the tablet, combined with the touch-based version of OneNote, allows him to tag and organize photos showing the pieces of the boats so he keep track of them.
Thanks to Rokibul for the tip!
Source: Surface (YouTube)
Windows Central Newsletter
Get the best of Windows Central in in your inbox, every day!
The way microsoft is pushing and advertising their products/devices is news. Especially if you take into account the move for one unified marketing department that handles all of it for the company rather than separate ones for each division who do their own thing and even used different agencies. Now they have a unified ad/promo plan and every area plays into it. Even with looking forward and how they are discussing the new ways to brand, ie using the logo on all devices, is very different than the past. At the end of the day this is a great use case and personal example of how to use a great device and ecosystem.

++ great device and ecosystem

That did look nice, I dont think I've ever seen that.

Indeed, but worth it for extending the ports, and the monitor is an excellent bonus ;)

Yeah wish I had one at home too, but the one I use at work is awesome Posted via the Windows Central App for Android

I was at a BMW dealership a few months ago in Indianapolis and they were using surface pro 3's connected to monitors keyboards and nice. It was pretty cool, hadn't actually seen them used in businesses in person

Really? Which one? I live right in between Indianapolis and Louisville

Does Dryer/Reinbold sound right? We were at the one on the north side of Indy, right off the By-Pass.

A tablet that is more than your average tablet and can run real software for performing real work. I like it.

No, a tablet that is like any other tablet. That is the future that I wish for. All tablets should be hybrids. Windows tablets already are and I bet Apple will follow in the near future.

He is a financial analyst if you want to get all technical. Nice video though. I only have the surface rt & 2, I think I will get the next pro when it comes out.

Excellent use case - I do something similar, using eikon and fx manager, and iron trader. The sp3 is an excellent and versatile platform - though I've been lugging around the xps13 which is small and light and the keyboard is far better than a type cover. Eikon has minimum specs requiring 4gb ram (8 for 64 bit installed) but I've actually managed to install eikon to an atom powered linx 10, which has 2gb ram, running an 8.1 Enterprise os - the linx has substantially better battery life and a lower price, that the sp3; all in all these windows tablets are excellent. I would personally not consider an iPad. I would like to see a tablet with an atom or core m and a qhd display and 4gb or more of ram. Also, that eve t1 tablet, in an earlier article, is amazing for the price! Windows mobile has a fantastic future lined up!

Absolutely love this video. Simply hits all the right chords with me. I use mine for games, manage my personal finances with Quicken and my family business with QuickBooks Enterprise. Docking station makes a huge difference when doing real work requiring a bigger monitor. MS is onto something here but not sure why this concept is not catching on fast enough with consumers and businesses.

Do you really like and enjoy working??? If we're only focus on productivity the average user could believe that the SP3 ( and generally talking every windows tablet) is just a productivity slate and not a real complete computer. And also people goes crazy if they can't install the candy crush x app, or the clash of clan, or any other crappie game like in the iPad.

This is our pos front end for 1000 people

I have no clue whatsoever as to what you meant, nor can I imagine what you were possibly trying to say. After reading your comment, I feel as though I've run into a block wall, and now want to jump off a cliff.

Um, does he mean "point of sale"?

or does he mean "piece of sh.."?

I'm pretty sure Point of Sale.

Apologies for the laziness, I did indeed mean point of sale.

I thought we use PoS for that not just pos.

POS is the common term for it. PoS is probably acceptable too :P

Wow, so dramatic over a simple comment :P

Microsoft should also make more ads like this one starring other fields like Medical. I'm impressed how beautifully this ad is made. :)

Have the docking station support two monitors and Surface 4 will replace my laptop for home and work.

I would much rather have another displayport on the docking station as well. Maybe even one more USB port.

It should already support dual monitors via DisplayPort daisy-chaining. You might need monitors that support it, too.

I originally purchased the i5 4GB RAM 128GB SSD version. While using I decided that this would be a long term device so I waited for Best Buy to put them on sale again. I recently upgraded to the 8GB RAM and 25GB SSD version. It was a $250 upgrade and very well worth it. My only change that I would like to see is an LTE option. I hate having to carry a MiFi or tether to my iPad. The only other thing that needs to be improved is the thermal issues when doing massive Windows Updates or after watching Netfix/Youtube for a few minutes. I can deal with the heat but the sound of the fan buzzing get annoying.

I never get the fan when watching Netflix or Youtube. Nor does it get hot. But I agree with including 4G/LTE, this would be the icing on the cake :)

A fanless SP4 if almost guaranteed. Earlier this year, Samsung released a fanless Intel Core M laptop and Apple is also releasing a fanless MacBook next month.

As an IT Admin over many different applications and systems, I use one as my main device. The dock is nice (But I added a Display Port hub to add more monitors) and it's essential. The type keyboard is backlit and outstanding. I have even loaded Steam and have played Borderlands 2 and Skyrim on it. It is simply the best device there is for getting everything done. There is literally no reason to buy an ultrabook or even a standard laptop now. You can't make an argument that would convince me other than price, and the price is worth it.

The reason I got rid of my SPro 2 has not been addressed with the SPro 3. For me, the deal-breaker was the single USB port. Right this second I am using 3 of the 4 ports on my laptop, and one of those is driving a USB 3 hub which acts as my docking station (connecting to wireless mouse/keyboard, back-up drive, optical drive and my TV). At a stretch I could get by with two but one simply isn't enough. So until MS decide to give me more ports, I'm stuck with laptops.

To be a financial analyst, and to buy a Surface 3 pro. This video puts my desires together

I think the best ads for me so far are the in-show product placements in shows like Scorpion.

Man it was super awkward when he started watching Porn...

If they want they can give me one and I'll show them how I use it. For me this looks like a poor strategy in marketing but that's a relative comment.
Windows Central Newsletter
Thank you for signing up to Windows Central. You will receive a verification email shortly.
There was a problem. Please refresh the page and try again.