Latest Unishare update adds new services, bug fixes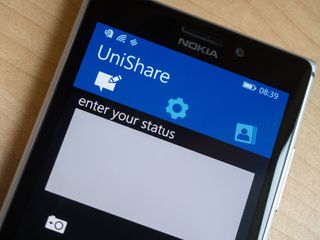 Unishare, the new app allowing to you share stuff to multiple social networks on Windows Phone 8.1, has today received a sizeable update with a bunch of important new features. The new Unishare 0.8.0.0 adds Tumblr, Pocket and Yammer support, along with "pro" Facebook sharing options, including the ability to share to groups and pages.
There's also anexpected assortment of bug fixes and tweaks lurking in this latest release. Bugs with image unlock have been fixed, the UI has been tweaked, and posting options and connect buttons have been moved to their own pages.
If you're updating today, hit the comments and let us know how you like the changes.
Download UniShare for Windows Phone (Free)
So are we completely ignoring the iOS 8 and other Apple announcements? Better to be proactive than sitting back all passive! Yes this is a WP site, but it's not like all the posts here are purely WP related.

iMore's got you covered for iOS 8 goodness: http://www.imore.com/ios-8

Yes, but would have liked to know what the WP experts' opinion is about the new iOS features (and other announcements), what they think, goods and bads, how it may impact WP, how things compare, what they think MS should do, etc, etc; but all in a WP/Win/Microsoft context.

If you want to see ios news, go to macrumors.com, this is a windows only site and I love this.

Dude, if you want Apple news, go to iMoan or whatever the name is. Can't believe you're actually asking authors to post their opinions or reviews about iOS8 IN here. Dafuq!

I think other news sites trash this event enough already, dont they?

So the solution is to go off topic with a complaint? :/

This is all you need to know: IOS8 looks like IOS7.

well . no news since windows phone 7 than

You actually need to know this: Apple left Microsoft in the dust yet again. Can't expect market share when you are playing from behind and moving slower than the competition. Just weak from Microsoft.

You definitely have a point, iOS 8 goes tighter with Siri integration, cloud and notification improvements, health and fitness improvements which WP 8.1 can learn from. I particularly like interactive notification from the lock screen and much of improvements on Siri

Yeah, I am switching to iOS 8, but will keep my SP lol No one beats Surface Pro~

You'll switch to do what? Nobody actually cares btw.

It looks like ios8 is taking a big que from Windows8 and WP8.1, Which would be a typical Apple move.

I want zynga poker... And tango massenger

Hi everybody, if you want to connect to your Facebook groups and pages, you will get an error. I already fixed that error and will submit an update later today. Also, I need to temporarily remove Yammer, as the login process does not work correctly at the moment. Thanks for everyone's understanding. Best regards, Marco

Thanks Marco for your efforts and this amazing app! Cheers,
André

Sorry for the inconveniences.

I came here for this comment. Good to know. Thanks!

Any chance of adding Google+ support?

That's what I'm adding next, after finishing this bug fixing.

Thanks for the update Marco, was just about to post and say 'Fantastic app, but groups and pages don't work', but you're way ahead of me.

:-) I'm sorry for the inconveniences

I need an official Facebook pages manager...

Double tap to wake works better, need to have a good look around

Can you please explain more detailed what you mean exactly?

he probably just puts some random comments under the news. bet he referes to the OS update

Thankful for apps like this but this just highlights some of the dumb decisions Microsoft made with the update. If it's not broke why break it? Me Tile is separated. Just about all the Hubs have taken a downgrade and we can't even use the radio feature in the Music Hub without a subscription? The radio. Keep on devs. We need you.

I think microsoft has done whats best for the future.. Moving to an app centric environment was not great user experience wise but it makes life easy fr microsoft.. Nd since everyone hates change initially, users will eventually settle down nd accept it

I think the app battle between unishare and multishare shows what an excellent decision this was. Without the move to apps, we would be bragging about the functionality to post on Facebook and Twitter simultaneous. However, this hasn't changed since the release of WP8. With 8.1, developers can innovate themselves and in a three week timespan this function evolved from a gimmick to a rock solid functionality. You can now also post on other social networks, post images, post in separate groups etc.
I think you can call this decision a win for Microsoft.

In other words, you drank the kool-aid. Not having this integrated with the Me tile is stupid.

Pocket support? I gotta try this

I like MultiShare better. Although it lacks some of the features (features I dont use anyway) its clean & doesn't make me feel like I'm going to an app to post. It feels & looks they way the original did

I still prefer the One Love app, although I hate that name. It does a great job of hitting a number of social media, including FB pages. It still angers me that Microsoft destroyed this capability in the Me tile, making it a completely useless feature. I'm so flipping sick of the influence iPhone and Android users have had over the Windows Phone operating system. They all suck.

Hi again everybody, I just submitted the update with the bug fix to the Store. I hope it will be available for you all soon. Best regards, Marco

Hi everybody, the update with the fix for Facebook groups & pages is live now. Best, Marco
Windows Central Newsletter
Get the best of Windows Central in in your inbox, every day!
Thank you for signing up to Windows Central. You will receive a verification email shortly.
There was a problem. Please refresh the page and try again.