Latest update to Flipkart's universal beta app introduces Ping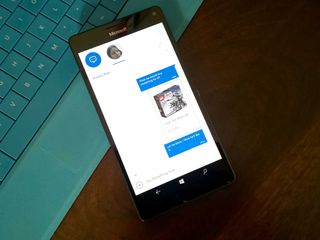 A few days ago, we reported that Flipkart, the leading online retailer from India, is working on the next version of their Windows app based on the Universal Windows Platform for Windows 10 devices.
I've been using the Flipkart (private beta) app since a few days and it works quite well on my Lumia 950 XL and Surface 3. The app got an update today, and brings support for Ping, a unique feature Flipkart introduced few months ago but limited to Android and iOS app all this while.
Ping brings collaboration to your shopping experience and integrates a social layer to avoid constant exchanging of links or screenshots when buying together or asking for advice or approval. Whatever your reason, it's natural to want your friends and family in on your purchases before you make them, and Ping helps with just that within the Flipkart app.
While the beta app got an update on desktop as well, it includes mostly fixes. Ping is a mobile-only product, and only available for Windows 10 mobile.
The Flipkart universal app is shaping up very nicely and offers great user experience. I'm looking forward to its public release so that everyone can use it and share feedback to improve it even further.
Currently, the Flipkart Windows 10 app is in private beta and not open to the public.
Windows Central Newsletter
Get the best of Windows Central in your inbox, every day!
Private beta is a better idea than public beta

It's damn fast but still there is less product description.

Too bad! They didn't accept my request to test the beta app.

Yeah that has happened to me for a few other apps as well.

Me too!
They gonna miss us,our review to make it great XD

Can i get the link? Im a beta tester but cant find it anywhere

Lol, it's an one time code.

Nope its not.. I was able to dwnld tha app via link.. The code gets linked to MS mail accounts

Yesssss !!! Exactly what was needed

Are you also in the Private Beta..?

It's in private beta and still there was an article few days ago that the beta app is downloadable by all.

Hey there.. We meet again.. You still haven't told me why you think net neutrality is bad..

Loving the app.. It is one of the best w10m app after truecaller.. Though it is a lil slow on low end device but its still on beta so itll improve.. ;)

Yes you're right godzila :D

Ya testing flipkart beta for some time now. It's really good. Testing on the desktop

Is that the lumia 950XL in the pics??? If it is then the device is more ugly than my 640XL... Hehehe

Nope.. 950xl looks better

The title picture makes me realize how ridiculously small the trackpads were before the Surface Pro 3.

Oh my god ! FINALLY THANK YOU

I'm hugely off topic now... But I just visted my local T Mobile shop (in the netherlands) and they had Microsoft Lumias on display, with big screens showing it off in adds (i just walked by and it drew me in, still looking for a cover for my 950xl) they had contineum on display and everything. They where out of covers though... But I was pleasantly suprised to see a carrier putting Windows 10 mobile so big on display in there store... Times a finally changing!
The store rep came up to me asking if he could help me. I was so proud to pull my phone out of my pocket and say: 'do you have a cover for this phone? And the store rep to actually instantly recognize it (instead of looking at me stupidly or ignorant)and start looking for a cover... That where sold out... So that's two good indications the phone is selling here in the Netherlands

Nice to hear that! Wish it could happen globally...

Great thanks for such good news.

Obviously I walked by some other big carrier/smartphone stores... No lumia love there... Well one carrier pulling out all the stops is better then no carrier at all ;-)

Even here in India, i saw huge promotions and offers to pre book the new Lumia's and the store rep (Croma and a local store inside a mall) actually tried to convince my frnd to opt for a Lumia instead of going for other brands. Above all they had a whole setup with Keyboard, Monitor and mouse to show off continuum.

ping was my only concern about this app..and here it is....loving windows 10..#lumialover

after the release of windows 100....; )

Why in US? They don't sell outside India anyways..

Ping is not actually universal its just arrived on phone not on tablet/desktop app

19000rs totally wasted this windows phone n windows giving useless features n buggy n always late. Late but also that time buggy I didn't know what u mad.no updates are coming in software.

Lol...! Aren't you that guy from Gujarat who protested too much and got dumped in jail...?? xD
Kidding...chill out and a happy new year to you... :P :D

Protested too much.. I laughed my intestines out at that one!

Without features mobile phone like dibba.

In private beta.. The app lacks tha bottom bar. Didn't like that part.

Upon looking at the thumbnail i thought Facebook messenger got updated :v

Better apps, better apps, better apps!

Love flipkart and their support for this platform.